The 1930s saw a lot of brilliant advances in modern technology: the invention of Scotch Tape and Polaroid photography, the first versions of jet engines and successful helicopters, and of course, the very first canned beer. When it came to home kitchens, however, Liv and her husband, David, discovered the 1930s may as well have been the Dark Ages.
"We knew we would need to renovate as soon as we saw the kitchen," says Liv. "It was original to the house, which was built in 1938, and it only had two drawers!" Luckily, Liv and David had planned their budget accordingly.
So let's see how IKD helped them say, "Goodbye, 1930s kitchen"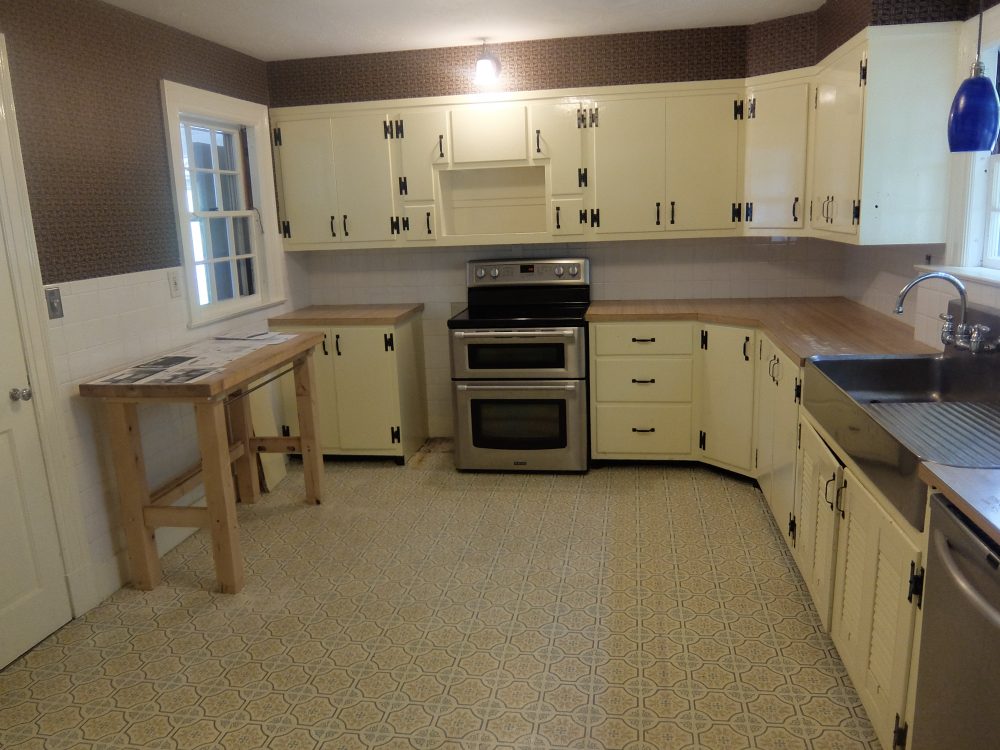 … and "Hello, 2017 and beyond!"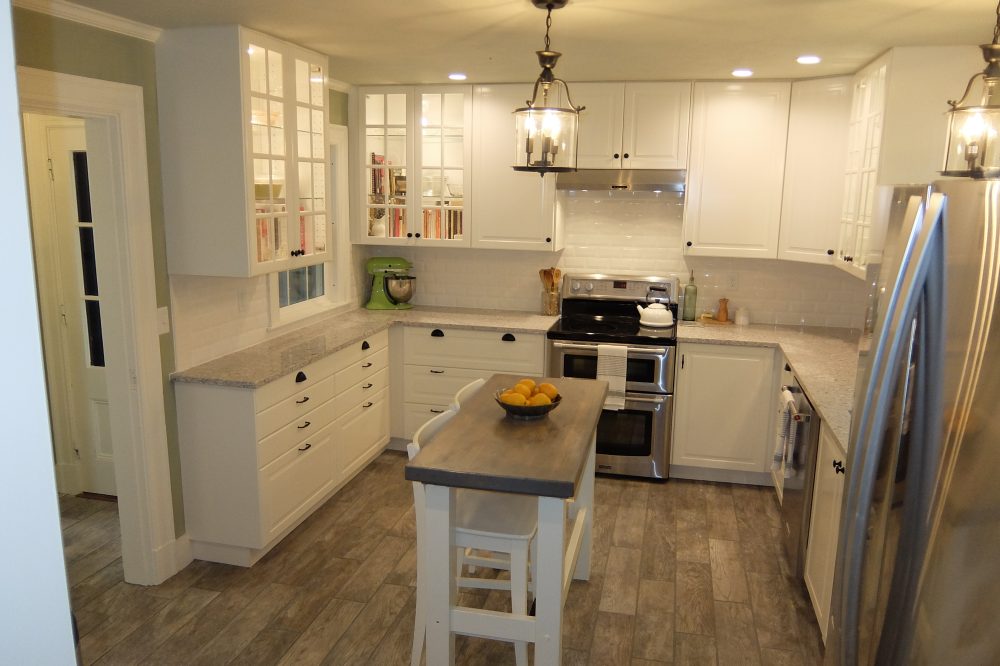 An IKEA Kitchen for Everyone and Everything
Everyone uses their kitchens differently, and Liv's family needed a space for everyone — and everything! "My husband and I are both pretty big cooks, so we have a lot of devices to store. One of the great things IKD did was give us a really tall, high cabinet to store all of our individual appliances that would otherwise take up space on the countertop."
They also wanted to make sure their three young children could comfortably use the new IKEA kitchen. "Our kids are homeschooled, so they do a lot of schoolwork and crafts in the kitchen. We needed room so that all of us could work in the kitchen at the same time. They're also all budding cooks like us! So it was important for us to have the counter height work for the kids."
Liv's other desire? A functional work triangle. "I was tired of walking back and forth to get a whisk, or whatever tool I needed. Now, everything's all in the zone. IKD designer Ana worked out a countertop on a wall we never would have been able to do on our own. It's so much more accessible now."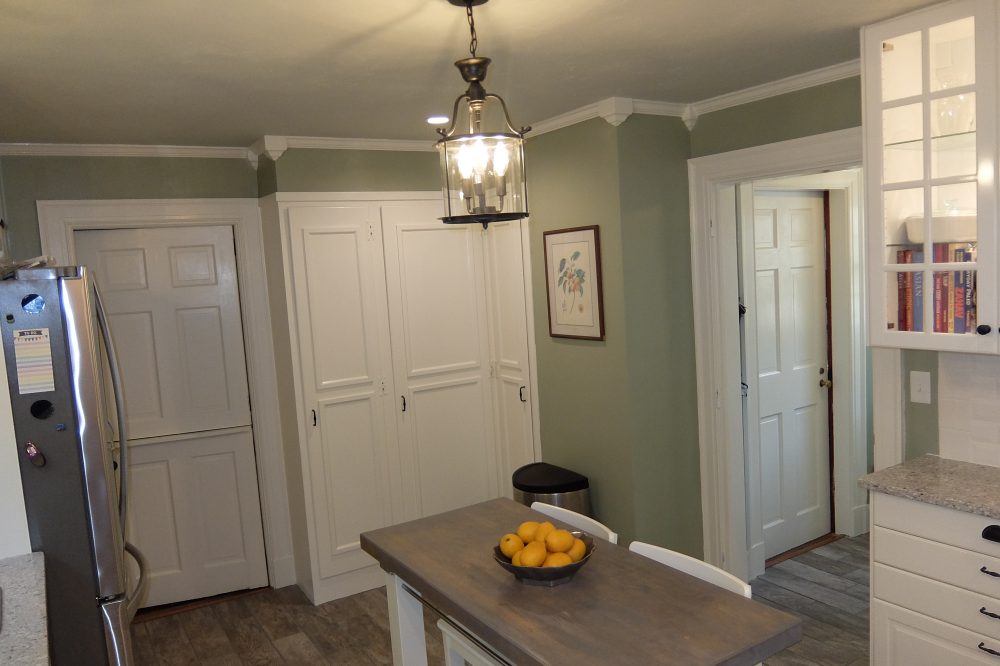 Why Liv Chose IKEA to Update Her 1930s Kitchen
When it came time to bring her kitchen into the modern day, Liv knew she wanted an IKEA kitchen for a few reasons.
Versatility. Liv and her family needed a space where everyone could work together (and not just for cooking), from the youngest child to mom and dad.
Durability. "If anything ever happens to a door, I know I can just go get another one. (Boston area traffic permitting, of course) Not that I'm worried — they have the displays that show them shutting a door over and over and over!"
Most attractive kitchen for the money. "We have friends with IKEA kitchens and they look very nice and clean. Not only are they very attractive, they're just a better value than some of the other kitchens on the Home Depot or Lowes scale."
Liv had played around with IKEA's home planner while still in their previous home, and her take probably won't surprise you.
"The IKEA home planner just doesn't tell you things. These are things I would never have known, little tricks like the amount of clearance you need for cabinet doors to open. […] The home planner made me so mad that we didn't end up remodeling [in our previous home] at all!"
"As we got ready to move, I spent time looking at IKEA kitchen layouts and designs on Pinterest. I found a kitchen where somebody linked to IKD and I thought, oh, thank goodness! Someone else can do it for us!"
Top 3 Design Challenges for This IKEA Kitchen
Bringing this 1930s kitchen into the 21st century came with its own set of challenges.
Ceiling height. Liv's home didn't have a uniform ceiling height, which meant getting creative with cabinets. See how they utilize more space above the refrigerator now?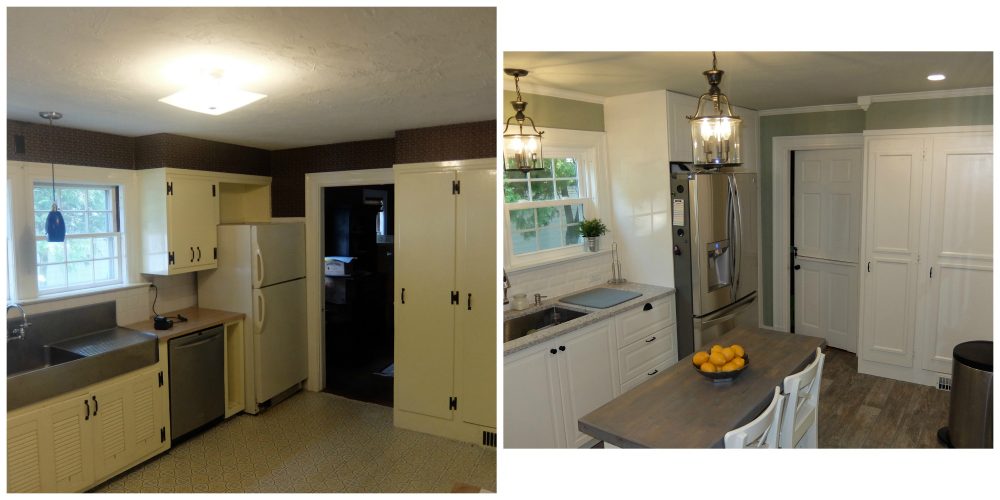 Surprise! Concrete walls. Well, you can't say this 1930s kitchen wasn't sturdy. "When we opened up the walls, we discovered concrete underneath the plaster — even on the ceiling!" While this was mostly a challenge for the electrical work, it was a big one. "We're very pleased with the lighting in the kitchen, but we had to cut into the concrete every time."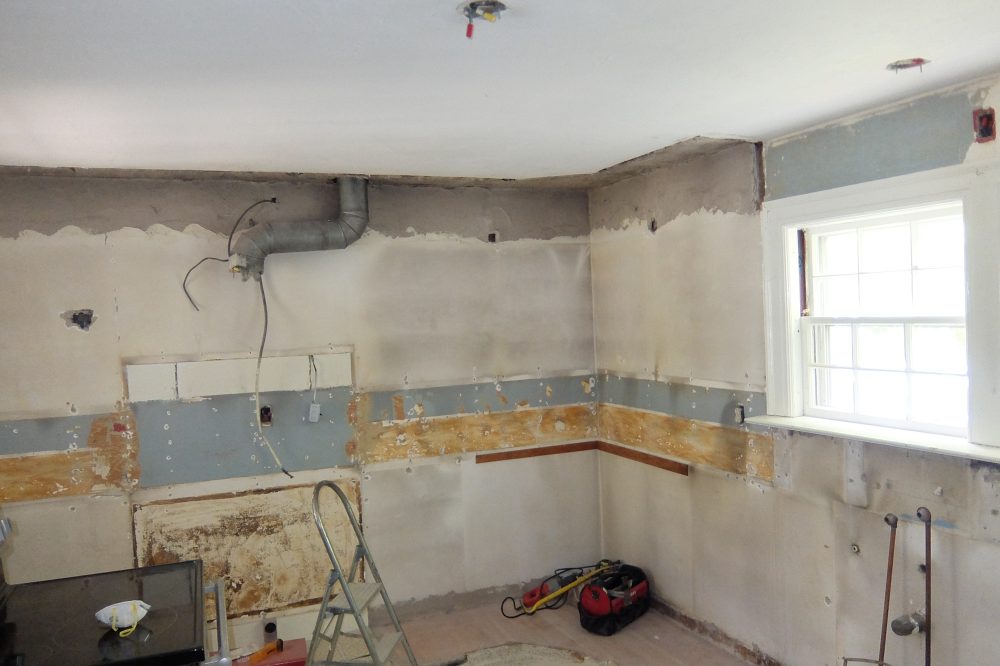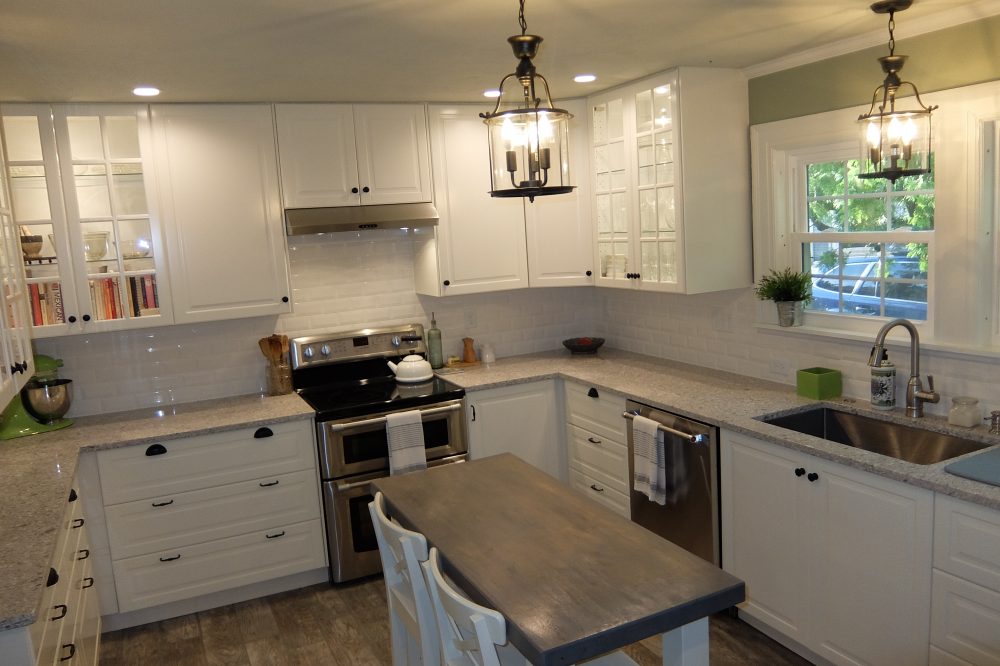 Last-minute switches. Liv had to be flexible about a handful of eleventh hour changes. "It turned out we didn't have clearance for our refrigerator, which I had already bought! We ended up exchanging the side panel for one with a narrower width. We also had to swap the dishwasher and a cabinet because of plumbing concerns, and interchange cabinets to accommodate our garbage disposal. Thankfully it all worked out!"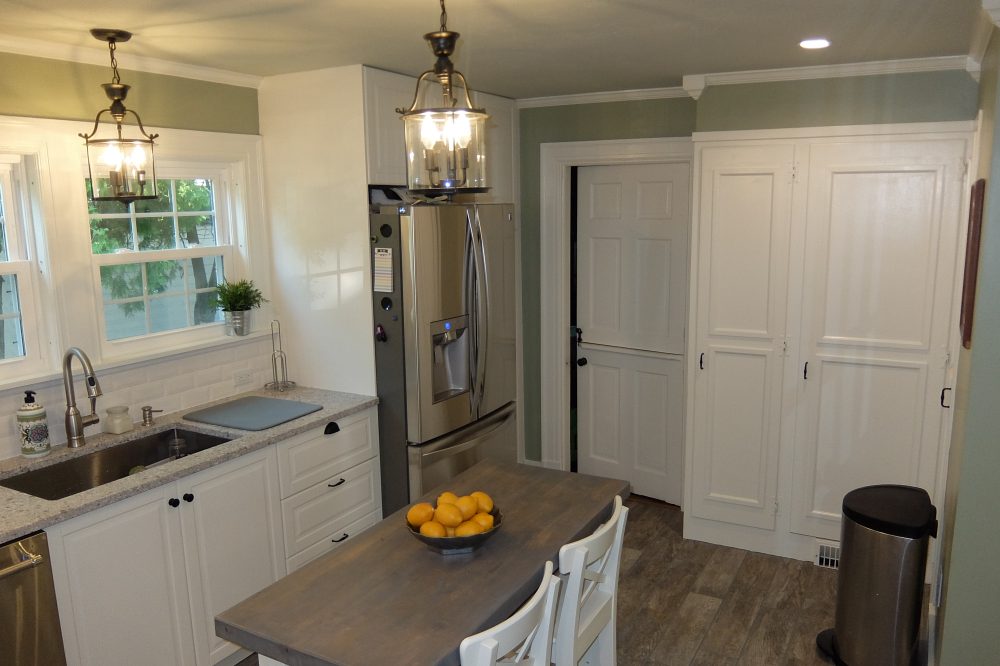 Between the expertise of IKD's design team and Liv's willingness to go with the flow, solving the design challenges for this 1930s kitchen was a snap.
Two Points of Advice for Your IKEA Kitchen Renovation
Liv has a few words of advice for anyone out there dreaming of their new IKEA kitchen.
Point 1: Know what you want, but be flexible. "During the design process, I had big ideas, but not being so rigid with what I wanted gave Ana the freedom to design. I hired them for a reason! By not micromanaging, I got something better than I could have come up with myself."
Liv stresses, however, that "you need to know what you want out of your kitchen. Such as, we use our kitchen for this, I need this many drawers, I want that within each of me. Knowing this makes it easier for your designer to design a kitchen you'll love."
Point 2: It's not just the kitchen. "Your life really does get taken over [during the renovation]. Not just the kitchen! They have to build the cabinets somewhere. Because of where we live, our basement was too humid, and our garage isn't climate controlled. We ended up losing our dining room, front hall, and library to building and staging. I wasn't really prepared for that!"
Now that Liv knows what to expect, she's started looking at other parts of the house. "Our next step? Bathroom remodels!"
Get the IKEA Kitchen of Your Dreams With IKD
Liv and her family are glad they've said goodbye to their 1930s kitchen, and welcomed in a brand-new IKEA kitchen that's ready for 2018. "I've never had a bright kitchen before! I've always had tiny, dingy galley kitchens. Between the lit glass cabinets and the double windows, we just love how bright it is."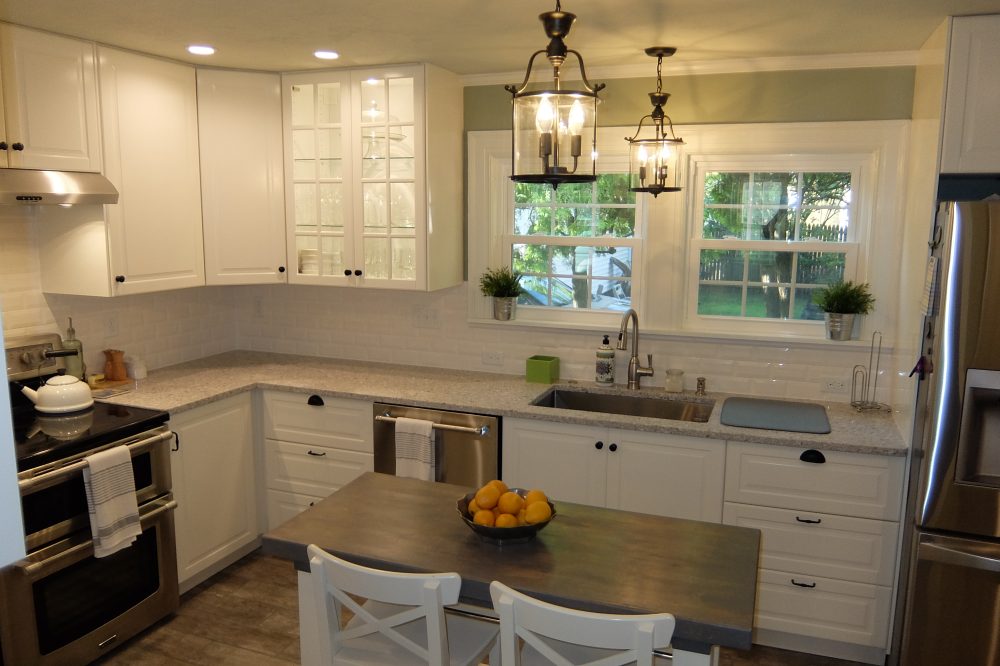 Her friends and extended family agree. "It's a showpiece. Everyone who comes in is wowed by it." We know that we are, too!
Liv, we hope you and your family enjoy many happy years learning, laughing, cooking, and crafting in your new kitchen.