The RAMSJO & GNOSJO black-brown doors from IKEA were discontinued by the manufacturer after the date this article was published.
Ideas for tiny bathrooms come from designs with space saving layouts. Take a look at these 3 design ideas! The best of all? They're budget-friendly. Most of us have the need to create additional storage space in our small bathrooms. To keep it comfortable, sometimes you need to use unconventional solutions.
These space saving ideas are easy to implement in any bathroom design:
1. Dual vanity with vessel sink, $725 (Doors used: RAMSJO black-brown)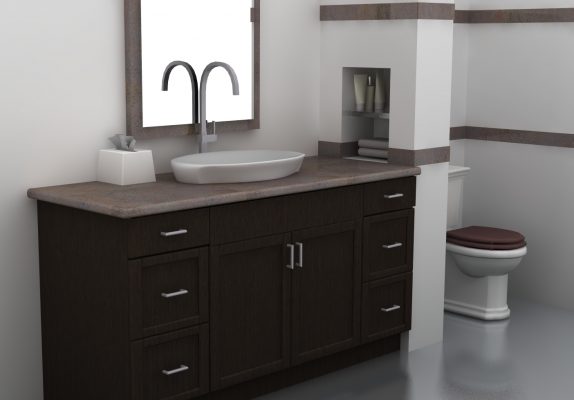 Storage space usually is at a premium in small baths, so consider using one sink bowl instead of two even if it's for a master bathroom. This vanity has been put together by using two 15″-wide drawer bases with a 36″-wide sink base. By using just one sink, the available counterspace  seems to have doubled. Also, the added height of the vessel sink keeps it a comfortable height.
2. A vanity close to the tub, $340 (Doors used: GNOSJO black-brown)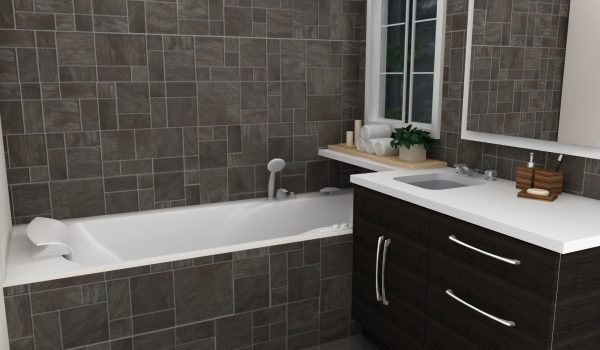 To save space, you can opt to include a simple vanity with one undermount sink bowl and extend the surface of the countertop over the tub to create an additional 'floating shelf' for storage of smaller items. Two 24″-wide units were used for this simple vanity. Drawers are always important to store smaller items and toiletries. (Also shown here: DRAGAN soap dish and DRAGAN 2-piece bathroom set)
3. Floating shelves for useful wall storage, $55 ( IKEA LACK shelves in white)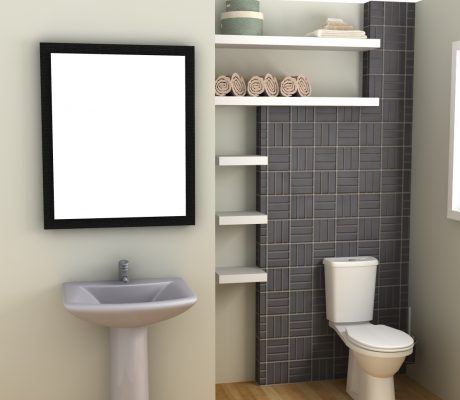 By using the space between the tiles and the ceiling or walls, we have created storage space with a simple, eye-catching and useful arrangement done with IKEA LACK shelves. These shelves have a concealed mounting hardware that makes them look as if they're floating and they look great in any bathroom. The smaller shelves are 11 3/4″ wide and the larger shelves are 43 1/4″ wide, providing enough space for towels, paper rolls and other items.