When we interviewed our customer Heather for our blog, one of her first remarks was,
"This is our 3rd home build, but it was the first time I had the guts to use IKEA in a kitchen."
We were intrigued! Why did building a kitchen with IKEA take guts?
Nope. Heather was concerned the kitchen wouldn't look high-end enough for its eventual re-sale.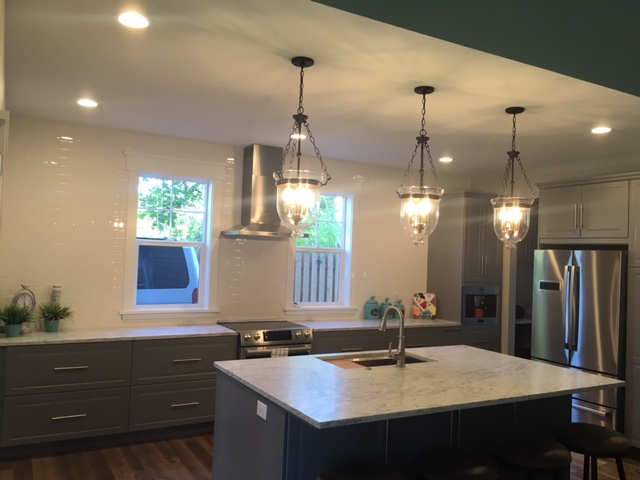 We'd eagerly snap that kitchen off the market, wouldn't you? Heather said, "We couldn't be happier with the kitchen. The kitchen just flows, just works, because that's how IKEA is."
Choosy home builders choose IKEA for their kitchens
What made Heather willing to take the risk of choosing IKEA for her kitchen?
The biggest reason was cost. A custom kitchen would have cost 3 times as much as what the IKEA kitchen design, cabinets, and installation cost her. That's a huge difference.
Cheaper isn't necessarily better, but Heather was also encouraged by reviews touting the quality of IKEA kitchen cabinets and hardware.
IKEA's claim to kitchen fame is their cabinet hardware, and with good reason. The soft-close feature of the MAXIMERA drawers is on par with that of custom kitchens we've built. –IKD customer Heather
Lastly, Heather knows that cabinet doors wear out over time and need replacing. Period. IKEA makes it easy to replace a door. It also helps she chose what has to be IKEA's most popular door style: the BODBYN door in grey. We'd be shocked if IKEA discontinued that door!
How did Heather make her new kitchen look high end?
Making a kitchen look high end is all about details and little custom touches. Heather and her husband focused on 3 areas to up the luxury factor in their kitchen:
No wall cabinets
Traditional door fronts + crown moulding
High-end appliances + granite countertop
However.
Heather and her husband built their new home in the historic district in a college town in Oregon. They wanted to keep their home within the 1940s craftsman cottage aesthetic, but the real challenge? Zoning laws that stipulated the home be no bigger than 1900 square feet.
What Heather needed was an IKEA kitchen design that would rely on base cabinets to do the heavy lifting for storage.
#1 No wall cabinets = lots of storage
Why was Heather so against wall cabinets? "Most people deem wall cabinets to be extremely important. So many people were shocked I didn't want them. If you think about it, you can really only reach the items in the bottom shelf of a wall cabinet. To me, wall cabinets are the real waste of space."
To maximize storage space without wall cabinets, Heather consulted with her IKD designer.
"IKD helped us make up for the lost storage. They had really smart, efficient, and thoughtful storage built into their design. I basically just gave IKD the kitchen blueprint and specs for the appliances. They turned around a design that gives our kitchen the most storage we've ever had in one of our homes."
Not having uppers is the best part of my kitchen. –IKD customer Heather
The base cabinets against the wall and in the island are outfitted with smaller, inner drawers and all of IKEA's organizing options. The couple can store everything from pots and pans to dishes, glasses, and cups in the drawers.
The cabinets you do see along the wall are actually IKEA's tall pantry cabinets. The higher cabinets store less-used items.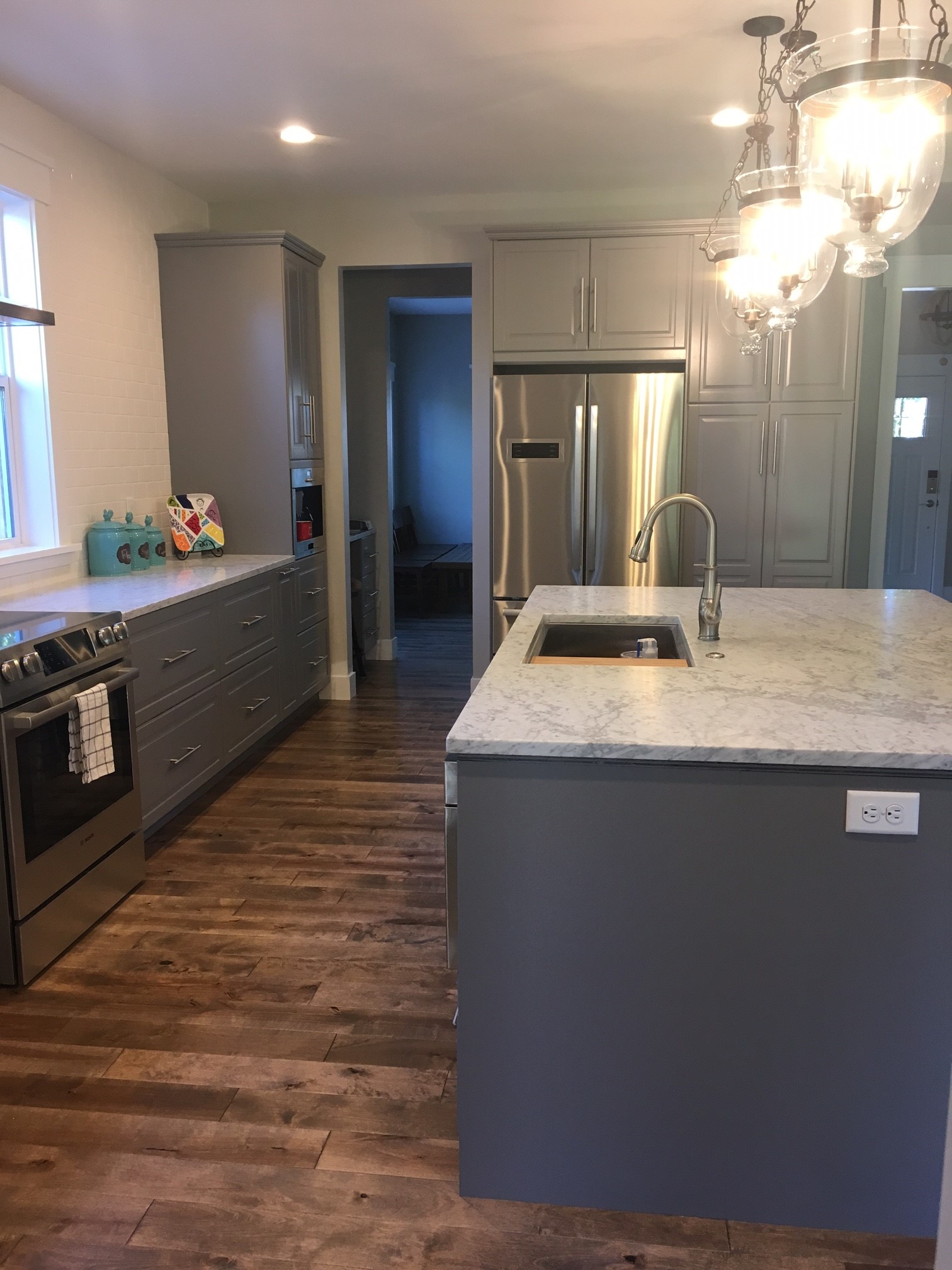 The smaller inner drawers that are standard to IKEA are actually expensive add-ons from a custom cabinet maker. –IKD customer Heather
The IKEA kitchen line is built for kitchens to look high end.
#2 Traditional door style + crown moulding = a high end look
Crown moulding is the not-so-secret secret to making a kitchen look really polished. However, crown moulding works best with traditional door styles.
Traditional door styles also more closely match the craftsman's cottage look.
Heather's husband was inspired to place 2 pieces of IKEA contoured deco strips on top of each other to create the chunkier moulding on top of the the 2 high pantries.
As for the traditional door style, Heather and her husband considered going with custom doors from Semihandmade. Ultimately they chose not to, because replacing an IKEA door would be easier for them and for the next person who buys the home.
#3 High-end appliances + granite countertop = a beautiful workhorse kitchen
All of the appliances are Bosch. Personally, we think this is the coolest of all of them:
A built-in, fully automatic coffee machine? This is the Pacific Northwest, isn't it? Yes please. Previously Heather had a French press, and also a Chemex. She liked both of them but really disliked having counter clutter. Bosch to the rescue.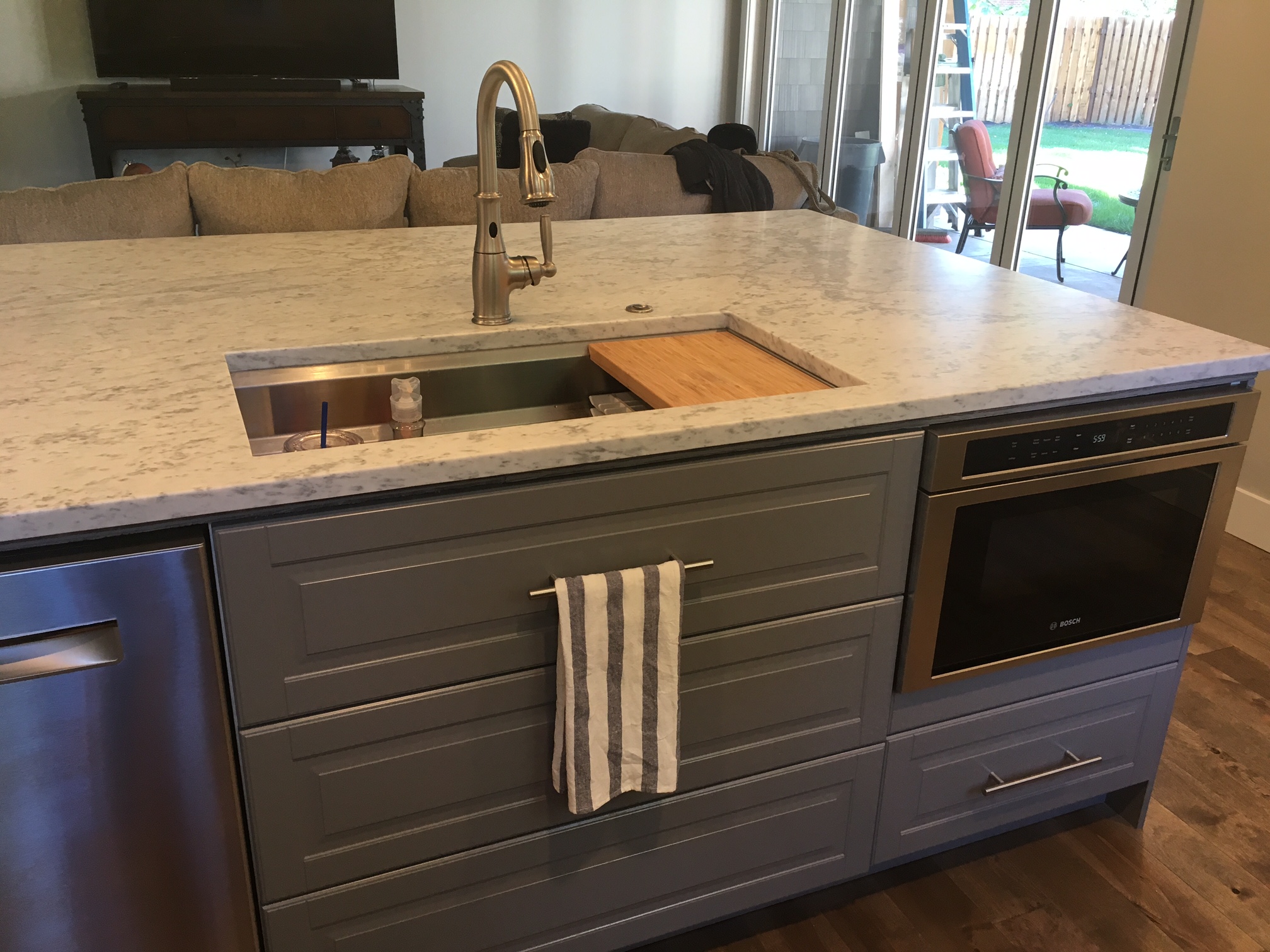 The sink is the other luxury appliance in this IKEA kitchen. The Kohler Prolific is not just a sink, it's a work station. There's a video on the Home Depot site that show how you can prep a salad from beginning to end, right in the sink.
The countertop from Keystone Granite in Salem, Oregon, is less exciting than the appliances, but it's a more subtle luxury design element for the kitchen.
Ready to make your kitchen look high end with IKEA?
If there's anything Heather wants you to know about her kitchen, it's that IKD really made it happen.
"All of the storage and organization that I love so much about this kitchen? It all came from IKD."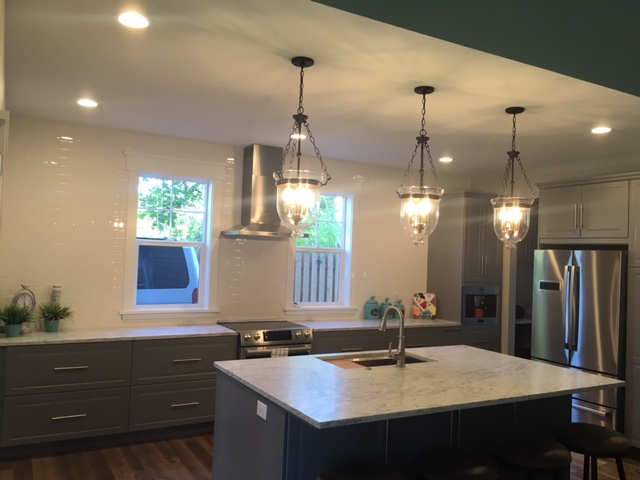 Reviews on Houzz were a big part of why I chose IKD. I'm a veteran general contractor when it comes to building homes, and I know from experience that when someone leaves a less-than-great review, it's usually because the homeowner thought they knew more than the firm they hired.

That's why I was so eager to be interviewed for the IKD blog – I really trusted the reviews I read and I want other people to know they can trust them too. Hire IKD! You won't regret it. –IKD customer Heather
Thanks for the kudos, Heather! We're so glad you love your new kitchen. You really know how to make a kitchen look high end, and we're glad we could help.