Leaving no cabinets close to a kitchen window may sound like a big no-no, but if you have some space to spare where a cabinet wouldn't normally fit, adding open shelves is a great alternative. This is even better for smaller kitchens that have a need for storage but can also benefit from some open space.  We dressed up the space with a total of $42 by using 10″-wide LACK shelves!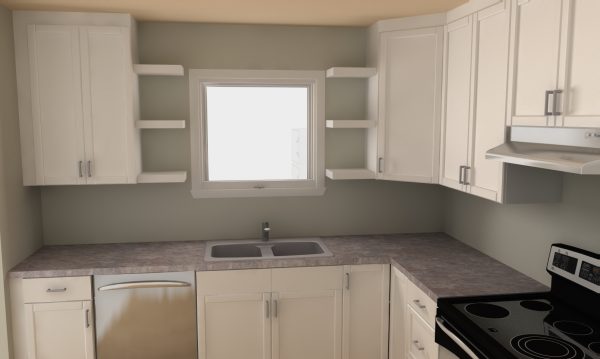 Many homeowners are embracing this idea in their own kitchens and the look is becoming less of a trend and more of a lifestyle choice. These shelves are not only pretty but they're also an inexpensive addition to your kitchen that creates tiny storage niches where space is valuable.
Here are 5 great reasons to use open shelves around your kitchen window:
More natural light:

The window will let in more light and the kitchen will feel more open. (That's why we left the valance out, too!)

More comfort while working at the sink: It'd be great to be able to do the dishes without worrying about banging the wall cabinets.
More display areas: Use these shelves to display small artwork, family pictures, vases or even heirlooms.
More symmetry in your design: Get rid of bulky molding around the window and use a simpler molding with these shelves.
More budget for other items: LACK shelves are inexpensive and by using them instead of full cabinets, you can save money for other parts of your project.
These are the dimensions for the space where we used open shelves: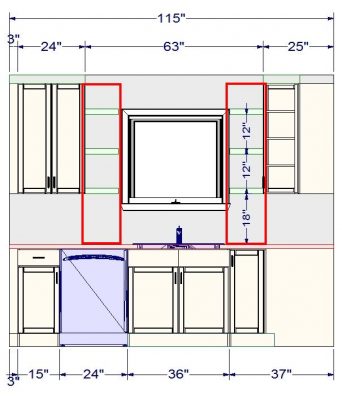 Related entries: