Take a morning or a weekend to remodel your bathroom with these quick and easy ideas from IKEA. With basic yet sleek components, you can achieve a compact and functional bathroom in a small space. Here's how to do it: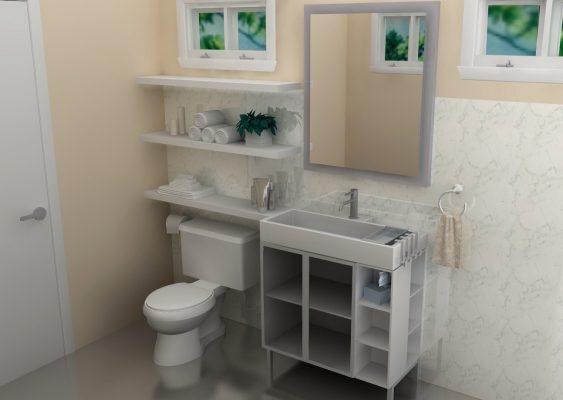 Bathroom remodeling is second only to kitchen remodeling in terms of pain, misery, dust, cost, and unmet-timetables. So, it pays off to think outside the box a little: to find ways to ease the misery. The LILLANGEN sink is flexible, affordable and it saves a lot of space.
Tips from our designers:
1. Ease back on the custom-designed vanity idea and consider a smaller unit if you don't have much space in your bathroom.
2. If you need easy access to small toiletries, consider glass doors or open shelves.
3. Multiple organizers and accessories make this cabinet cost effective. It includes a towel hanger, a soap dish and a stainless steel tray for toiletries.
4. The widest unit is 31 1/2″ but it's only 16″ deep, leaving more space for traffic at your bathroom.
5. The LILLANGEN sink base can be customized with mix-and-match parts from IKEA, using a closed cabinet frame or combining this open with units.
So, how big is the LILLANGEN sink unit?
The sink comes in three different widths: 15 3/4″, 23 5/8″ and 31 1/2″. It also has two different depths available for the 23 5/8″ model:  10 5/8″ and 16″.  The 31 1/2″ comes in a 16″ depth only. Take a look at our example, featuring the largest LILLANGEN sink available: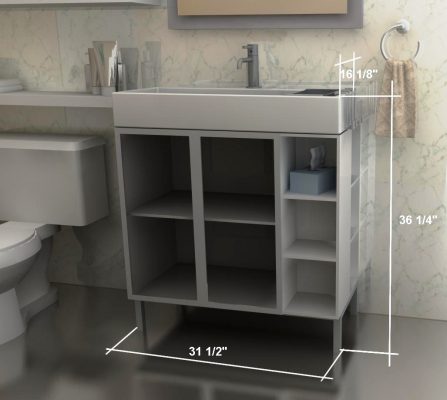 You don't need a lot of space to make a big impact or make a small bathroom look like nice.  Sometimes all it takes is a different bathroom vanity, like the LILLANGEN sink base., and great ideas from IKEA.
Check out our blog for more great bathroom remodeling ideas: