How did one of our clients go from this…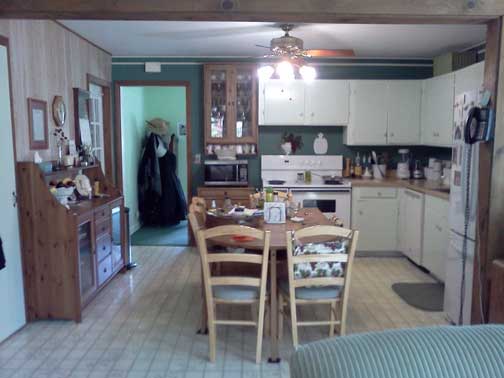 to this?
It was a big change for Greta and Ron but they couldn't be happier. We love a good Before and After, don't you? Let's see how they got there.
An IKEA Kitchen Just the Way They Wanted It
Greta and Ron's kitchen had served them well while their children were still living at home. But now those children had homes and children of their own. They loved having their grandchildren visit them.
They were ready for a kitchen just the way they wanted it – with room for visiting kids and grandkids. And overall, they wanted a more modern look for their kitchen. They knew IKEA was the way to go for that modern yet cozy look.
Greta and Ron's Kitchen – Before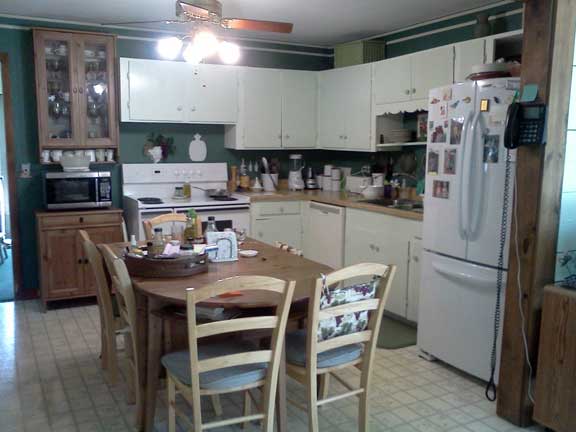 As you can see, the cabinets and buffet were dated. The kitchen's color scheme of wood grain, white, and dark painted walls made for a hodge-podge look. The gap between the ceiling and the cabinets was just a trap for dust and grime.
But Greta and Ron were looking for more than just a facelift for their kitchen remodel. They needed several layout changes to make their kitchen work for them and their needs.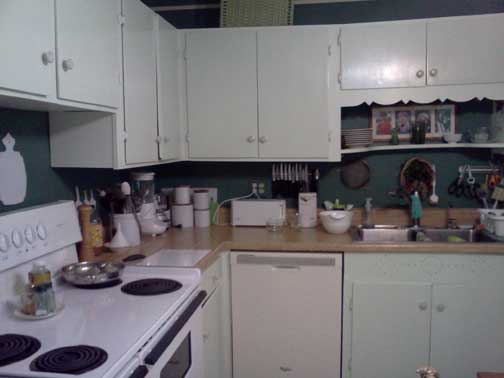 Greta and Ron were vegetarians who made their meals from scratch. Ingredients needed to be within reach. They also needed room for their many cutting boards and mixing bowls.
They also needed more counterspace. The space-stealing culprit was clutter, usually small appliances. The Keurig coffee machine, toaster, can opener, blender, and food chopper took up considerable space.
It was also too dark under there! Under-cabinet lighting was a must for their kitchen remodel.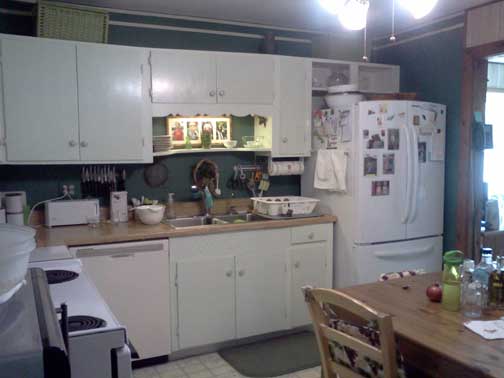 The kitchen table served several purposes besides eating. Ron used the end closest to the stove as his desk. Greta cut fabric for sewing projects. However the refrigerator door would swing out into the table and get in the way.
And a few new major appliances couldn't hurt, either.
Greta and Ron's Kitchen – After
Here are photos of Greta and Ron's beautiful new IKEA kitchen:
Their new IKEA kitchen design reflects Greta and Ron's preferred color scheme to one of white, beige, and sea green colors to make for a breezier look. The refrigerator has moved to where the microwave used to be. The doors no longer interfere when guests are visiting.
They chose stylish and afforable ORSA cabinets and drawers  with ATTEST handles for an overall lighter look in their kitchen. The cabinets are also tall enough meet the ceiling so there's no gap. An AVSIKT appliance garage neatly stores the small appliances that used to take up so much space. A new NUTID microwave has been moved above the new LAGAN oven and stovetop. Under-cabinet lighting also brightens the space.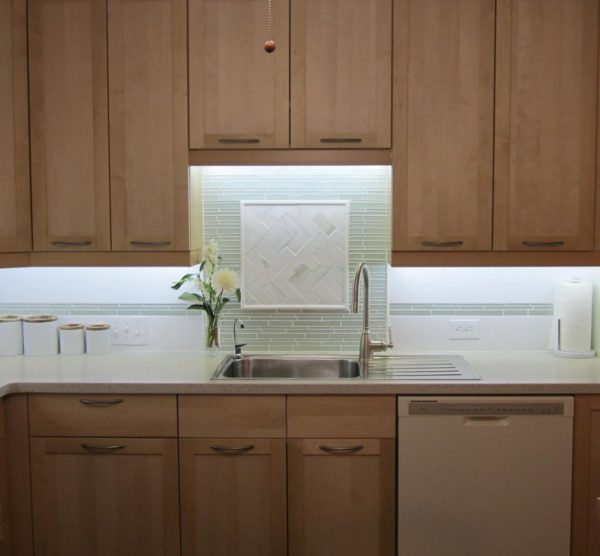 A master plumber, Ron moved the dishwasher and sink locations before installing a one-bowl BOHOLMEN sink. The new backsplash brought in the sea green color they were looking for.
The corner cabinet has a RATIONELL carousel inside. The handles on the lower part of the cabinets also make it easier to get to items within.
Overall, Greta and Ron's new kitchen design looks more integrated because of the consistent cabinet colors.
If you're ready for an IKEA kitchen remodel just for you,

get started with us today

.
PS – did you notice the two older IKEA pieces in their original kitchen? They were the cabinet under the microwave, and the buffet table across from the kitchen table. If you know the names of the pieces, tell us in the comments!