I believe a well-designed mudroom should look good and also provide total organization for all your outdoor stuff. After designing so many IKEA mudrooms I became curious about them. With a little research I found they were once just a stopgap to prevent mud trailing into the house on the bottom of your boots; mudrooms and boot rooms are now desirable add-ons to every modern home. A mudroom, as it is known in the US and Australia, or boot room as it is called in the UK, is the utility space between the outside and inside of your home. A messy (and possibly wet and muddy) collection of bags, coats and outdoor gear can be an eyesore and a tripping hazard. Not a great way to introduce your home to visitors. My IKD-designed mudrooms and boot rooms use IKEA products like SEKTION cabinets, RINGHULT doors and MAXIMERA drawers, so you can enjoy streamlined and welcoming storage solutions that take pride of place at your house entrance.
Are you aiming for a clean, midcentury modern look to enhance your living space or do you just want practical storage? At IKD we like to provide both practicality and good looks in our designs. The following two IKD-designed mudrooms use IKEA kitchen cabinets and doors.
Mudroom #1
At IKD we wanted to create a sleek and streamlined mudroom in a 180″ wide space, using a budget that came in at under $3,500. Using IKEA SEKTION cabinets and RINGHULT doors we've designed a compact mudroom that allows extra space for a hat and coat stand – IKEA's KNIPPE stand is ideal at $24.99. We always aim to leave room space beyond the wall units or the wall can look too cluttered up. My design has a midcentury modern feel, perfect for style-savvy contemporary homes, and it's practical too. RINGHULT doors are easy to keep clean and also easy on the eye. A small seating area provides a place to sit while removing muddy boots and shoes and wood-finish integral cubbies add a hint of warmth to the overall look, as well as all-important storage space. They also add display areas so if you want to emphasize the design element you can include ornaments and artefacts that give a sophisticated finish to your storage units. A picture on the opposite wall adds a personal touch to the overall design. (IKEA has a good range of wall art, like ELDEVIK, TRILLING and BILD posters). My Mudroom 1 design comes in at $3,356, which includes IKEA total price of $1,764 plus the cost of extra Items and custom units.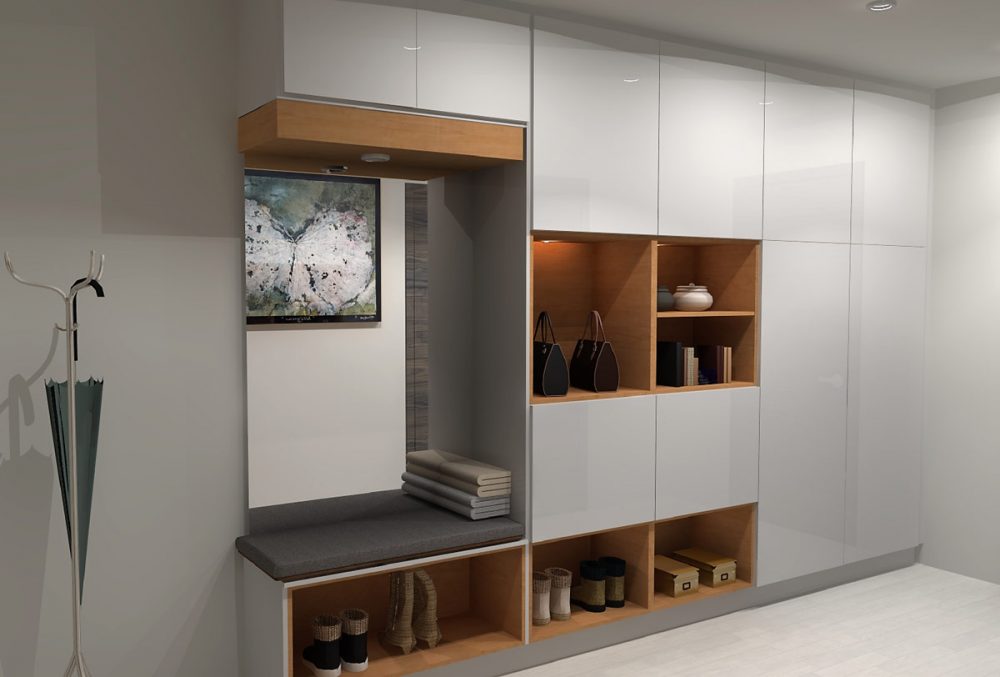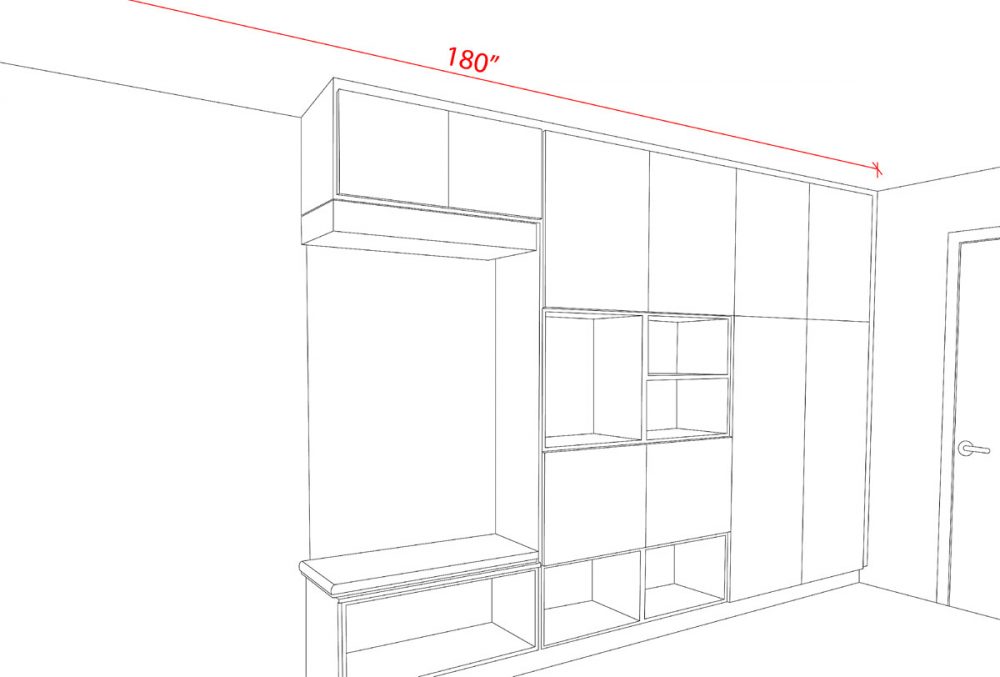 Mudroom #2
We also wanted to design an IKEA mudroom for around $2,000. This slightly smaller design at 150″, stretches from wall to wall, and incorporates a window. Well-designed mudrooms need to fit around your available space. There is no leftover space around the units, so an open area in the middle gives cohesion to the design: When the entire wall is taken up with units filled with your stuff, it can be too much to take in. The view through the window balances the coats, umbrellas and paraphernalia hanging on hooks to the right and items stored in the shelving unit to the left. We intended to give a warming, tranquil feel to the organization of SEKTION wall cabinets, MAXIMERA drawers and GRIMSLOV wood-finish doors. Storage boxes in the shelving cubbies (like BATTING boxes and baskets) complement the finished design, while providing extra places to put things. Adding a cushion to the middle section beneath the window could provide more comfortable seating. IKEA total price + custom units + extra items = $2,120.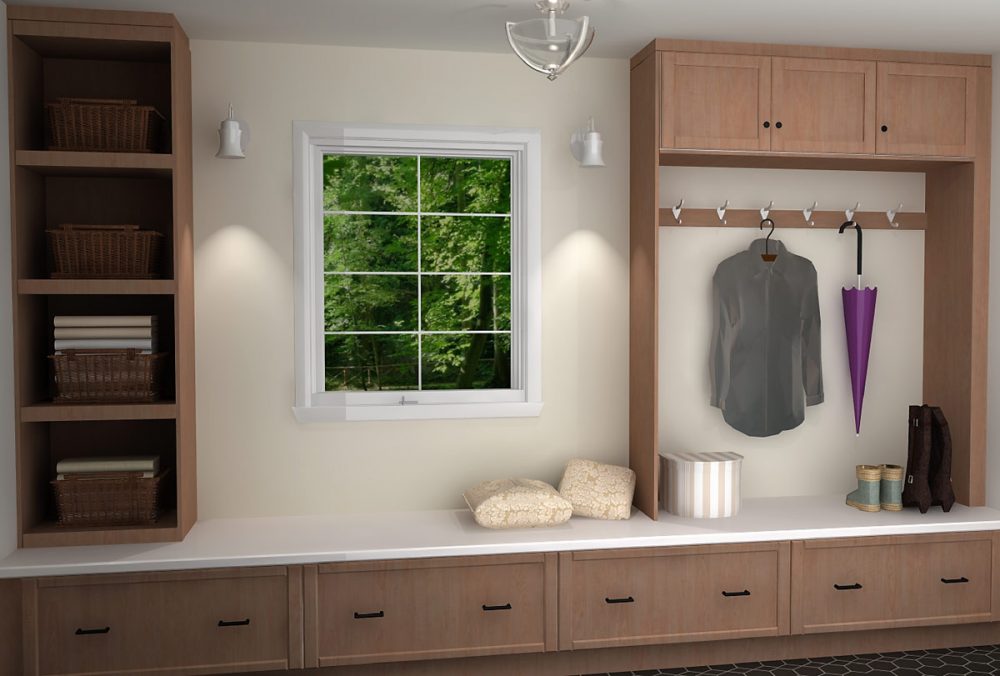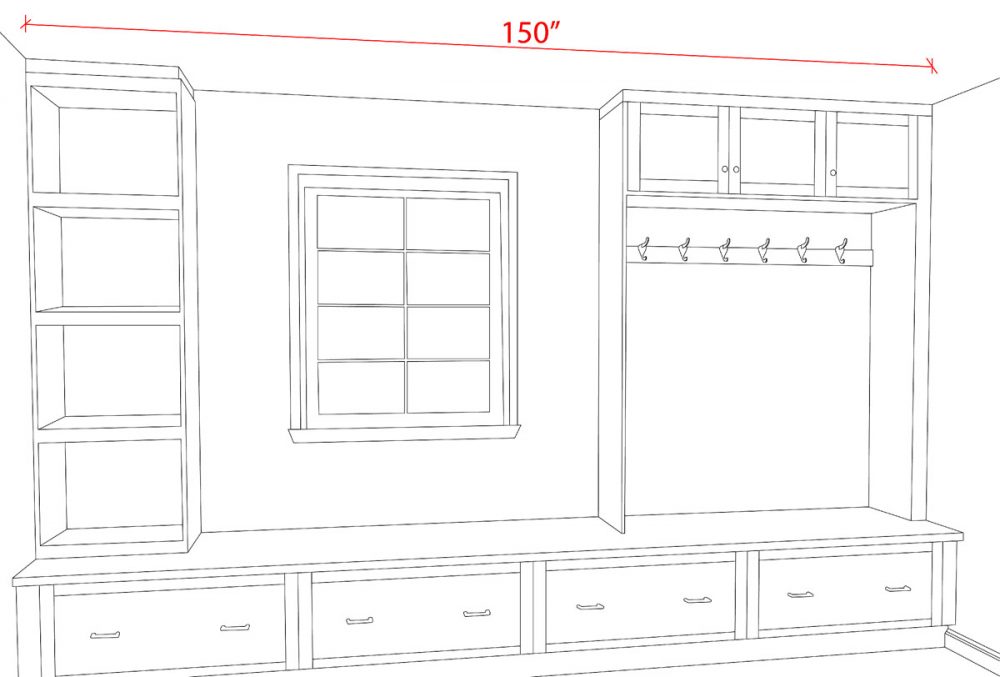 My five extra pointers for making IKEA mudrooms work:
1. Wipeable cupboards, cubbies, cabinetry: Essentially a mudroom/boot room needs to be clean – clean design-lines, clean room. So we make sure our mudrooms are easy to keep clean and tidy as well as easy on the eye.
2. A mixture of low-level units for boots, shoes and storage baskets as well as high-level units for hanging coats etc and for storing items that you don't use all the time. Eye-level storage is ideal for everyday items. A good mudroom makes effective use of all available space.
3. Hooks and hanging space: If you like you can personalize hooks so family members have their own hanging space. Hooks give quick access and are easy to use.
4. A seating element/bench: When you need to take off outdoor shoes and boots which may be wet/muddy you need to be able to sit down.
5. Practical flooring: This area is your home's point-of-entry from the great outdoors. Mud and dirt will be trailed inside and your flooring needs to be non-slippery, easy to clean and durable.
Learn more about how we can also design your IKEA kitchen, bath and closet https://inspiredkitchendesign.com.