Juliana and her partner, Stephen, knew when they bought their condo: the kitchen would have to go. Its two major flaws?
Lack of space. To call this kitchen "cramped" is an understatement!
It was dated. Not "1930s kitchen" dated, but even still… Well, just look.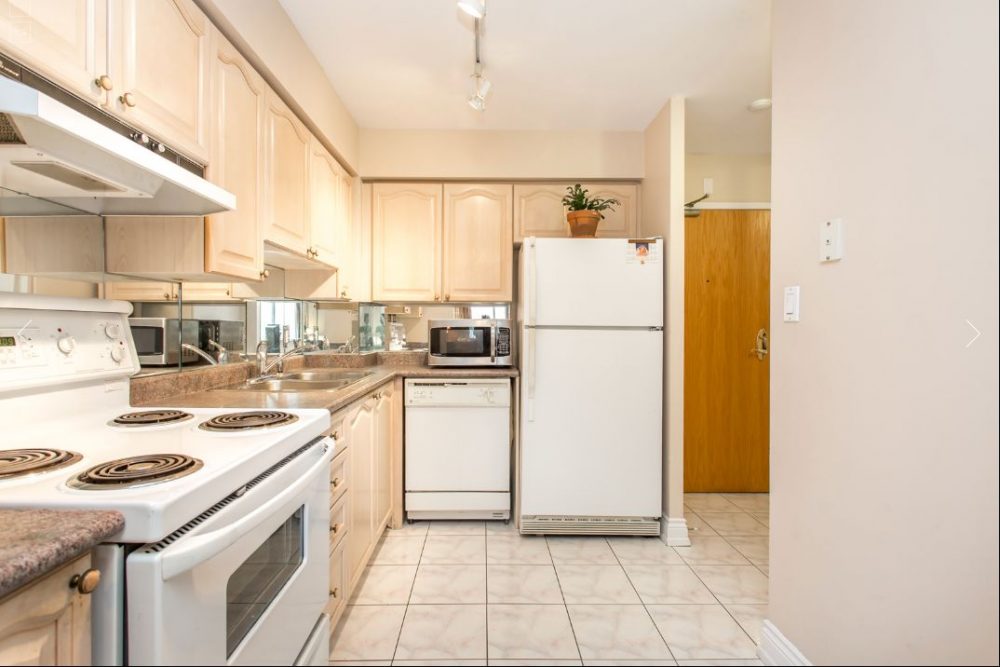 Despite the closed-off space and the dated look, they saw a lot of potential for renovation. Juliana already knew she wanted an IKEA kitchen. "When we visited our local IKEA showroom, one of the display kitchens became our inspiration." (See? It's not just us!)
Unfortunately, their chosen contractor didn't do the design process — but help was just a quick Google search away. Once they found IKD, they knew they could get the ball rolling.
The end result? Goodbye, cramped quarters. Goodbye, dated aesthetic. Hello, stylish, sleek, spacious IKEA kitchen!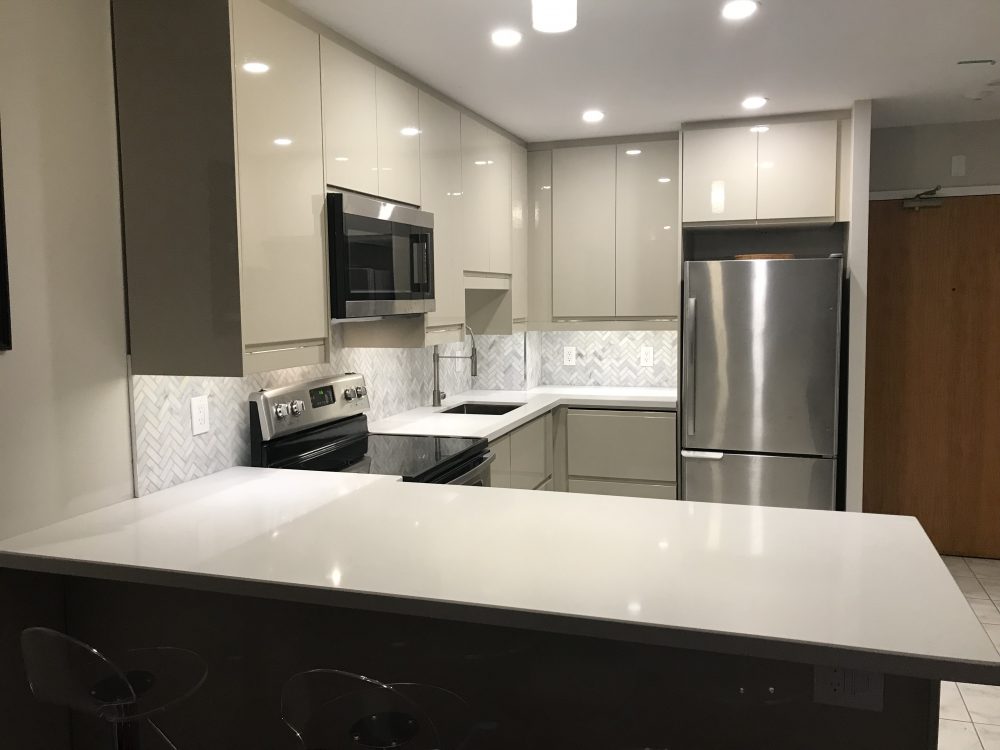 Top 3 Design Challenges for This IKEA Kitchen
Every kitchen has its share of challenges when it comes to making kitchen dreams a reality. Luckily, the expert team here at IKD knew just how to solve those problems. Let's take a look at how the team helped Juliana get the spacious IKEA kitchen she wanted.
Challenge #1: get a more "open concept." Step one: knock out two walls. Step two: add a peninsula. Not only did this open up the closed-off space, it also gave Juliana and Stephen the added bonus of more countertop space for meal prep.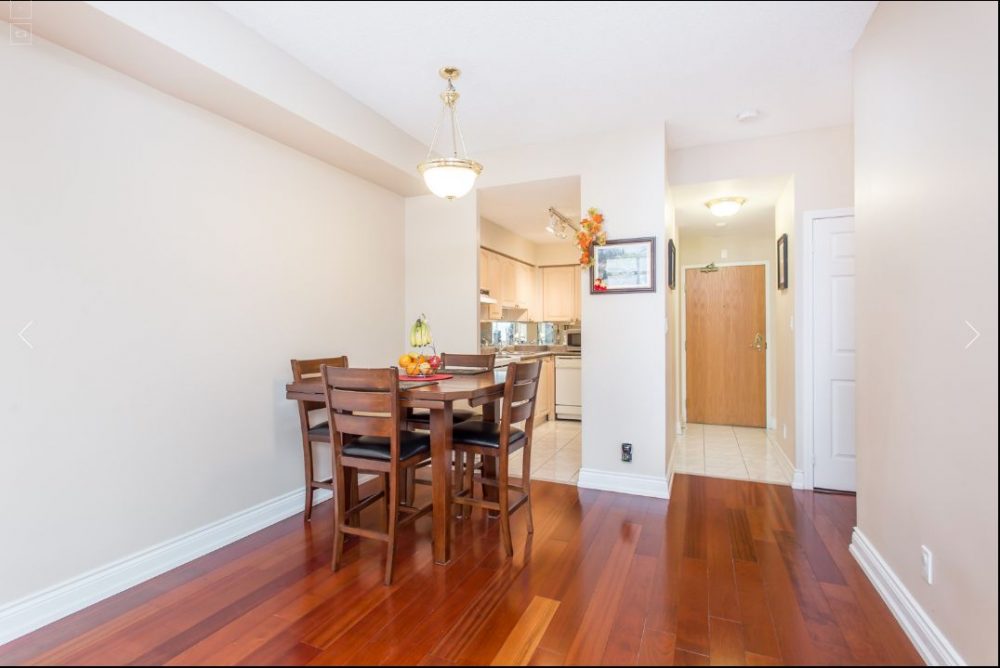 Before: talk about tiny!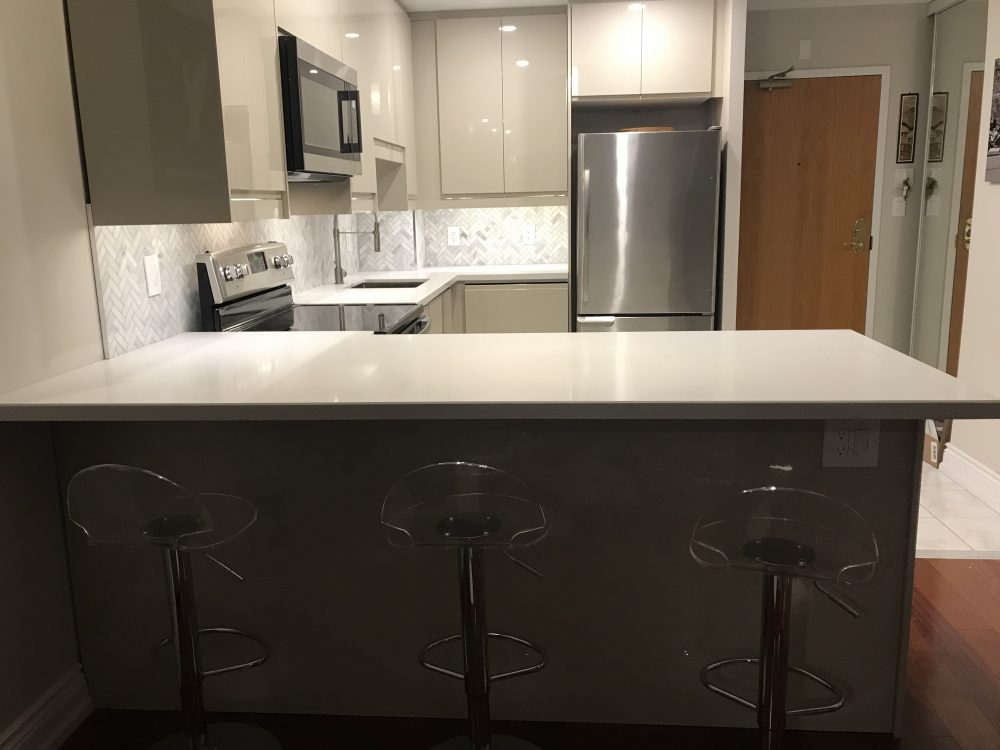 After: at last, some breathing room.
Challenge #2: maximize storage. Juliana and Stephen both love to cook, so they knew they needed plenty of storage to go along with their increased countertop space. The peninsula played a role here, too! Also, they knocked out the bulkhead to make their cabinets taller. Voila! Instant extra storage.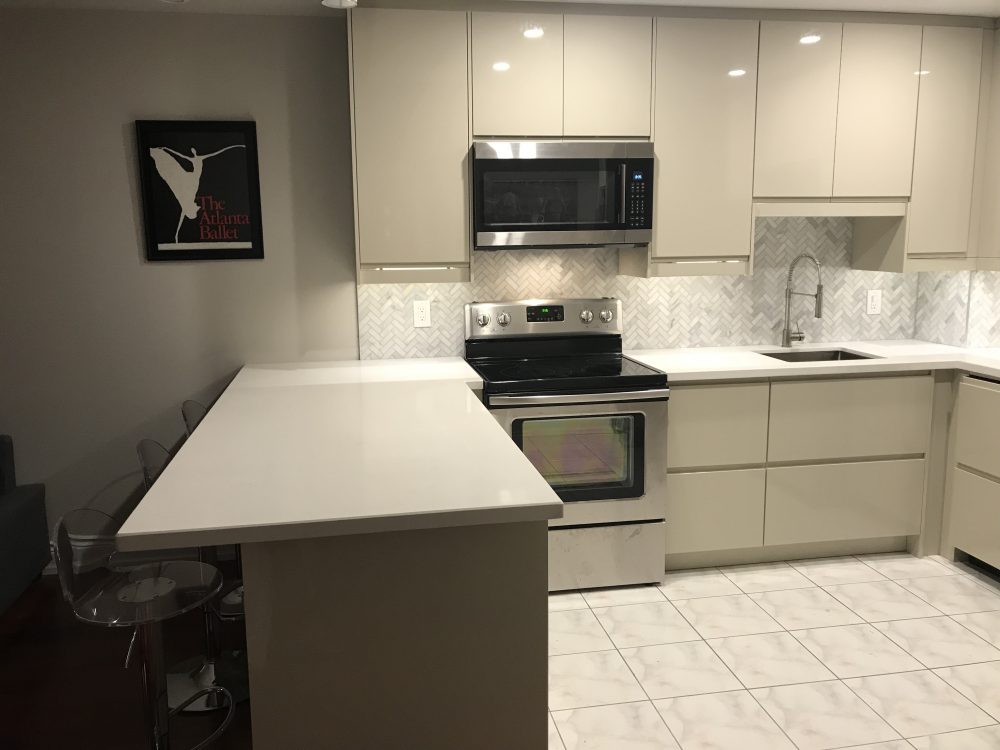 Challenge #3: bring a bit of Europe to the US. The model kitchen that inspired their design had a false front over the dishwasher, something common in European kitchens. Those false fronts aren't as common here in the states — but luckily, after some back and forth, they were able to get what they wanted to bring their dream kitchen to life.
Some Words of Advice From This IKD Customer
Do you feel the wheels of inspiration turning? Have you been dreaming of a kitchen remodel of your own? Juliana has two pieces of advice for anyone about to start their kitchen journey.
Practice patience. "Be prepared for things to take longer than you expect. We began our renovation in August and didn't have a functional kitchen (with countertops) until October. Even then, we still had to wait for the backsplash. A lot of this wasn't working time — it was waiting time. Luckily, we set up a little kitchenette — with a microwave, kettle, and a toaster — oven to make do in the meantime. That way, we didn't eat takeout for three months."
Work with good people. Like true city dwellers, Juliana and Stephen don't have a car. This made returns and exchanges a bit of a hassle! Luckily, their contractor helped out, ferrying products between the condo and the nearest IKEA.
Also, a word of warning for you VOXTORP fans: "Some of those high-gloss pieces looked chipped when they got cut. Needless to say, we weren't very happy with that! We had to order extras, and thankfully we didn't have issues the second time around. When you work with good people, they'll do what they can to make things right in the end."
A Spacious IKEA Kitchen They'll Love for Years to Come
After three months of "hurry up and wait," Juliana and Stephen finally have the stylish, spacious IKEA kitchen they wanted.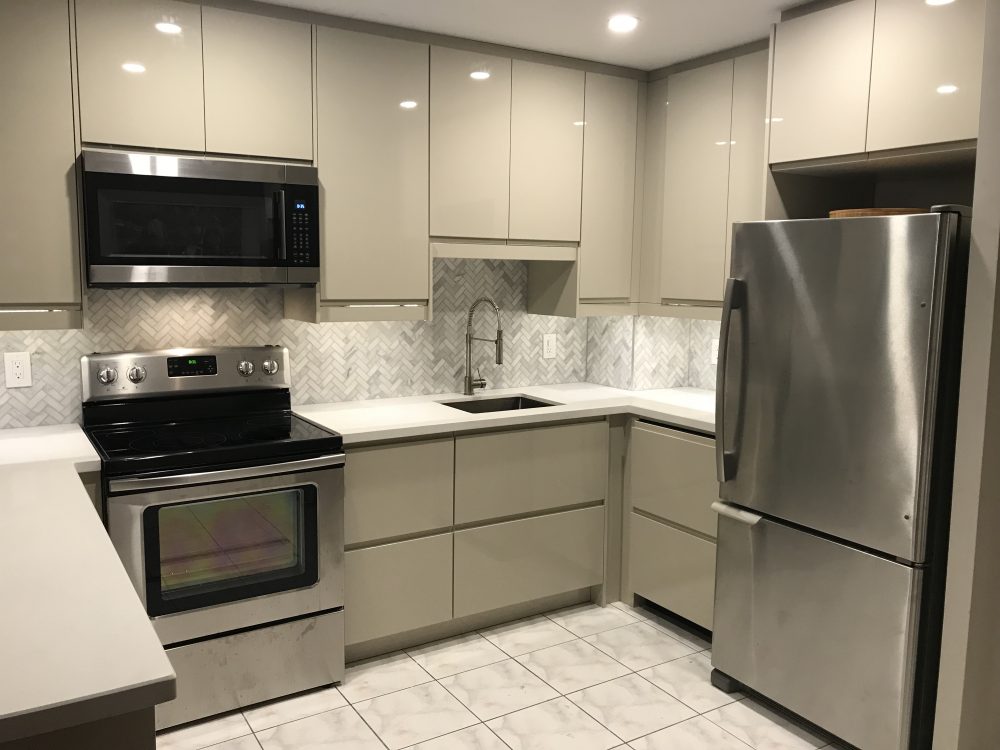 We especially love all the shades of gray in the backsplash. They perfectly complement the new countertop and cabinet doors, as well as the existing tile floor.
Are you ready to say goodbye to your old kitchen? You can get started with IKD today. Juliana knows she was happy to have her design in hand. "It felt like an important first step. When we had the design, everything felt more real, and not as abstract."