As seasoned kitchen designers who have spent the last 10 years designing IKEA kitchens, we've seen some real uggos. But last year we discovered the world's ugliest kitchen and kitchen island were actually located in the Canadian province of Quebec.
So when IKD redesigned their kitchen we got rid of the island. Now Kevin and wife Ellie have a beautiful, classic white IKEA kitchen: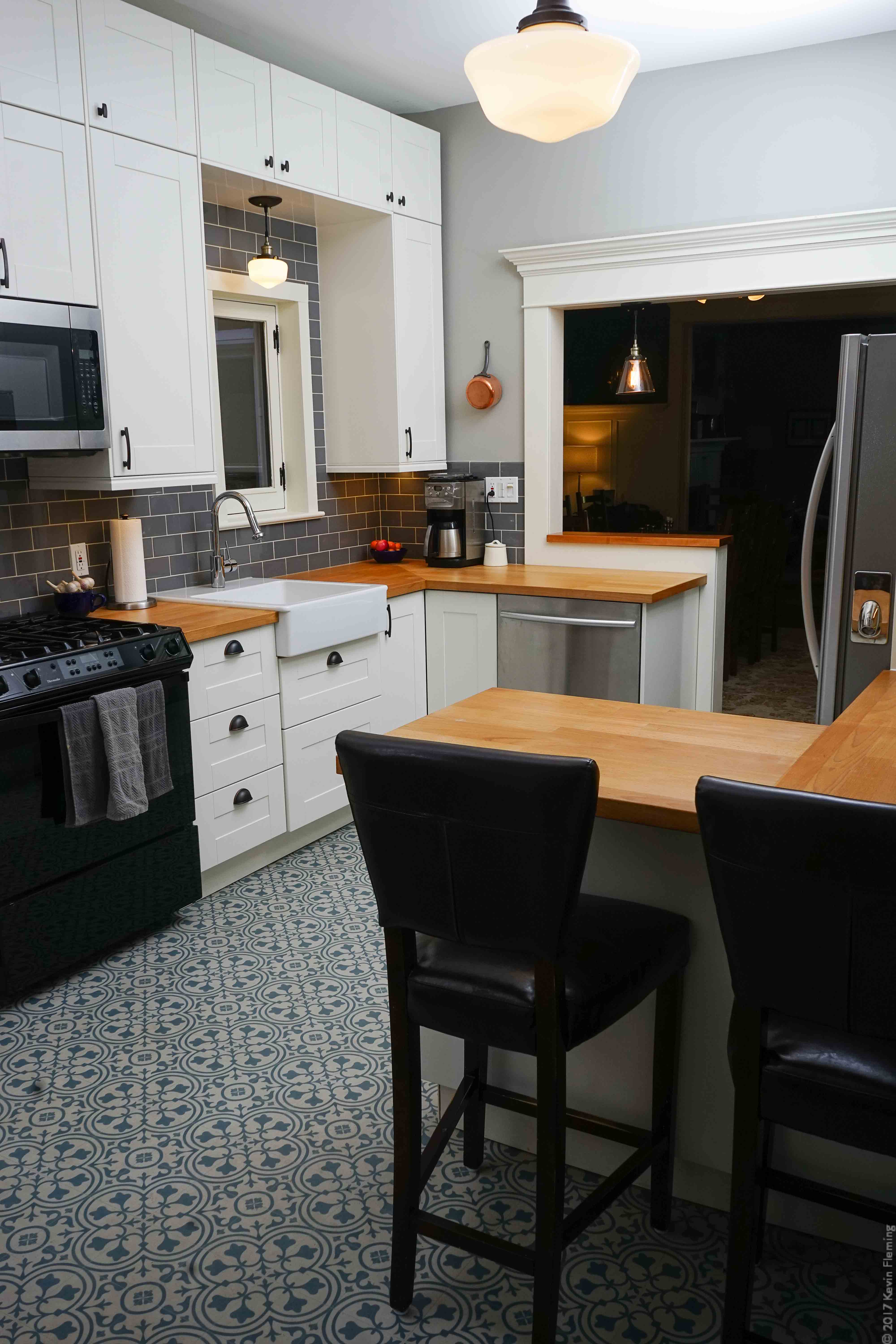 To really appreciate the beauty you see here, you have to see the "before" photos. And by before we mean before they got rid of a tiny pass-through by taking out the wall between the kitchen and the dining room.
This before photo was taken from almost the same angle.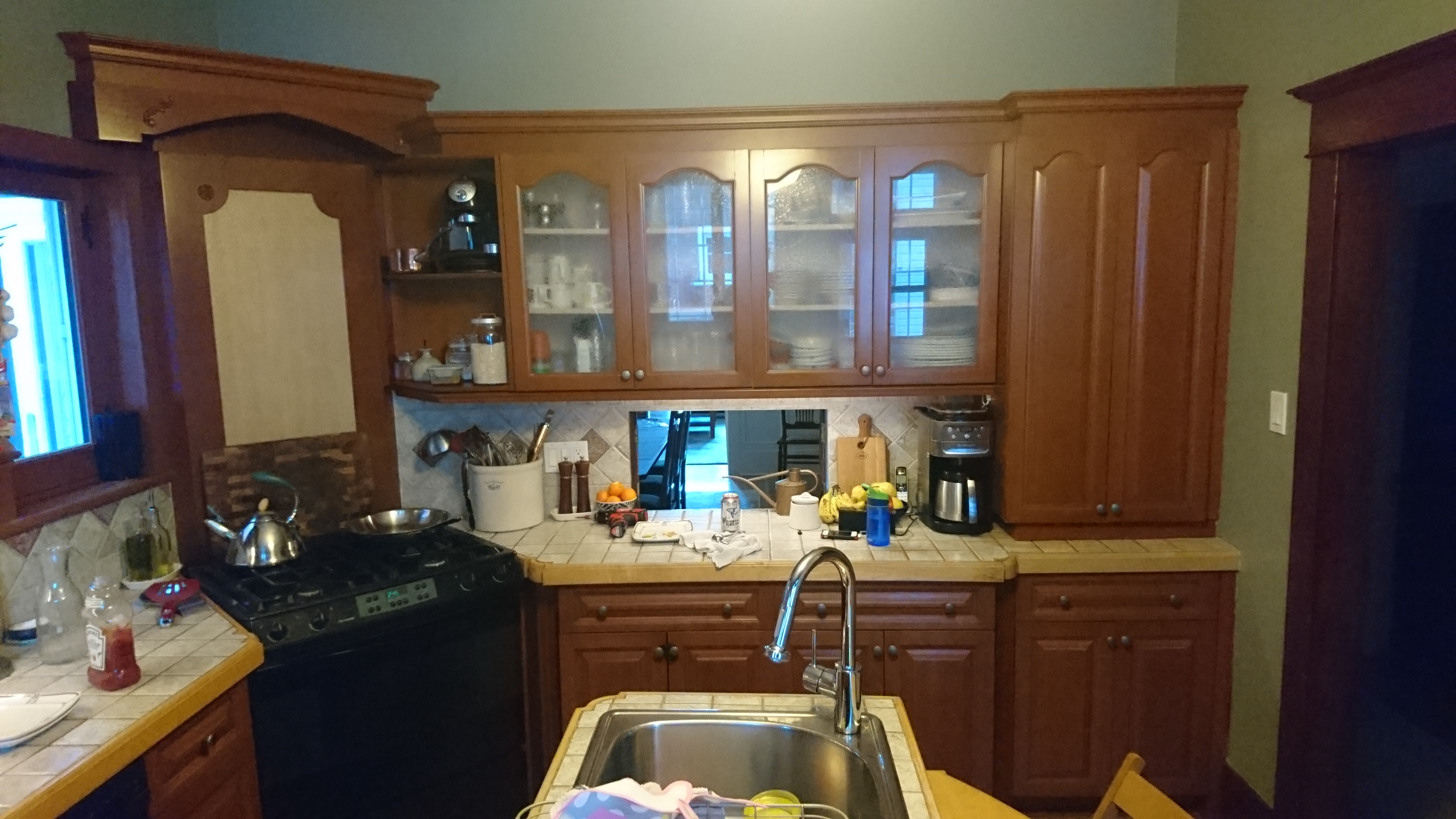 The reason the old kitchen photo was taken from a much closer angle? In the 90s someone thought it would be a great idea to put a kitchen island right in the middle of what was already a small kitchen.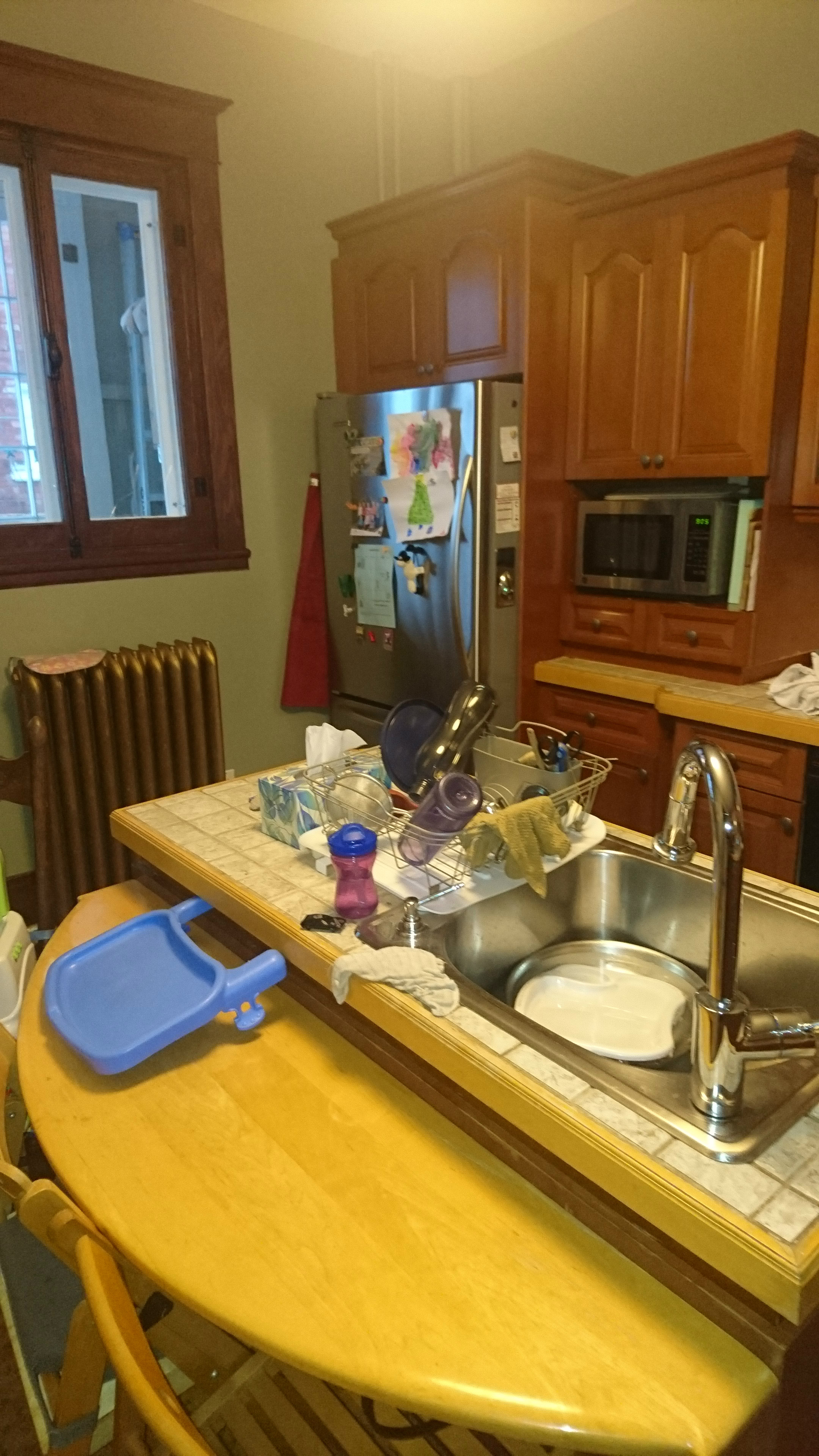 That's not all! Someone also decided to attach a breakfast bar to the island, and to attach it lower than the counter itself.
For Kevin and Ellie, it's not the tile countertops, angled stove, or dated brown cabinet doors that made this kitchen unbearable. It was the kitchen island that made their kitchen awful, because they couldn't cook or bake without bumping into each other constantly.
A kitchen island doesn't make sense in some kitchens
Kevin and Ellie knew that the kitchen island had to go. But as they started to play with the IKEA kitchen planner they were stumped: what should they do instead?
We knew what didn't work for us, but then again we'd never designed a kitchen before, either. So we really didn't know how to make it better. – IKD customer Kevin
So they went to the closest IKEA distribution center for help with the kitchen planner. Instead of help, the IKEA kitchen employees just stared blankly at the couple. The lack of helpfulness from IKEA staff almost completely put them off the idea of an IKEA kitchen.
Nobody in the kitchen department at IKEA could answer questions about the ideas we had for our kitchen. Because we have 10' high ceilings, we wanted to stack the wall cabinets as close to the top as possible. We wanted to know if that was possible, and not one staff person had an answer. – IKD customer Kevin
Luckily Ellie didn't give up, instead she started searching online and found us. They loved all of the pictures in our portfolio (why thank you!) and turned most of the design decisions over to us.
I have no idea how Kevin and Ellie were able to stand cooking in that kitchen for 4 years! Narrow walkways make it hard for the cook and that adds stress to the meal. All of us at IKD pay careful attention to leaving enough room for the people who will actually use the kitchen. – IKD designer Eric, passionate about kitchen workflow
But what to do instead?
When a bad kitchen island happens to good people…IKD designs a peninsula
Kevin and Ellie had 3 main requests for their IKEA kitchen design, but needed help figuring out how to get there.
Improving traffic flow and creating a functional seating area that could double as counter space when needed. Kevin and Ellie's young children wanted to be with them while they were cooking, so they wanted a place for the kids to chill or be a part of the action as they got older.
Creating a design that blended in seamlessly with the feel of their 1925 home. The rest of the home has a very formal, traditional feel, including the dining room which has wainscoting and crown moulding, as you can see below. They chose off-white GRIMSLÖV doors, cup handles, a farmhouse sink, and blue and grey floor and backsplash tiles to stay consistent.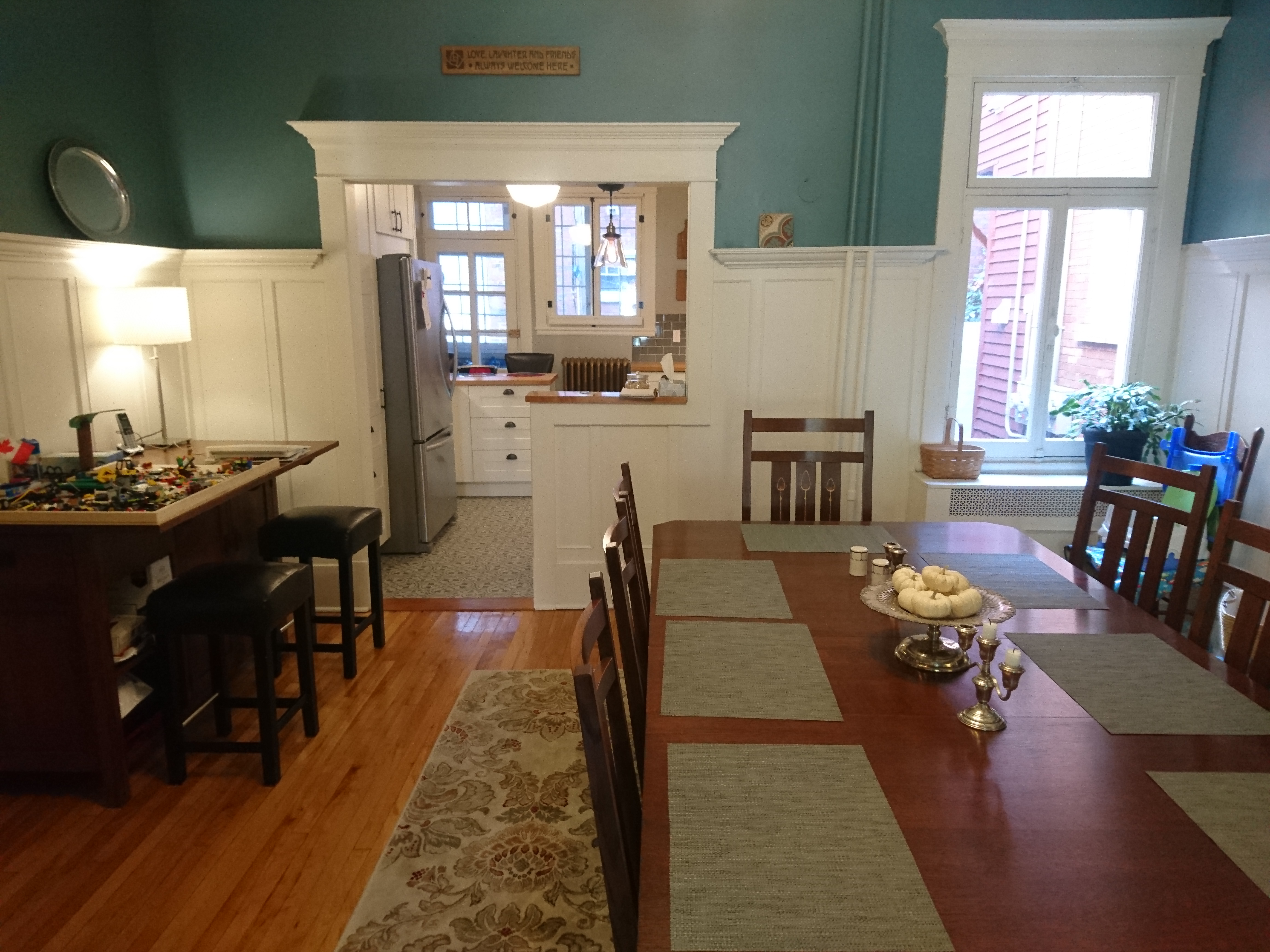 Getting vertical with storage. Their ceilings were high, but the old kitchen had cabinets of standard height. Kevin kept saying to himself, "There's so much more space we could be using!"
When Kevin looked at the first design draft he received from IKD, he exclaimed "That's perfect!" when he saw the little peninsula IKD included in the design.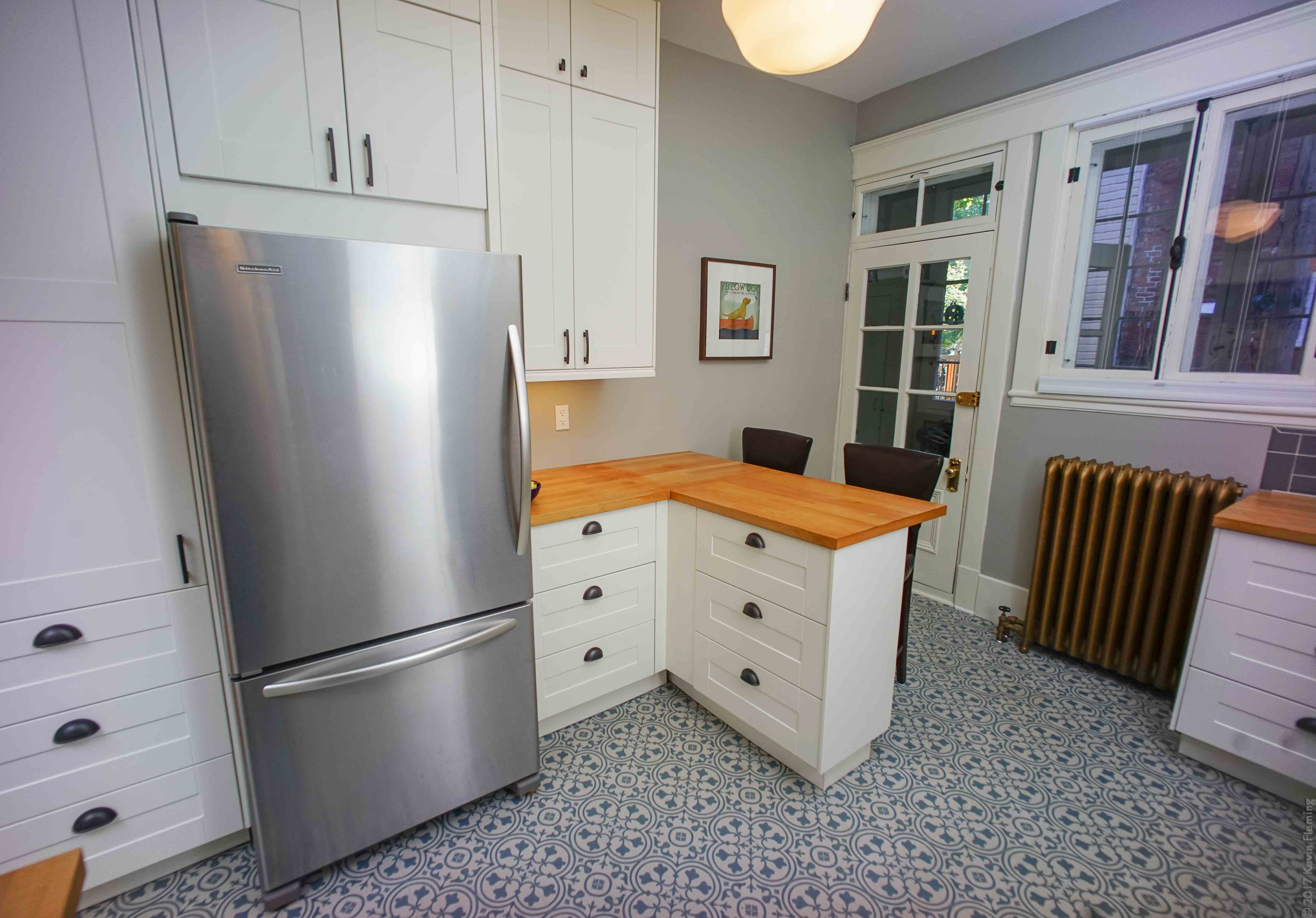 The one thing that never occurred to us is the little peninsula IKD included in the design. And it's exactly what we needed! It has completely changed the way we work in the kitchen. – IKD customer Kevin
This kitchen is a great example of how to create workzones in your kitchen
IKD broke up the kitchen into distinct work areas to keep everyone out of each other's way.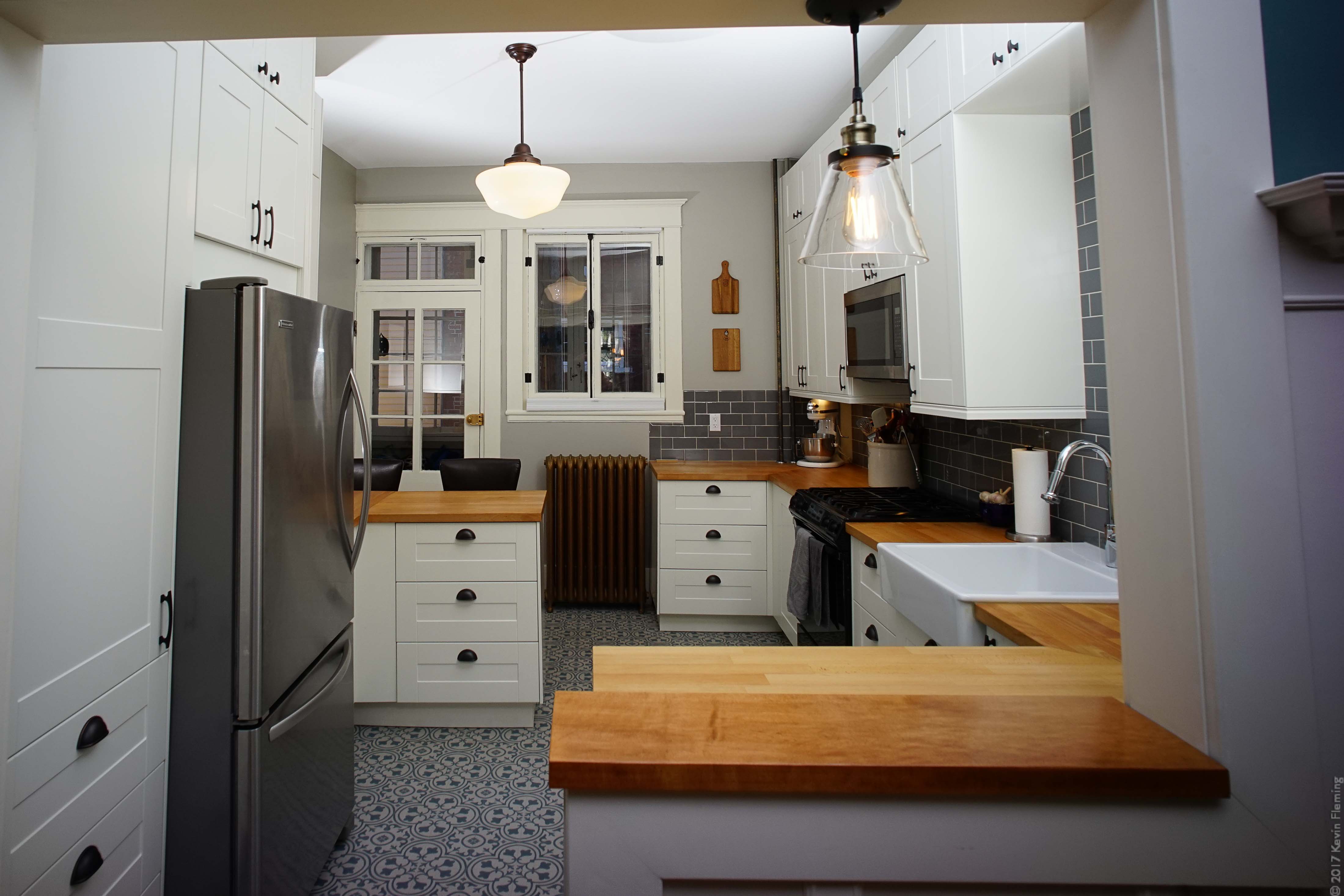 One person can work at the countertop near the radiator, next to the sink on either side, or on the countertop just below the pony wall. If the kids aren't sitting at the peninsula, someone can also work there, too. It all depends on who needs to be near which appliance.
The workzones worked out really well given the limitations of the kitchen space. Even after Kevin and Ellie took out the wall between the kitchen and dining room, the couple discovered they were limited in terms of where they could put certain things.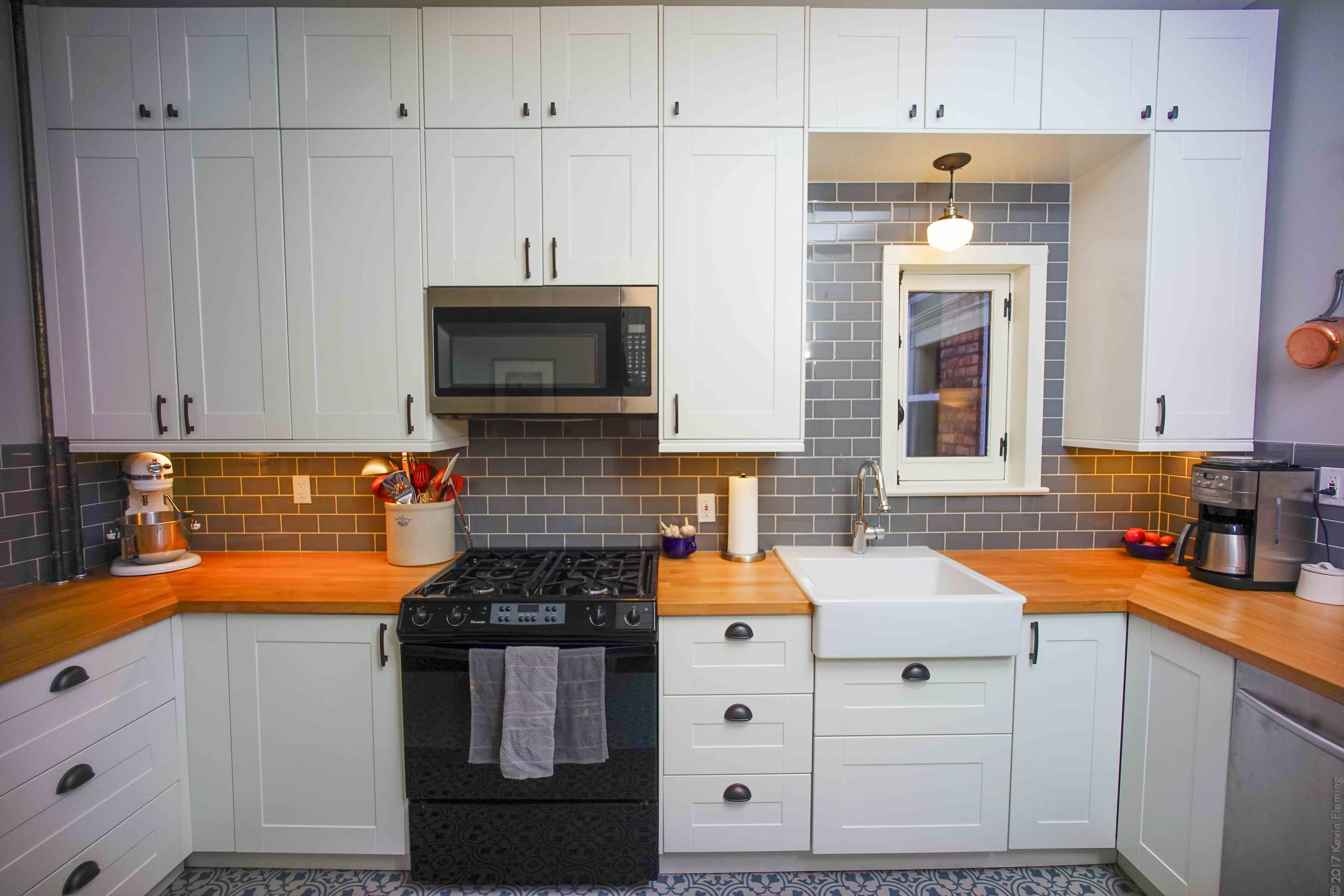 For example, the oven could only go on that wall, in that location. Why? Because it needed to vent to the outside. But the sink also had to be along that wall, but as any kitchen designer knows, it couldn't be next to the oven. That's where Kevin really appreciated IKD's design expertise.
Ellie and I were making a big investment and we really didn't want to make a mistake and then be stuck with a kitchen we didn't love. We kept finding information on design best practices and feeling like, 'but what if there's something we just don't know?' That's what I valued most about hiring a design company. IKD already knew about all of those standard measurements and norms and they could just apply them for our kitchen. – IKD customer Kevin
The little custom touches that make this IKEA kitchen really special
Kevin and Ellie did all of the construction work and installation themselves (bravo!). Kevin also custom-built the crown moulding for the entryway that separates the kitchen and dining room.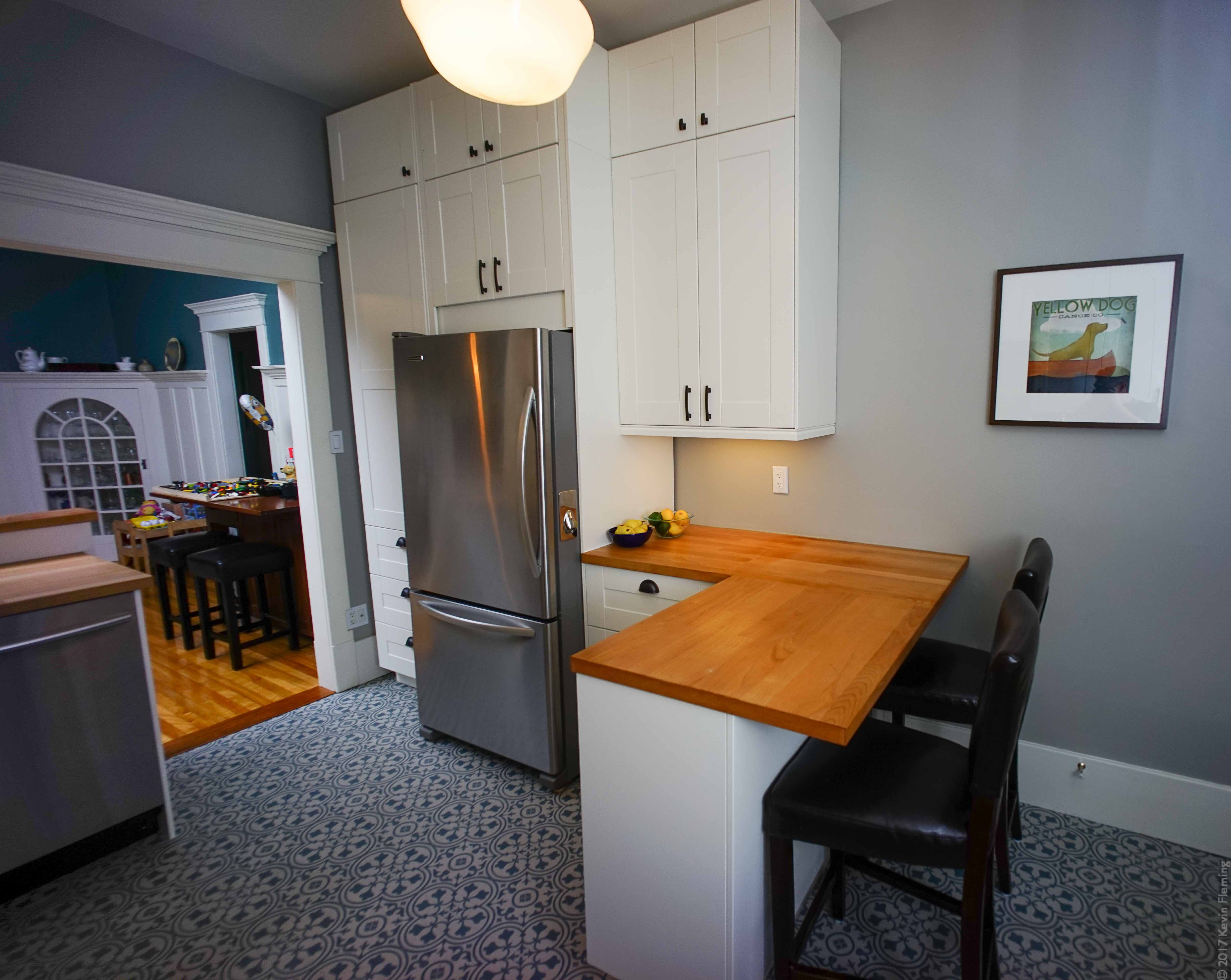 The same moulding appears above the windows and outside door.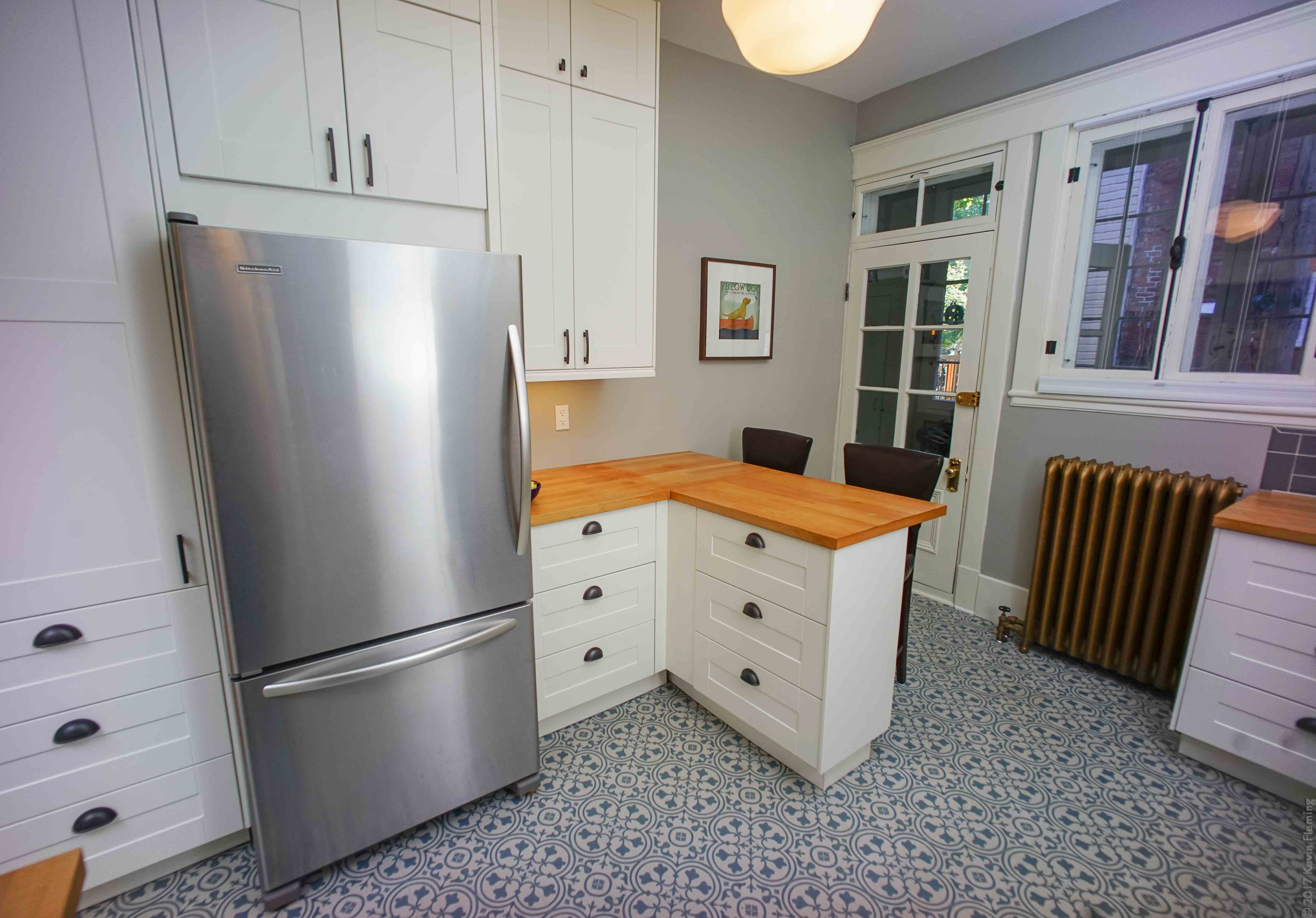 Ellie's favorite kitchen feature is the tall pantry cabinet to the left of the refrigerator.
I'm a baker, and having all of my ingredients in one place makes everything so much easier. There's also so much more countertop space for me to measure ingredients, roll out cookies, etc. It's fun working in my kitchen now. IKD customer Ellie
The floor tile is what keeps this from being just another little white IKEA kitchen. You can find it here.
Is your kitchen in the running for world's ugliest? The IKEA kitchen sale runs from now until November 19th in the United States
Now that Kevin and Ellie have relinquished the title for "World's Ugliest Kitchen" is yours next in line?
If you are ordering your IKEA kitchen in the United States, now is your chance to get 15 percent off your IKEA kitchen! AND DO NOT WAIT TO ORDER YOUR IKEA KITCHEN DESIGN FROM IKD. Order your design today so you have time to shop the sale before it ends on November 19th!