If there's a wider front-controlled gas cooktop in your kitchen, a standard IKEA cabinet just won't cut it. So, what can you do? The solution is to build your own custom AKURUM cabinet with separate cabinet parts that you can get at IKEA.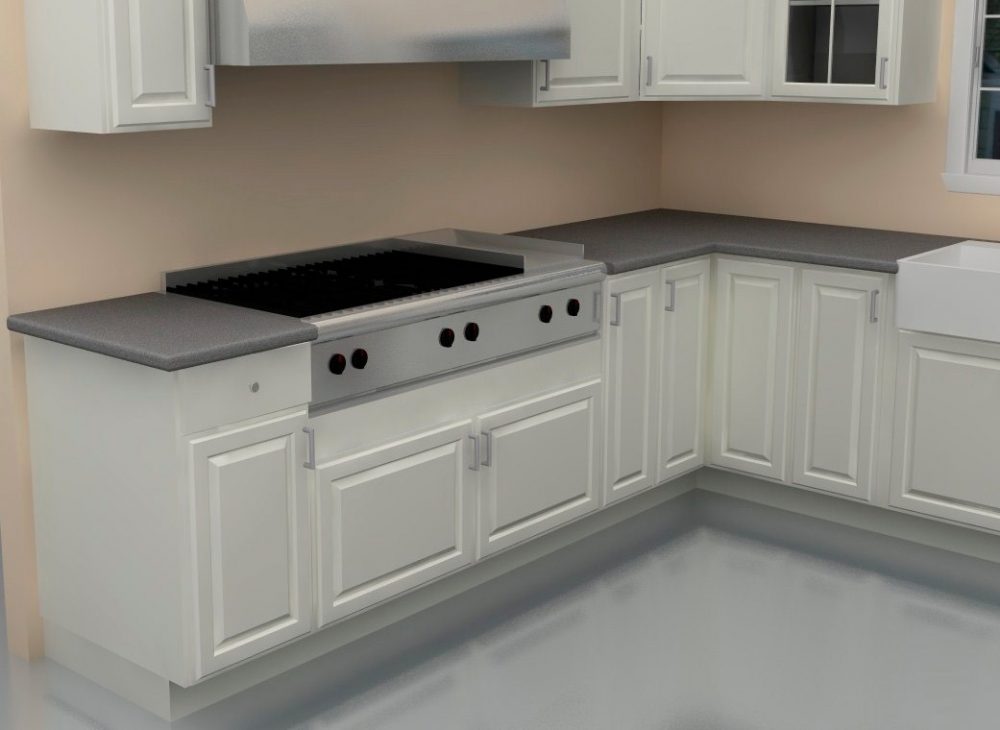 What materials do I need to use for this rangetop cabinet?
The first step is getting all the materials needed for this cabinet. If you're familiar with IKEA kitchen designs, then this can be done in a pinch. If not, it's better to leave the power tools and saws to your contractor. These front-controlled gas cooktops can really pack a punch! They're 48″ wide and will require a cabinet that'll need to be built from scratch. Here's the item list: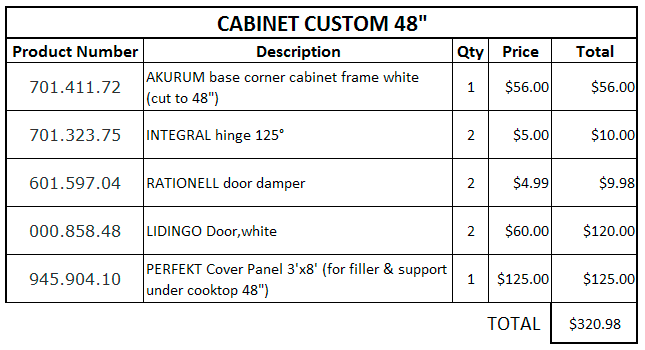 A few notes from our designers:
Reminders: Keep in mind that the door style may change the price of the finished cabinet. Legs and toe-kick or plinth pieces are not included as they are part of the rest of the kitchen. Don't forget to add them if you're taking care of a single cabinet.
Customizing a cabinet frame: As you can see, we have used a blind corner cabinet that was originally 49″ wide but we cut down the 'box' before assembling it to a 48″ width to be able to accommodate the rangetop. A cabinet for your new appliance will also need a 'bottom shelf' to support the weight of the rangetop and a 4″ filler at the front to include doors under the appliance controls.
Support: We used a PERFEKT 3'x8′ cover panel in white. This is the kind of panel used to support a wall cabinet over a refrigerator, so it's slightly thicker than other panels and can be cut down as a bottom shelf for your AKURUM customized unit for your rangetop.
Measurements: It's important to use the correct measurements for this rangetop cabinet to ensure proper support and fit. Take a look at our quick sketch for easy references: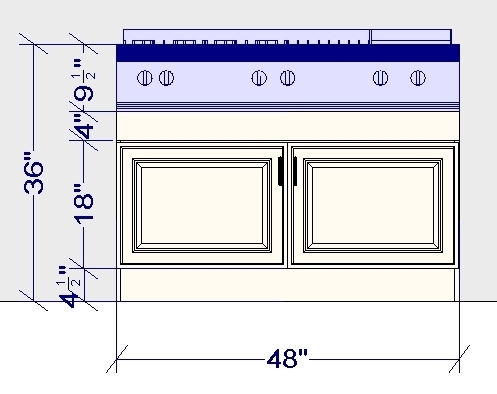 A great IKEA kitchen design will work around your needs even when there are things that need to be done 'outside the box', just like this front-controlled gas cooktop custom cabinet for a 48″-wide appliance. To get the best ideas for your own kitchen design, contact our designers! We'd be happy to help.
Contact us to get started with your own IKEA kitchen design! Or you can check out our blog if you need more ideas to get ready for your project:
Reader questions: Where do I place the cooktop on my new IKEA kitchen?