We love helping our customers with very unique IKEA kitchen design ideas.
IKD customer Beena from Lake Zurich, IL tells us about her IKD/IKEA experience and how it was to design a customized IKEA kitchen.
Why did you select IKEA's cabinets?
It was their prices. We couldn't afford the prices we were quoted by other cabinet companies. Also, we lived in Europe for a few years and their IKEA kitchens have a good reputation.
Why did you select IKD's design service?
I found an installer for the kitchen and he recommended that I design with IKD.
I already had my IKEA kitchen design drawn upon their tool (terrible tool), but he explained that IKD can help with proofing the design, create a shopping list that will help them when purchasing the kitchen and diagrams that are easy for them to follow. They were able to design a customized kitchen for me.
Did you hire an independent cabinet installer? If so, how was the experience?
Yes. Assembly Squad was outstanding. They were helpful and nice from the first conversation. I had plenty of ideas throughout the design process on how to design a customized kitchen from IKEA. They were patient and available to brainstorm and happy to provide insight from their experience.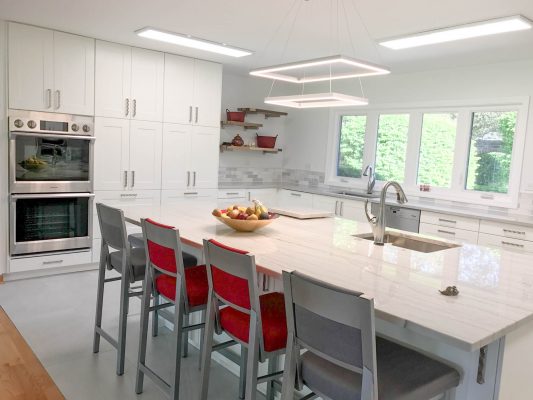 What were the obstacles to designing and installing your kitchen?
Design-wise, it was to design a customized IKEA kitchen with a non-customizable product.
The biggest challenge was to find a way to get the small appliances in the cabinets, yet useable without having to carry/move them. At first, I thought of a cart-on-wheels that will sit inside the cabinets but thought it was too much of a patchy solution for a new kitchen. Then I thought of Tambour doors (saw in an IKD site, a kitchen that used it), but these turned out to be very expensive (I needed 2) and I heard that they tend to break easily.
Eventually, I thought of slide out shelves. I bought an IKEA butcher's block countertop and the assemblers cut it to use as the internal shelves, with 2 heavy-duty telescopic slide outs. We bought door hinges that open 175 degrees so that the shelf could slide out the whole way.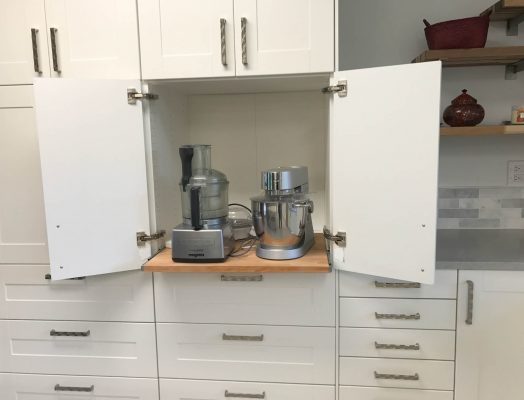 Also. it's a large kitchen. We wanted a unified, straight-line overall look on one hand, but not too boxy and repetitive on the other. For example, to break out the 3×3 drawers on the left side of the kitchen (that are all the same width) I added six narrow drawers, that breaks up the unified look and also is very useful for storing my kitchen gadgets.
The installation challenges were mostly that the floor, walls, and ceiling weren't leveled. The installers did a great job leveling the cabinets.
What were your principal concerns about your kitchen and its design?
Designing an IKEA kitchen that will look unique (I added unique handles, countertops and light fixtures).
Customized storage. I wanted everything to have a place that's suitable and easy to reach. Over the oven, I added the IKEA rack holders and they worked perfectly for me. I wanted enough space for all my spices and bottles near the stove top, etc..
Clear countertops. I wanted the electrical appliances, such as my mixer, blender, panini press, toaster etc, to be inside the cabinets. Yet functional and available, so I don't need to carry them from a cabinet to the countertop.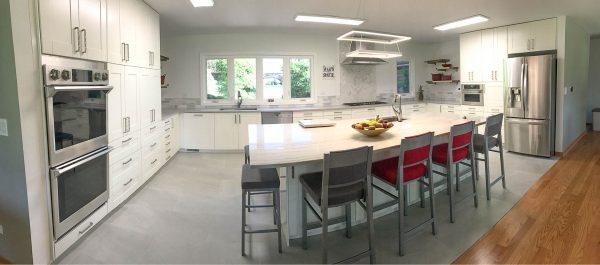 Were you influenced by HOUZZ or any design websites?
Very much so. I spent hours on hours getting ideas and inspiration from HOUZZ.  (and saw IKD's great reviews)
What were your top 3 design wishes?
Straight lines, clean look, white and stainless steel. But with a splash of color (chose Burgundy) to connect with the wooden dining table and sofa (added wooden shelves in the kitchen for warmth and to bring in the wood in the dining and living room).
Open and airy. No tall cabinets where there are windows and no appliances on the countertops.
Customized to my needs. Storage, maneuvering space for a family of six that spends lots of time in the kitchen. I spent a few weeks observing how we were using our previous kitchen; to learn what works and doesn't work for us. For example, I figured out that we needed 60 inches at the entrance to the kitchen and between the cabinets and the island because it suites the way we work as a family in the kitchen. So if one family member has the dishwasher open, it's still possible to work on the island without any problem.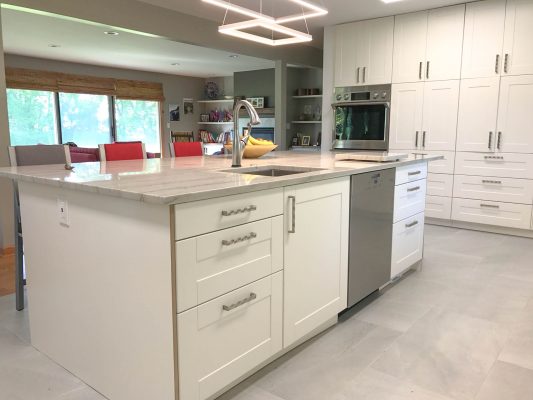 What was your budget for your kitchen project?
I can't isolate categories since we did some additional work. The kitchen cabinets cost $7,000 because we bought them during the kitchen sale. We saved 20%.
What countertop material did you use? Where did you buy it?
I took a design risk that paid off: combined two countertops. The island is Quartzite (found a picture of HOUZZ and immediately knew I had to have it), and the other countertop is Caesarstone.
Your words of advice to future IKEA remodelers?
It's possible to get and design a customized IKEA kitchen. Observe your kitchen habits and design your kitchen to suit your needs. Once you know what you want/need, find a way to get your IKEA kitchen to work for you.
Design a customized IKEA kitchen
Thanks,
Beena.
If you'd like to customize your IKEA kitchens, there are lots of practical ideas in our blog section:
IKEA Said They Couldn't Design this Kitchen…But IKD Did It Easily
IKEA Kitchen Hack: How to Build a Spice Rack with IKEA Kitchen Cabinets