In a recent post, we shared five tips from IKD customers geared toward future DIY remodelers beginning their IKEA kitchen project.
Used effectively, those tips can save you time and money, help with decision-making, keep your project on schedule – and most importantly, reduce stress. So in that sense, consider them design and life hacks. After all, they came from IKD customers who've recently completed their IKEA kitchen and either installed the IKEA cabinetry themselves, or with the help of installation professionals. So they know what it takes! In the same spirit, following are five more pieces of IKEA design advice "for customers, by customers," covering everything from design inspiration to kitchen installation. We hope they inspire you and you'll be designing your IKEA kitchen with us soon!
Limit Your IKEA Visits (If Possible)
Listening to the experts may reduce your stress, but getting stuck in the IKEA maze won't.
IKD customer Jordan from New York City, who remodeled his loft kitchen with IKEA VEDDINGE wall and base cabinetry has a clever way to eliminate unnecessary trips. "Go to IKEA during off hours, and try to make your trips surgical," he says. This is really important for customers who know their local IKEA isn't so local, and don't have the time or inclination to make multiple trips. Some IKD customers we've spoken to have travelled hours, and in one case, even have had to go out of state to go to the nearest IKEA!
So when you go, go on a weekday morning. It is better to stand in line then shop online in this case (online is not always accurate regarding inventory), and don't ship no matter how far away you live. This way, you'll maximize your IKEA customer service experience, avoid crowds and improve your chances of your product being in stock.
Mix and Match Materials
Another tip is don't be afraid to mix non-IKEA materials with IKEA cabinetry.
That could mean ordering fixtures from Amazon, like IKD customer Todd from Chapel Hill, NC; or finding cabinet design alternatives for practical reasons, like Maggie did. "We have 21" doors on the living room side of our island. On the kitchen side, we needed to use an equivalent 21" of space to the left and right of the range. We opted for 18" sets of drawers and 3" fillers on our IKEA plans, but we put in Rev-a-Shelf 3" pull-out spice racks behind those fillers. It was a more efficient use of space," she says.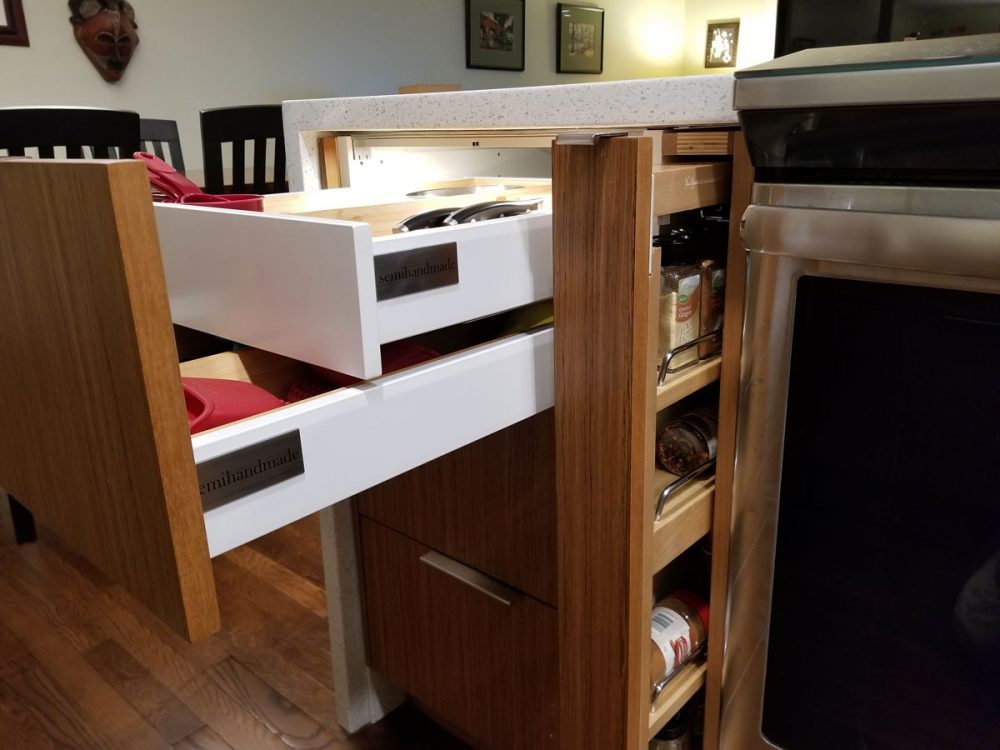 This holds true for choosing lighting as well.
Jordan and his wife sourced all the lighting for their project themselves, including three hanging bar pendent lights which were found on Betsy from Russia. "The other pendent light that's over the dining table is also from Etsy in Poland," he says.
This tip will make your kitchen more stylish and functional too!
Hire the Experts
Hiring experts – like IKD – to design your kitchen is always a good option.
IKD customer Jerry from Portand, OR, explains: "Working directly with IKD and an installer made the whole process easier. I didn't have to deal with any of the 'nightmares' you hear with so many remodel projects!" Jordan agrees: "It was helpful having someone looking over my shoulder to make sure I wasn't screwing up measurements or missing details."And sometimes it requires a team effort, like how Todd assembled all of the cabinets and hung all of the doors and fronts himself, and hired a contractor to set the boxes on the wall.
Needless to say, this tip will especially help customers who lack the time, patience, ability or desire to install their IKEA kitchen on their own.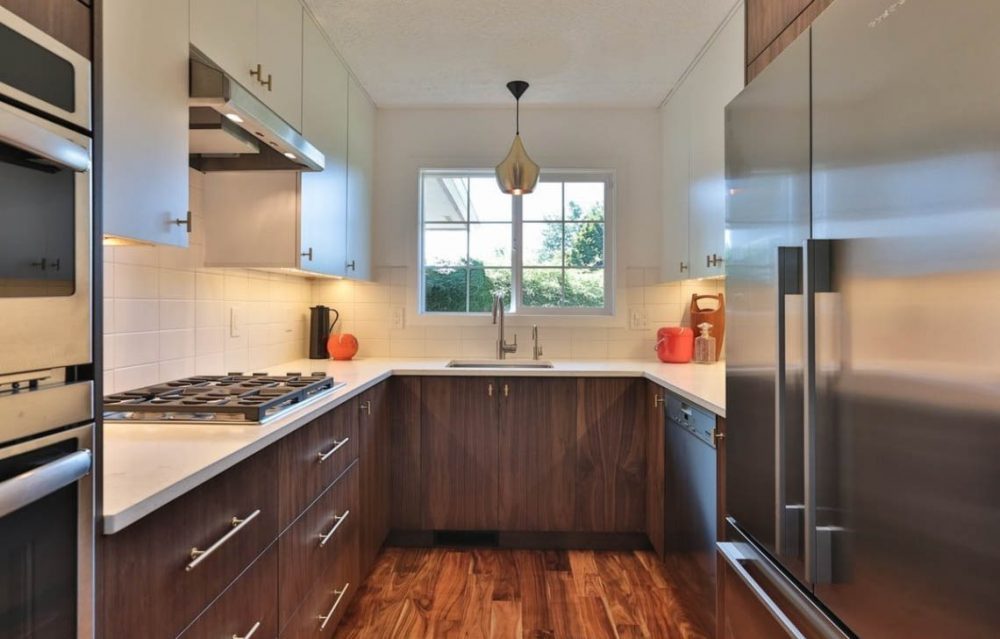 Don't Forget The Island
When designing an island, leave room for electrical.
Maggie explains: "If you have an island made of two back-to-back cabinet runs, you can leave a space the width of an electrical box between the two runs of cabinets. We simply attached a piece of wood to the back of the cabinet so the electrician could anchor the electrical boxes at the ends of the island. This makes electrical easier and less expensive."
This tip can really make life easier when you need that extra electric for mixers and blenders, cell phones and tablets, or any other electronics your family uses often in the kitchen. And having those items handy near those outlets may very well improve the storage and workflow of your entire kitchen!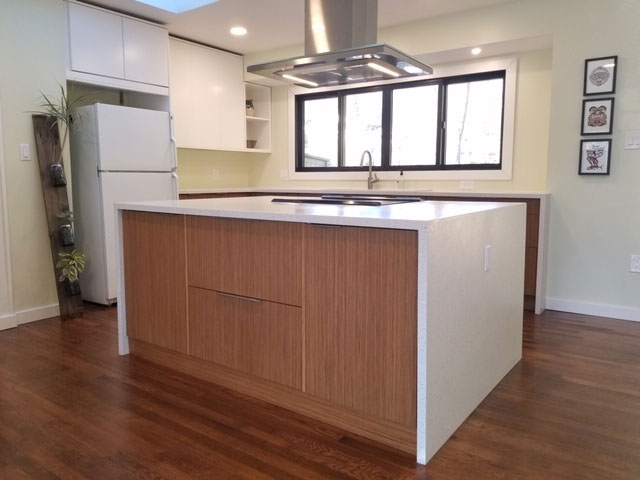 All You Need Is Patience
Last, but certainly not least is to just stick with it.
Todd says that IKEA remodelers should anticipate delays when getting IKEA deliveries and plan for returns and exchanges.
"I'd also say to follow the carpentry rule to 'measure twice, cut once," Matt adds. This is important, because for those doing the install themselves, some kitchens have taken a few months to complete from demolition to installing the countertops."It's no fun to live in a construction zone, so make sure you have a good alternate kitchen set-up ready to go," says IKD customer Paige from Richmond, CA.
This is especially true for customers that have small children and pets! Todd concludes: "Building out an entire kitchen's worth of cabinets took a few weeks but was really an enjoyable and satisfying experience."
Learn more about how we can design your IKEA kitchen, bath and closet at https://inspiredkitchendesign.com.