Ask IKD customer Terri, and she'll tell you her IKEA kitchen has stood the test of time. Remodeled just over three years ago, the original kitchen layout had space restrictions, which greatly limited how extensively the space could be redesigned.
"The original space was long and narrow with doors and windows on each end, so I was really limited to where I could put cabinets," Terri explains. So not only did the space need to be smartly laid out and stylish, but durable as well.She offers: "I cook almost every night for dinner as well as make home-made pastries which requires a lot of space." To accomplish this, Terri relied on design guidance from IKD's design staff and selected IKEA SEKTION cabinetry framework, white IKEA GRIMSLOV upper cabinetry doors and IKEA MAXIMERA drawers for additional storage.The MAXIMERA drawers allowed her to include extra drawers without adding floor space. These products were complemented by a vintage, white 1950s Kelvinator oven, a large center island, a farmhouse-style sink and IKEA HAMMARP oak countertops."IKEA has such great storage options from drawers within drawers, pullout trash bins and inserts. Everything together makes for a smooth working kitchen," she concludes.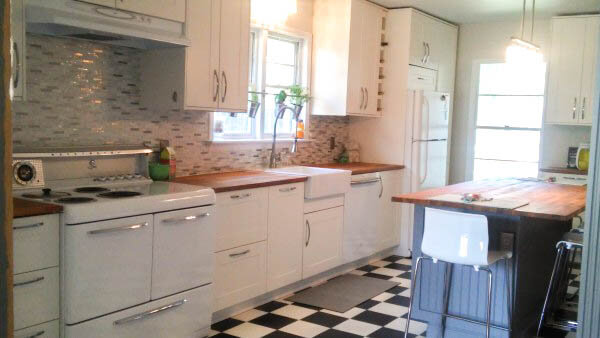 Durable Design
According to Terri, the kitchen has exceeded many of her initial design wishes. "Everything works perfectly together. The IKEA HAMMARP oak countertops are holding up so well and the sink is a dream. I was initially worried I would miss my double sink and that is a big no!" she says. "I'm really surprised how much I like my sink and how well everything is holding up." She continues: "I'm also surprised at how much of a difference the lower MAXIMERA drawers make with this design. The ease of getting pots and pans out is amazing and the soft-close doors with MAXIMERA are so nice to have." And with any good design, the whole is greater than the sum of its parts. Particularly, she notes what a crucial role the center island plays in the overall design, providing seating and additional counterspace (also featuring the HAMMARP oak countertops). "The large island is perfect for my prep work and cooking, but also as a gathering space when my family gets home and chats at the end of the day," she says. She also needed storage without expanding the footprint of the layout. So, the IKD design team suggested the SEKTION framework for a drawer-within-drawer concept inside the island. This supports Terri's most common cooking tasks and provides storage for plates, bowls, utensils and napkins – while freeing up additional space underneath the microwave for cookbook storage. A smaller MAXIMERA drawer with an IKEA VARIERA silverware tray and plate holder were also included to keep all of her serving items organized as well. To punch up the style of the island, Terri opted to wrap the island panel sides in beadboard and paint it charcoal grey. Likewise, she chose IKEA KANSLI door handles for the IKEA GRIMSLOV cabinetry, which seamlessly match the handles on the Kelvinator oven.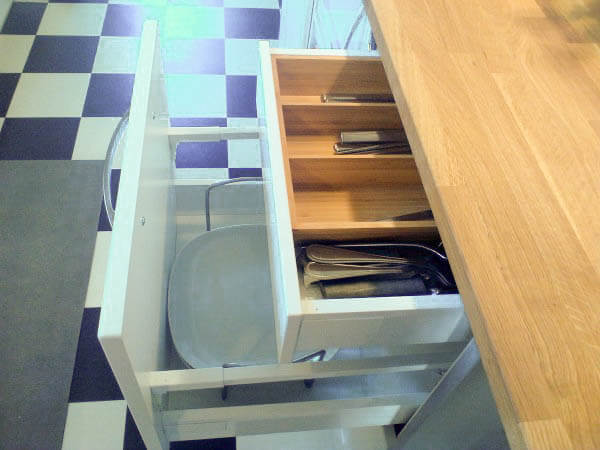 Custom and Clever
The kitchen features other custom and clever applications as well. For instance, a discreet wine rack located to the left of the refrigerator was created from leftover panel scraps to fill out the space. Likewise, what appears to be a drawer above the refrigerator is actually a drawer front attached with magnets, which when popped out reveals additional storage for serving trays. A small MAXIMERA drawer was incorporated right above the IKEA FILUR garbage bin to store garbage bags for easy access. And lastly, a small coffee station was incorporated on the opposite wall of the kitchen with the drawer underneath featuring high-gloss white VARIERA boxes to store coffee. For Terri, it is the little extras that made a big difference in her kitchen. "I suggest getting the extras that you like, the under cabinet lighting, the tray inserts, the drawer within drawers. Or include custom items like wine racks, hidden shelves or even – like we did – inserting the wireless charger from IKEA into the island. We absolutely love that feature." she says.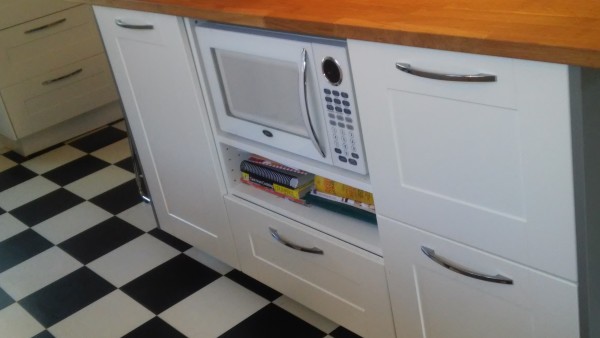 Picture Perfect
Not only has every IKEA product in her kitchen held up well, but the product choices reflect the overall smoothness of the design process. "The design process was perfect with IKD. I wouldn't change a thing about that. The design, layout and finishes are perfect and couldn't be better," she says. In fact, Terri says the only change she is contemplating is the checkerboard black-and-white flooring because white is a little unforgiving. She continues: "I'm so happy with the look and flow of the space, everything is in the right spot, everything flows the way it should. It's so bright and crisp and clean.After all these years, there isn't one chip, scratch, rub or anything on any of the surfaces." Terri offers a few suggestions to others starting their own IKEA remodel. "I'd recommend the bottom MAXIMERA drawers instead of cabinets as an excellent solution, especially if you're older or plan to be in your house for many years," she says. She concludes: "I'm so crazy about my kitchen even after three years. I'll literally sit and gaze at it and thank my husband for it. Sometimes I'll look at houses for sale and when I see the kitchens I think of how I would put an IKEA kitchen in. But I won't be moving anytime soon because I love my kitchen too much!"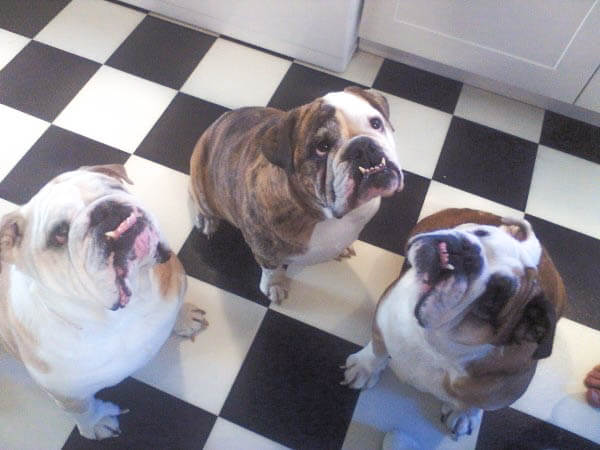 Learn more about how we can design your IKEA kitchen, bath and closet at https://inspiredkitchendesign.com