This recent galley-style IKEA kitchen remodel required all hands on deck.
That was the scenario for IKD customers Michelle and Michael from Los Angeles, CA, who wanted to redo their 9'x7.5' kitchen with a classic, contemporary look.
"Our kitchen [is spacious enough] that two adults and a six-year old can enjoy being in at the same time. We wanted to increase its open feeling and countertop space by relocating the 18"-wide Whirlpool refrigerator and shifting the sink location from its original position," Michelle explains. "We wanted to create the most functional kitchen we could, increase storage and have ease in access to dishes, cooking utensils, pots, pans and baking tools."
To accomplish this, Michelle and her husband originally worked with an IKEA Kitchen Planner who helped them select the drawer and cabinet units. Then the pair recruited IKD's design team along with RTC Services, an experienced IKEA cabinet installer, which was recommended by IKD. "Once IKD got a hold of our design, they polished off what IKEA did not suggest, like under sink storage/trash and floating shelves from Semihandmade," she says. "RTC Services was extremely experienced in installing IKEA cabinetry and quickly made adjustments when he ran into unforeseen field conditions that could have prevented the cabinets from working properly," she says.
Specifically, the original existing plumbing and gas lines were not within the wall of the kitchen and had to be adjusted to accommodate the floor cabinets. Once these issues were overcome the design was able to take shape. The couple selected white IKEA RINGHULT wall cabinets and IKEA VOXTORP base cabinets in Walnut to go along with IKEA SEKTION cabinetry hardware, which really added warmth to the contemporary look. This warmth was carried through with floating shelves in Walnut from Semihandmade and custom Caesarstone White Marble Frosty Carrina countertops bought at IKEA and accented with IKEA OMLOPP LED lights. "Our budget was $8,500 and the project came in at $10,500 with a new deep sink, chef's faucet and heavy-duty garbage disposal. [By researching on design sites] we were able to see images that allowed us to blend styles we liked and we're very happy with the outcome," she concludes.
Let's see how Michelle and Michael's kitchen came together!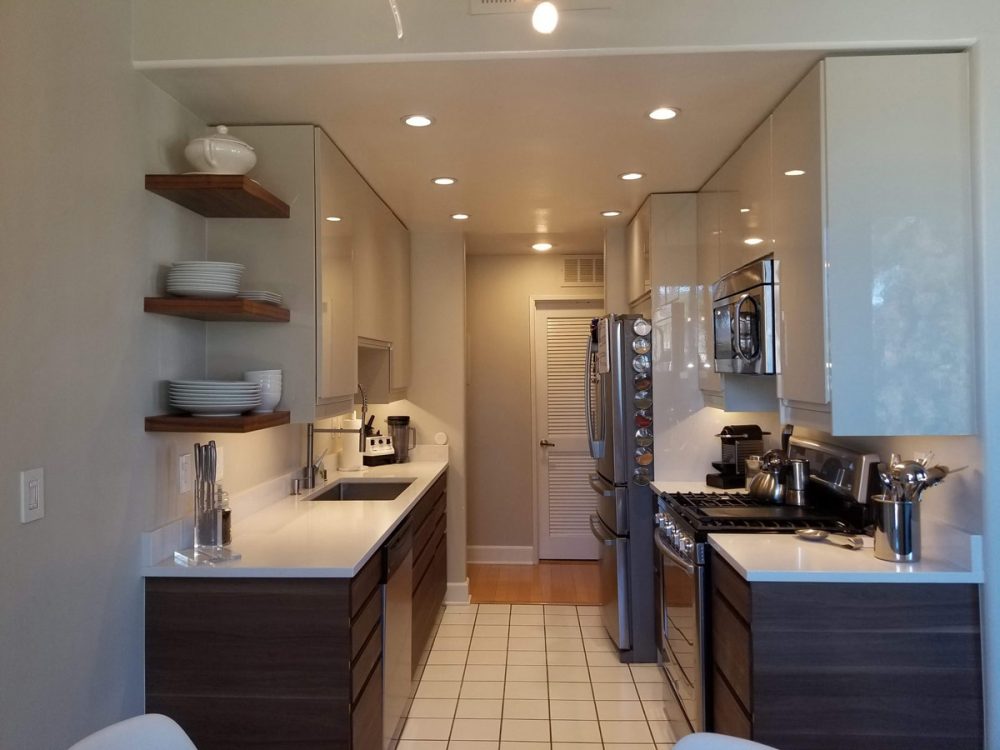 Straight and Narrow
Influenced by Houzz, Pinterest and other design sites, the couple knew they wanted a modern minimalist design with a postmodern feel. Michelle explains: "We wanted it to feel and look classic and contemporary through the use of wood, stone, Semihandmade's freestanding shelves and polished finishes." The couple selected high-gloss white IKEA RINGHULT wall cabinets and IKEA VOXTORP walnut effect base cabinets and IKEA VOXTORP toe kick mixed with IKEA Maximera drawers and IKEA ORRNAS handles and IKEA UTRUSTA hardware. "IKEA seemed to have the best selection of design and quality that fit my ideas and budget," she says. Other products include a Hansgrohe Cento Semi-Pro kitchen faucet, a Titan 1.25 Waste Disposer Designer Series, concealed pullouts for trash bins (recommended by IKD) and a Frigidaire microwave above the Maytag oven and four-burner stovetop.
Wide Open
To create a more open feel required relocating the original 18"-wide Whirlpool refrigerator and shifting the sink location. "The original sink location limited workspace on both sides to 30", which wasn't sufficient for food prep. So we moved the sink about 18" to the right which gave us a 4'-long work surface," Michelle describes. By moving the refrigerator to the left of the stove, it opened the space to the breakfast area and made an easy flow to the living room. "That created an 18" surface on both sides of the stove for the cooking utensil holder and telephone, etc. But most important the natural light now reaches further into the kitchen," she says. Also important were drawers for pots, pans, food and snack storage. "The designer increased storage above the refrigerator to hold large items such as a mixer, ice cream maker, large cake holders, etc." she says. The cabinetry along the sink wall also is taller than the original cabinets and increased storage by about 15% on that wall.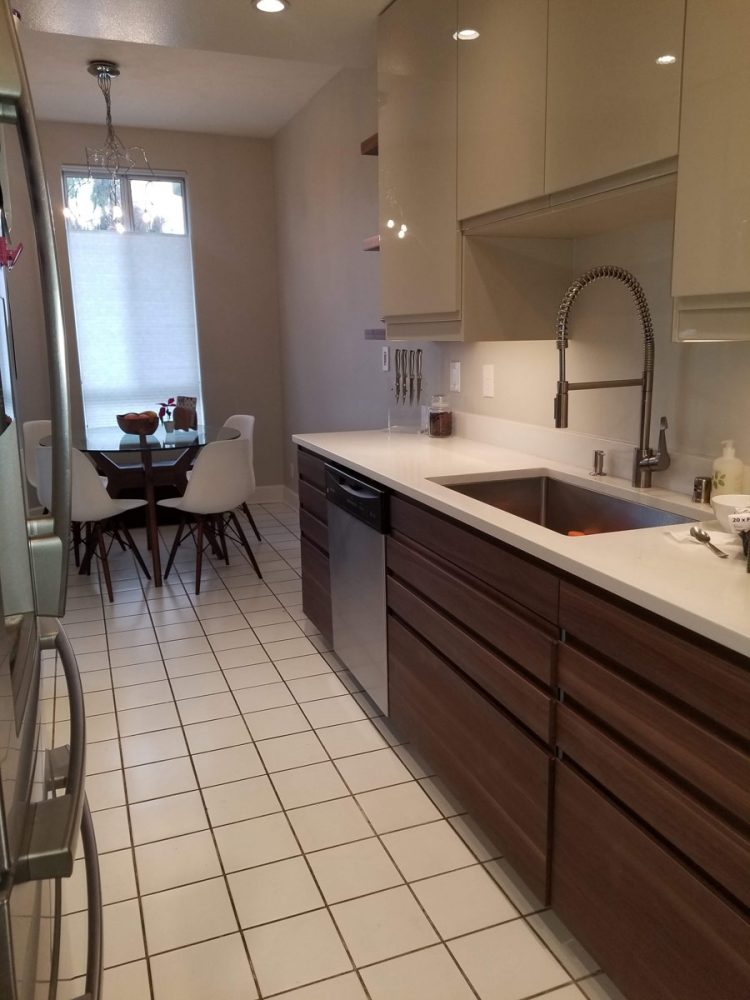 Lit Up
Lighting was a key element as well.
Michelle and her husband selected IKEA's OMLOPP LED lights, recommended by the cabinet installer. Featured over the stove area and adjacent counter area, the under cabinet lighting covers nearly 25 square feet of counter space and are controlled by IKEA's ANSLUTA lighting controls. "We used IKEA's under cabinet lighting system. At first, my husband didn't want them, but loves them now because it places lighting on the food when cooking. We absolutely love them and [was] so worth it!"
Team Effort
Michelle and her husband realized the process would go more efficiently with professionals involved."I started the design using IKEA's online kitchen planner tool as well as visiting the IKEA store near us. After researching various design schemes I found IKD and saw IKD could do more of my personal style. For the price of the design, it was certainly worth their amazing team and shared expertise. The process really was effortless," she says."The other great thing was that RTC Services was recommended by IKD. Once we got to the installation step [RTC Services were there to help]," she adds.
Lastly, Michelle offers tips for navigating the IKEA design process."Visit IKEA first to get an idea of what you like and do some online searching on Houzz and Pinterest to see what IKEA kitchens you like. Then, go to IKEA and meet with a kitchen designer to lay out your design. Then immediately call IKD to begin with their service!"
"If we would've done that sooner it would've saved us so much time, headache and frustration. Overall, it'll be fun and in the end, you'll be very happy [with your kitchen]," she concludes.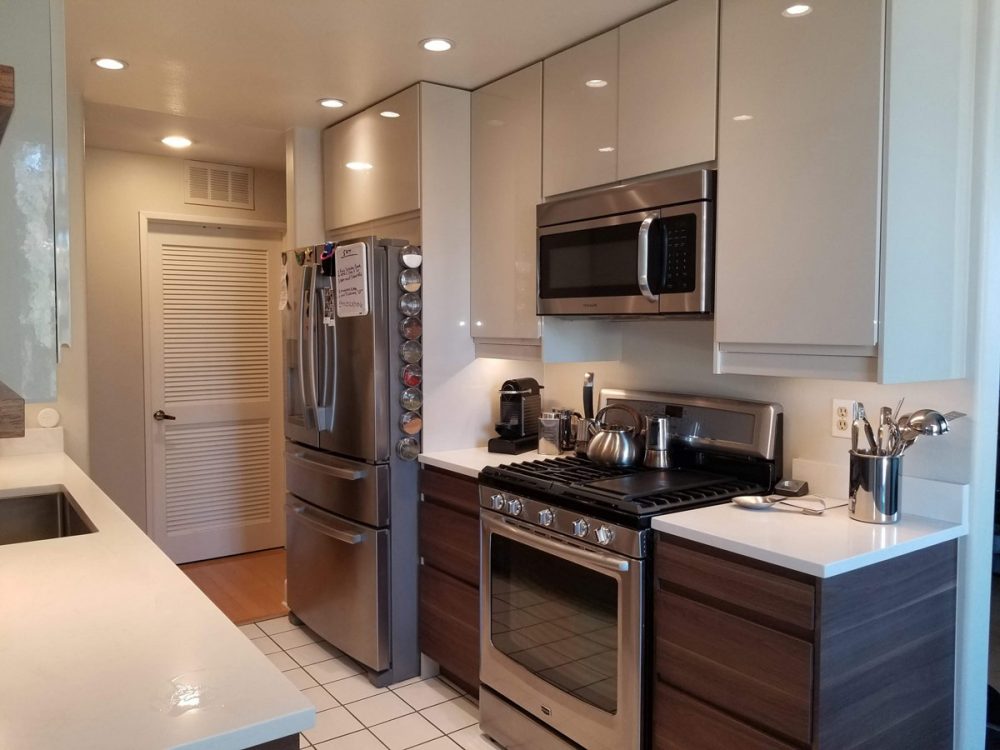 Learn more about how we can design your IKEA kitchen, bath and closet https://inspiredkitchendesign.com.