We love our IKEA kitchen but love Thanksgiving most of all. What generally comes to  mind are our favorite 3 F's : Food, Family and Friends. There are some of us that have the task of organizing it. And we get you, you want it to be flawless. We truly believe that "perfect" lies in the details.
That's why today we're writing about that detail "that will make your guests say: "WOW!". We're talking about the table setting. It's often forgotten while organizing your Thanksgiving dinner, but if you think about it, it's the first thing that your guests see when they arrive.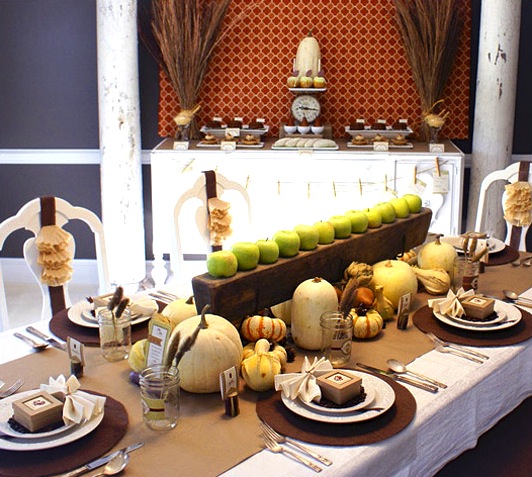 IKD knows that one of the elements of success for any event is the host's personality in every table setting; that's why IKEA offers so many different patterns, colors and textures to chose from. And yes, IKEA has everything you need for your home and more, but we also know the IKEA selection can be overwhelming too.
So we came up with a plan: we surfed the web for different  table settings  for Thanksgiving and we're going to show you how you can get that look with certain IKEA products. How does that sound?
We'll show you our very favorite choice.
The "cozy but not that complicated" Thanksgiving table setting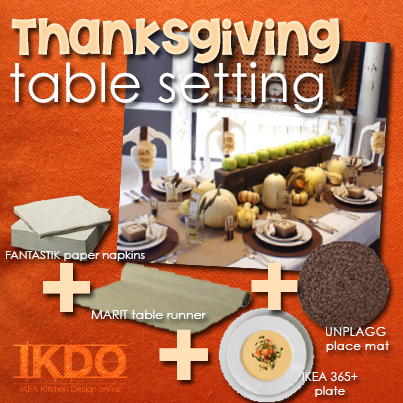 Why we like it: Its simplicity and combination of wood tones that say fall, gives that cozy feeling to this table setting.
We chose the 14×51″ beige MARIT table runner from IKEA ($6.99), protects the table and gives it a decorative feeling. The UNPLAGG place mats ($3.99 each) in brown, contrast perfectly with the beige of the table runner and reduce noise from plates and flatware. For the plates we chose the IKEA 365+ in white ($4.99 each), made of feldspar porcelain, which makes the plate impact resistant and durable.
As you can see, the napkins give the final touch to this wonderful table setting for Thanksgiving. The IKEA FANTASTISK paper napkins in beige ($1.99/50 pack) are ideal, they're highly absorbent because they're made of three-ply paper and the color matches beautifully with the table runner. Just lovely!
This is only one alternative for a Thanksgiving table setting with IKEA products; but don't limit yourself, the options with IKEA items  are endless!