Not having enough room to adequately prepare food for your family can be quite annoying. A practical IKEA kitchen design can help solve issues like these. There are a number of things to consider when designing an IKEA kitchen with maximum functionality. One, of course, is adequate storage space, and another is counter space.
Even kitchens with only a very small amount of counter space can be sufficient for meal preparation, if you utilize your kitchen counter space wisely. Of course, there are things that take away valuable counter space like appliances and tall pantries.
What can you do to get more counter space, then? It's all about smart IKEA kitchen design: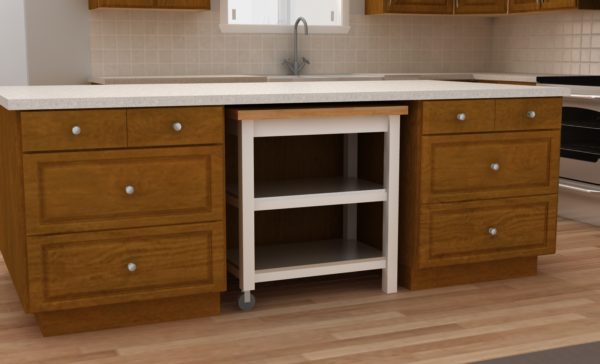 What's so special about this IKEA kitchen island?
One of the most common small kitchen complaints is lack of counter space. One quick, easy, and generally inexpensive option is to add counter space with a free-standing addition to your IKEA kitchen island. There's an a plus to it: the kitchen cart can be moved wherever you need it! Our pick was the IKEA STENSTORP cart ($199): it has two fixed shelves in stainless steel, a pair of wheels for easier handling and a white painted finish with a solid oak countertop. Not only that: when the space is not in use, you can turn this into a sit-down desk area.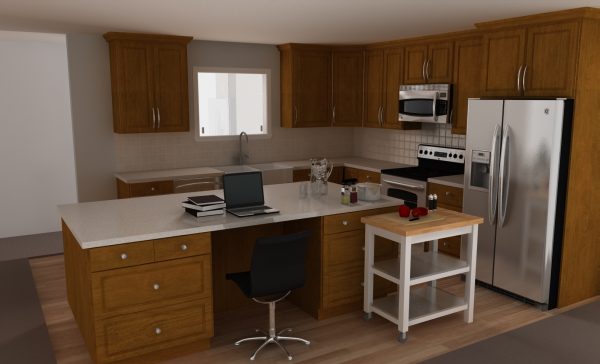 Add counter space with a kitchen cart under an IKEA kitchen island:
The kitchen cart is 35 3/8″ high and AKURUM cabinet legs can be adjusted to a maximum height of exactly 35 3/8″. (The toe-kick needs to be finished with a piece that has been cut down from a 3'x8′ cover panel). Leave at least a 32″-wide empty space in the middle of two cabinets in an IKEA kitchen island to have enough space for the kitchen cart. These are the dimensions for the space we used in our example: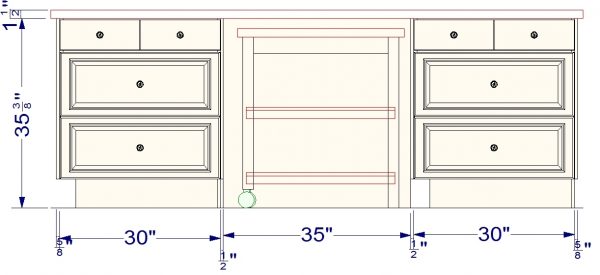 Your IKEA kitchen is the center for work and activity in your home, and having clear counters to serve as a work surfaces is essential. We often treat the kitchen counter as a storage space, but it's supposed to be a work space. Storage can get in the way. We can put our stuff on the counter, but that doesn't mean it should stay there. It needs to move out of the way for the next activity to happen.
For more IKEA kitchen design tips and ideas, check out these blog entries: