To add backsplash, or not to add backsplash? This dilemma is faced by every homeowner who decides to renovate their kitchens. Many IKEA kitchen customers choose not to bother with backsplash at all.
But IKD customers Ami and Jinesh did. So many customers have asked about their backsplash that we thought we'd talk about it in a post. See the glass subway tile they used for their kitchen backsplash?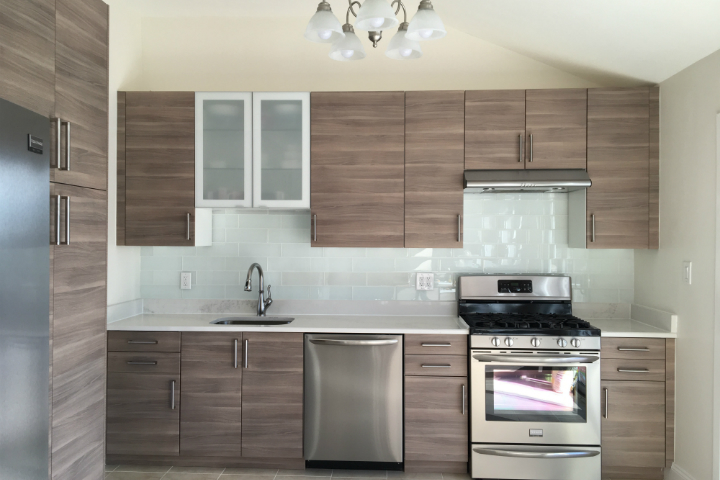 Michael Toth, owner of IKD, uses glass subway tile in his own kitchen as well. If that's not a ringing endorsement we don't know what is.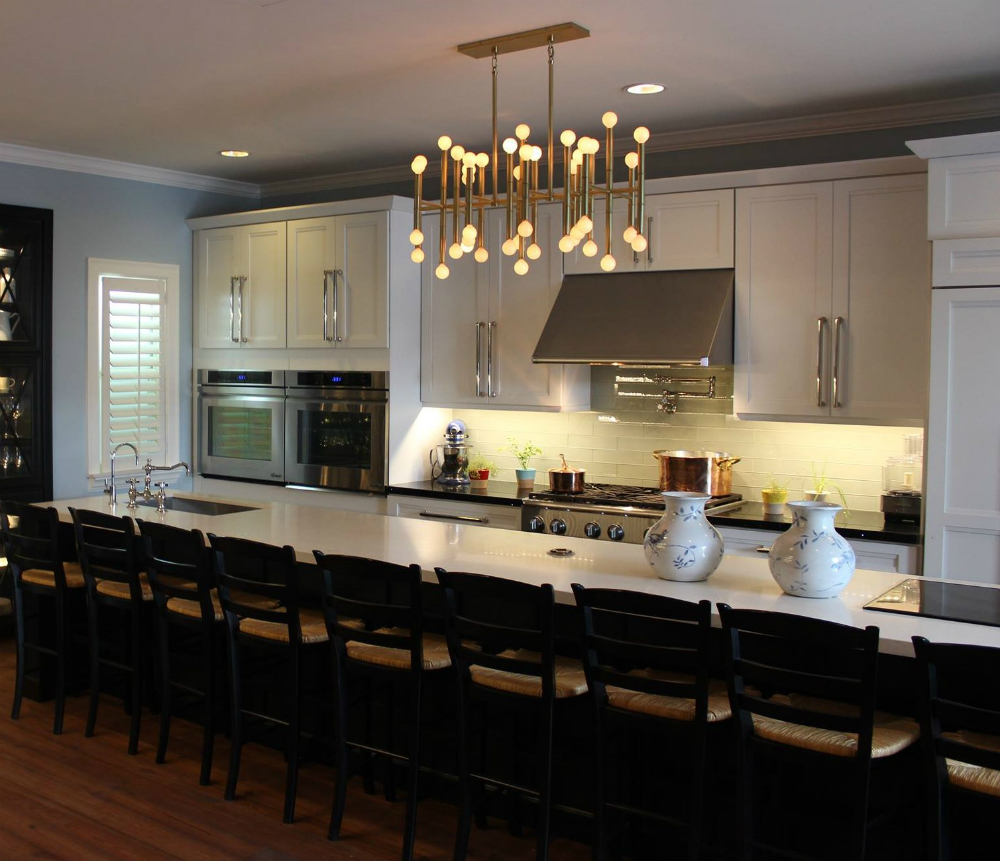 You can see a close-up of the tile in this photo where he's teaching a cooking class: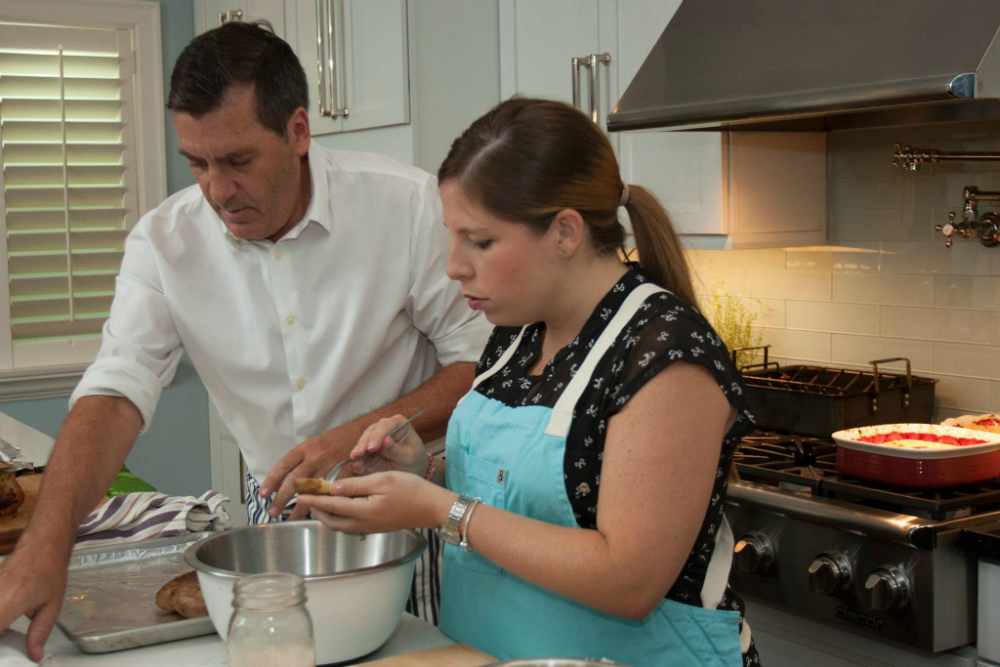 Besides the fact that Michael uses the same type of tile, what's the big deal? It can improve your kitchen design like it did for Ami and Jinesh.
"I just love glass subway tile as backsplash in a kitchen," said Michael when he saw photos of Ami and Jinesh's kitchen. "The color they chose complements the countertop perfectly and keeps the cabinets from making the kitchen too dark."
Glass subway tiles can improve your IKEA kitchen
Glass subway tiles may be a little more expensive than some of the options at your local kitchen and bath center, but they do 3 things very well:
Brighten a kitchen space with its reflective quality
Make clean-up easy with its smooth surface
Add that little "sumpin' sumpin'" that keeps an IKEA kitchen from looking like everyone else's
#1: Glass subway tiles brighten an IKEA kitchen
To get a sense of how dramatically the glass subway tile changed Ami and Jinesh's kitchen, you need to see a closeup of their previous backsplash.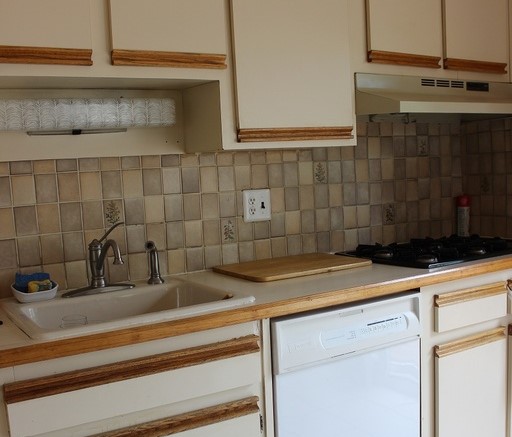 The multi-colored, darker tiles really did nothing for the design. And it was too old-fashioned of a look for their new kitchen. Here's a close-up of the glass subway tile they chose, right above the sink like the previous shot.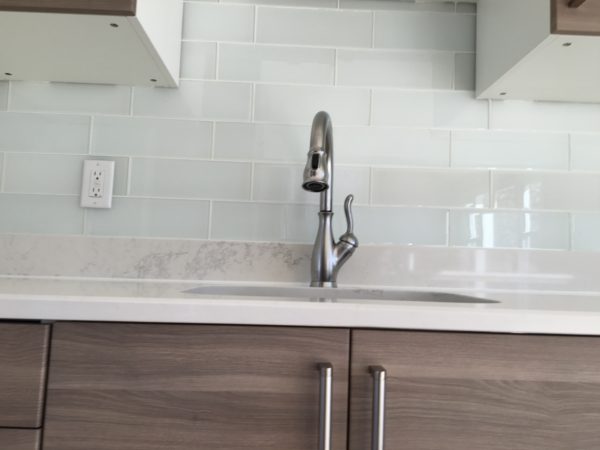 The shiny white glass backsplash is wonderful for reflecting light – it almost looks seafoam green. It amplifies the natural light the kitchen already receives and makes the space look bigger. Ami and Jinesh had a good amount of space in their kitchen already but don't underestimate the role of reflective glass.
#2 Glass subway tiles are easy to clean in your IKEA kitchen
Glass, easy to clean? Seems counter-intuitive, right? But no. While glass is thought of as fragile and hard to keep clean, the type of glass used for good kitchen subway tiles is different. It's stronger and smoother.
You can easily wipe off stains, grease spatters, and even fingerprints. The beauty of the color Ami and Jinesh chose is that it's very light, but has enough color where dirt won't be obvious.
#3: Glass subway tiles give your kitchen that little "sumpin' sumpin'"
Ami and Jinesh's IKEA kitchen uses walnut-effect BROKHULT doors. What an interesting contrast that visual texture has with shiny glass.
How do you know if you have too many visual textures happening in one kitchen? Ami and Jinesh do it just right. They have the walnut-effect doors, the shininess of the appliances, backsplash, and countertop, and then the stone neutral for the floor.
Part of what makes this work so well is that the color palette is very simple.
Some important things to understand about this type of kitchen backsplash
Every rose has its thorn, and glass subway tiles are no exception.
You'll want to leave the installation to the professionals. Cutting and then setting glass tiles takes a certain finesse to get right. This is no weekend project even for serious handymen. This is a delicate job that requires expertise.
Choose the wrong grout color at your peril. If you choose plain white grout, it will be really noticeable and maybe even grubby next to non-white subway tiles. For tile this color, ask your contractor about a light grey grout.
Get this look in your own IKEA kitchen
Of course you can get this look for your own IKEA kitchen. Here are some of our favorite glass subway tiles, and you can buy them from Amazon.com.