A couple of years ago, when Carrie chose a contemporary look for her kitchen she never thought that her cabinets would go out of style so quickly. Recently there's been fantastic new kitchen trends . . . and by now even her friends have designed with them. She felt her kitchen was outdated but she didn't want to remodel it again.
Luckily, she was referred to us for a budget-friendly kitchen update! We knew that she didn't want dramatic changes for her kitchen layout so we suggested the use of bright colors in her design.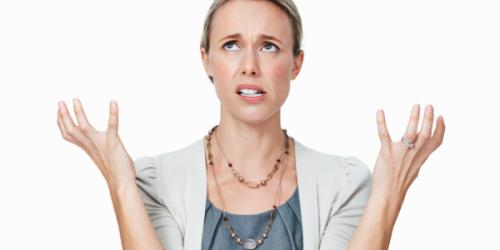 We focused on turquoise as a way to refresh her cooking space. This bright color is commonly used to accent or highlight something. We love it for coffee tables, shelves and decorations. But, would you ever consider it in your kitchen? We came up with three ideas for Carrie that are easy to do and inexpensive.
These playful uses of turquoise will brighten your IKEA kitchen:
1. RASKOG kitchen cart – Still afraid of bold colors in your kitchen? Start small! A turquoise kitchen cart will lighten your kitchen's look with little effort. Use it as extra work space or for practical storage.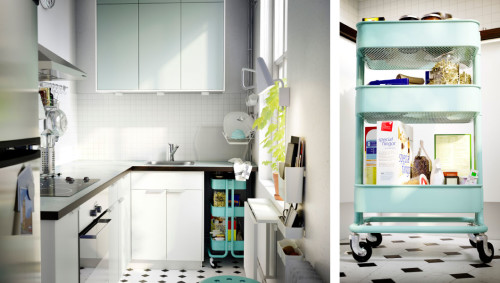 2. RUBRIK APPLAD door – There's no need for major changes in your IKEA kitchen. An easy way to update the look of your cabinets is to use turquoise accent doors! They bring a nice change of color and create a focal point in any kitchen.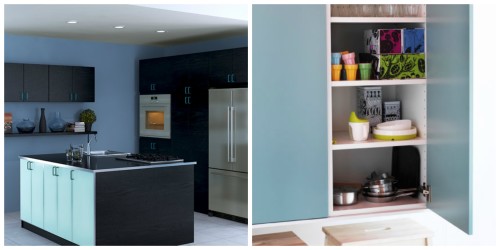 3. NUMERAR countertop – Changing your kitchen countertop is not easy…it's more permanent. A turquoise countertop should be used with solid white or black kitchen cabinets for a subtle contrast.