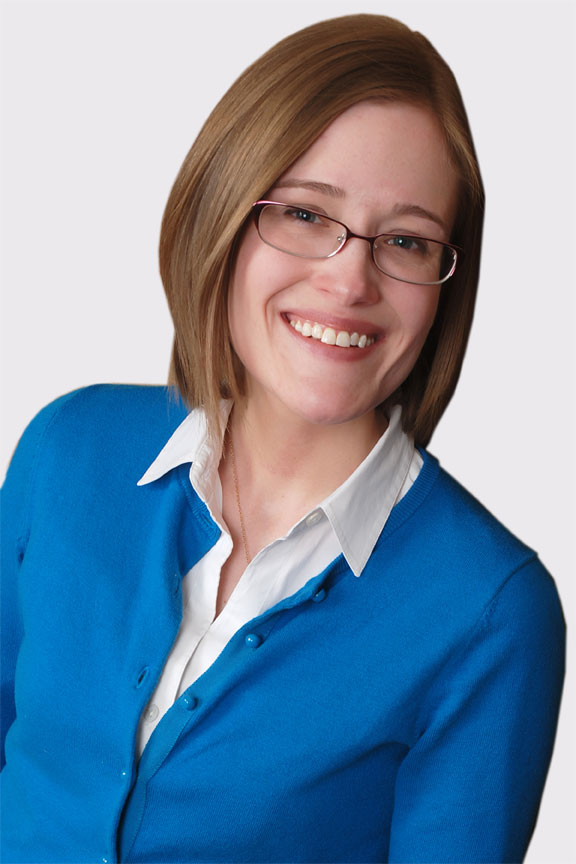 At IKD, we love all of the kitchens we design for our clients…but we still have our favorites. In this series we'll share IKD team members' favorite kitchen designs.
IKD Team Member: Jenn
Role: Blogging & Outreach Manager
Why this is her favorite kitchen: "This kitchen was love at first sight for me. The clean lines, the high ceiling and open feeling are just what I want in an IKEA kitchen."
Just how much do you like IKEA design? Would you drive 16 hours round trip to get the IKEA kitchen of your dreams? Laura and her husband Jason did. But I dare you to look at this kitchen and not think it was worth it: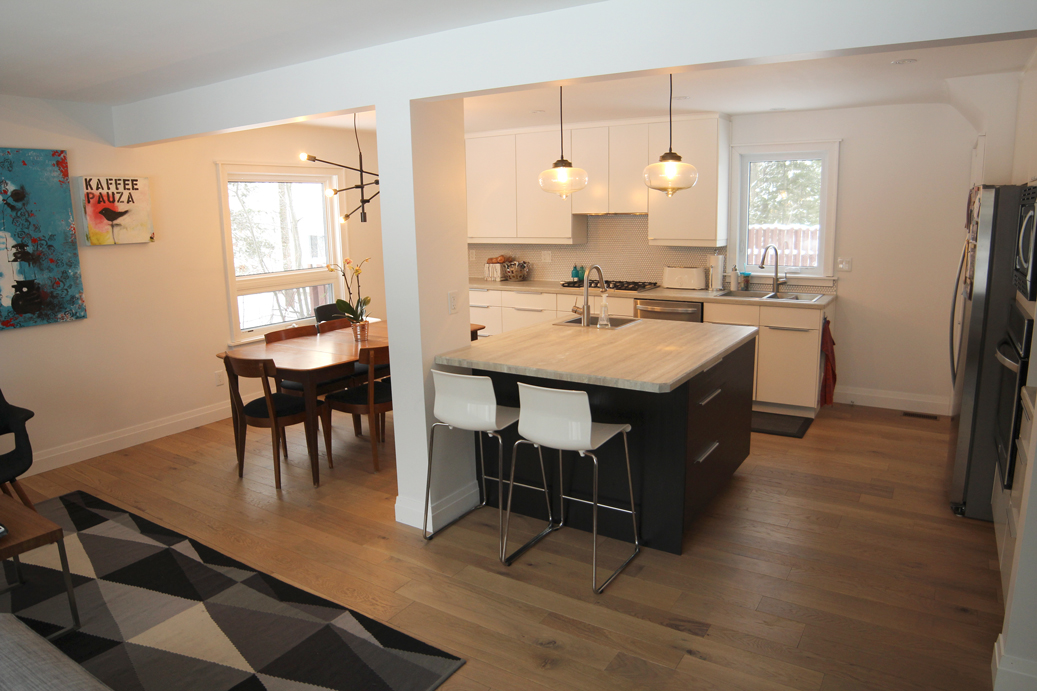 "My family is from Finland, and I just love the minimalism of Scandinavian design. I really wanted a white kitchen with contrasting dark elements. IKEA was the only way to get this kitchen style in Canada at an affordable price."
IKEA Design for a Bit of a Fixer Upper
Laura and Jason couldn't find a house they liked, so they decided to find one they could renovate. The kitchen, however, really needed their help. We don't have a full shot of the kitchen, but you can get the idea from these pictures of the dated cabinets, light fixture, backsplash, floor tiles – and my favorite, the maroon countertop.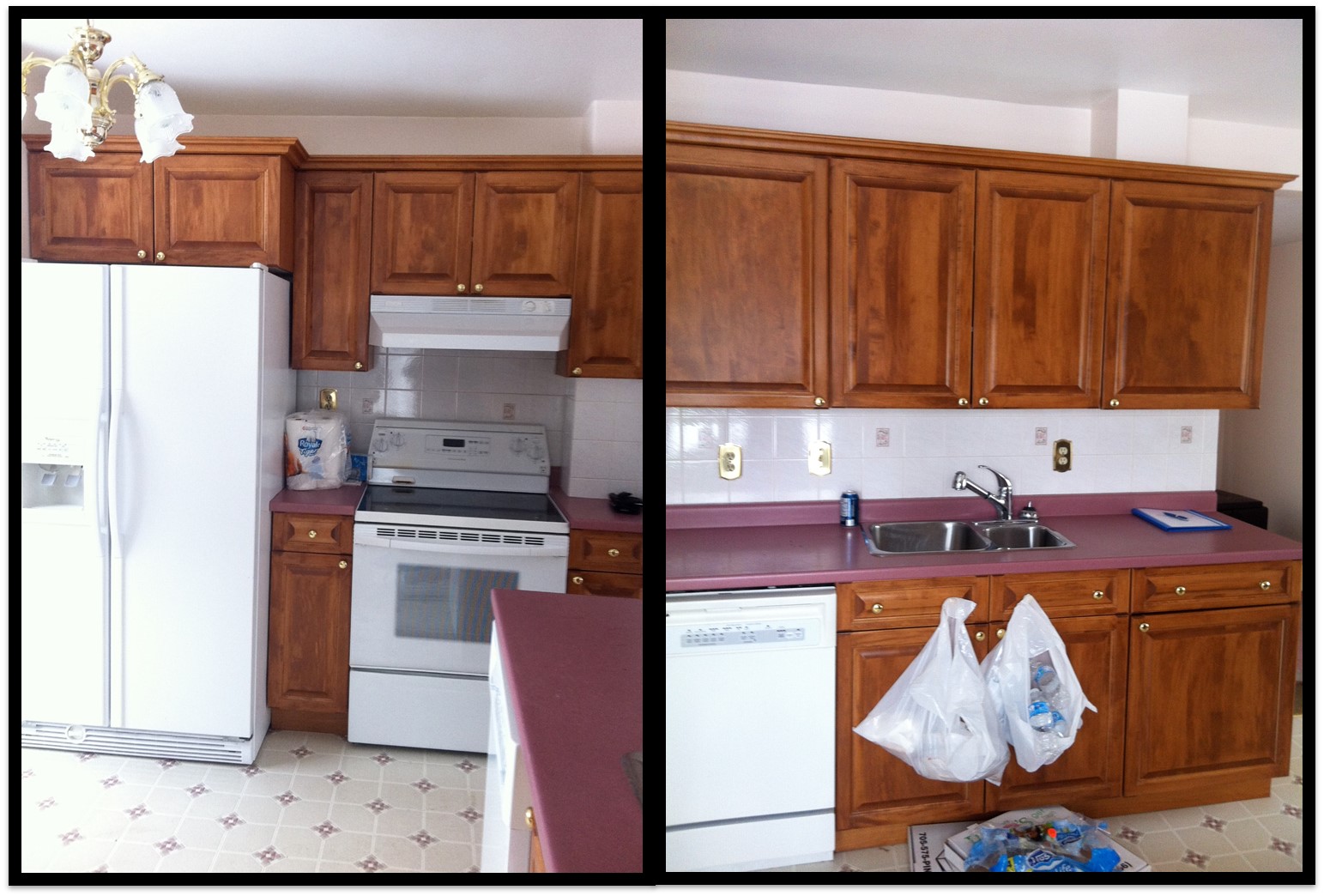 Kudos to them for knowing a diamond in the rough when they saw one. After struggling with the IKEA home planner, Laura found IKD on Houzz.com and turned the design process over to us. They needed several redesigns as they changed the footprint of their home.
Laura's top design requests:
Drawers, not cabinets, below the countertop line
A kitchen island with an extra sink and many drawers
Only one trip to the IKEA store, please!
A Minimalist IKEA Kitchen for an Open Space
The kitchen design really came together once Laura and her husband took some walls down. The island is the focal piece of the kitchen, and where guests gather to talk during dinner preparation.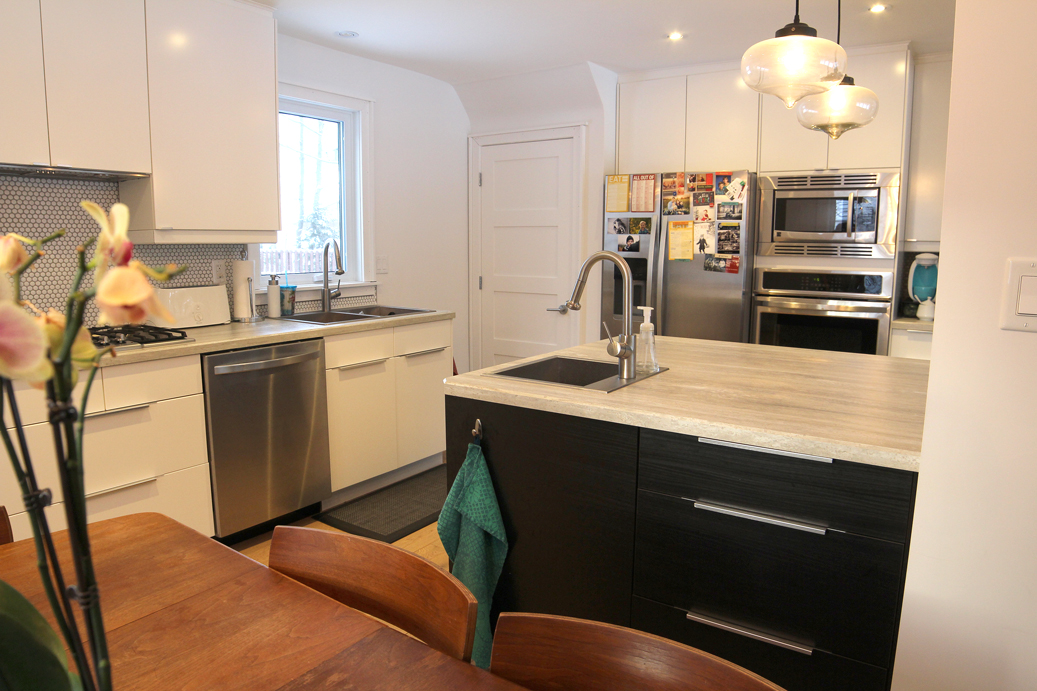 IKD designed this kitchen island from three 24"-wide drawer cabinets and a 24"-wide sink cabinet with GNOSJÖ door fronts in black-brown and BLANKETT handles. All of the drawers mean maximum storage.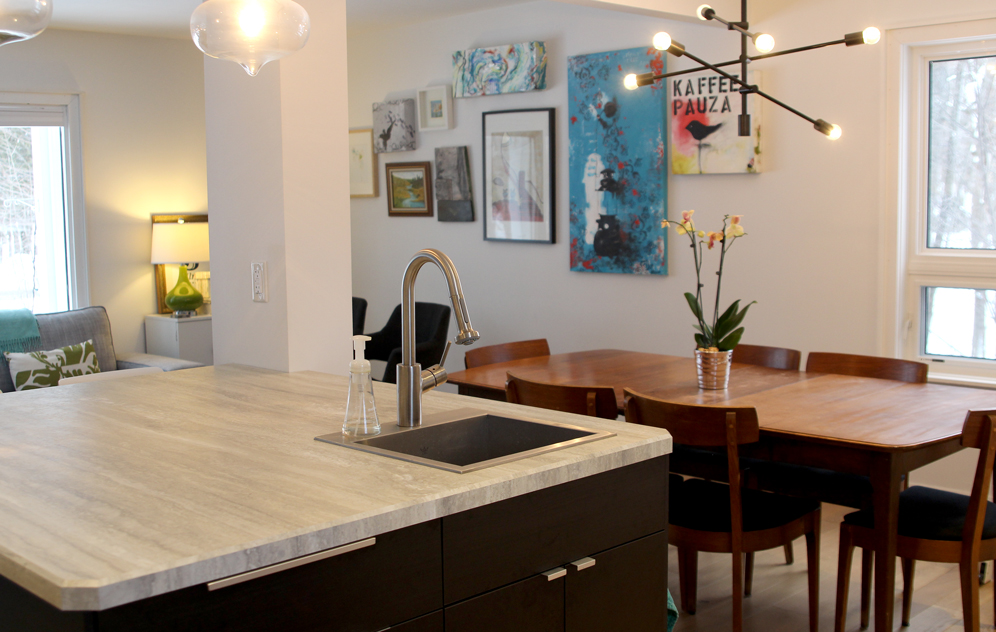 The kitchen island is cozied up to the big center post, minimizing its presence. There are cabinets under the prep sink but only because drawers wouldn't work there.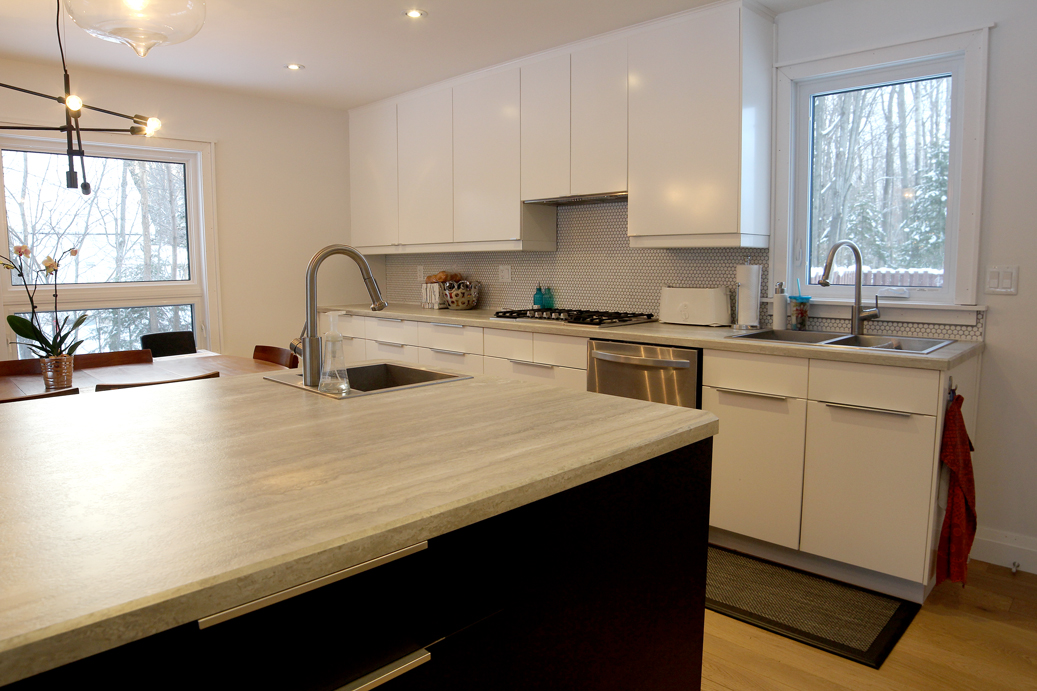 From this side of the island you can see the series of AKURUM cabinets and drawers with APPLÅD door fronts. See those cabinets above the stovetop? That is actually an EVENTUELL extractor hood inside of the cabinet. It's a great solution to keep your kitchen free of intrusive odors or bulky hoods.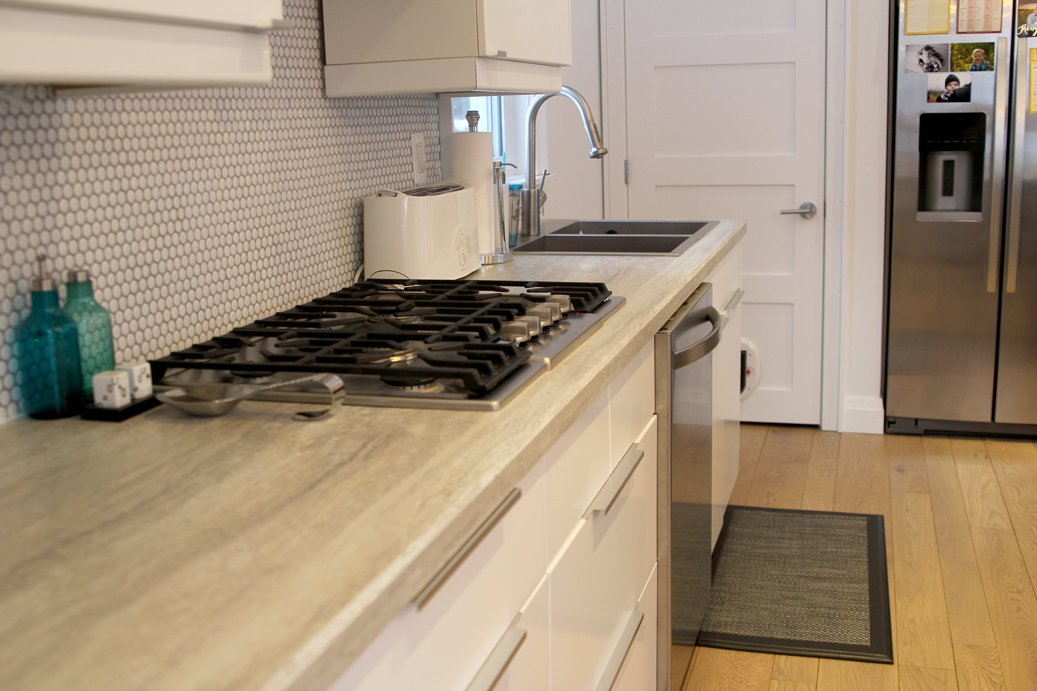 Here's a close-up of the countertop (not from IKEA). The plinths under the wall cabinets hide under-cabinet lighting.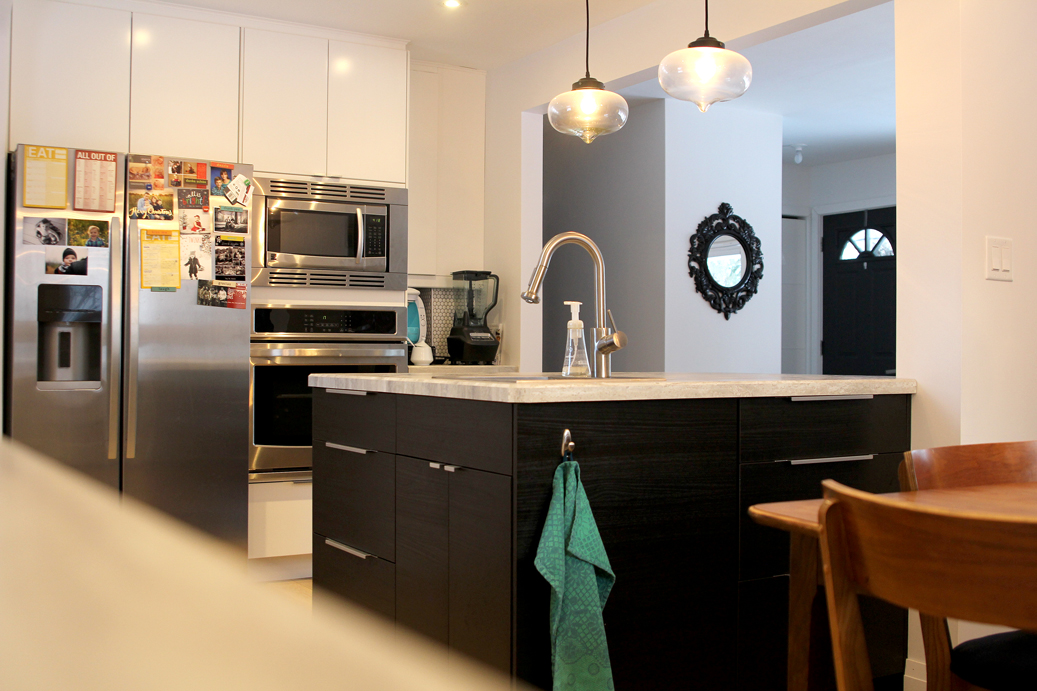 From this angle you can see how the cabinets surround the refrigerator, microwave oven, and oven. Maybe you can see the storage drawer under the oven, too. (This is a customized cabinet, AKURUM didn't have any big drawers under a tall cabinet with an oven and microwave!) While all the cabinets and door fronts are from IKEA, the appliances are not.
How to Shop IKEA with Confidence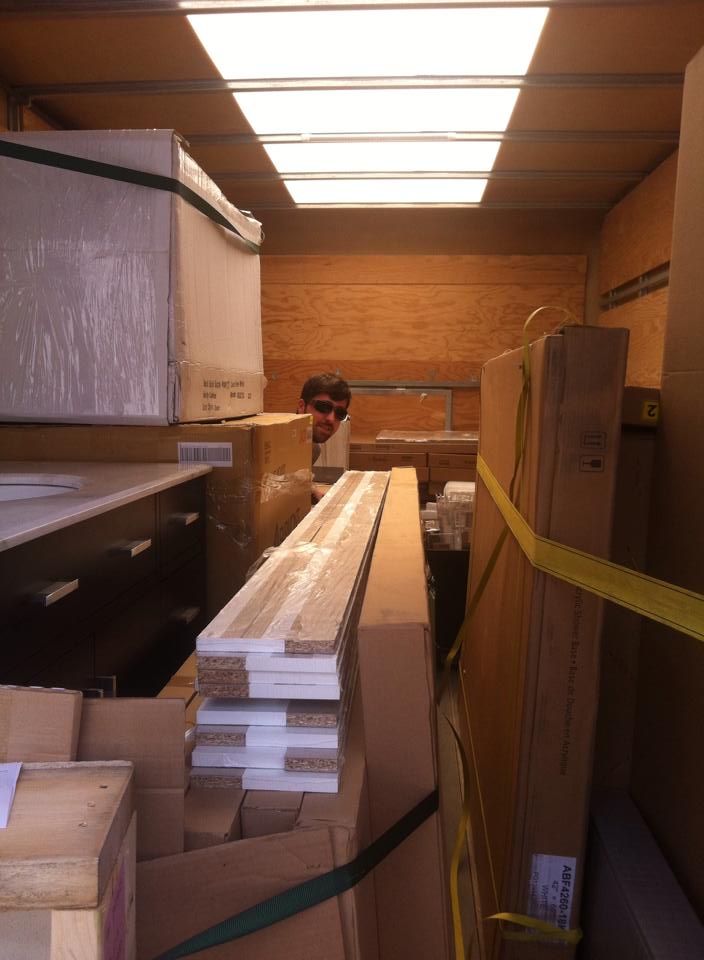 Remember, Laura and Jason had a 16-hour round trip drive to IKEA to get their dream kitchen.
And they did not want to make the trip twice. Can you blame them?
That's Jason in the back of the cube van that's almost full of their new kitchen.
And yes, they got every single thing in that one trip.
Laura passed on two great tips to me – except one of them is not a surprise to our IKD customers!
The IKD IKEA shopping list has everything you need on it. We list everything you need on there, and how many. That's one thing the IKEA Home Planner can't do. Many of our customers have told us how the design fee was worth it even if it was just to get that list. Of course, they love their designs, too.
Being an IKEA Family Member really pays off. IKEA does not announce a kitchen sale until it's time for the sale. When Laura showed up, the sale was still a month or so away. A sales associate, however, told her if she was an IKEA Family member, she would be able to use her ID to ask for the discount once the sale was underway. She had to pay full price for the kitchen, but was later refunded 20%. "Basically, this is a great way to take advantage of an IKEA sale before they run out of everything."
A Word About This Kitchen and SEKTION
Let's look at this fabulous kitchen one more time.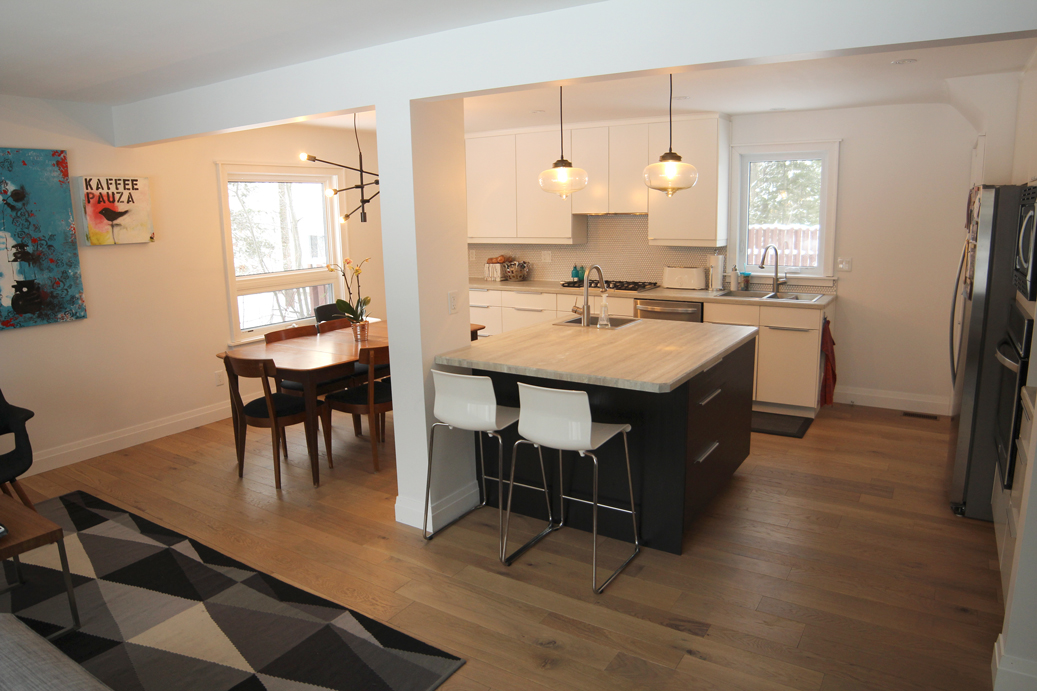 You've probably heard how IKEA has a new kitchen line, SEKTION, and the AKURUM line is gone. Don't worry! If you're looking for a similar kitchen design, SEKTION has very similar door styles. Check out this post where we compare AKURUM door styles to SEKTION door styles.