Brooke's co-op was practically perfect in every way – until you got to the kitchen. As much as she loved to entertain, her kitchen just wasn't a place she enjoyed being. From poor layout to a lack of natural light that was only amplified by the dark tile floors, Brooke's kitchen needed a massive overhaul. Most importantly, it needed IKEA!
Here's how it looked before:
And here's the finished IKEA kitchen. Goodbye, dark, cramped kitchen. Welcome to the light!
She ran into a few snags along the way that resulted in delays.
Living in a co-op meant that large remodel plans had to be approved by the board.
Removing the wall to open up the space required a bit of research on Brooke's part.
In order to take advantage of the sale, she had to wait a few months.
Lucky for Brooke, all of these things ended up working out in her favor. All those delays meant extra time doing internet research, and that's how she ended up choosing both IKEA and IKD! Cost drew her to IKEA for her kitchen initially, but in her own words, "The internet is an amazing thing, because you can read reviews from people who really love their kitchens. Those great reviews removed any hesitation I may have had."
As far as getting her design, "Kitchens don't have a lot of options at the end of the day. I realized I knew the aesthetic, but I needed someone to help me with the layout. A lot of the blogs I read, like Apartment Therapy and Semihandmade, recommended IKD, so I decided to go with them."
3 Unknowns to Solve for This Kitchen
Brooke's building had been constructed in 1905 and modernized along the way. When it came time to bring her kitchen into the light, she had to plan for a lot of unknowns.
Space. Without knowing where the pipes were prior to demolition, how much space would they have to worth with?
Floors. Would Brooke find a quality wood floor hiding underneath the old tile, or did she need to budget for a new floor as well?
Old features. Should she hire an engineer to remove the cement block under the stove and the space for the dumbwaiter, or design around them?
"This remodeling process was a good lesson. I know now you can only do so much planning, and after that you have to wing it."
This Finished IKEA Kitchen is Ready for Anything
Brooke's old kitchen broke the cardinal rule of a functional layout: the kitchen work triangle was a nightmare. Even something as simple as making a piece of toast or a cup of tea was a chore, to say nothing of hosting a dinner party.
But now, Brooke's kitchen is bright, open, and ready for anything from a quiet meal for two, to a holiday gathering. In fact, Brooke's love of entertaining is what led her to choose a peninsula over an island: "When you're cooking for a group, the peninsula keeps people OUT of the kitchen! So it really helps us to keep flow but maintain a barrier. That way, we can use the peninsula as part of the entertaining."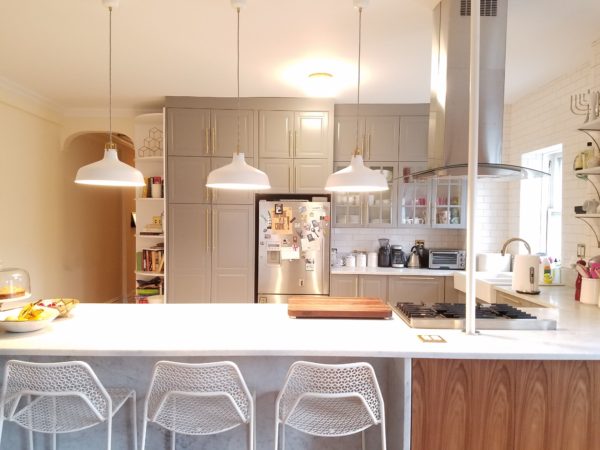 Note the RANARP pendant lights and the overhead from Rejuvenation, making sure her kitchen stays bright even on cloudy days.
While Brooke initially kept her options open in terms of custom cabinet doors, the delays in her planning process had another unexpected plus side: IKEA rolled out their new line just in time! The newer light grey BODBYN doors were exactly what Brooke had wanted all along.
Spatial unknowns also ended up working out in Brooke's favor. Having the wall come out a few inches to accommodate the pipes makes it the perfect place for some shelves that really pop, don't you think?
Like quite a few of our customers, Brooke opted in favor of the drawers-within-drawers in her new IKEA kitchen, and she couldn't be happier with them. She now has so much storage that she's in the very pleasant position of having empty drawers in her kitchen!
Brooke was able to keep all of her original appliances, with two exceptions. She had to purchase a last-minute microwave, because her existing one wouldn't fit in the 24" cabinet. The other exception was the OBEROENDE extractor hood.
Oh, and that good wood floor she was hoping to find under the old, dark tiles? Check. After a thorough sanding and a coat of Farrow and Ball floor paint, she had a gorgeous white floor that is wonderfully durable.
As much as she loves all of these features, Brooke's favorite part of her new IKEA kitchen by far is the abundance of light. "It was so dark before, between the countertops and tiles and the wall. But now, I love the light when the sun comes in through the windows in the morning. It's so lovely to be in there."
Advice From this IKEA Kitchen Remodel
Take it from Brooke: "No matter how good the designs are, there's always last minute stuff that has to be done by your contractors." That's why she recommends that anyone looking to get an IKEA kitchen work with a contractor who is familiar with IKEA products – like her contractor, Adam Chen of BNH. She was extremely impressed with his ability to improvise, and says their easy communication really helped the process.
We agree with Brooke: having the right team is critical to getting your IKEA kitchen. That's why you get access to Install Connect, our database of approved IKEA kitchen installation professionals all over the country, when you purchase either the Premium or Express packages.
Wondering if IKD is right for you?
The final word from Brooke on her new IKEA kitchen? "I had an entirely positive kitchen experience! Which I know is rare."
But an experience like that doesn't have to be rare! At IKD, we're here to get you the IKEA kitchen you've always wanted. Get started today.