It's no secret that we love IKEA. Getting news about the new 2017 IKEA catalog is like Christmas in July for us! (literally!) – We're enjoying their latest set of press materials and we've got a quite a bit of exciting material to share with you! The Washington Post  already has its list of 6 IKEA favorites for the home, but we're all about the kitchen goodies.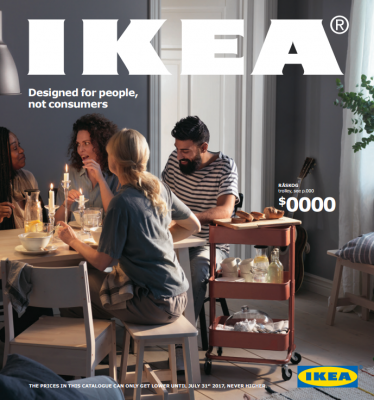 We immediately noticed that they're aiming for a more relaxed approach to design, full of sleek textures and minimal lines (which is not a surprise with IKEA, world ambassadors of the Scandinavian flair). They're all about making it easier on the eyes and we're guessing… Maybe easier on your wallet.
IKEA's New Kitchen Cabinet Doors
While browsing through their official press release, we couldn't help but love their new kitchen photos. First of all, they have a small kitchen with a new gray, matte Shaker door very similar to the ones from our friends at Semihandmade. (But they don't offer custom door sizes!)
We're so excited to finally have gray Shaker doors! Will it be a variation of the GRIMSLOV door or will it be painted wood, similar to the BJORKET style? Only time will tell. IKEA hasn't published names for their door styles yet.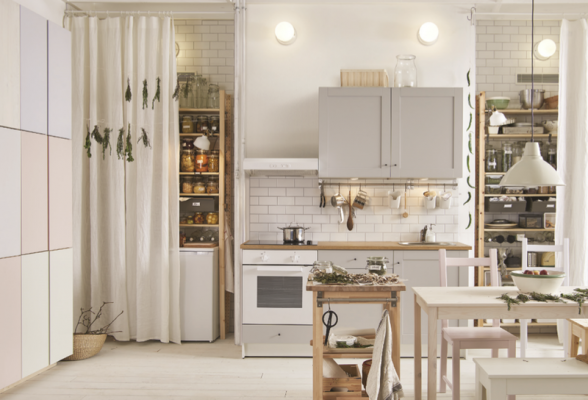 Always loyal to their European roots, IKEA has always had a knack for natural wood with clear stains because it's so easy to combine it with other kitchen elements. As a result, you can get completely different looks with the same door. See that gorgeous horizontal grain for the wood in a shaker frame? We think this will be all the rage among the Mid-Century Modern kitchens fans out there!  
You could also make it look industrial: Can you imagine this with white counters, stainless steel floating shelves, chrome handles and exposed brick? Lovely!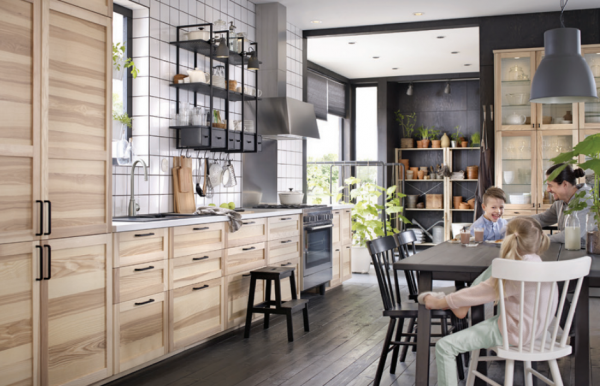 Dress up your IKEA kitchen doors with stylish add-ons
There's something unexpected we saw that will be a blast for open-plan kitchens:  add-ons for their kitchen doors in six different sizes. IKEA is working together with fashion designer and artist Martin Bergström. It's like having an art gallery in your kitchen! All you'll need is to peel & stick 'em on. We're swooning over the Kalvia add-on fronts:
An elegant counter for eye-catching areas in your new IKEA kitchen
IKEA really surprised us with their BARKABODA countertop. Chevron, or herringbone? Depends on who you ask.. We don't really care, just look at it! Isn't it gorgeous? All we know is this would make a killer hutch or island in a modern kitchen.   Given that this is a wood veneer with a particleboard core, we wouldn't recommend using this as a worktop but as a decorative feature.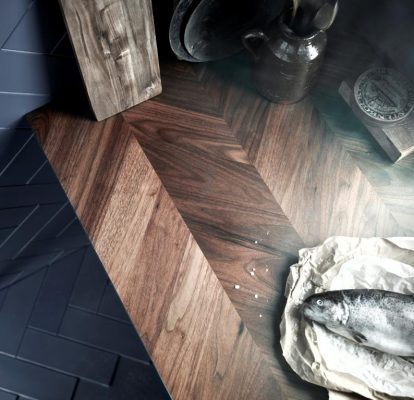 New sink bowls from IKEA
We're going to tell you a secret we learned from IKEA salespeople: their so-called "drop-in" sink bowls can be under-mounted too, as long as they have a flat rim or border.  The Norrsjon Inset Sink is perfect for this! We can see that there's plenty of space to clean pots, pans or even that huge tray we all use to serve turkey on Thanksgiving. (Don't lie, we know you have one!)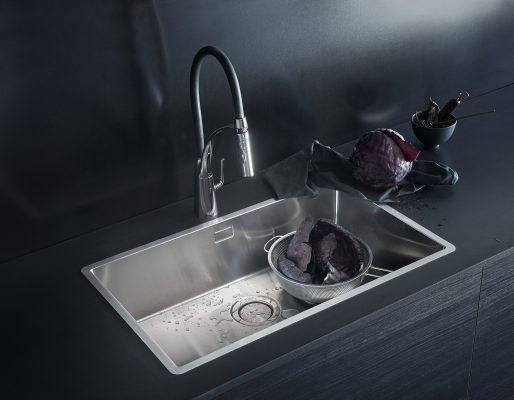 Can't wait to try using some of these goodies from the IKEA 2017 catalog in your new kitchen? Here at IKD we all have our favorites: Chuck likes the deep sink bowl, Monika is a huge fan of the horizontal wood grain in the Shaker doors and I'm day-dreaming about the watercolor-inspired add-ons for kitchen doors.  Tell us which is yours!
We're counting the days… They'll release the official catalog on August 15th.