If you have writer's block, you might want to go to Tuscany like Diane Lane's character did in the movie Under the Tuscan Sun.
But if you have kitchen block, go to Sicily like Chris and Jennie did. They'd known they wanted to change their kitchen, but they were stalled on inspiration.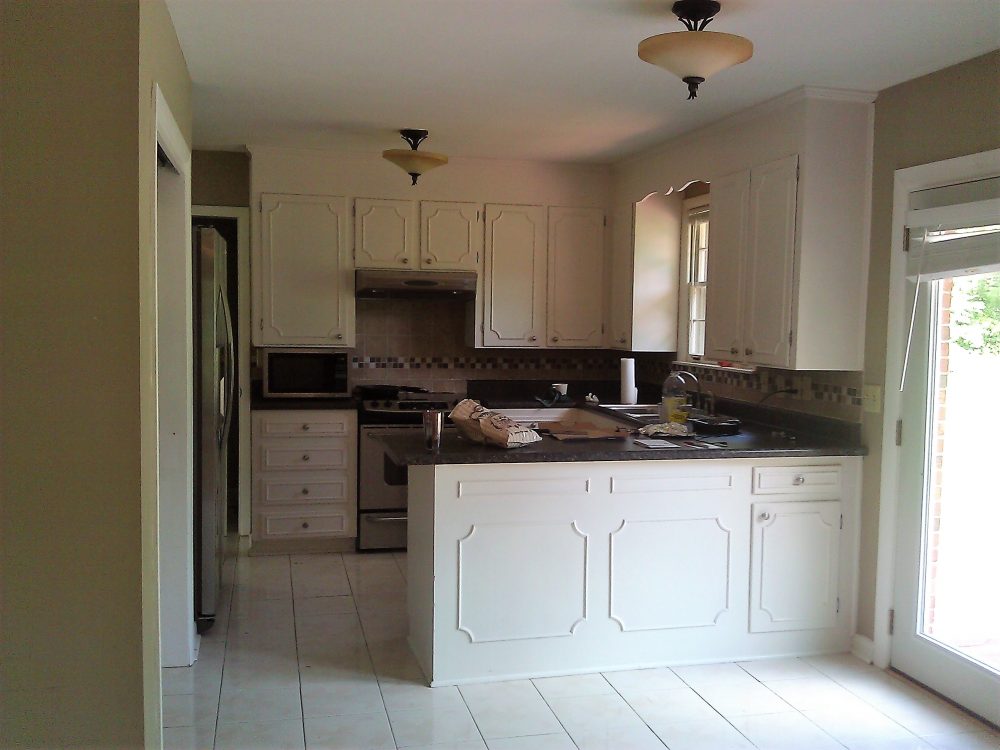 Until they saw the tile in a home in Sicily, that is. A year later, here's their IKEA farmhouse kitchen: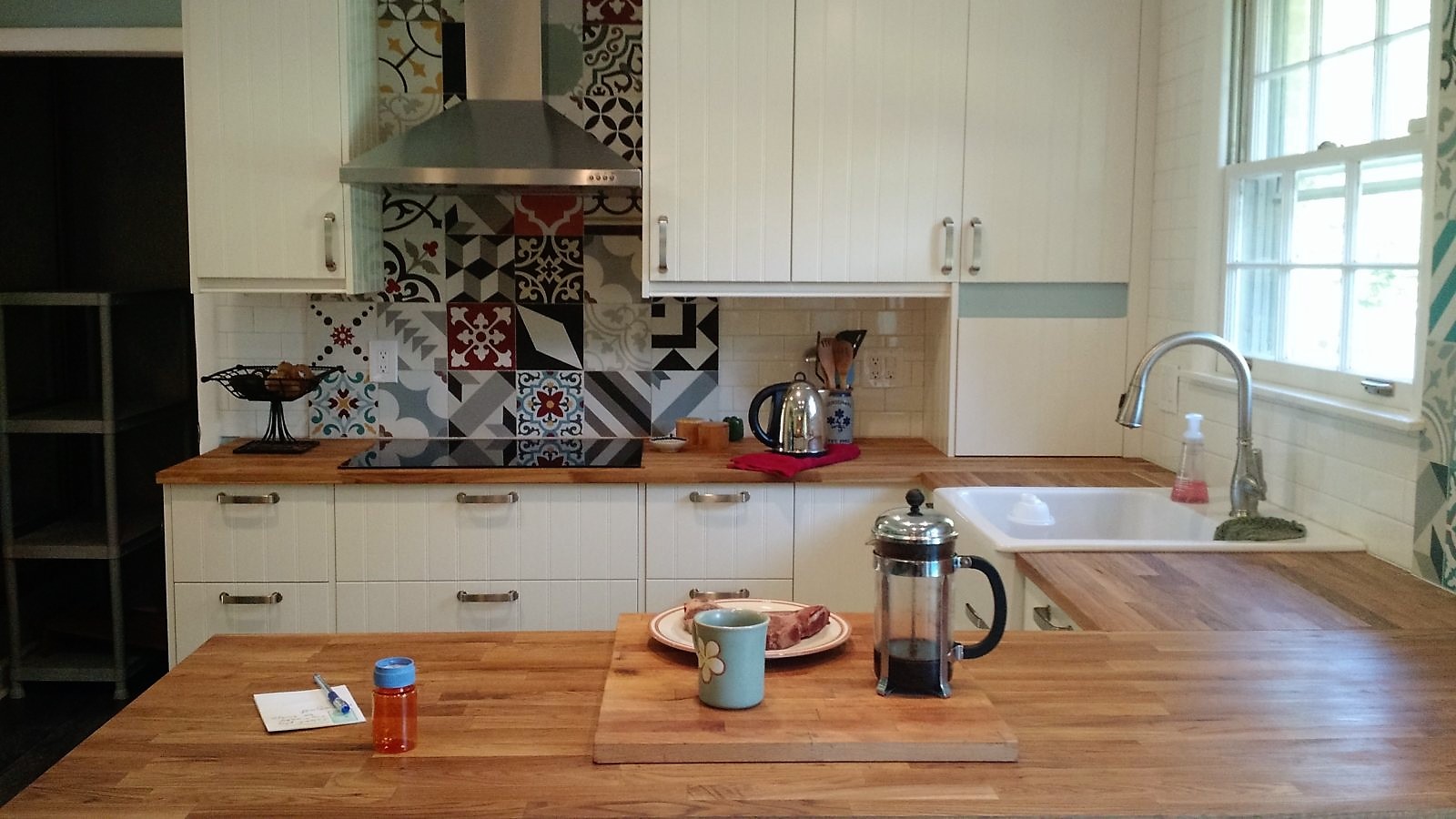 Keep reading for more photos and inspiration.
Mediterranean tile inspired this IKEA farmhouse kitchen
During a 7-week tour of Italy with their family, they stayed in a Sicilian home with a kitchen they just loved. They loved the set up, the "IKEA-ness" of the kitchen, but most especially the tile.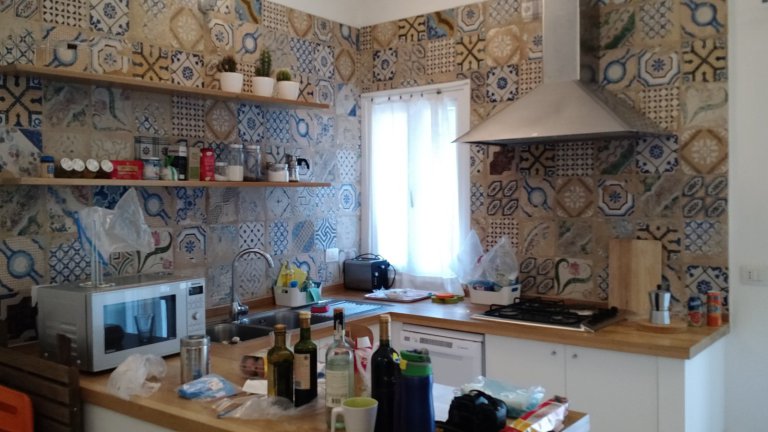 As you can see, Chris and Jennie found the kitchen very functional – even on vacation. Why eat out when you can eat in, especially in a kitchen like this?
Here's a closeup of the tile: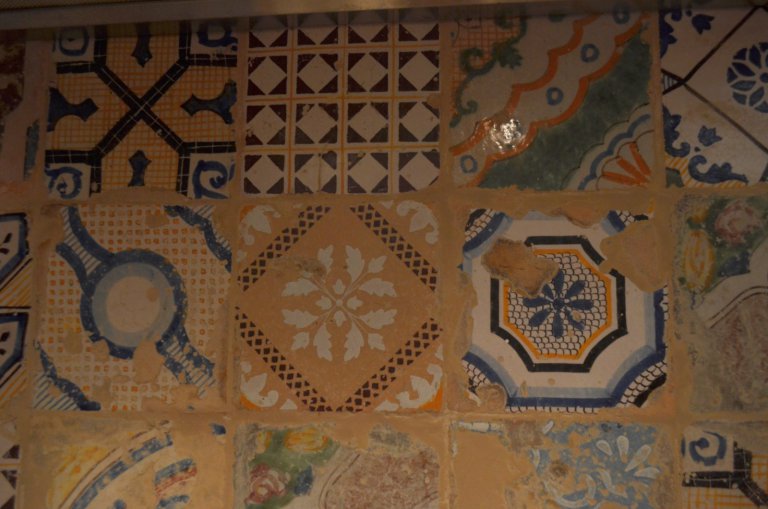 When they returned to the states, the hunt for Sicilian tile began. Their hunt led them to Cement Tile Shop and their patchwork collections of tiles. Cement Tile Shop conveniently shares photos of completed projects and this project convinced Chris and Jennie the patchwork tile was the way to go.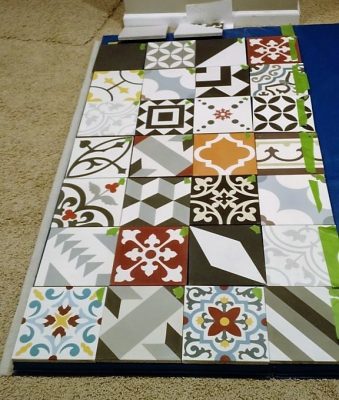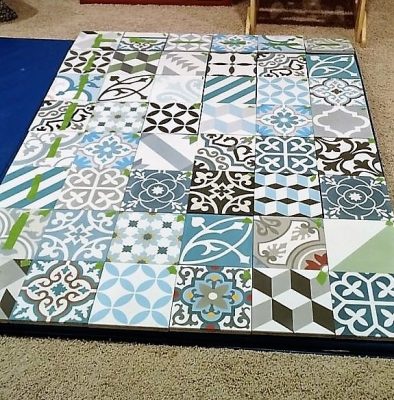 Top 3 Design Challenges for this IKEA Farmhouse Kitchen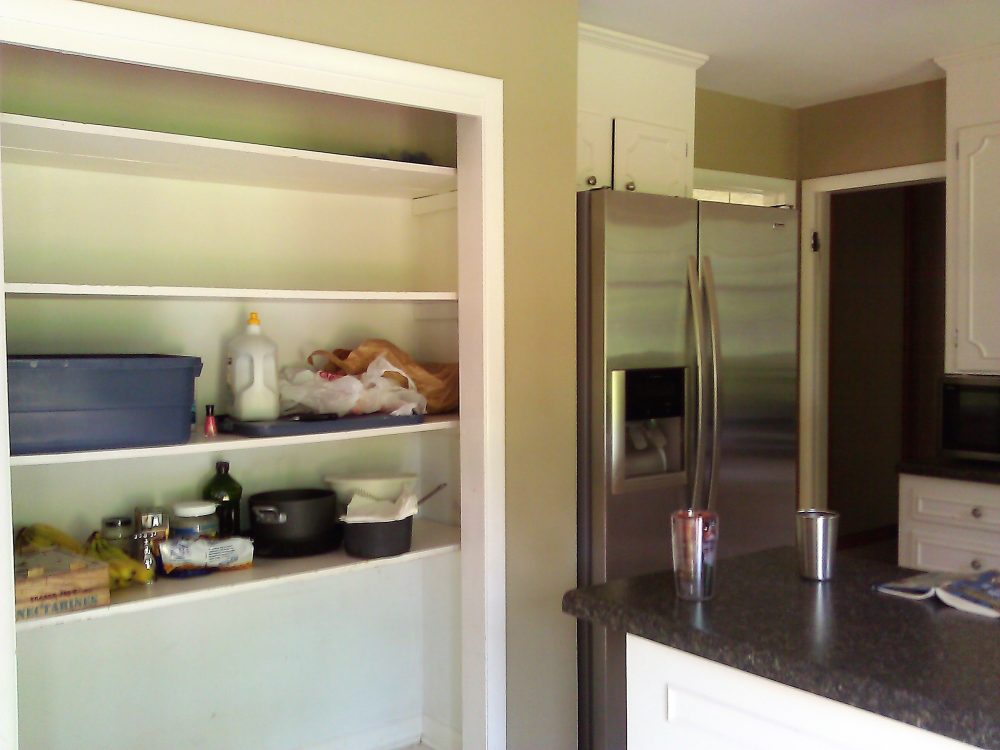 Chris and Jennie's kitchen was small to begin with, so the remodel had to maximize the space. Good thing for them that IKD designers are pros at making the most of a small kitchen.
Include beautiful, Mediterranean-inspired tile.
Widen the very narrow gap leading from the kitchen to downstairs. The passageway was narrowed by a large built-in pantry closet and a refrigerator.
Remove a big closet the wall cabinets near the window and a big closet, add in a kitchen table, and still have enough space for everything.
Install Connect: Jennie and Chris hired ModerNash for their kitchen installation. ModerNash is one of our Install Connect approved IKEA kitchen installers in Nashville, Tennessee. We created Install Connect, a database of independent IKEA kitchen installers, so our customers in North America can get the hightest-quality IKEA kitchen installation available. Learn more about this free service here.
IKEA had everything they needed for a farmhouse kitchen
While Cement Tile Shop had the Mediterranean look covered, IKEA took care of the farmhouse look. The 2 biggest IKEA contributors to this style were:
Why these 2 items in particular? HITTARP doors have vertical grooves in them similar to beadboard and they're off-white, both of which are essential ingredients in the farmhouse style. Apron-front sinks are also known as farmhouse sinks.
This IKEA farmhouse kitchen also has wooden countertops, wood flooring, and the communal family table right inside the kitchen.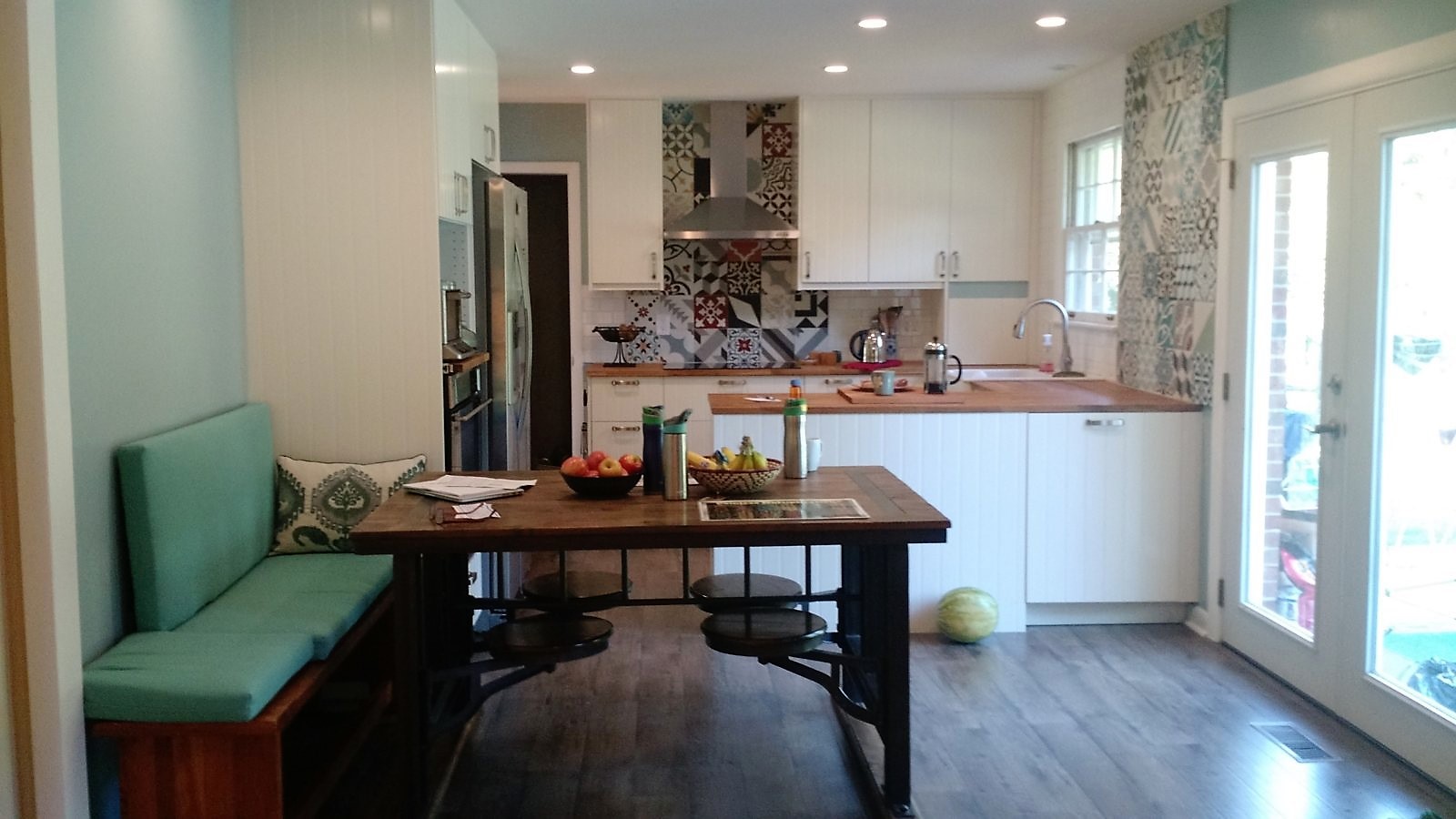 Other IKEA items in this kitchen: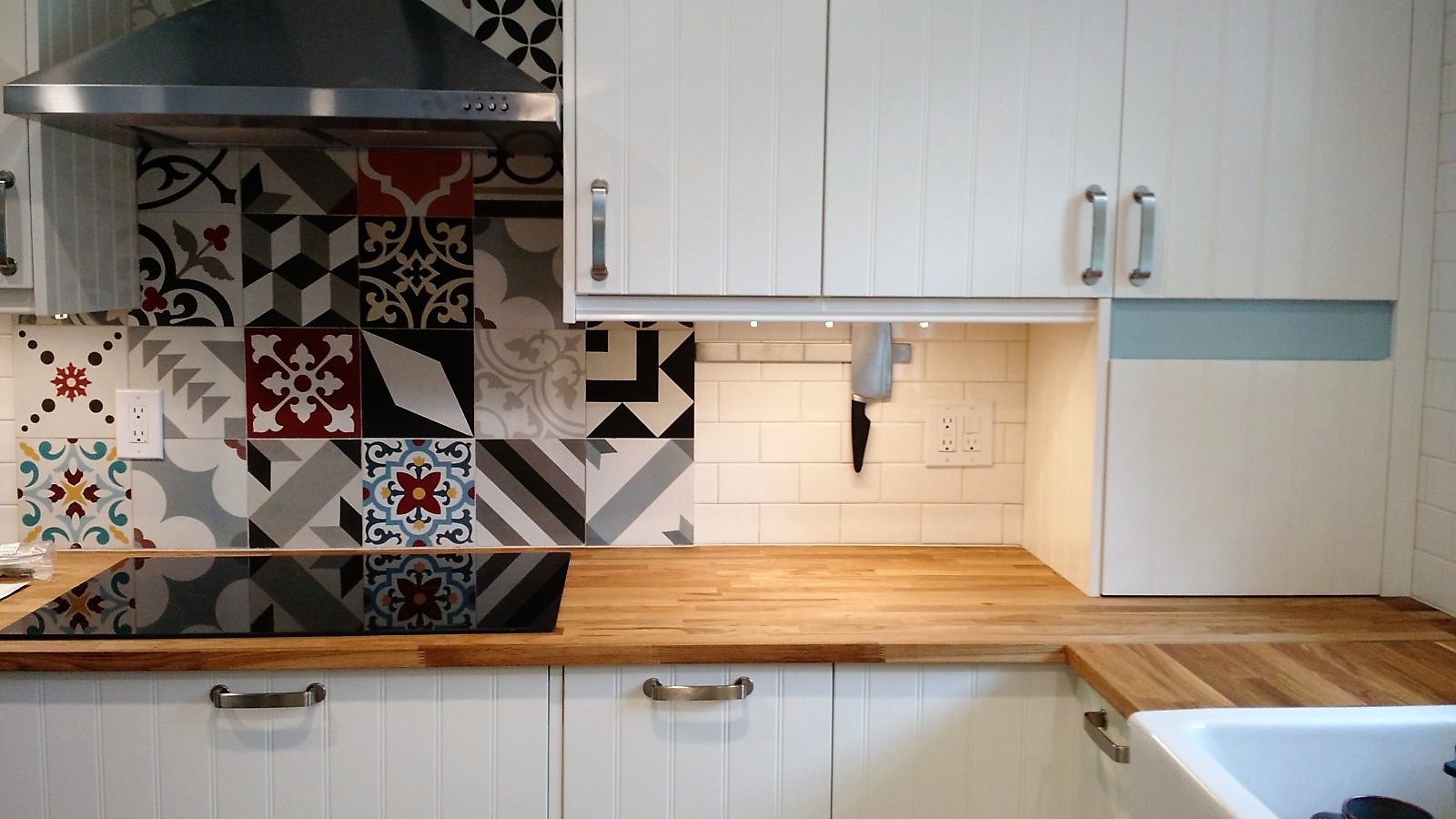 Maximizing storage space in Chris and Jennie's IKEA farmhouse kitchen
Chris and Jennie's kitchen design takes advantage of the drawers-within-drawers feature of SEKTION. The drawers under the cooktop have several, and it's where they store all their pots and pans.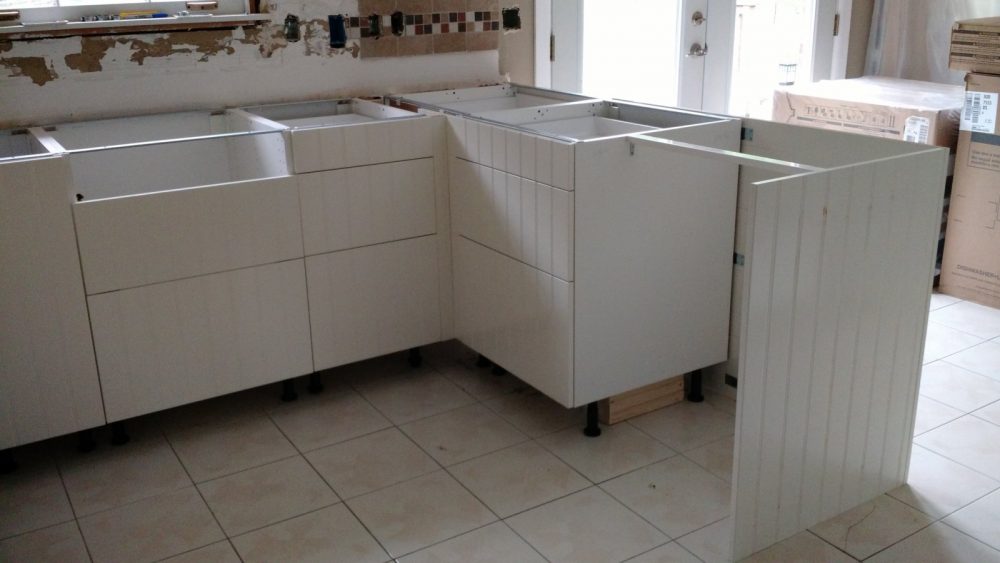 They chose a RENLIG integrated dishwasher so they could maintain visual consistency across the base cabinetry. This is one of Chris's favorite features. After the tile, of course!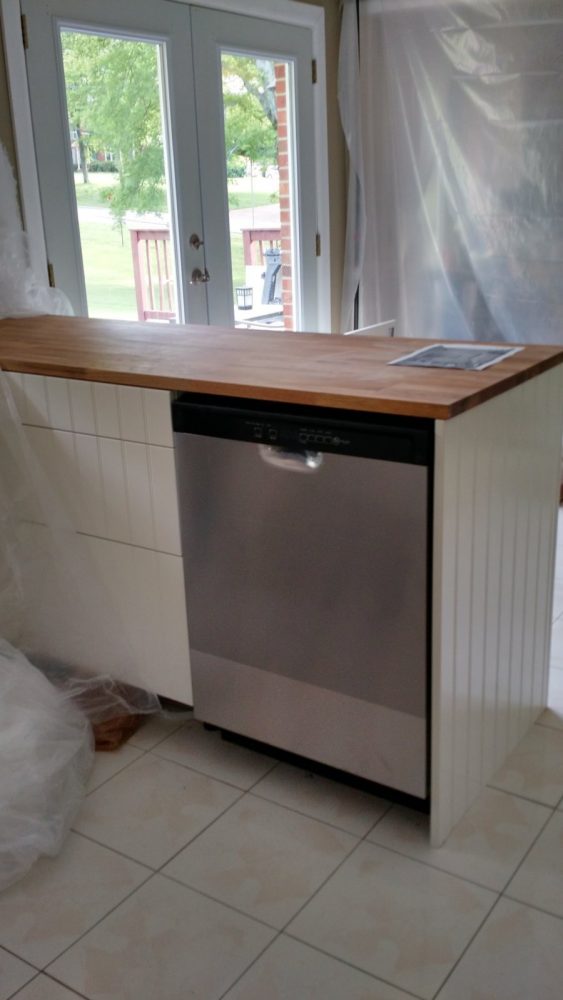 Another feature Chris likes is how he can unload the dishwasher into the base cabinet right next to it. He says yes, the IKEA cabinetry and drawers are sturdy enough to store glass and ceramic, and they don't feel like things will crack each other.
Now for the pantry. The old kitchen had had a big built-in closet that acted as a pantry. The only trouble with it was that it jutted out into the kitchen space, leaving only a narrow gap for people coming into the kitchen from the stairway.
Their general contractor removed the closet as well as the wall cabinets that were near the window. Since Chris and Jennie were giving up considerable storage space, they needed a decent replacement.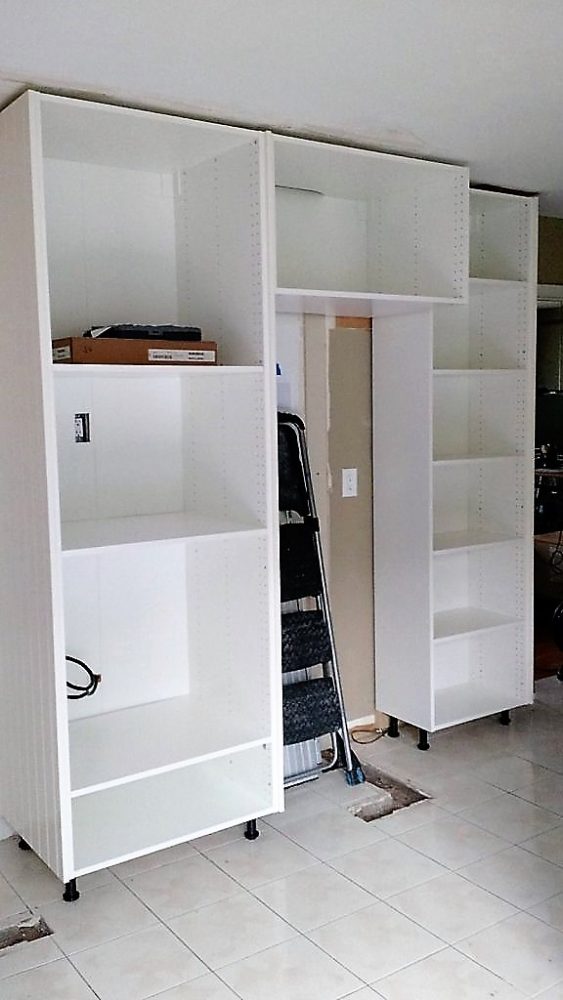 IKD designed a pantry from SEKTION cabinets that would also store the oven and refrigerator.
Chuck, IKD Designer

Tip: You can put a refrigerator and oven next to each other as long as you have a wide-enough filler panel in between the 2 appliances. The best part about HITTARP is its extra-thick cover panels. Most cover panels are only 5/8 of an inch thick. HITTARP however are 3/4″. Yes, 1/8 can make that much of a difference. (Read more about the thickness of IKEA cover panels here).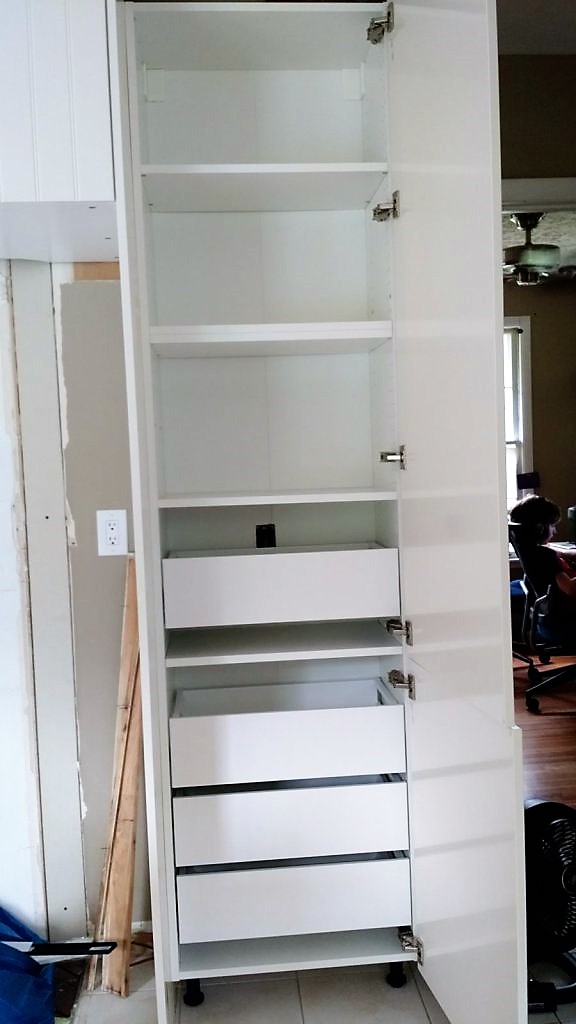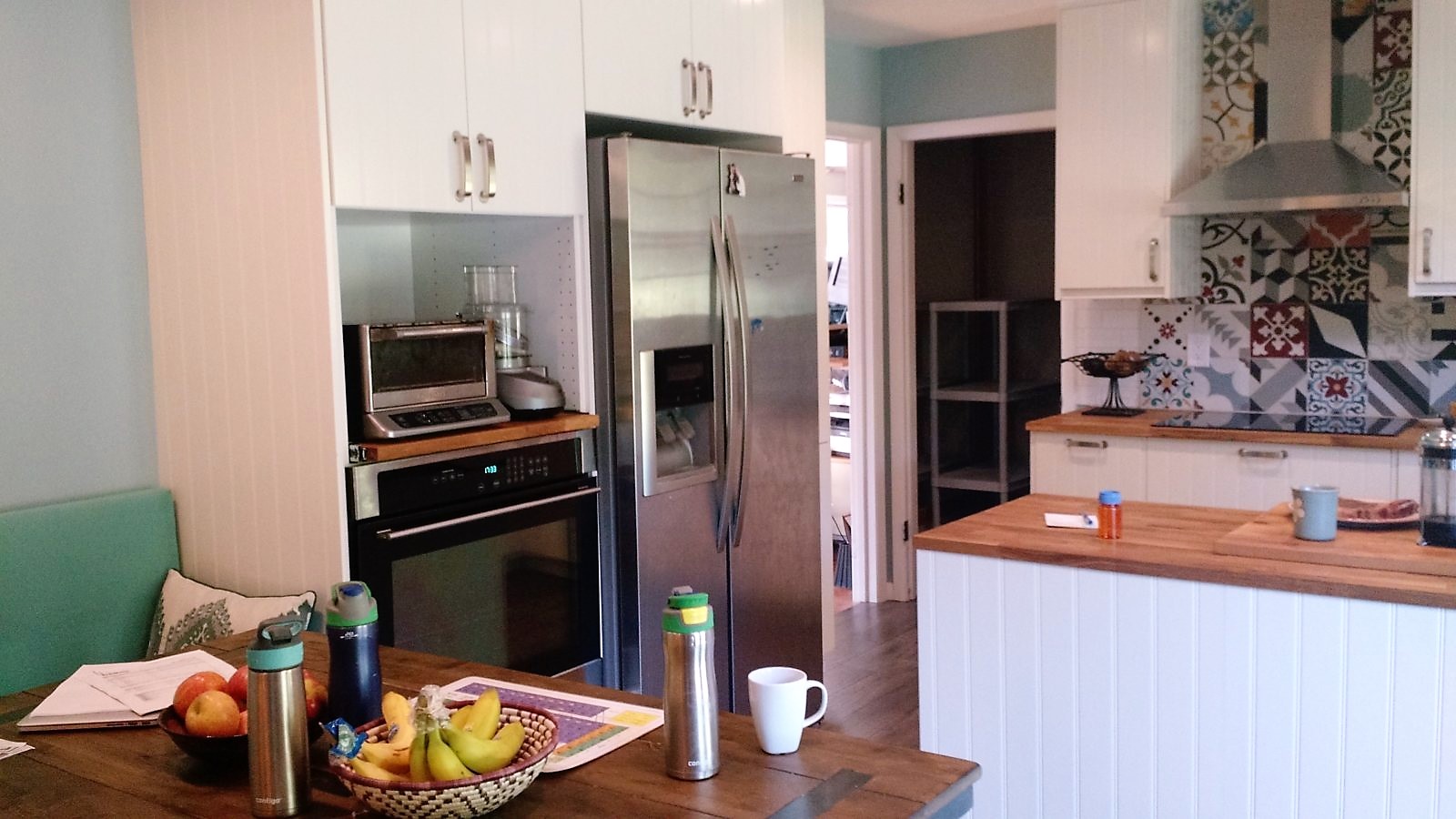 Jennie had also spied our IKEA kitchen hack for an appliance garage and requested that for her design. It's made for a really handy coffee station.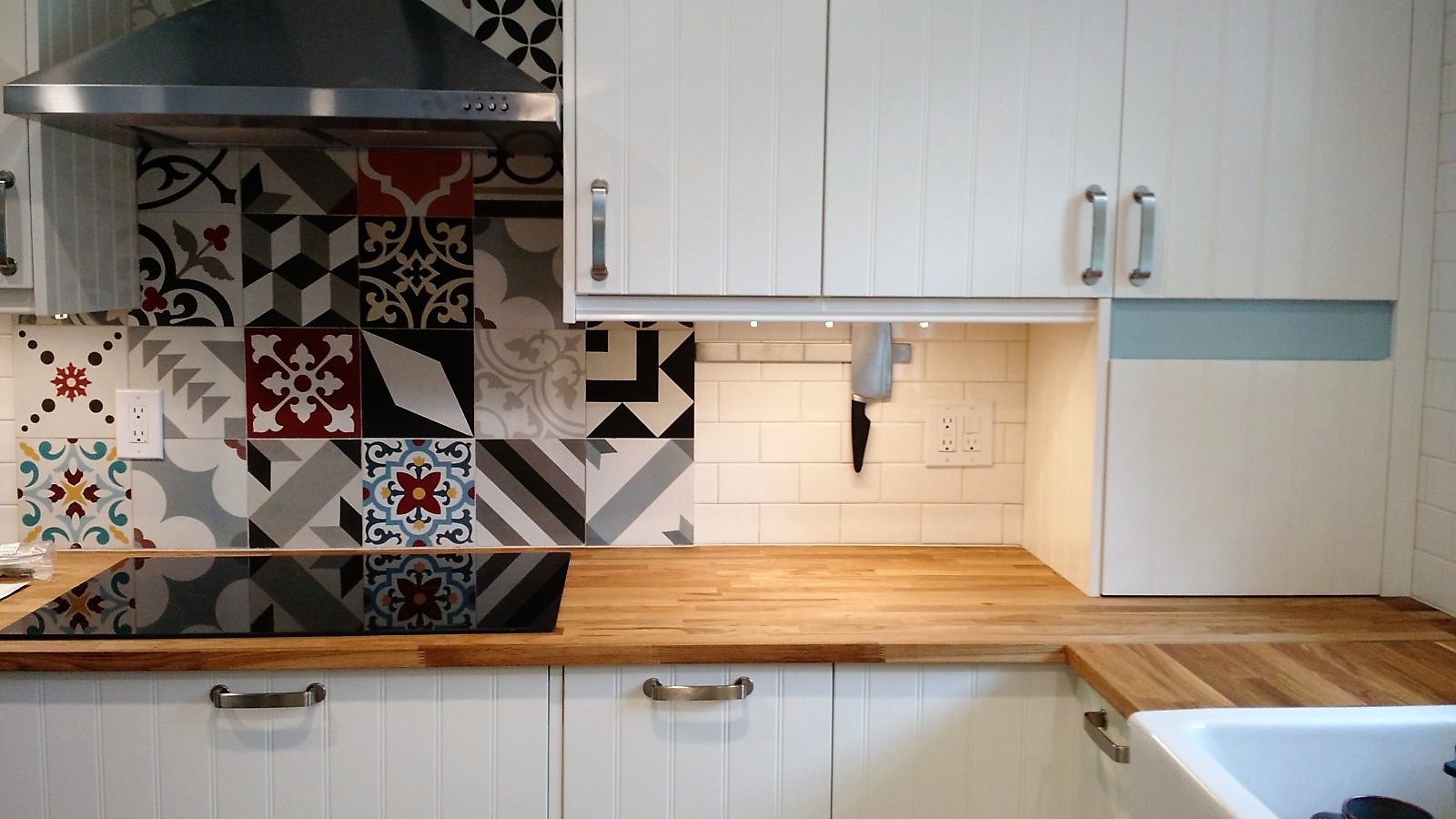 2 lessons from this IKEA Farmhouse Kitchen Makeover
We love it when our customers share their words of advice. Here are 2 recommendations from Chris.
We thought we could just finish the butcherblock countertops with mineral oil. This proved to be a mistake. Instead of being easier, we were constantly worried about water and staining. Eventually we finished them with Waterlox and that's been great.

I can't say I'd recommend getting IKEA appliances. IKEA cabinets, however, are great. They're sturdy and a great deal for the price. – IKD Customer Chris
Jennie and Chris, thank you so much for sharing your kitchen photos with us! We hope you enjoy your Mediterranean-inspired kitchen for years to come.
See more photos of this IKEA farmhouse kitchen on Chris and Jennie's blog
The couple had previously blogged about their kitchen on their own website. If you can't get enough of the kitchen or want to see what a kitchen makeover really looks like, head over to the blog for even more photos.