Lisa, a singer and performer, is a real citizen of the world. She splits her time between Melbourne, New York City, and Italy.
She had lived in Milan for five years, and her love of the fresh, modern look of Italian design never left her.
When it came time for a kitchen redesign for her NYC apartment, she looked no further than Italy for her inspiration, and IKEA for the implementation.

Lisa's Top Three Kitchen Design Challenges
Lisa stays in her NYC studio apartment when she is visiting her family and performing stateside. She wanted to redesign the kitchen so she could have her family come over for a meal, and maybe even have a party.
Her top three design challenges:
Make the most of a 10' L-shaped galley kitchen. The studio apartment has a separate kitchen, but the layout of the apartment and the size of the kitchen limited what could be done in the room.
Keep the look modern. "The truth is, I don't like the look of most kitchens. They all seem old-fashioned, colonial, even chunky. The clean lines of Italian design have always appealed to me, and IKEA seemed the most cost-effective and attractive way to achieve it," Lisa told me.
Get it done in 21 days maximum. Yes, you read that right! Lisa only had three weeks to finalize her design with IKD, purchase her kitchen at the IKEA store, install it, and leave for her next destination. Which was Italy, certamente.
Small Spaces Need More Storage
While we don't have "before" pictures of Lisa's previous kitchen, trust us when we say it was cramped and didn't have enough storage.
IKD solved this challenge by mixing up IKEA AKURUM cabinets, horizontal cabinets, and drawers in the kitchen redesign.
"I love having the AKURUM drawers, they're a total timesaver. No need for me to go scooting around on the floor trying to find things in the cupboards while I'm trying to cook."
A Sleek Grey IKEA Kitchen for a Sunny Personality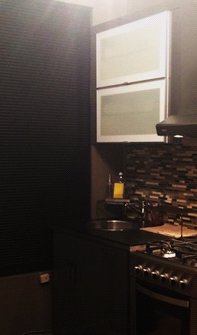 Lisa knew she wanted stainless steel appliances, and a chandelier. When she saw the can of textured grey paint in Home Depot, however, it was love at first sight.
"I remembered a grey kitchen I had loved in the IKEA store awhile back, and I just went for it. I could see perfectly how it would all come together," said Lisa.
She chose ABSTRAKT high-gloss grey doors for her AKURUM cabinets and drawers, except for the two horizontal cabinets above the BOHOLMEN sink.
AKURUM horizontal cabinets were completed with RUBRIK glass doors.
The IKEA store closest to Lisa was one of the few that carried countertops. (Because each store varies with which countertops they carry, IKD cannot design for them). Lisachose the dark grey NUMERÄR countertops to complement the color scheme. She had wanted black granite countertops, but discovered she had to buy a minimum of 10' of the material. Too much for her small kitchen.
The table you see to the left in this photo was fashioned from legs from her old table, and some more of the NUMERÄR countertop.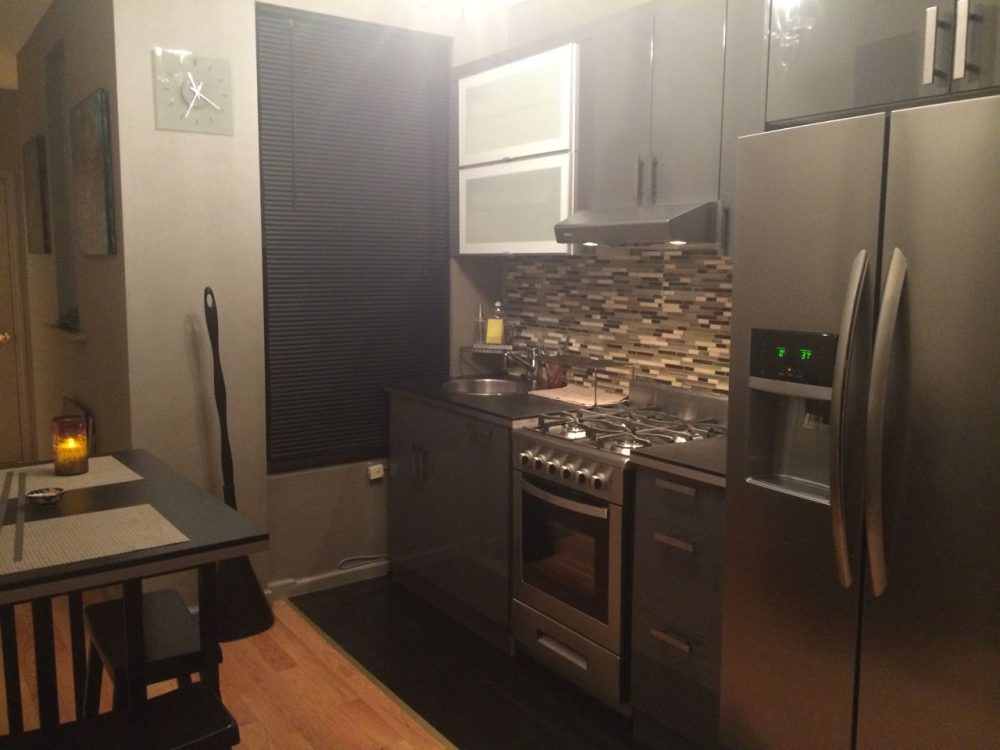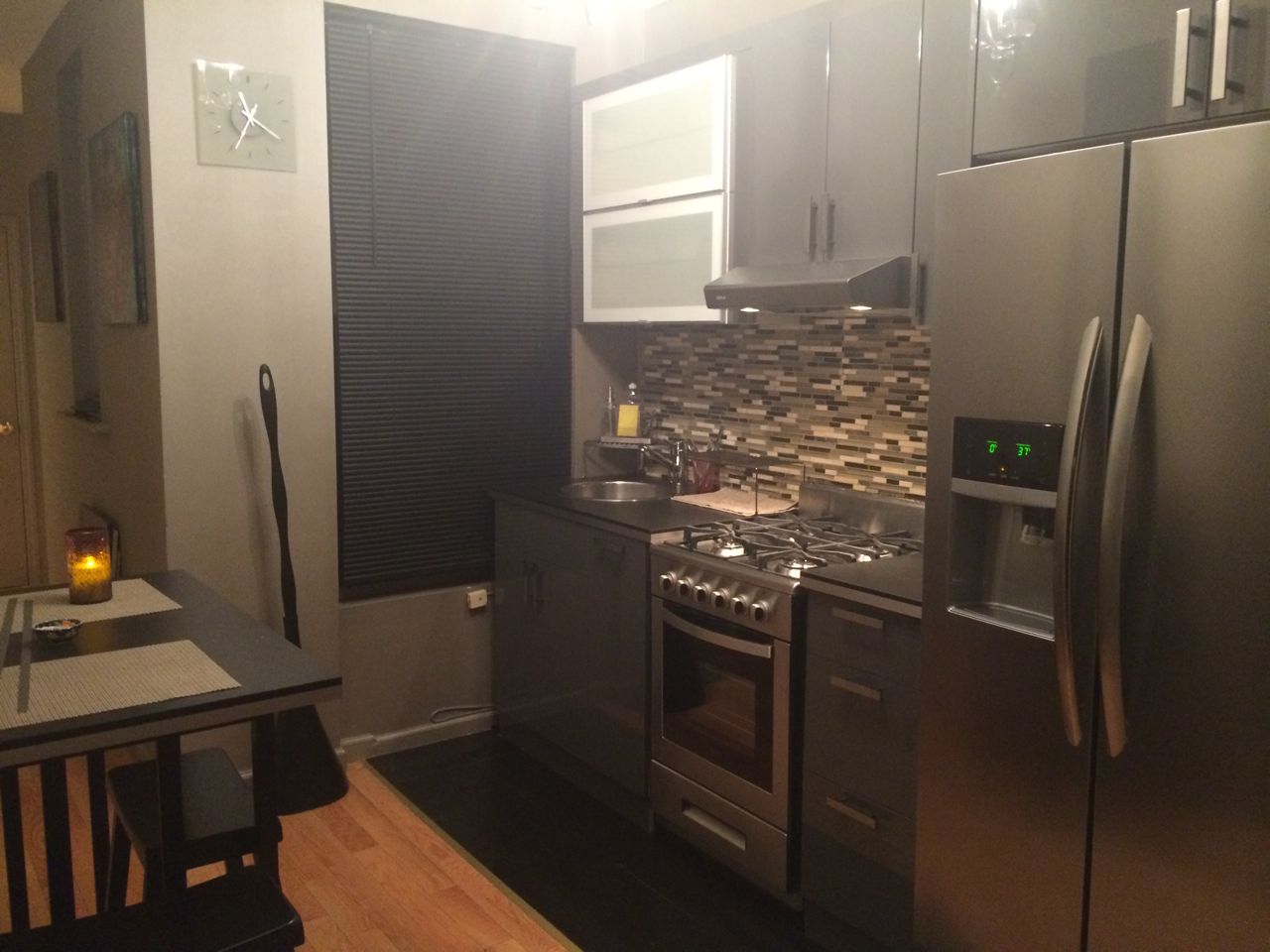 "The chairs you see are my Tibetan stools, which slide right under the table. But I did eye some of the BERNHARD high leather stools with the back. I think those would have looked nice in this kitchen as well."
An IKEA Kitchen Redesign in Yes, 21 Days
Once Lisa had her IKD design and shopping list in hand, she knew if she wanted to keep to her timeline she would need some professional help.
The contractors she hired met her at the store, took the shopping list, picked everything out for her and brought it to her apartment. No need for the big breakfast, vitamins, and big bottle of water if you get someone else to handle the shopping part!
Her kitchen was assembled and completed over the course of two long days.
The Final IKEA/Italian Kitchen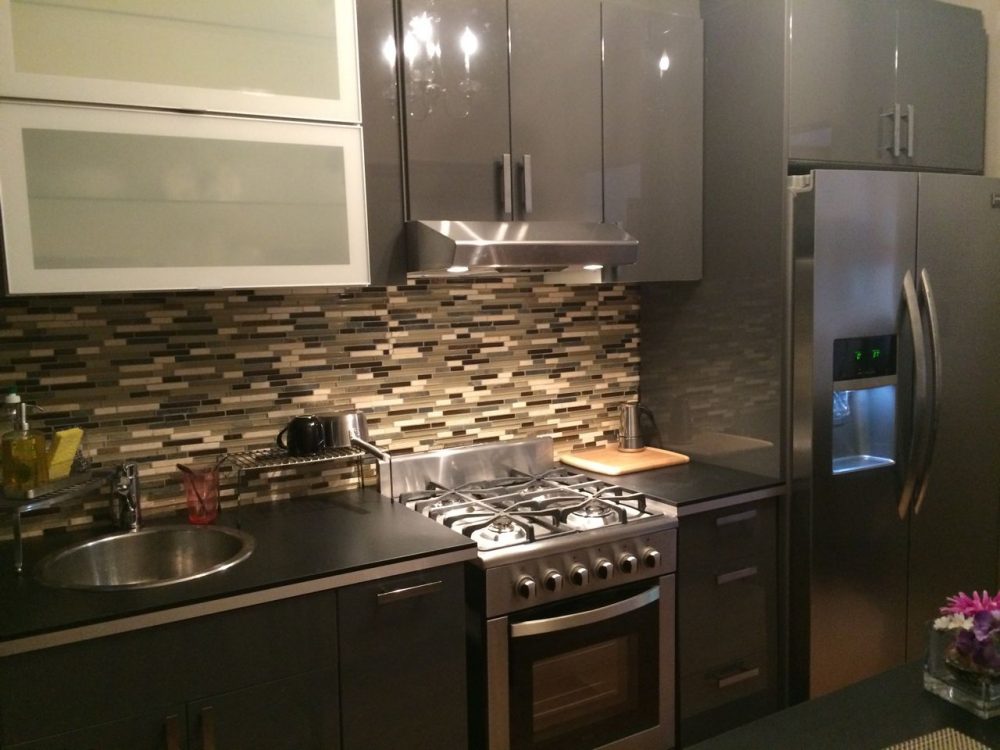 Che bello!
Sadly, Lisa had to fly out to Italy before the paint was even in dry in her kitchen!
"I did get to use the kitchen a little, but when I return in September, that's when I'll throw a party and really break it in," said Lisa.
"I'm quite happy with it. The kitchen works, that's the main thing. This is my third kitchen redesign and this one went smoothly. IKD really got the formula right. They made life easy."