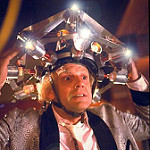 Ami and Jinesh had just bought their new home, and they were thrilled. There was only one not-so-small problem: their kitchen was more than thirty years old. That's over a hundred and thirty in kitchen (or dog) years!
They knew their kitchen needed to get out of 1985, and into 2015. Did they need a time machine, a mad scientist, and a bolt of lightning? Nope: all they needed was IKD!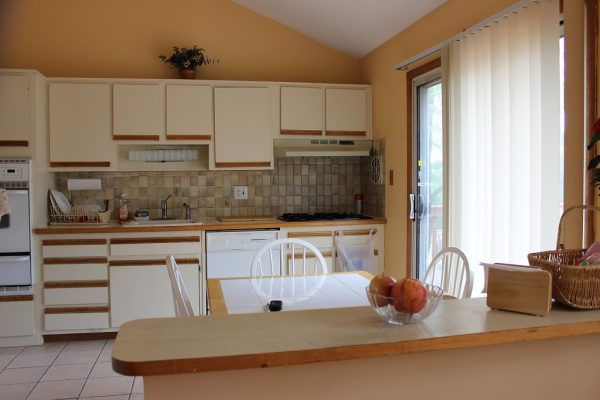 Their number one wish? To bring their outdated kitchen into the present with a clean, modern style. Those framed cabinets had to go.
With a basic idea in mind, Ami tried her hand at the IKEA home planner, but she wasn't satisfied with the design. She and Jinesh realized that if they were going to get the IKEA kitchen of their dreams, they needed a professional touch.
The finished product? Get ready to hop into the IKDeLorean, because we're saying goodbye 1985, and hello 2015!
Top 3 design challenges for this kitchen
Remodeling this old kitchen had its fair share of design challenges:
Small space. Ami and Jinesh do a lot of cooking, and the kids love to join in, so they needed to maximize both storage space and prep areas.
Footprint decisions. Would the window or deck door need to move in order to make the most out of this kitchen? Ami wanted to know what was possible with the existing layout before making any big decisions.
Island or peninsula? Ami wanted to replace the old peninsula with an island, but she wasn't sure if there would be room. She created an island in her initial design, but didn't feel confident that the Home Planner was showing she had enough room.
Ami knew that IKEA and IKD was her best option for solving those problems and modernizing the kitchen.
An IKEA Kitchen Design for a Modern Look
Kiss those outdated framed cabinets goodbye! Ami and Jinesh achieved their modern look with BROKHULT doors and standard cabinets, rather than having IKD customize for them.
Using more drawers than cabinets is the current kitchen trend, but Ami preferred cabinets to drawers. So, no drawers-within-drawers for her.
As far as maximizing their space, they did opt for pullouts in the pantry and under the sink – and Ami loves how easy they are to use.
When it came to changing the kitchen footprint, everything had to shift slightly. Placing a cabinet between the dishwasher and the range, which was also moved out of the corner, opened up the kitchen and made it easier for the whole family to prep and cook together.
The new appliances are from Frigidaire. We think the stainless steel is a definite upgrade from the old white refrigerator!
As for island/peninsula debate, Ami and Jinesh decided to stick with the peninsula due to space concerns, but with a twist. As you can see, it was a tight fit between the refrigerator and the peninsula in the old kitchen.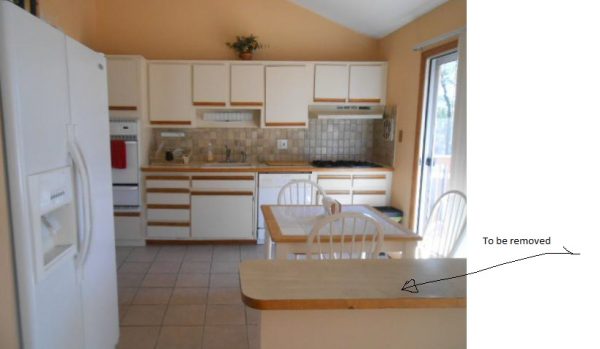 Rather than use the full 36" of space, they opted for 24" deep cabinets with a 12" overhang. A perfect place to tuck some bar stools for casual gatherings.
Note the countertop choice! Not only is it a huge improvement over the old laminate, it's a gorgeous complement to the backsplash.
Wondering if IKD is right for you?
What do Ami and Jinesh have to say about their new kitchen?
"It's beautiful! The design we got was amazing, and the person who put it together did an amazing job."
But you don't have to take their word for it. Making your dream kitchen a reality is easy with IKD. Get started today!
Image Credit
"Docbrown" by Flickr user Ar0nnax is licensed under CC BY 2.0.