Who doesn't want a summer home in the mountains? Or a mountain cabin rental with skiing nearby in the winter? Rashonda said yes to that dress, but knew it would need serious work before she could stay there. Despite the shag carpeting and taxidermied animal heads in the living room, the first thing to be tackled was the kitchen.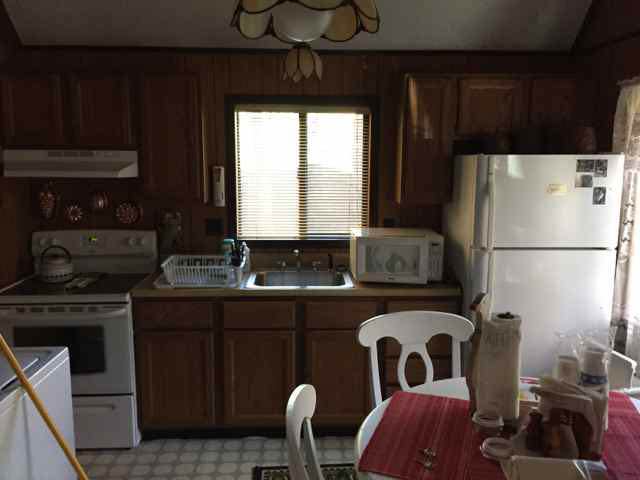 The late 70s / early 80s were a tough time to be a kitchen. The dark wood paneling makes the small space feel even more cramped.
There was barely room for the cook, never mind a hungry family of four. But Rashonda hired IKD to help her get a kitchen that just really works for a mountain cabin rental with a small space. Here's her new IKEA kitchen from the same angle.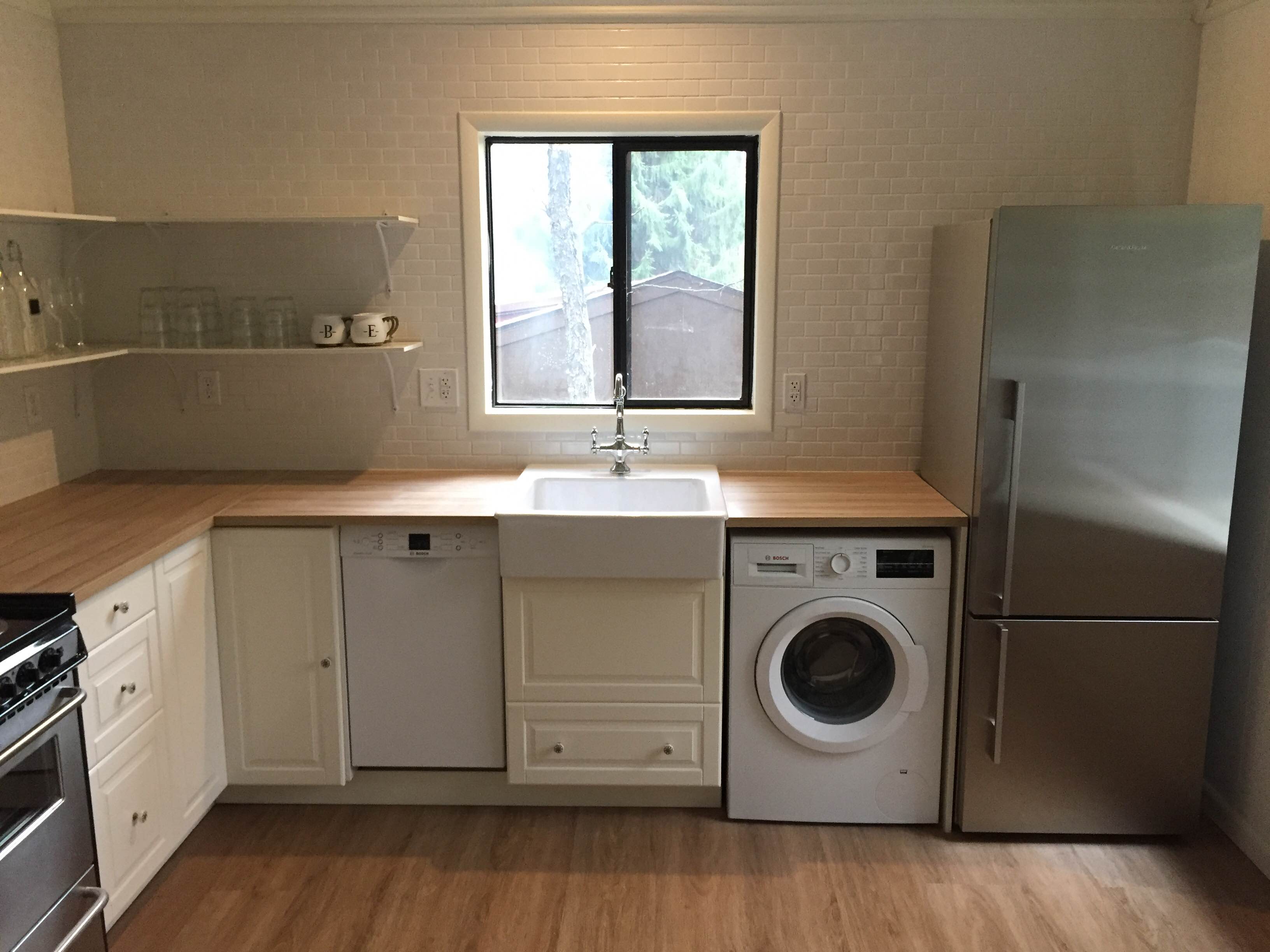 It's almost like looking at a photo negative of the old kitchen. The dark cabinets turned light, and the light floor turned dark.
You can learn *a lot* from this IKEA kitchen
Our #2 piece of advice is: really think about how you use your kitchen before you design it. (Our #1 piece of advice to our customers? Don't buy your IKEA kitchen on a weekend.)
Last year Rashonda rented a home in San Francisco and an apartment in London. "It was like I majored in kitchens last year."
Her kitchen experiences taught her a lot about what she wanted in her mountain cabin rental kitchen.
Rashonda's kitchen design choices were influenced by 2 very important factors
Usage: This is a rustic vacation home she intends to rent out for part of the year. "A vacation home is not your life. You cook differently because you say to yourself 'It's different, I'm on vacation.' You don't want to have to waste time constantly hunting for things." It also had to be easy for renters to keep neat.
Location: This cabin rental is located in the mountains, and the cold temperatures really affected Rashonda's choice for countertop material.
No matter which of your kitchens you're renovating, you can learn a lot from Rashonda's choices.
Lesson #1: "A well-designed kitchen doesn't need any fuss."
Last year Rashonda cooked Thanksgiving in a friend's gigantic and ornate kitchen. It was not a glorious experience.
"A well-designed kitchen doesn't need any fuss. A kitchen with fuss is huge and just tries so hard to impress you, but it doesn't welcome you. It has so many cabinets, a marble countertop, it's beautiful, but you don't want to cook in it.
"I cooked Thanksgiving dinner in a kitchen with fuss and I didn't like it.  It was the most massive kitchen I'd ever cooked in, and it was gorgeous to look at. But all of us were congregating in one little corner because of the way the kitchen was set up. It's like we were all intimidated by it."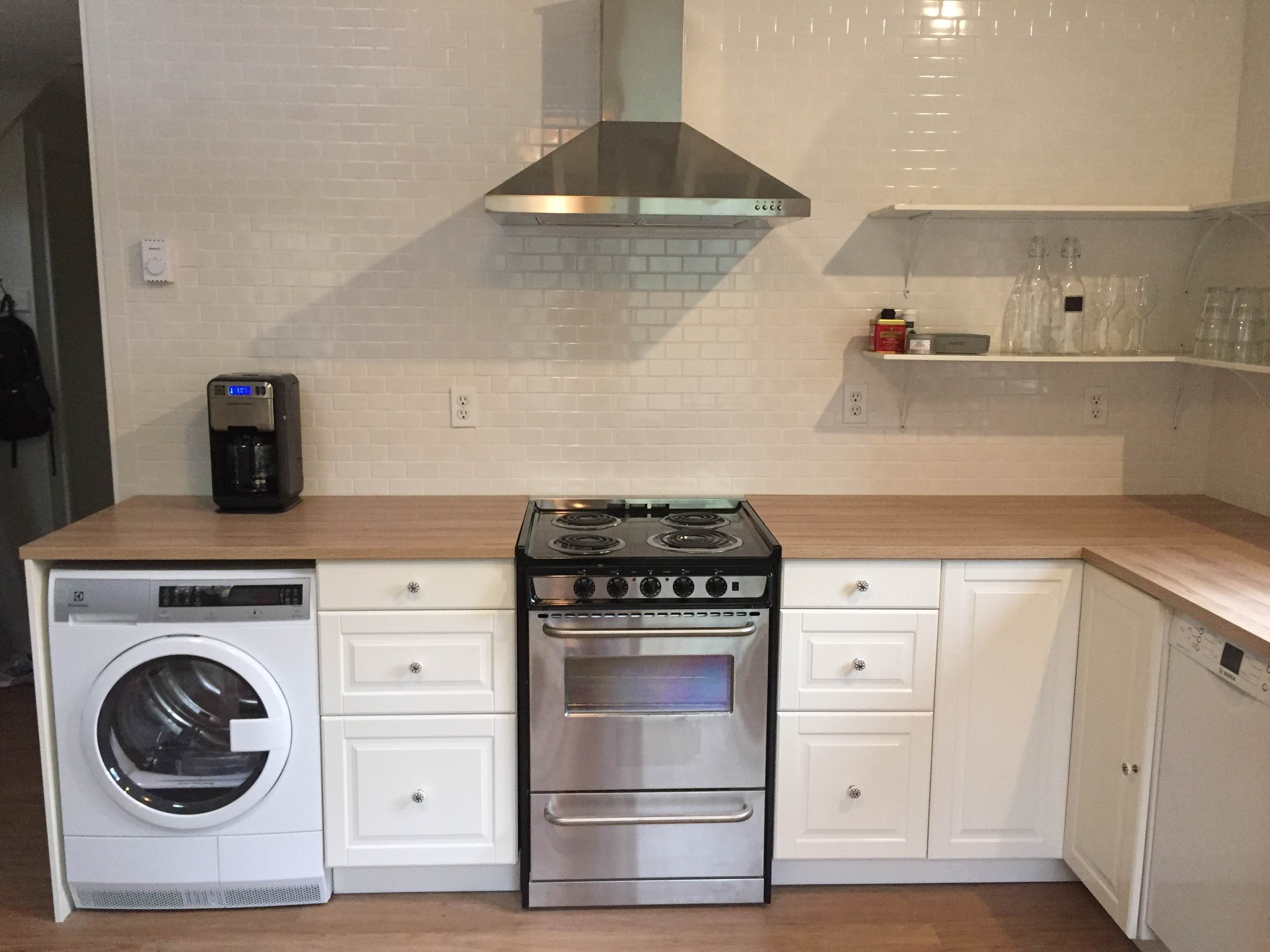 There are no ornate details in this mountain cabin rental. Rashonda chose raised-panel white BODBYN doors for her IKEA kitchen and the simple L-shaped layout provides plenty of room for everyone.
"I wanted my kitchen to be a warm and open book. Anyone could walk into this kitchen and figure out how to use it."
Lesson #2: IKEA is "great with using small kitchen spaces."
"I rented a tiny apartment in London with an even smaller kitchen. The space was used so efficiently I knew my home could use some tweaks.
"The London kitchen made me feel confident about choosing IKEA. They are great with using small kitchen spaces."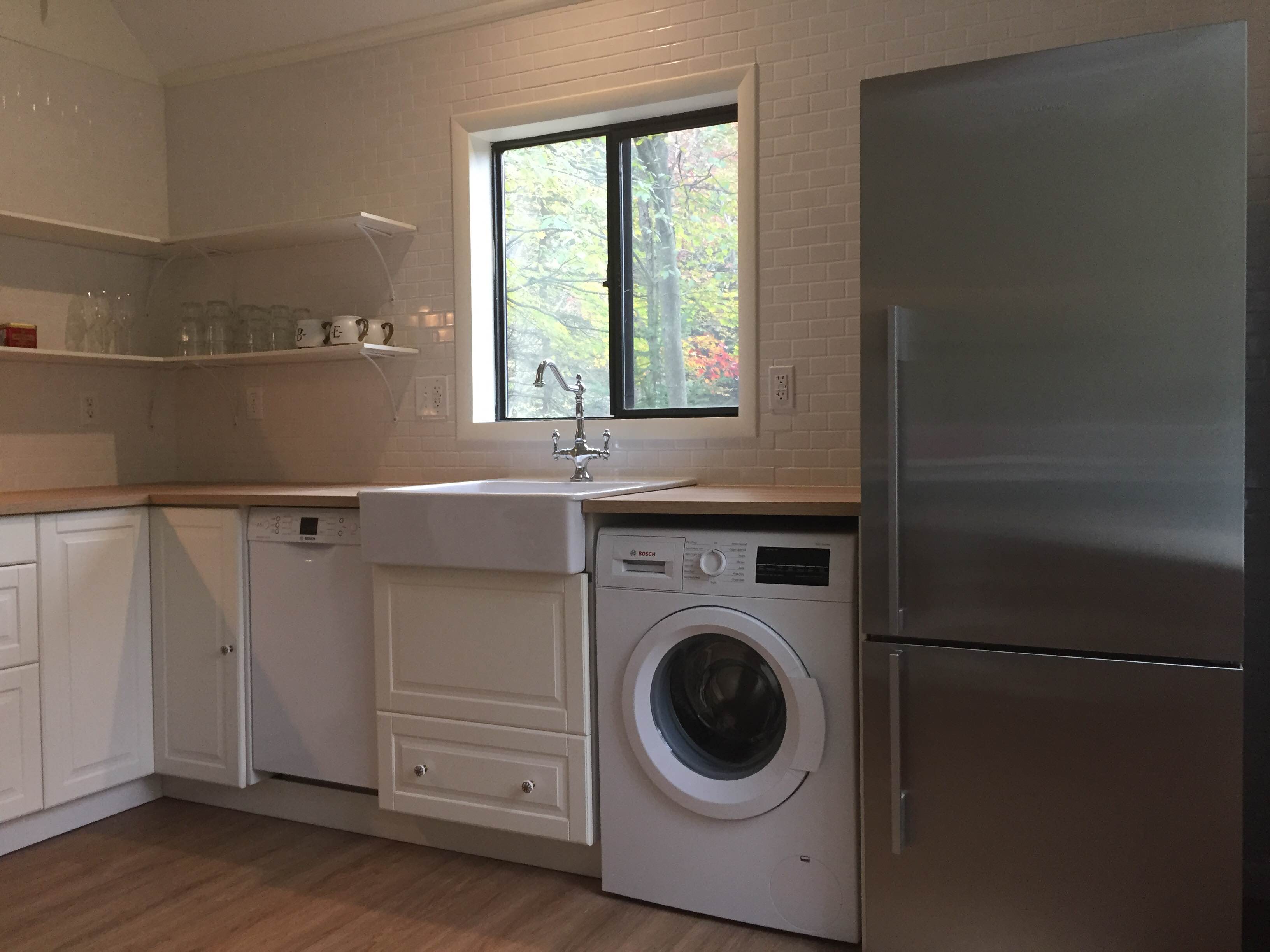 Rashonda chose European-sized appliances so she could fit an oven, sink, dishwasher, washer AND dryer into her kitchen. The dishwasher is only 18" wide, for example. Many European households have their clothes washer and dryer in the kitchen.
The only IKEA appliance is the LUFTIG hood and the farmhouse sink is the DOMSJÖ.
Lesson #3: Here's why you don't use wall cabinets or quartz countertops in a mountain vacation cabin
Renting a home in San Francisco taught Rashonda 2 important lessons about kitchens: wall cabinets and quartz countertops can be a real PITA.
"I could never find what I needed in the cabinets until I had pulled open every door."
One thing Rashonda really hadn't liked about the previous kitchen was how the wall cabinets made the space feel claustrophobic. Instead of wall cabinets Rashonda opted for open shelving.
Open shelving can be a controversial choice in a kitchen, but IKD gives an enthusiastic thumbs-up to Rashonda's choice. When the cabin is not in use, the open shelves are empty.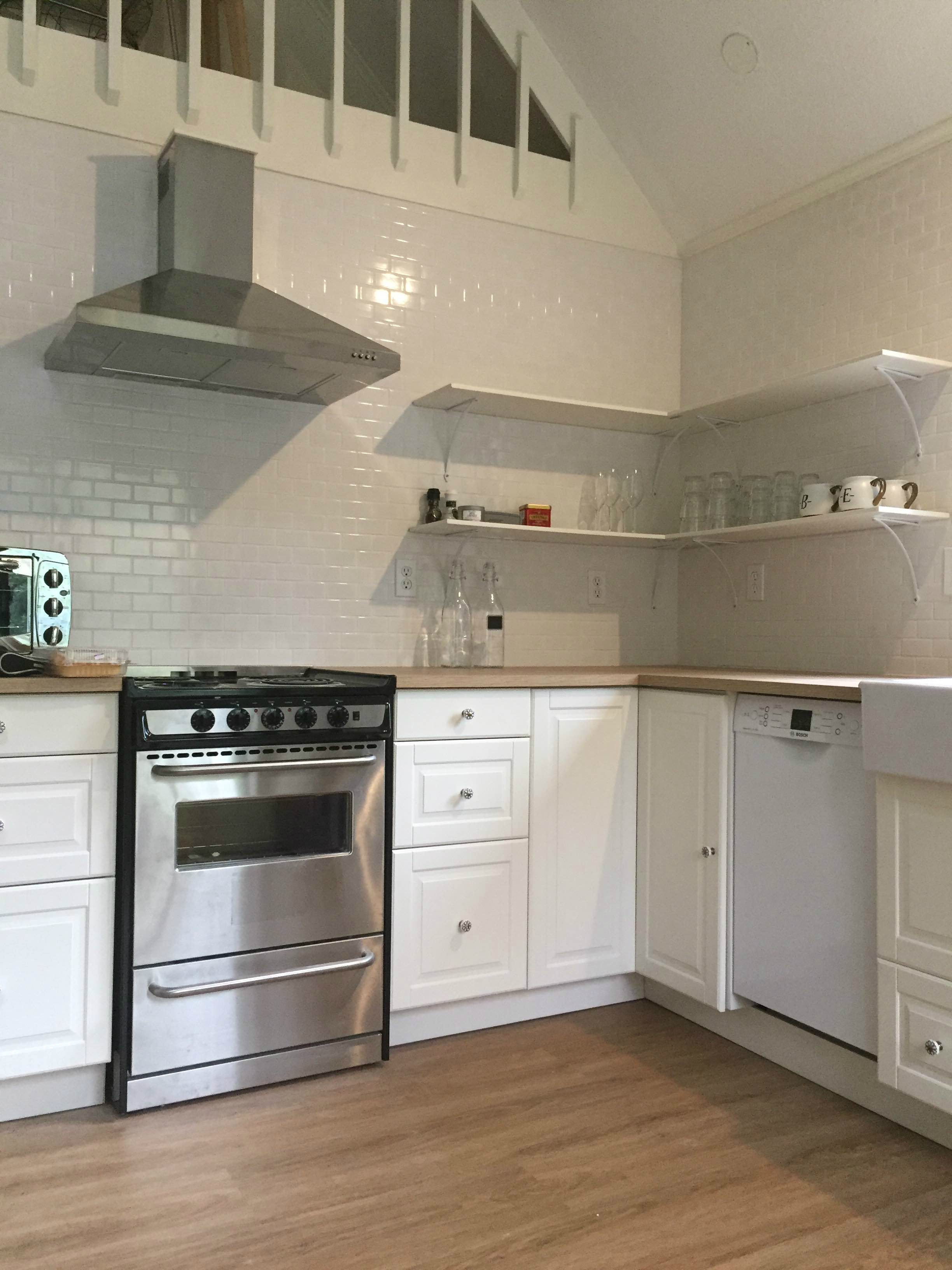 When people are staying in the cabin, they can pull out what they use the most and keep it within arm's reach on the open shelves. Smart!
Taking the white subway tile up to the ceiling made her general contractor nervous at first but everyone has loved the result because it brightens the space so much.
"I realized I definitely prefer base cabinets with drawers and not shelves."
The base cabinets do have drawers, but none of the smaller drawers inside of drawers. Rashonda realized she didn't want to have to open one drawer to get to another. That only would have led to more hunting for utensils and pots and pans.
"The San Francisco apartment also had a quartz countertop that had rust stains on it. I suspect someone left a wet colander on it. Who knew that could happen to quartz?"
So what countertop material did Rashonda choose for her home? Laminate. And it's her favorite part of the kitchen. "I didn't expect to like the laminate countertop so much!"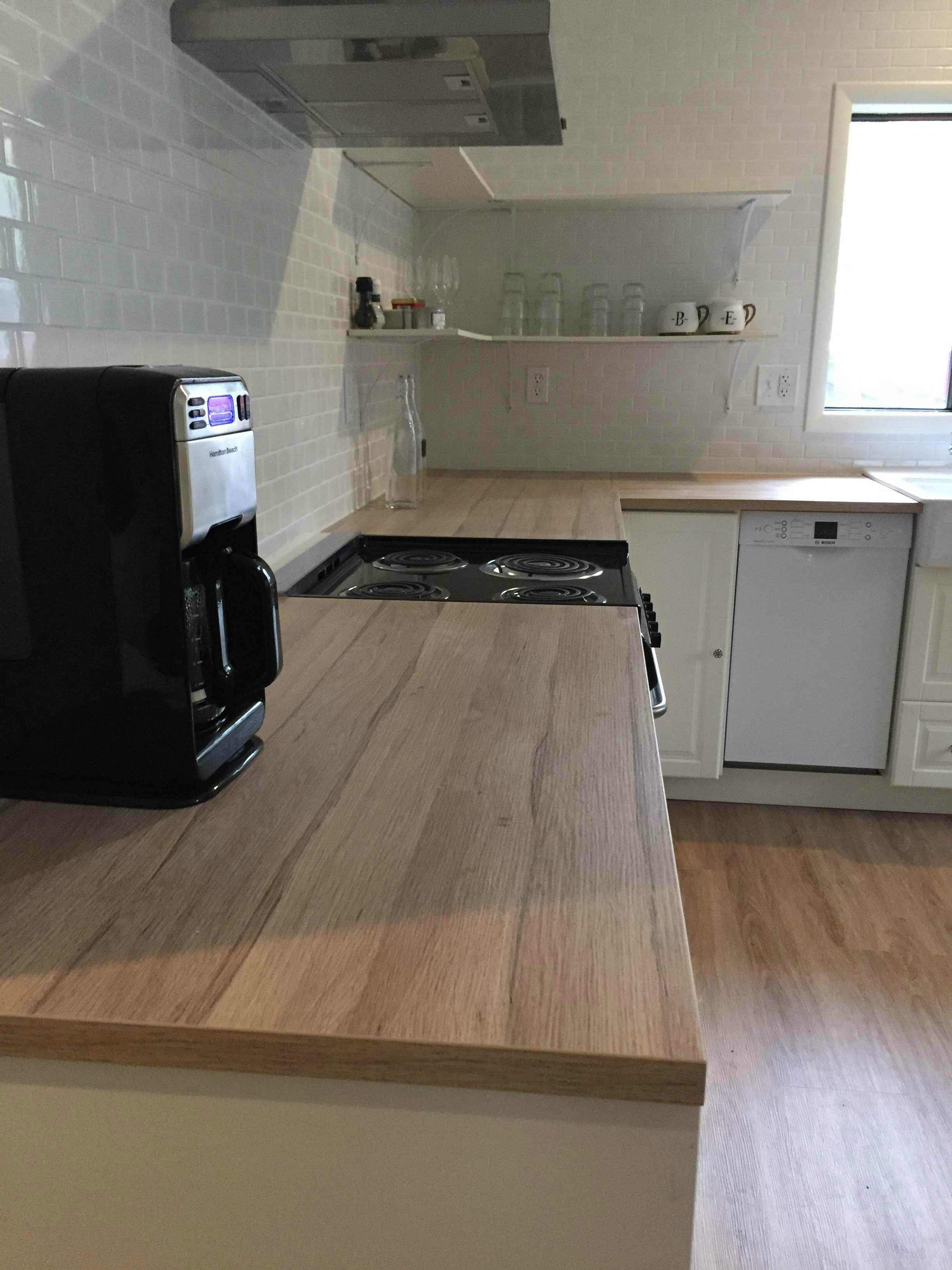 Rashonda knew it had to feel good under her fingertips. "Quartz will feel icy in a mountain cabin so we needed a warm material. You don't want to put a hot cup of coffee on a cold quartz countertop."
She and her husband touched every countertop surface in IKEA with their eyes closed to see what would feel best.
"We thought about butcher block, but the maintenance was something I didn't want to have to worry about with renters. The light oak-effect laminate of the ERBACKEN countertop gives us the same look but for less cost and it's much easier to keep clean. No rings and no staining."
Why Rashonda chose IKD to create her IKEA kitchen design
Rashonda had obviously put a lot of thought into her design. So why did she need help with an IKEA kitchen design?
I tried to use the IKEA kitchen design tool and after one hour of putting cabinets into my design and having them disappear – repeatedly – I thought 'I need a professional!' Within 2 hours I gave up. I started trying to find someone who could figure it out for me instead.

I found IKD via Houzz and I thought, 'If I can save ANY time on this kitchen, it will be worth it. I have nothing to lose. At the very least, I'll be able to talk on the phone with a designer about what it is I need to do.

Working with IKD made the whole thing so much easier. I was able to try out different ideas until I had the exact design I needed for my kitchen.
Thanks so much Rashonda for sharing your completed IKEA kitchen and your "kitchen major" with us! We hope you enjoy it for years to come.
Feeling inspired by this mountain cabin rental's IKEA kitchen? Save it to Pinterest for later
We have an entire Pinterest board dedicated to design tips and tricks – so we pinned Rashonda's kitchen right away. Save the tips to Pinterest so you can access these lessons anytime.
Whether you have a cabinet in the mountains, a home in San Francisco, or a tiny apartment in London, IKD can get you an IKEA kitchen design that does what you need. Get started today.