Linda and her husband were empty-nesters getting ready for retirement, and a smaller, single-level home was their top priority. Second priority? A new kitchen.
So why an IKEA kitchen? Linda's younger daughter had just redone her own brand-new IKEA kitchen. Linda was impressed with the hardware, the price point, and the end result. It was a perfect fit!
Linda knew that she wanted to incorporate elements from her last house to make the new place feel more like home. She had her heart set on light maple floors to replace the dark brown wood, and lots of skylights to brighten the kitchen.
How'd we do with this IKEA kitchen design?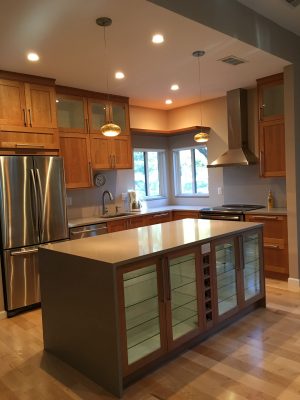 The top 3 challenges for this IKEA kitchen design
The canvas may have been cramped, but Linda wasn't afraid to dream big. Of course, making those dreams a reality didn't come without challenges, such as:
Getting the most out of a smaller space. Linda likes to bake and entertain, so she wanted her new kitchen to have a lot of counter space for preparation and presentation. IKD is no stranger to small kitchen designs so we knew we could do it.
Making a functional and attractive kitchen: A workhorse kitchen doesn't need to be ugly! Linda's hunt for custom IKEA cabinet doors led her naturally to Semihandmade, and when it came to appliances and lighting, she wanted everything as energy efficient as possible.
Adding in luxe features: Linda was particularly interested in working in certain IKEA features such as soft close drawers, and in cabinet lighting.
With these points in mind, Linda ended up with an IKEA kitchen design that looks so custom, you'd never know it was IKEA.
Design Details on this IKEA Kitchen
Opening up the kitchen space meant raising the ceiling to 9' and removing part of the wall that led to the hallway. So much lighter and brighter, don't you think?
Linda thought that running cabinets all the way to the ceiling would make things too confined, so IKD recommended a shelf over the windows instead. The gold foil pendant lamps are from Lamps Plus.
For a color scheme, Linda took inspiration from her favorite leather sofa and chair set: the warm pumpkin tones would create the perfect palette. The Semihandmade doors in a cherry shaker style reflect the hues Linda wanted.
The inside of the island features nested MAXIMERA drawers for maximal storage and a hidden spot for the microwave (none of the kitchen appliances were from IKEA).
The kitchen island features glass doors and waterfall edge on the IKEA quartz countertop making it an inviting focal point. IKEA doesn't sell their quartz countertops online, so to see Linda's countertop, look at page 15 of IKEA's print catalog. If you're interested in one of IKEA's acrylic or quartz countertops, you'll have to visit your local IKEA showroom for a quote.
OMLOPP in-cabinet lighting was used liberally throughout the kitchen to make it easy to see everything inside.
The best part: all the lights are energy efficient LEDs, even those on the ultra-quiet hood over their induction range. The end result? Say goodbye to that cramped, dark kitchen and let there be light!
Perfectionists, take note: due to state and country variations in electric codes and standards, IKD does not include light fixtures in design work. But take heart: Linda installed the lights herself, because she couldn't find an electrician who had worked with IKEA lighting before. "We didn't want to be experimented on," she explained. "We're hard on ourselves when it comes to details."
IKD made getting an IKEA kitchen easy
After struggling with the "hopeless" IKEA Home Planner and a failed effort with another designer, Linda found IKD. Her top requirements were:
An IKEA kitchen design service with good reviews (check us out on Houzz!)
A designer that could work with her online without the hassle of meeting in person
A high-quality 3D color render that would really help her see what her IKEA kitchen design would look like
"The IKD team are dedicated and kind, and working with them was wonderful. We couldn't be happier with the design!"
Wondering if IKD is right for you?
Linda's only regret is that she didn't come to us sooner. We couldn't agree more. It's never too early to start your IKEA kitchen design with IKD.  Get started with IKD today.