This hack is perfect for filling a "large" empty space in a cabinet run between two walls.
A good kitchen designer will leave a few inches at each end just in case:
The walls aren't 100% plumb
The real measurements turn out to be different than the ones originally taken
There are base cabinets with drawers against the wall
These spaces are covered with narrow fillers which are easily cut from larger panels.
What if you have 5" or more of leftover space in your kitchen?
Wider leftover spaces can be covered with fillers, but large fillers don't look professional. If more than 5" is leftover, you can put this space to work by inserting a custom 5" wide cabinet. This applies to both wall and base cabinets.
IKEA kitchen cabinet doors start at 12" wide, so where are we getting the 5" door? We're taking a low drawer front and placing it vertically. The low drawer front is 5" high, so when you rotate it 90° you have a 5" wide door.
Unfortunately, IKEA does not sell a 5" wide cabinet. IKEA sells only eight widths of base and wall cabinets. The narrowest cabinet is 12", and the widest is 36". The cabinet sizes in between increase in increments of 3".
What you'll need to build your own spice rack with IKEA cabinets: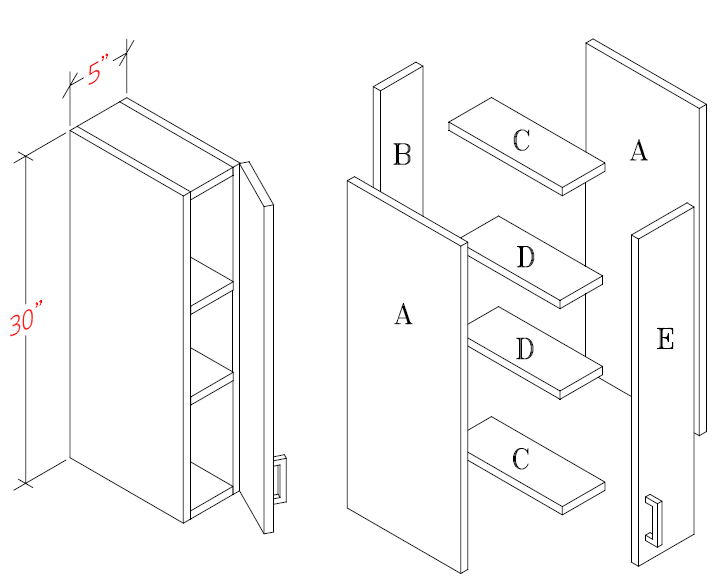 For a 5" wide wall cabinet, you'll need:
A = Side panel from cabinet frame (15" x 32 1/2")
B = Back panel from cabinet frame (Cut down to 3 ½" x 28 1/2")
C = Top and bottom from cabinet frame (Cut down to 3 ½" x 14 3/4")
D = Shelves (Cut down to 3 ½" x 14 3/4")
E = 30"x5" drawer front
If you're making a base cabinet, be sure to add:
F= SEKTION cabinet legs (4)
G = Matching toe-kick (depends on your door style)
Important note: This cannot be done with door styles that have wood tones because grain direction will look different than the rest of the kitchen – leave these open and use without a door.