Long before the IKEA store came to Las Vegas, Tina had already picked out the IKEA kitchen she wanted for her Las Vegas home. The two-tone showroom kitchen that combined RINGHULT white and BROKHULT walnut doors had captured her heart.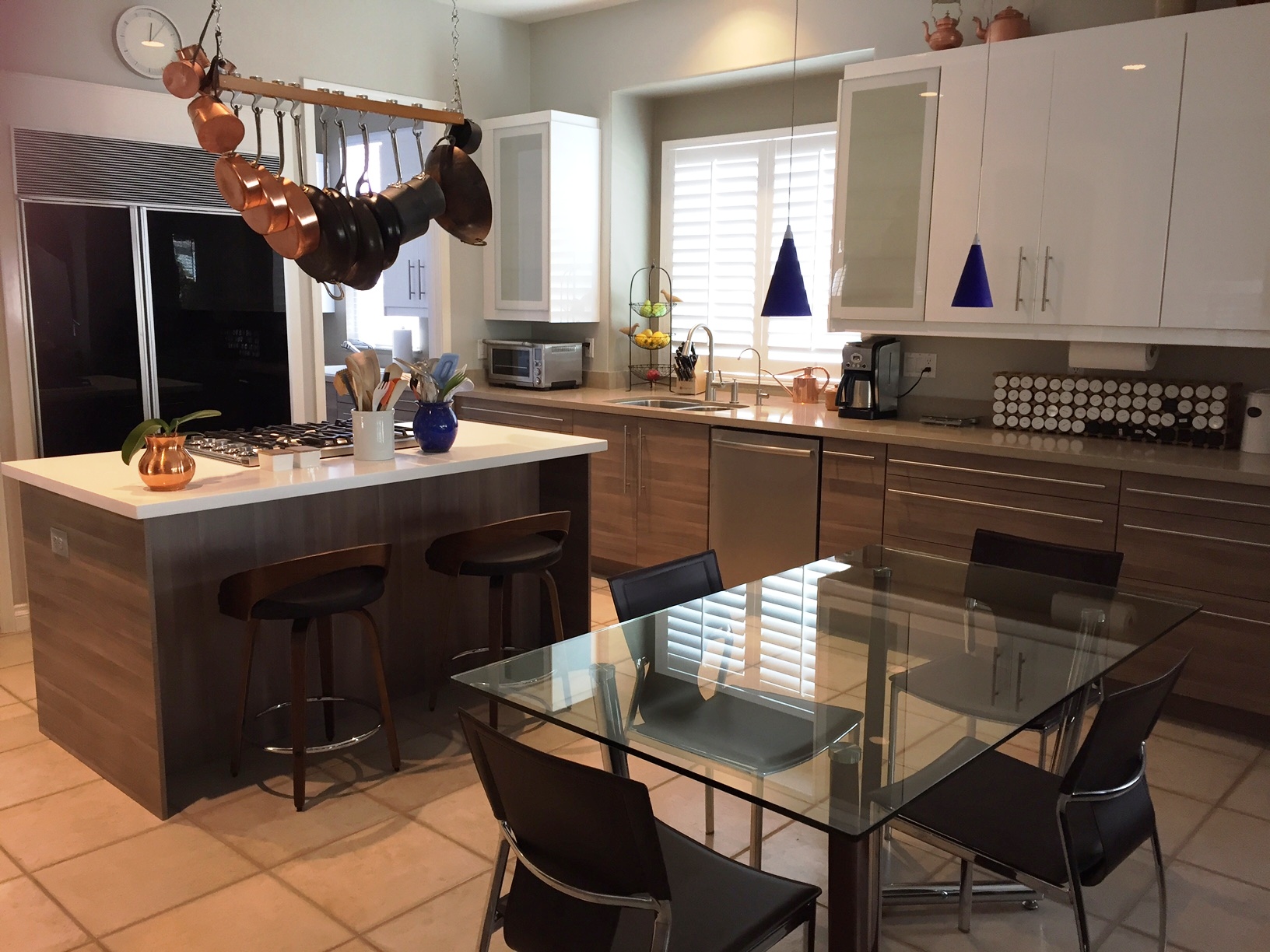 Tina's old kitchen had "a perfectly functional layout," but it lacked the modern, European look she loved about IKEA. See if you can pick out all of the things that stayed the same about her kitchen.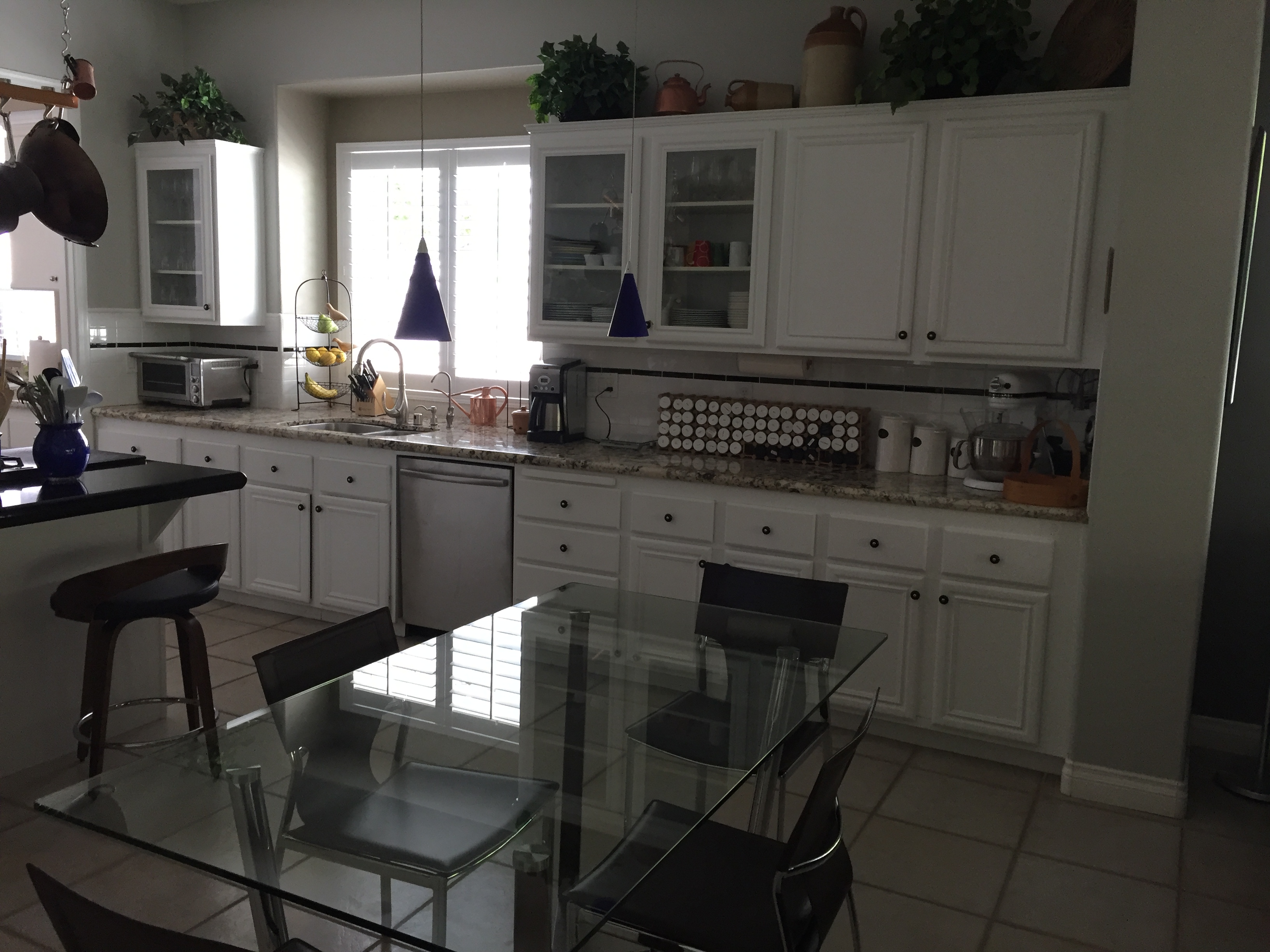 The kitchen footprint pretty much stayed the same. Tina loves the look of her new IKEA kitchen in Las Vegas but she discovered she didn't like some of the IKEA features. We think our readers and customers will find this helpful for their own IKEA kitchen designs, so keep reading.
An IKEA kitchen in Las Vegas for a couple of cooks
Tina and her husband love to cook and are always looking for new recipes in Epicurious and Bon Appetit. Although maybe their giant hanging pot rack tipped you off!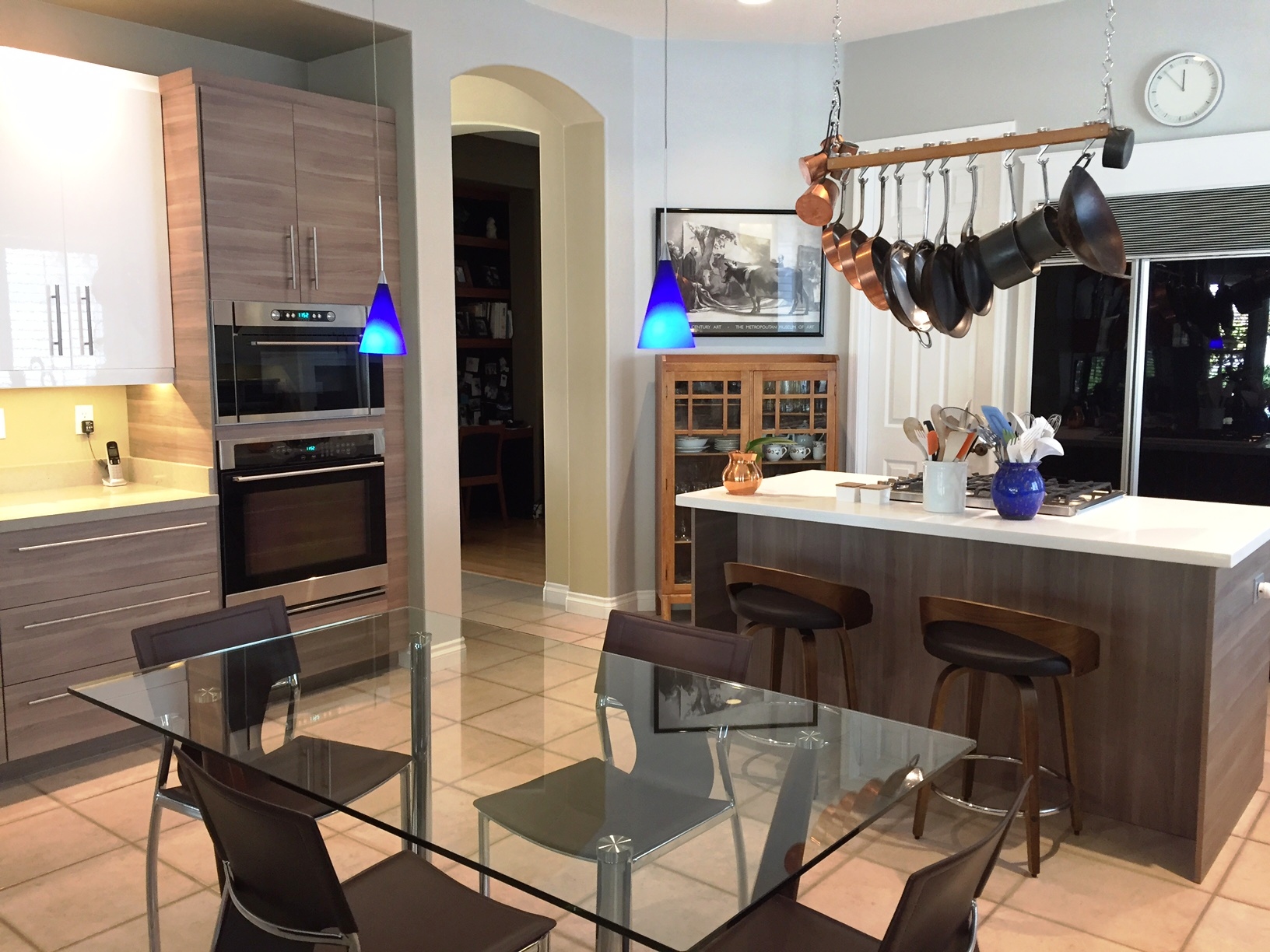 This IKEA kitchen's abundance of space and storage makes it really special. Their kitchen had more than enough room for a slightly larger kitchen island. Behind the island is their Sub Zero refrigerator, which was in great shape so they kept it for their new kitchen. It's truly counter-depth, which really makes it look European.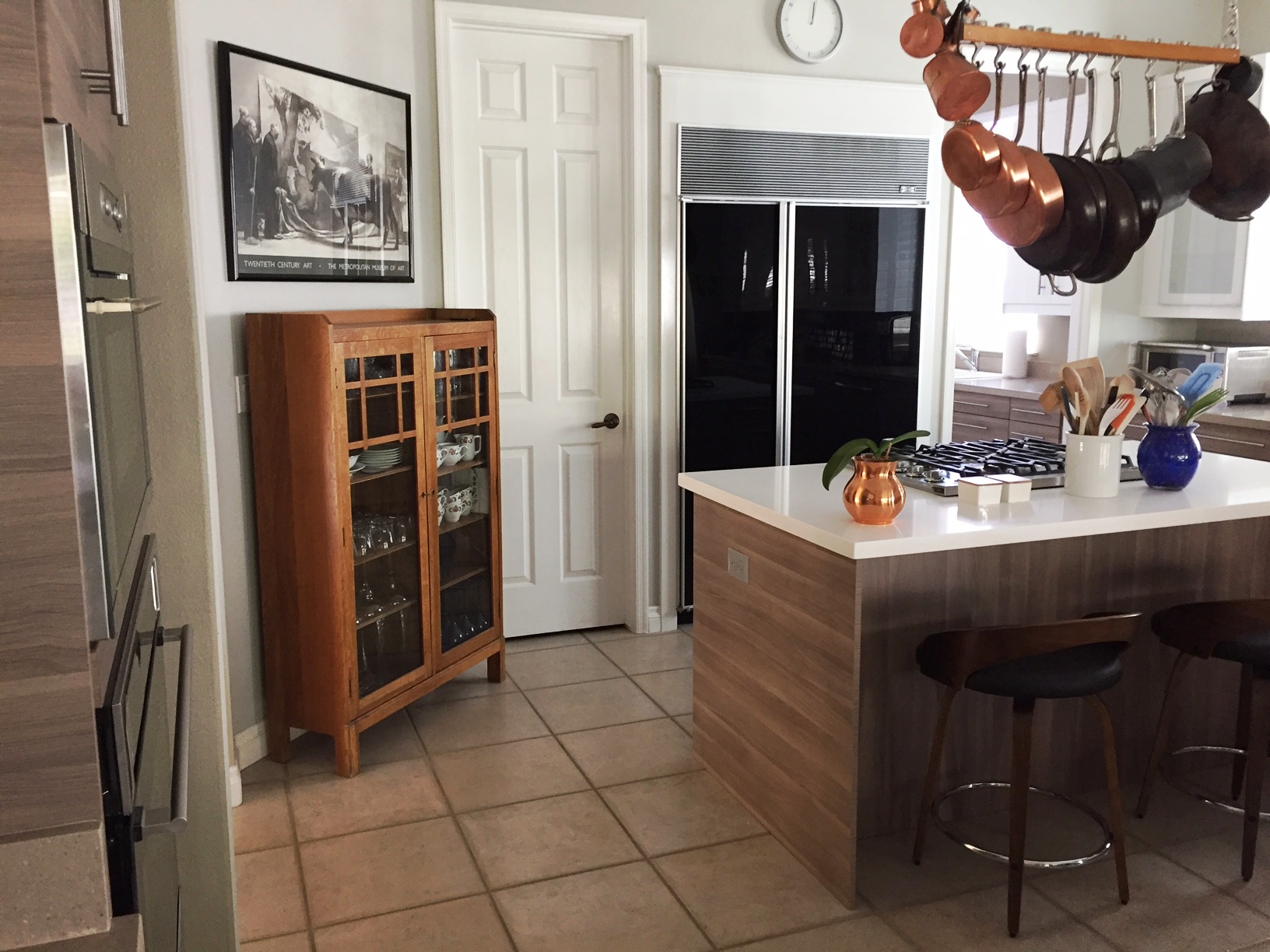 3 pieces of advice from this IKEA kitchen in Las Vegas
As much as Tina loves her new IKEA kitchen, there are 3 things she would want another IKEA kitchen customer to know about.
Beware the design flaw in IKEA's wall-mounted NUTID microwave
Factor in the height of the appliances you keep out on the counter
Think twice before including SEKTION's drawers-within-drawers
#1: IKEA's wall-mounted microwave has a design flaw
Tina and her husband's old kitchen had a double oven, something that they chose not to keep in their IKEA kitchen renovation.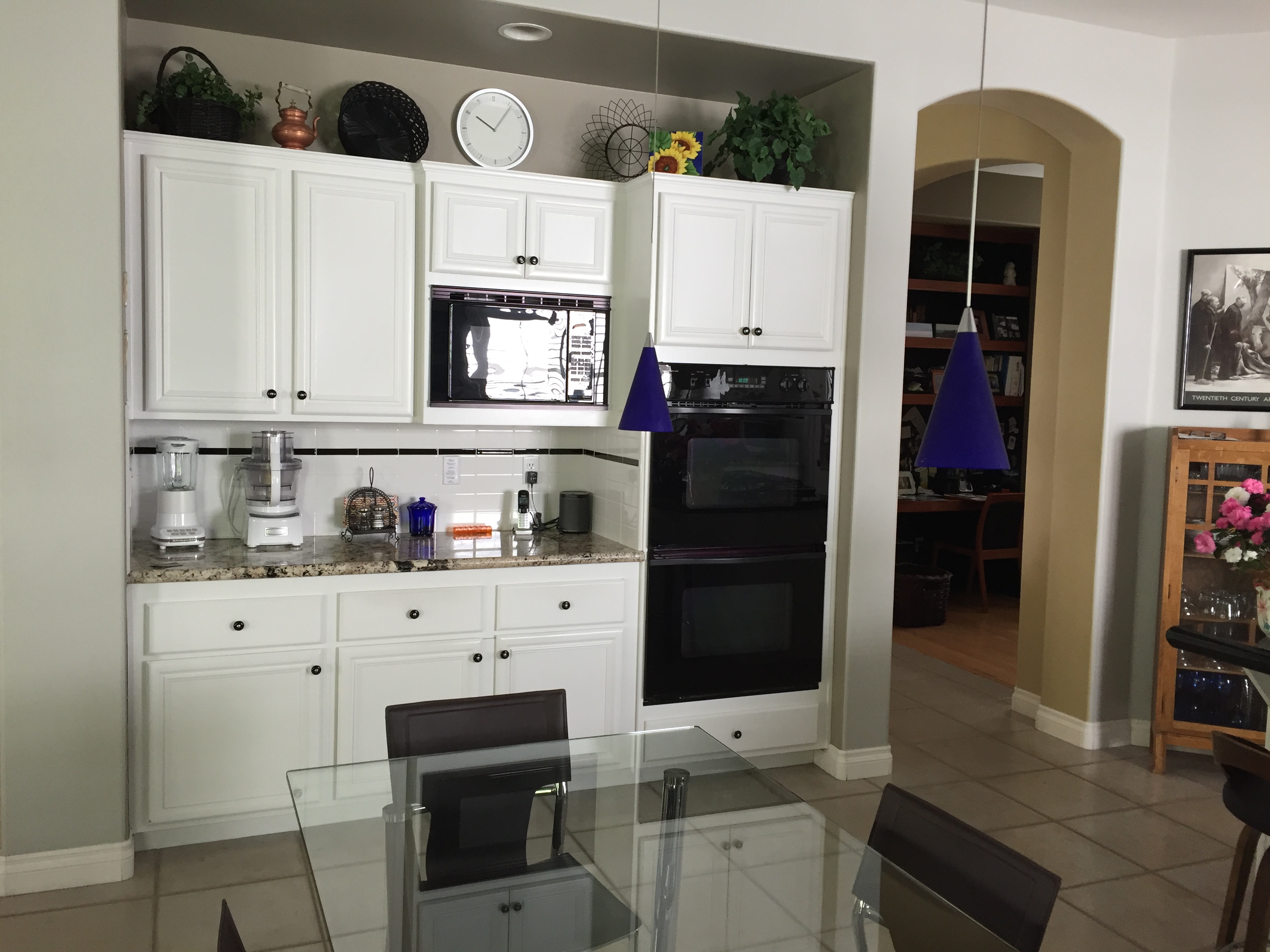 Here's the renovated kitchen: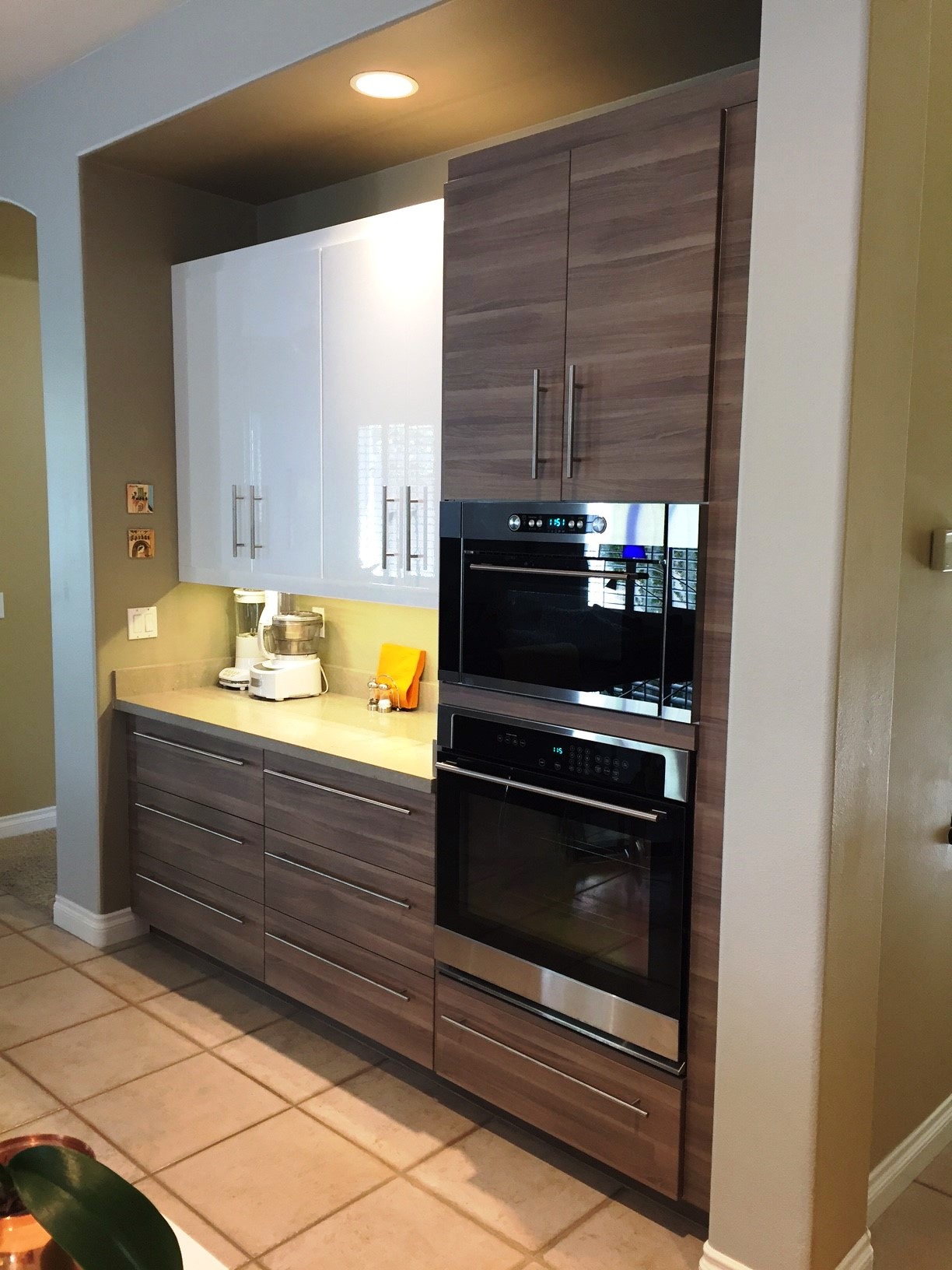 Instead, Tina chose a microwave oven/oven combination. Both appliances are from IKEA, which are really just re-labeled Whirlpool appliances (learn more about IKEA kitchen appliances here). Tina cautions anyone who would consider this particular microwave: the door opens down, not to the left, and she's found that the door doesn't stay as open as she'd like.
After my interview with Tina, I asked IKD designer Meyer to take a look at the microwave in the store. Sure enough, the door does almost open to a 90 degree angle, but it doesn't feel like it will stay open. It feels like it might spring up on you.
The IKEA staff person he talked to recommended that our customer contact Whirlpool, which she has. At the time of this posting, Whirlpool CEO Jeff Fettig had a staff member respond to Tina's letter to say the microwave design had been approved by their underwriters. No further assistance was offered.
#2: Don't forget to factor in the height of your countertop appliances
Because they cook a lot, Tina doesn't bother hiding her small appliances in between meals. One such appliance is her KitchenAid stand mixer , which she stores on her countertop. With her new kitchen design, however, Tina can't easily slide out the mixer anymore because the wall cabinets get in the way.
How did this happen? Tina chose to add trim, or a deco strip, to the bottom of the wall cabinets. Our kitchen designs typically leave 18" between the wall cabinets and the countertop. If you add trim, it typically takes up 1" to 1.5" of those 18."
Be sure to think about your countertop appliances when you're taking your kitchen measurements.
For most countertop appliances, this won't be an issue. The KitchenAid stand mixer however is a real workhorse and it's taller than most small appliances you'd have. Serious bakers, take note.
#3: Think twice before including inner drawers in your IKEA kitchen design
Tina loves having drawers in the base cabinets. As she puts it, "Regardless of your age, who really wants to crawl around with a flashlight to see what's in the back of a regular cabinet?"
Even so, she doesn't recommend SEKTION's hallmark drawers-within-drawers. She has one cabinet with them  and she's not in love with it. It's underneath her oven/microwave combination.
On the upside, she's maintained that flat European look. On the downside, she has to open two drawers to get to what she wants. It's not terrible, but she doesn't love it. For Tina, function definitely comes before beauty.
Most of our clients love the inner drawers. Some even wish they'd included more inner drawers. But others just don't like them. Really think about how you use your kitchen before choosing the inner drawers. Remember, you can go back and put them in later although we can't say that will be easy at all.
Thanks for sharing your IKEA kitchen with us, Tina! We hope you enjoy it for years to come.
Did you know we design other rooms of the home too?
Yes, we design other rooms too. We also designed Tina's laundry room. The door to that room is usually open, so she wanted it to match the aesthetic of her kitchen.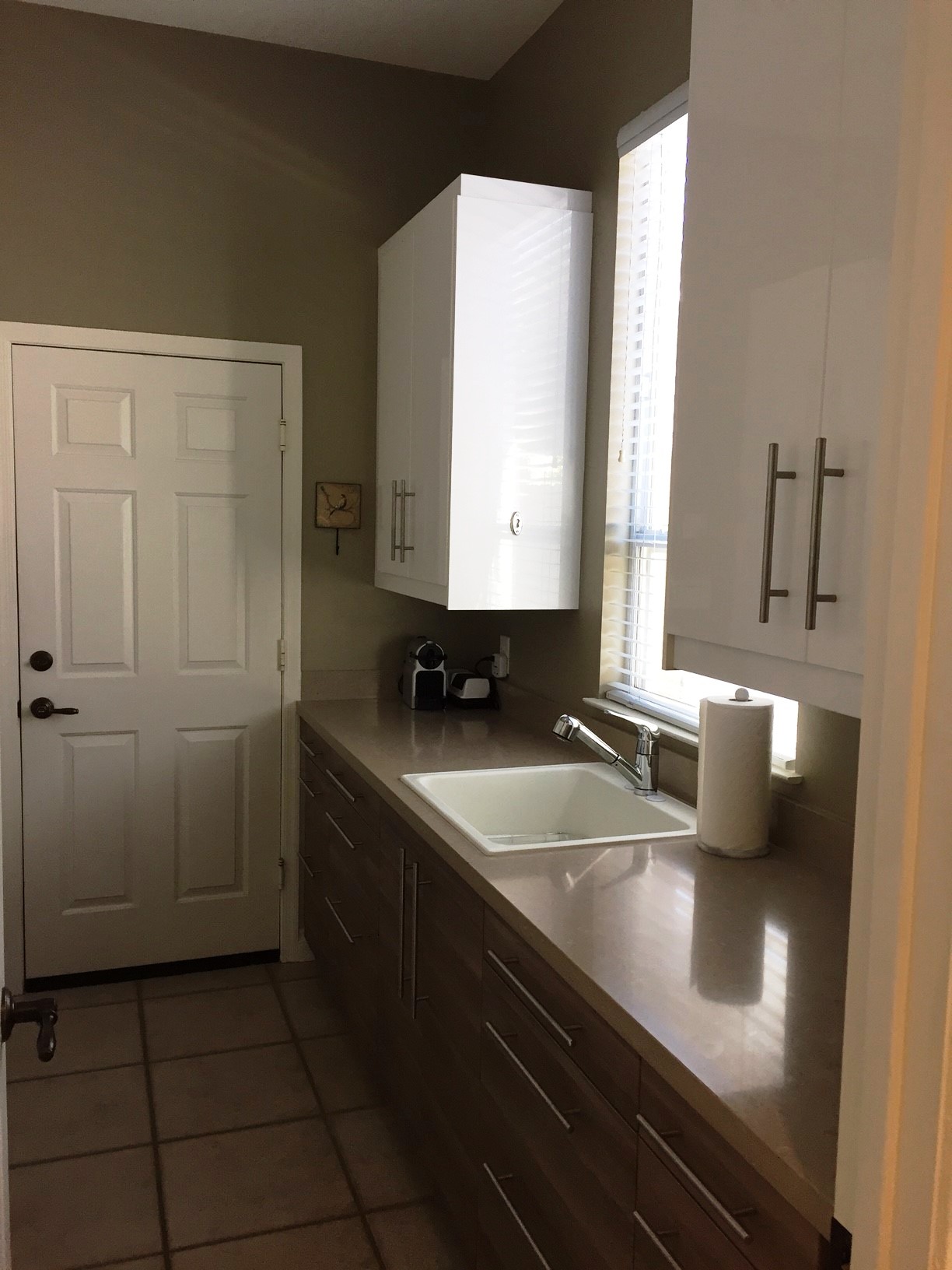 Any room you can fit SEKTION cabinets into, we design. Laundry rooms, mud rooms, offices, craft rooms, and garages are just some of the non-kitchen rooms we've designed. Get in touch with us about your special project today.