If those EXPEDIT shelving units had fit in Nick Ray's bonus room in 2006, well, Tennessee would still be an IKEA desert.
But they didn't fit, so Nick posted them on Craigslist for sale at cost. Within minutes, he had a man call saying, "I'll be there in 2 hours with cash." While that buyer drove to Nick's house, Nick got 10 more offers. And the buyer was so eager he actually got there in under 2 hours.
"We Bring IKEA Home."
Fast forward to today, Nick has his own IKEA furniture delivery service called ModerNash. There's no official IKEA store in Tennessee, but ModerNash has its own showroom where people can "shop the look" they see in the room displays.
And, they install kitchens. So after thoroughly vetting ModerNash, they're now one of our approved IKD Install Connect IKEA kitchen installers (access is free for IKD customers). Nick's story is so unique we couldn't keep his identity secret for this IKD Kitchen Confidential interview. Consider this an exclusive peek behind the curtain.
#1: Why does ModerNash have an IKEA showroom?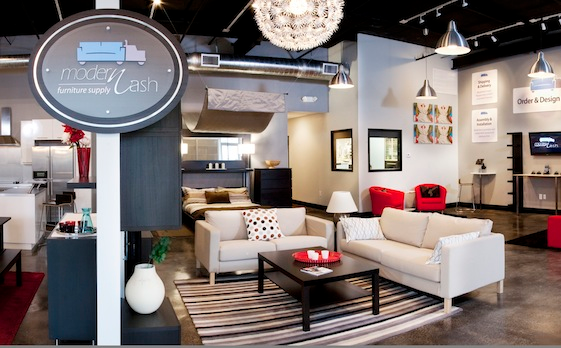 It only took about a year for me to outgrow my garage. I had so much IKEA stock on hand that I needed a larger place to store it, so I rented a warehouse. I had always envisioned having a showroom, like a mini IKEA, because I knew the retail experience would move more IKEA products, plus it would help prove our concept's viability.
The showroom has a complete SEKTION kitchen. We have all of the panel type and handles on display. And we have popular items in stock. GRIMSLOV and RINGHULT are the two most popular IKEA cabinet door styles in the Nashville area.
#2: What do you wish people knew about installing a kitchen in their homes?
I wish people knew that doing it yourself is more difficult than IKEA makes it out to be. IKEA makes it sound so easy to install your kitchen. "Just build these cabinets and put them on the wall." The reality is that most people do not experience that level of ease. That's the hidden cost of that $50 cabinet.
#3: What situations typically cause delays?
I think anyone buying a kitchen, IKEA or not, should plan on it taking longer than they'd expect. I've seen quite a few people buy an IKEA kitchen, and when a week goes by and the kitchen still isn't installed, they're shocked. IKEA-approved installers don't go to Tennessee, so that's one less installation option.
This is usually what I tell people:
If you hire us, it will take one week to install your kitchen.
If you hire a contractor who hasn't worked with IKEA kitchens before, it will take two to three weeks.
If you do it yourself, it will take you five to six weeks to install.
It's not that people can't do it themselves. Most handy people can install their own IKEA kitchen. What they forget to take into account is that they're learning as they go, and they probably also have day jobs and families competing for their time.
#4: Do you see a lot of couples argue during the kitchen installation process?
It's always the handles and which way you drill the holes. One person wants the handle vertical and the other wants horizontal because of how they open the door, not the other. (One of our other IKD-approved installers said the same thing!)
#5: An IKEA showroom is coming to Memphis. Are you worried it will hurt your business?
I will spring to the sky in joy if IKEA gets another store nearby. IKEA's customer service isn't what most people consider great, or even good many times, however that's where we excel. Having a store closer to Nashville, no matter where it it helps everyone so we're all about it.
Looking for an independent IKEA kitchen installer in the United States or Canada?
If you're not in Nashville, but you don't want to hire IKEA to install your kitchen? Get free access to Install Connect, our exclusive database of highly-qualified, independent IKEA kitchen installers when you purchase our Express or Premium kitchen design packages.