Late comedienne Joan Rivers was known for many things, including her show Fashion Police where she and her co-hosts ruthlessly reviewed celebrity fashion.
Can you tell which fashion crime Jamie's old kitchen was committing here? Can we talk?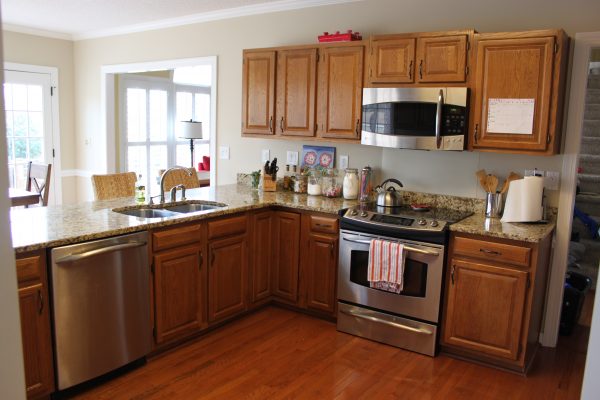 If you guessed "too matchy-matchy" you win! The cabinet door fronts nearly matched the hardwood floor completely. They disliked it nearly as much as Joan might have (RIP). As she would have said, Make it stop!
I'm also pretty sure Joan wouldn't have liked a falling-apart kitchen either. After 23 years of heavy use and young children beating them up, some of the cabinet drawers had fallen off and were holding on for dear life with old staples and glue.
And here's how their kitchen looks after an extreme IKEA makeover: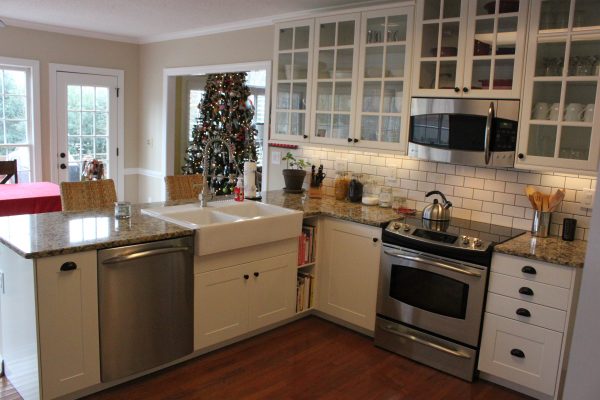 Matchy-matchy problem? Solved.
Old and beat up? Solved. 
Top 3 Design Challenges for this IKEA Kitchen
Jamie chose IKEA for their kitchen makeover because they liked how IKEA kitchens looked in the showroom. They were looking for an updated but timeless look, better drawer organization and more kitchen functionality at a good price point.  Also a neighbor had an older IKEA kitchen that fit the home style and held up well so they went for it.
Let's look at the kitchen from two other angles first.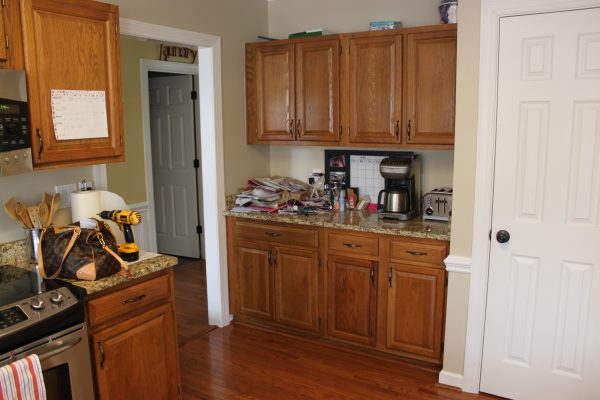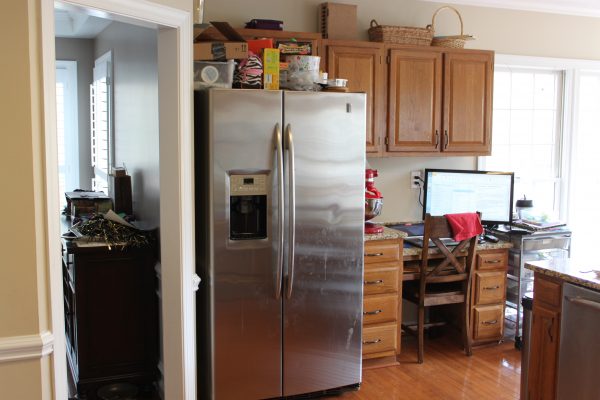 (Yes, that was the extent of the matching!)
Now that you have context, here's the wish list for this IKEA kitchen makeover.
Get more contrast in the color scheme and lighten it up. Jamie had no plans to touch the floor, so the cabinets would need to change to achieve the contrast. He decided to go with IKEA's Shaker-style GRIMSLÖV doors in off-white and with BODBYN off-white glass door wall cabinets on one wall. He wasn't sure if two different door styles would work, but his IKD designer told him this was a fashion risk worth taking. The paint and each style also seemed to match well.
Re-configure the layout of the kitchen while keeping the existing footprint. The appliances were staying put, but after using the kitchen for 8 years the family knew the cabinets could be arranged better.
Repurpose the existing granite countertop. The kitchen had a lot of granite countertop to spare, so why buy new? Jamie's countertop guy estimates he saved $4,000 US by doing so.
The Finished IKEA Kitchen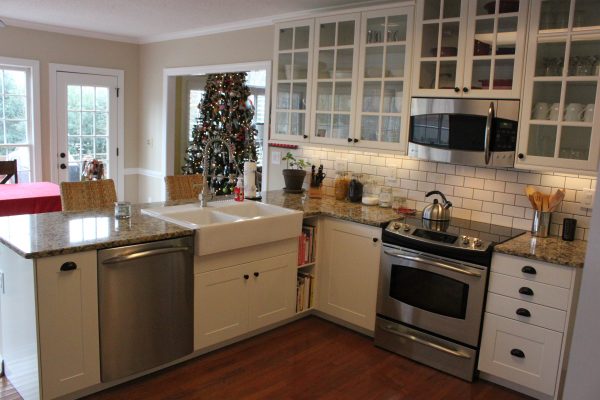 The appliances are the same, but that is a new IKEA DOMSJÖ double-sink bowl with the discontinued HJUVIK faucet (NB: IKEA confirmed for our source that the faucet is discontinued, and that usually means something similar will replace it. So far, we don't know what that item will be).
As for working with this kitchen's existing footprint, that required some creativity on IKD's part. The cabinet to the left of the dishwasher is the 12" SEKTION cabinet with wire pullout drawers with black FÅGLEBODA cup handle. Jamie's wife had really wanted to put that in the corner, but then there wouldn't have been enough clearance for all the doors to open.
That's where the little corner book shelf went instead. The book shelf was made from a HÖRDA open cabinet that's typically used for wine bottles. IKD designers are really good at finding ways to use space that would otherwise be "dead." The adjacent cabinet has the UTRUSTA pull-out so that none of the space is wasted and it's a great solution for the lazy Susan haters out there. Here's a picture from our trip to IKEA's Miami showroom last year.
Cabinet creativity was also required for the wall cabinets.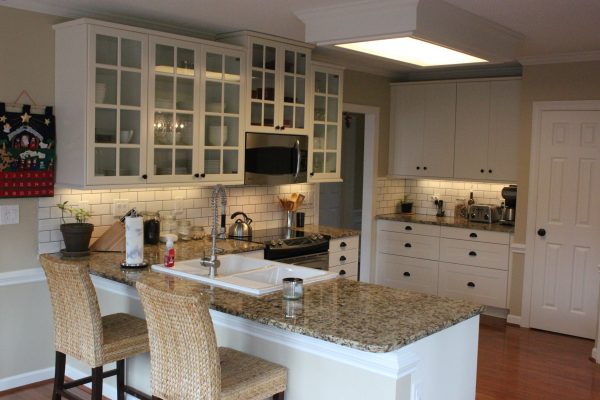 Notice how the wall cabinets above the microwave touches the ceiling while the others do not. This decision was made to accommodate the built-in exhaust microwave. Jamie would have liked to use smaller cabinets above the microwave, but IKEA's SEKTION doesn't offer them. If he were in Europe however he would have been all set because IKEA's METOD does have them.
And before you ask…no, there's been no trouble with glass doors near the stove. The grease and grime has been minimal.
From this angle too you can see the subway tile backsplash and much cleaner-looking coffee station.
The desk to the right of the refrigerator has been replaced by even more storage:
That tiny lip of countertop is in the perfect location for taking things out of the refrigerator and giving them a temporary place to sit.
Jamie and his family really love the extra storage here. The middle bottom drawer you see is their waste sorting cabinet, and it's the only place they've used IKEA's drawer within a drawer feature. They weren't huge fans of the look, and can't imagine adding more of them.
What's inside all those drawers? It's a combination of baking tools and kid necessities. The homework drawer has pens, pencils, scissors, and tape, and one of the cabinets has kid cups and plates. Everything is much neater and tucked away.
Words of Advice from this IKEA Kitchen Remodel Project
Jamie undertook this project with his father, and the only 'outside' help they had was from the countertop fabricator who re-cut the new sink hole and trimmed the desk pieces down.
If you're going to shop a sale, shop as soon as possible. Jamie made countless trips to his local IKEA store as out-of-stock SEKTION items trickled back into the store. (Don't wait until the 2016 sale to get your kitchen design!)
If you're DYI-ing it, expect it to be a lengthier project than you expect. When you strip down your kitchen you're going to discover a lot of problems because, as one of our Install Connect approved installers told us, no one's home is perfect. Jamie had to deal with electrical things and fixing the hardwood floors.
IKEA's rail system for hanging the cabinets was also challenging and slow to set up.
Just anticipate your house will be a mess for awhile and your garage will be full of cabinets. Like this!
The Final Word on this IKEA Kitchen
Jamie's kitchen has gone from Make it stop! to Gotta have it!, don't you think?