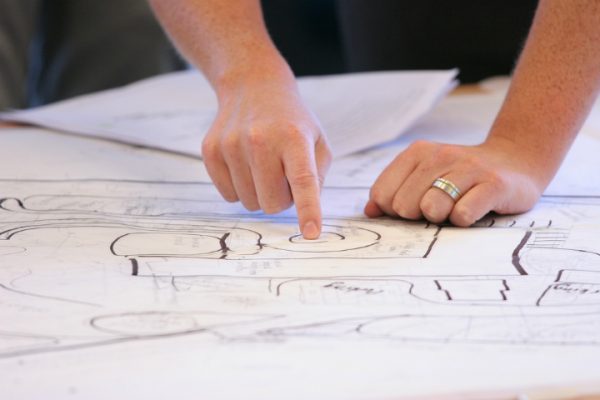 Our guest blogger Ray S. hired IKEA to plan his kitchen. He gave us the skinny on what happened in the IKEA store when he purchased the IKEA kitchen planning service.
Today he tells us about how his planning session went.
The short version: Ray's review of the IKEA in-person kitchen planning service
I highly recommend taking advantage of IKEA's "free" in-person home planning service for one reason only.
In essence you get professional kitchen measurements taken for free.
My girlfriend and I really appreciated the peace-of-mind of having the measurements taken for us. Once we've paid for the kitchen, IKEA will refund us. That alone is worth putting up the money upfront.
What I don't recommend is using the plan IKEA gives you right out of the box.
Keep reading to find out why, and how IKD can help you get a professional IKEA kitchen design that is beautiful and safe for your family.
The in-depth review of IKEA's planning service
The guy who came to my house was prompt, professional, and very polite. The IKEA kitchen sale was underway by this point, and he didn't hesitate to mention it. Unlike the sales associate who didn't bring it up while I was there to buy the service.
There's a secret version of the IKEA Home Planner
When he finally showed us our new kitchen design, I was really surprised. That's when I learned that IKEA has its own version of the Home Planner app, and it's a lot better than the one the rest of us have to use.
IKEA's home planning contractors had only gotten access to it a month or two before. It was problematic to plan someone's kitchen out only to have the app delete the kitchen design by accident. When you only have 4 hours to work with a client, you don't have time for buggy software to erase your hard work.
I asked if members of the general public would ever get access to this. He said he didn't know but he knew that people were always complaining about it.
Does the IKEA home planning service offer any design advice?
IKD always makes the distinction between kitchen plans and kitchen designs. IKEA themselves use the word planning to describe their app and their service.
Kitchen planning means you try to fill the space with as many cabinet boxes as possible.
The guy who came to our house did a good job of filling up the space with cabinets.
But did he offer any design advice? Yes. Here are 2 examples.
A modern-looking kitchen needs simple lines. All of the base cabinets in our first design draft had only two drawer fronts. When I asked about changing that he said that the way to keep the kitchen modern-looking would be not to vary the number of drawer fronts on the cabinets. That's where SEKTION's hallmark drawers-within-drawers would come into play.
Can you get a modern-looking kitchen without breaking the bank? We had chosen the RINGHULT doors, the most expensive ones. We asked our guy about saving money and he suggested that we could also work with the GRIMSLOV doors. We were surprised because they're Shaker-style, but he said that if we didn't vary the number of drawer fronts and kept the lines clean, this style could look surprisingly modern.
The verdict on the IKEA kitchen planning service: 4 hours is not enough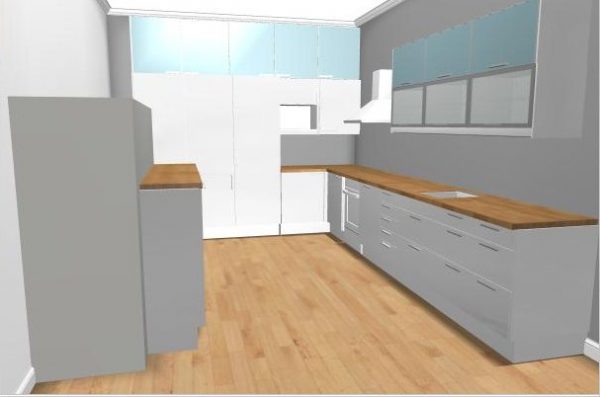 What we liked: Overall, we liked the kitchen design the guy came up with.
The kitchen workflow was greatly improved by his suggestion to move our refrigerator. The design featured a long stretch of uninterrupted counterspace, something we've been sorely lacking.
He did a good job fitting cabinets into the linear feet we had available for cabinets.
I told him we don't like lazy susans, so instead of putting in a corner cabinet, he planned for a dead space in the corner.
What we didn't like: Four hours is not nearly enough time to plan the kitchen you'll spend the next 20 years in.
Okay, we had a plan with a bunch of cabinets in it. What were we supposed to do with those cabinets? What should go in them?
At one point I asked and the guy said, "You have to think about how you use your kitchen." Sure, but then what? We really like to cook Szechuan food. So how would that affect the kitchen design?
It just wasn't enough help. After filling up the space with boxes, IKEA left it up to us to figure out the rest.
Is there a better alternative to the IKEA in-person kitchen planning service?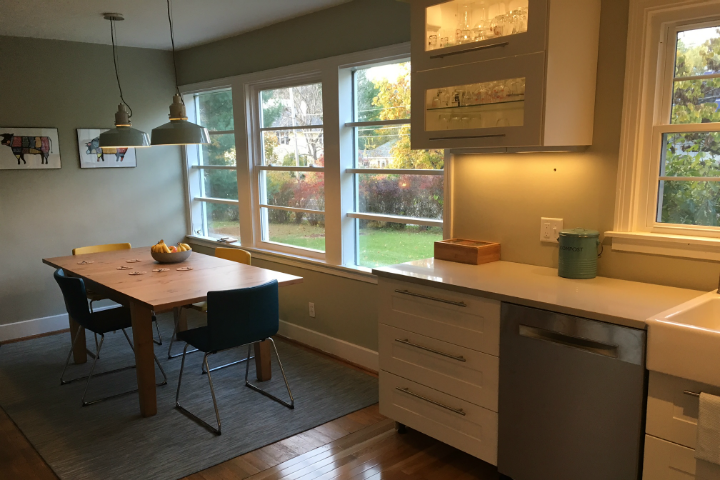 Remember, the IKEA home planner generates a kitchen design that can:
Both IKD's Premium Package and Express Package can solve these problems for you. Besides the cost, what's the difference?
IKD's Express Package is best for people who really know what they want, and just want a second set of eyes to make sure their IKEA kitchen design is safe and functional for their budget.
IKD's Premium Package is best for people who want to work with a professional kitchen designer by phone and get as many revisions as they need to make the design perfect. I'd put myself in this category.
The final word: IKEA's service is good for getting free measurements and a base plan. But I need to talk to an expert who can help me figure out what my IKEA kitchen really needs before I can buy.
Image credit
"IKEA kitchen planner" by Flickr user Jackie is licensed under CC BY-ND 2.0.
"Landscape Architects Work on Green Plan for Grounds of US Mission Geneva" by Flickr user United States Mission Geneva is licensed under CC BY-ND 2.0.