An IKEA kitchen remodel dream
Tish had been thinking about, not just any kitchen remodel, but an IKEA kitchen remodel, for years. Even before she and her family moved from the midwest to Texas where they settled into their current home, she had spent countless hours shopping IKEA locations, always making time to look around—or should we say "study in?"—the IKEA kitchen department.
"I'd take a friend and we'd spend hours…picking out everything for my IKEA kitchen," Tish shares. "I'd been looking at IKEA kitchens for 8 or 9 years before we moved into this house. So once we got here, I was determined to mark (getting my IKEA kitchen) off my bucket list." 
Determined as she was, it still took a few more years before Tish made the big leap into a full-fledged remodeling project. But once she did, it was 'game on,' as there was so much about her 10'x10' kitchen that needed changing to meet her needs.
"It was just not functional," she explains. "in particular, I never liked the cabinets."
The old kitchen
The original cabinets in Tish's Texas kitchen really missed the mark in terms of both style and functionality, even though they'd been custom made for the nearly 15-year old home. The cabinets didn't go to the ceiling. The space atop was empty—just a place for harboring decorative or infrequently used items to collect dust. Inside the kitchen cabinets, the shelves were fixed; Tish couldn't adjust them to accommodate her specific storage requirements. To make matters worse, she had to utilize a cabinet in her home's garage to supplement her kitchen storage needs. She didn't like the configuration or situation at all, and at last, she began the remodeling effort in earnest.
The challenges of an IKEA kitchen remodel
Already a student of IKEA kitchens, Tish was quite clear about how IKEA worked. She was up on  the good, the bad, and the befuddling aspects of working with IKEA. She loved the looks and features she'd long been eyeing, but she had her radar up about design and installation challenges. Through her extensive online research, she'd learned that it would be nearly prohibitive to attempt to work directly with IKEA on her design. Their DIY software was too complicated, and going to an IKEA location to work through her kitchen design with one of their associates would be challenging, as she doesn't live near any stores and wouldn't have been able to go back and forth as needed.
The IKD solution for the IKEA kitchen remodel
Thankfully, Tish found IKD Inspired Kitchen Design through her online research. She was compelled to work with an IKD kitchen designer because she found our pricing to be a great value for the service offered. She liked that partnering with IKD would empower her to be in her kitchen as she worked through the IKEA kitchen design.
"The price is extremely reasonable. And I liked that I could be in my kitchen while working on the design. I could look at the plans at the same time so that I could really tell what I wanted."
Tish went with IKD's Express design package because she was so well versed on what she was looking for in her kitchen design and had already honed in on many of her IKEA kitchen details. (If you're not so well versed in IKEA kitchen design as Tish, you may want to explore our Premium design package.) We wowed her right out of the gate by supplying her a comprehensive, 34-page IKEA kitchen plan after two revisions as promised.
"It was amazing!," Tish shares. "IKD numbered everything. They gave us a complete list of what to order from IKEA. You would never get this level of detail from IKEA."
The thorough IKD plan proved to be a great benefit for Tish when purchasing all the components of her kitchen from IKEA. "The IKD plan blew away the IKEA designer who showed it to all his colleagues," Tish shared. "The co-workers said they'd never seen anything so good." The thorough plan came in very handy for her contractor, as well.
Tish chose to work with a contractor with whom she already had an established relationship. The contractor and his team had not previously installed an IKEA kitchen, but she felt assured they would take extreme caution in order to do a great job. On at least one occasion, she connected her contractor with IKD to answer questions. It's great to know our vast, IKEA-specific experience was helpful not just to the home owner, but also to the contractor.
Likewise, we're glad our IKEA know-how and experience came in very handy in helping to accomplish some more challenging wishes on Tish's list for her new IKEA kitchen.
The IKEA kitchen remodel challenges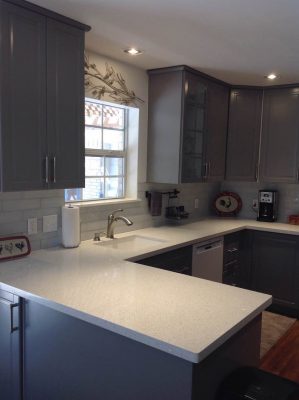 "I wanted a peninsula since we couldn't do an island in the kitchen. And I needed to figure out where to put a microwave since I preferred a vent hood over our range. Ana, the IKD designer, found the ways to make all this happen!"
By moving the dishwasher to the other side of the sink, we made way for a peninsula. This addition nearly doubled her counter space. We configured a top shelf to accommodate a microwave, placing it at a convenient, safer height. We even created a solution so Tish could have a modified 'appliance garage.' (Here are step-by step instructions for our IKEA appliance garage hack.) She had liked this feature in a previous kitchen, but IKEA doesn't specifically offer it.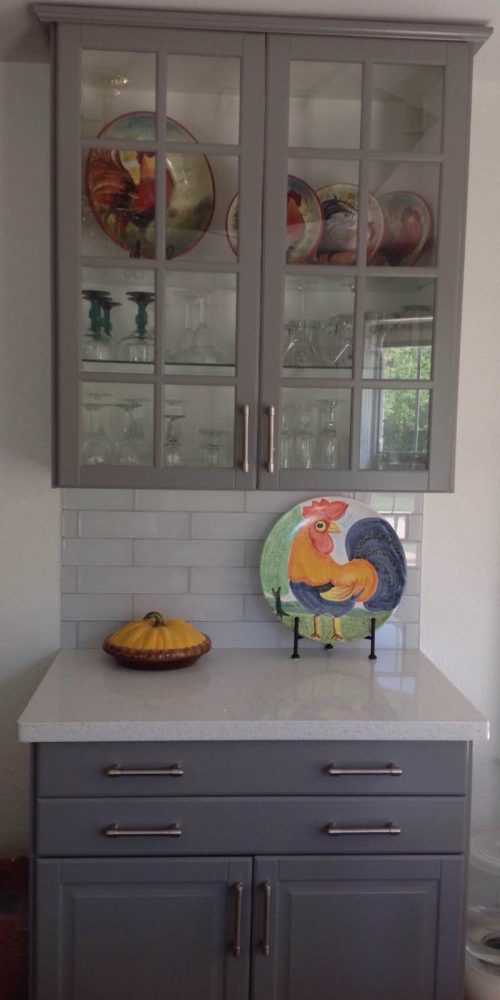 We even designed a serving cabinet that works well in the dining area. Originally, Tish had hoped to have the cabinet recessed so that it wouldn't affect the footprint of the room. Structural limitations prevented that, but we were still able to design a station that enhances the space. The cabinets beautifully store liquor and wine glasses and provide extra surface area for food and drink service.
The IKEA kitchen remodel dream realized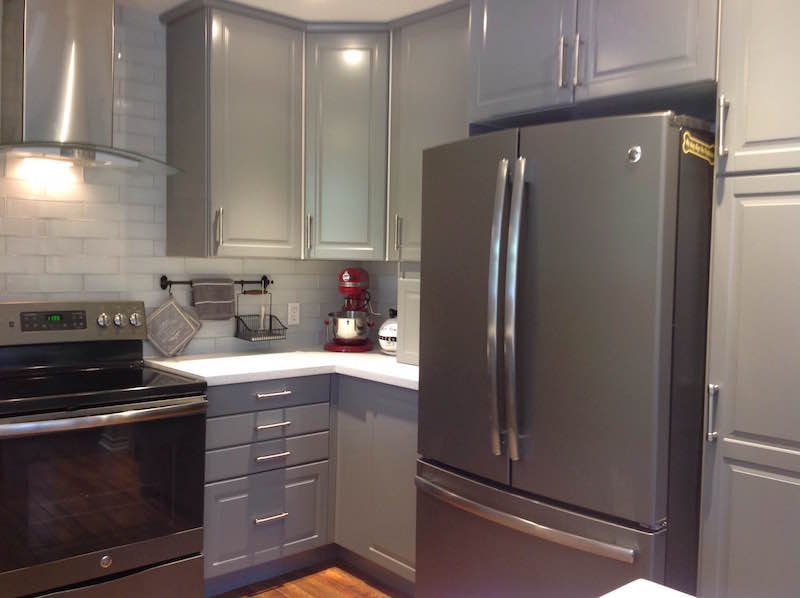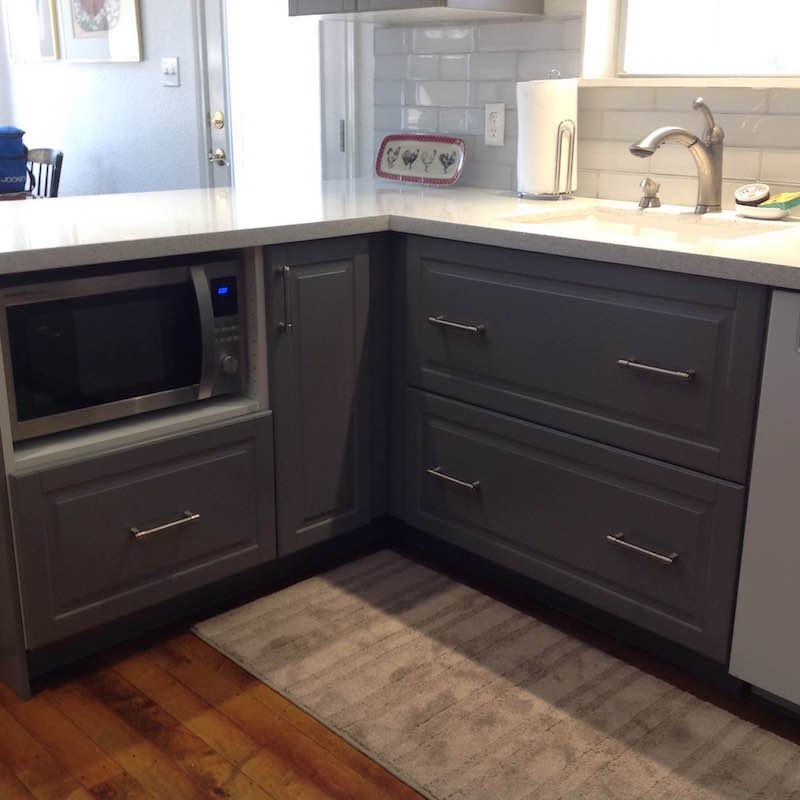 Tish raves about how functional her space is now. Both she and her husband cook well and cook often, so they truly benefit from all the enhancements. They love the improved storage, array of conveniences, and the ample counter space. Every element comes together to make a kitchen that really works well for them every day.
As for the aesthetic transformation of Tish's kitchen? Wow, oh wow! Let's just say the 'before and after' photos are epic! It's hard to believe it's the same kitchen. Tish made stunning selections in terms of color palette. And she made great choices on decorative touches that are totally on trend now yet will surely hold appeal long term. There's not a trace of the ho-hum and humdrum, as the look is now modern, elegant, and ideal for entertaining.
The day we got this good scoop from Tish about her kitchen, she was preparing to host a dinner party. The party for nine was sure to be a joy thanks to the remarkably well researched and meticulously planned kitchen. This new wonderfully designed space is the kitchen that Tish had long dreamed of. And it is one item she has now happily crossed off her bucket list!
What's your kitchen dream? We can help make your IKEA kitchen remodel happen, starting at just $249 for IKD's Express design package.  Connect with us today!