Andrea and Allen had seen it happen too many times before, and they couldn't let it happen again. Especially not to the house next door!
Several of their neighborhood's 1920's bungalow homes had been snatched up only to be "Frankensteined" into a larger property. They didn't want to see it happen to their next-door neighbor's home, which had recently gone on the market.
So they bought the home to turn it into a rental property. And by "turn into" we mean "gut."
Hurricane damage and deferred maintenance had taken their toll. The house needed a new roof, new floors, new plumbing, new wiring, a heating system and a cooling system.
(Oh yeah and a new IKEA kitchen too. )
What do you think of Andrea and Allen's new IKEA kitchen? No Frankenstein here!
Top 3 Kitchen Design Challenges for this Rental Home
The kitchen, like the rest of the house, was badly in need of some TLC. The home renovation needed to:
Maintain the integrity of the home with a cottage-style kitchen. White cabinets and marble countertops need not apply! Andrea wanted the home to be warm and welcoming.
Change the kitchen footprint to allow for more room for the cook. Making the kitchen the front room of the house would involve top-to-toes work, starting with the sloped ceiling. The sink needed to move from the west wall to the north, displacing the stove.
Incorporate better storage options. Open shelving would have created a spacious look for the small kitchen, but Andrea was not a fan of the dust and grime that can accompany open shelves, particularly for a rental.
When it came time to design around these challenges, Andrea found IKEA'S Home Planner to be too complicated, especially when it came to crucial little details like hinges. Rather than stress about leaving something out, she made the smart choice and hired IKD for her design (if we do say so ourselves.).
IKEA is Perfect for this Cottage Kitchen
Andrea wanted a warm, welcoming cottage kitchen – and that's exactly what she got.
She chose the BODBYN door style for her SEKTION base cabinets. To take advantage of space that otherwise would have gone to waste, Andrea used drawers-within-drawers in several places, including over the trash and recycling bin drawer next to the sink. The VARNHEM handles match the stainless steel of the appliances.
A DOMSJÖ single-bowl apron-front sink fits in perfectly with the aesthetic (the faucet is not from IKEA).
Here you can see an in-progress shot of the kitchen. That's an IKEA RENLIG stainless steel dishwasher. And IKEA's HAMMARP countertop in beech was an easy choice, but Andrea went back and forth on whether to seal them. Ultimately, she decided to leave them unsealed, but oiled, so there would be no risk of contamination from the chemical sealant. They look gorgeous, and complement the reclaimed maple floor, which came out of a VFW Hall.
The pantry is an interesting story. IKD had designed a pantry with SEKTION, but Andrea realized she could save money by repurposing an IKEA PAX wardrobe. The shallow shelves (only 13" deep) work well for food storage.
(You can't use the PAX software with the SEKTION software so IKD couldn't do this, but, we think Andrea's idea was very clever!)
She brought the whole kitchen together with a reclaimed vintage light fixture, which reconnected the kitchen to being part of an old house.
Kitchen design challenges 1, 2, and 3? Solved.
Notes from this IKEA Kitchen Design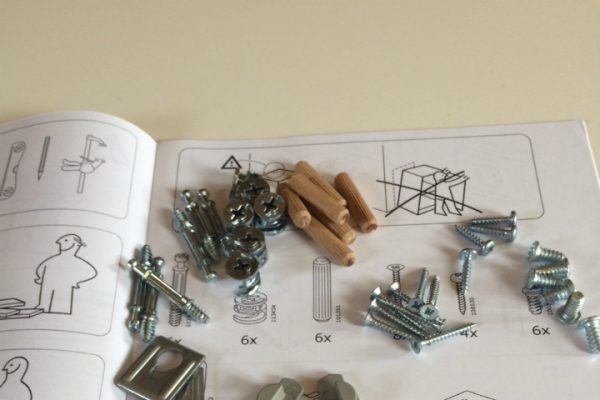 You can learn a lot from a kitchen renovation project. Here are a couple of lessons we're passing on to you.
Why did Andrea choose IKEA? "If you go to Home Depot, or Lowe's, you don't get a feeling of how things would really look in your home," said Andrea. "But IKEA really shows you with all of its layouts in the showroom. The kitchen displays were so inspiring. Any time I needed an idea, or wasn't quite sure how something fit together, I would drive the few miles to IKEA Houston and snap some pictures."
Originally she had wanted to go with doors from Semihandmade, but she didn't want to wait for the doors to arrive. The project had already been delayed by IKEA's conversion from AKURUM to SEKTION, and was then delayed more because SEKTION stock ran out so quickly at IKEA Houston. (Don't let this happen to you. Read our tips here!).
Perhaps most importantly, this was not a beginner-level project!
Andrea's comfort level with basic tools enabled her to do the bulk of the kitchen cabinet assembly and installation on her own. Hanging the cabinets on the tracks and installing the sink took some help.
"It's nice to do this stuff. Now I understand how things fit together. If you gave me a saw and some wood I could make something!"
IKEA Gives this Home a New Lease on Life
Andrea gave her rental property a new lease on life without sacrificing its vintage bungalow charm. She's so pleased with the kitchen that she might redesign her own next!
Want to see what IKD can do for you? Get started today!