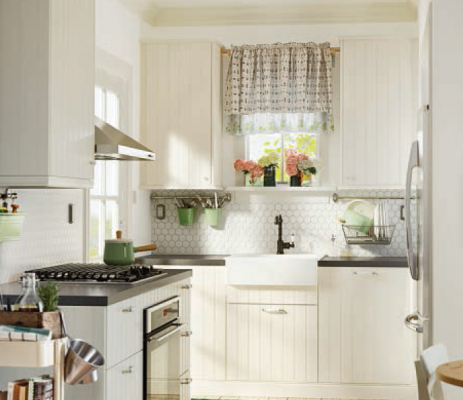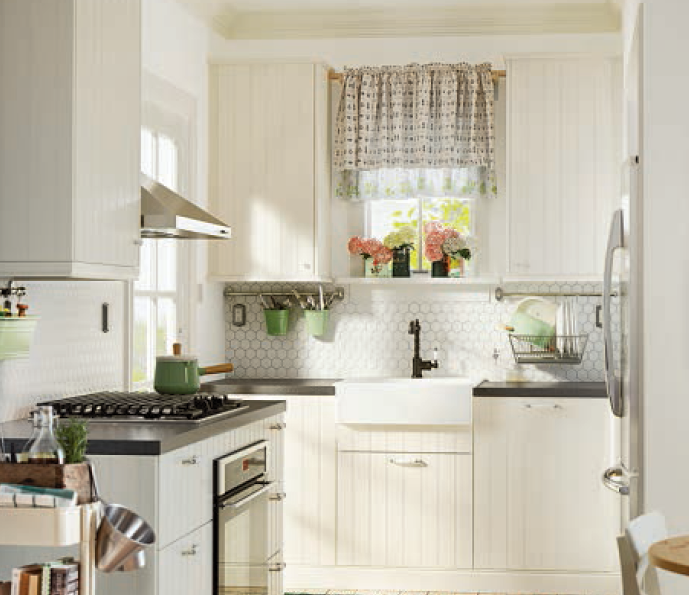 ICYMI: Photos of IKEA's new kitchen line, SEKTION, are out.
Not even a month has passed since you packed up the ornaments and took the elf off his shelf, but it's Merry Christmas for IKEA fans all over again!
In just a few days you'll be able to give your kitchen the gift of SEKTION. Are you as excited as we are?
We've discussed how IKEA's SEKTION will make your kitchen look slimmer and sexier by hiding your appliances. We also heard you liked drawers, so we talked how SEKTION puts drawers INSIDE of drawers. We even went undercover to photograph sneak previews from IKEA kitchen showrooms.
But now, we have the hard facts and data.
The New Names of IKEA Kitchen Cabinet Door and Drawer Fronts
Say goodbye to AKURUM cabinet and drawer fronts…but not necessarily to the styles. Many of the AKURUM doors and fronts just got a makeover and a new name. For example:
ABSTRAKT will now be RINGHULT, in both gray and a high-gloss white
ÄDEL  will now be GRIMSLÖV
APPLÅD will now be VEDDINGE
GNOSJÖ  will now be TINGSRYD
HÄRLIG will now be HÄGGEBY
LIDINGÖ will now be BODBYN, in both gray and off-white
LIXTORP  will now be FILIPSTAD
ORSA  will now be BJÖRKET
RAMSJÖ  will now be LAXARBY
ROCKHAMMAR  will now be EDSERUM
SOFIELUND  will now be  BROKHULT
STÅT will now be HITTARP (well, not exact, but the look is similar)
More pictures of the new styles: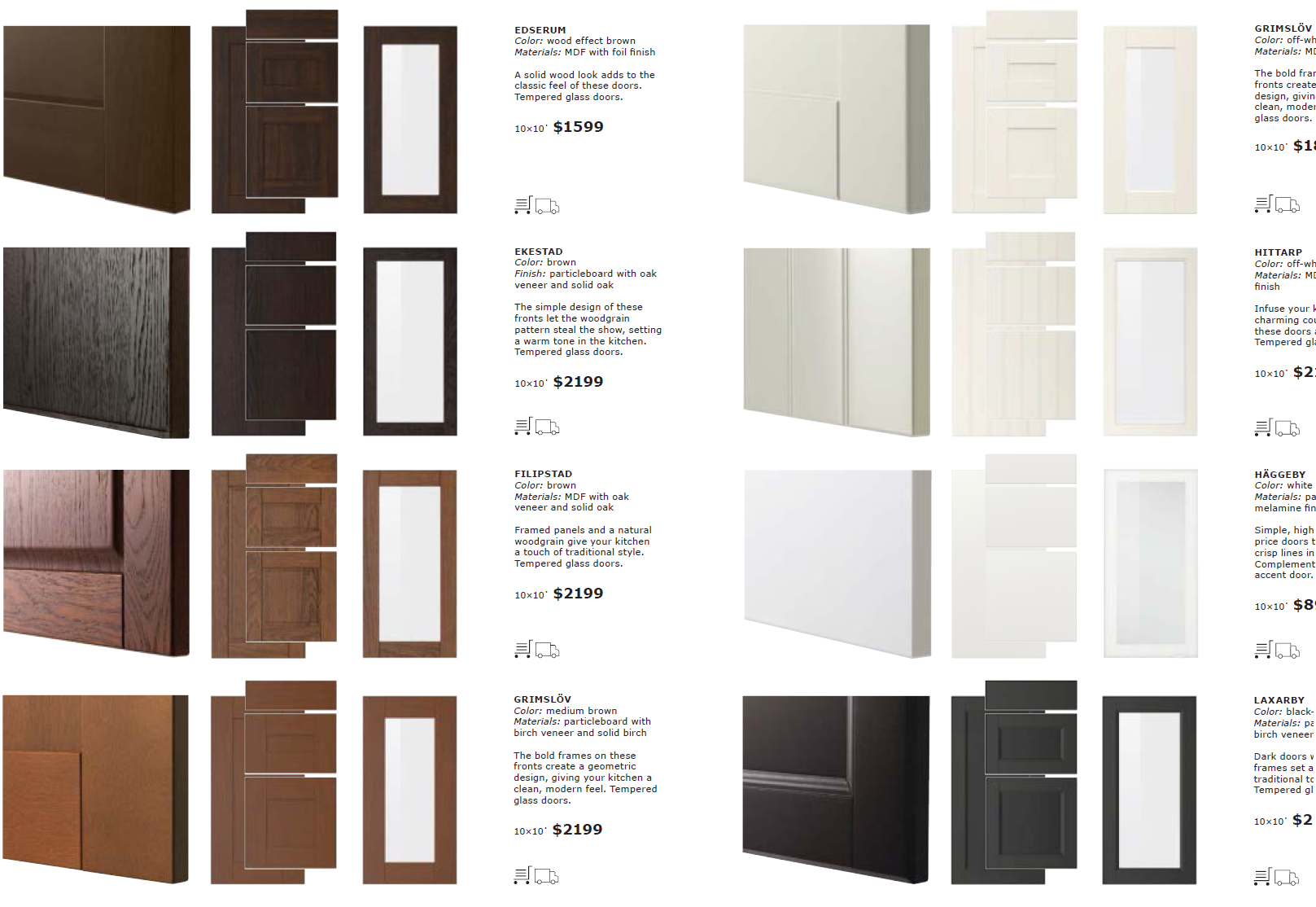 SEKTION isn't just AKURUM by another name. There's also EKESTAD, which is a completely new drawer front style. The EKESTAD door has a very thin frame around it, which makes it a truly unique door.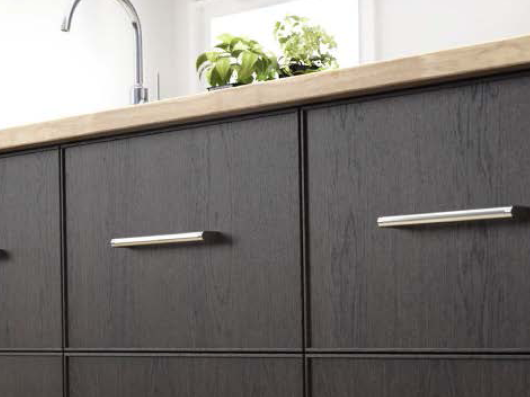 SEKTION Accent Doors for Kitchen Cabinets and Drawers
For accent doors, the red and light turquoise of RUBRIK APPLÄD has been replaced with the green and yellow FLÄDIE and the glass doors JUTIS, while GREVSTA offers the stainless steel option (previously called RUBRIK). The yellow high-gloss of JÄRSTA is also new to the collection.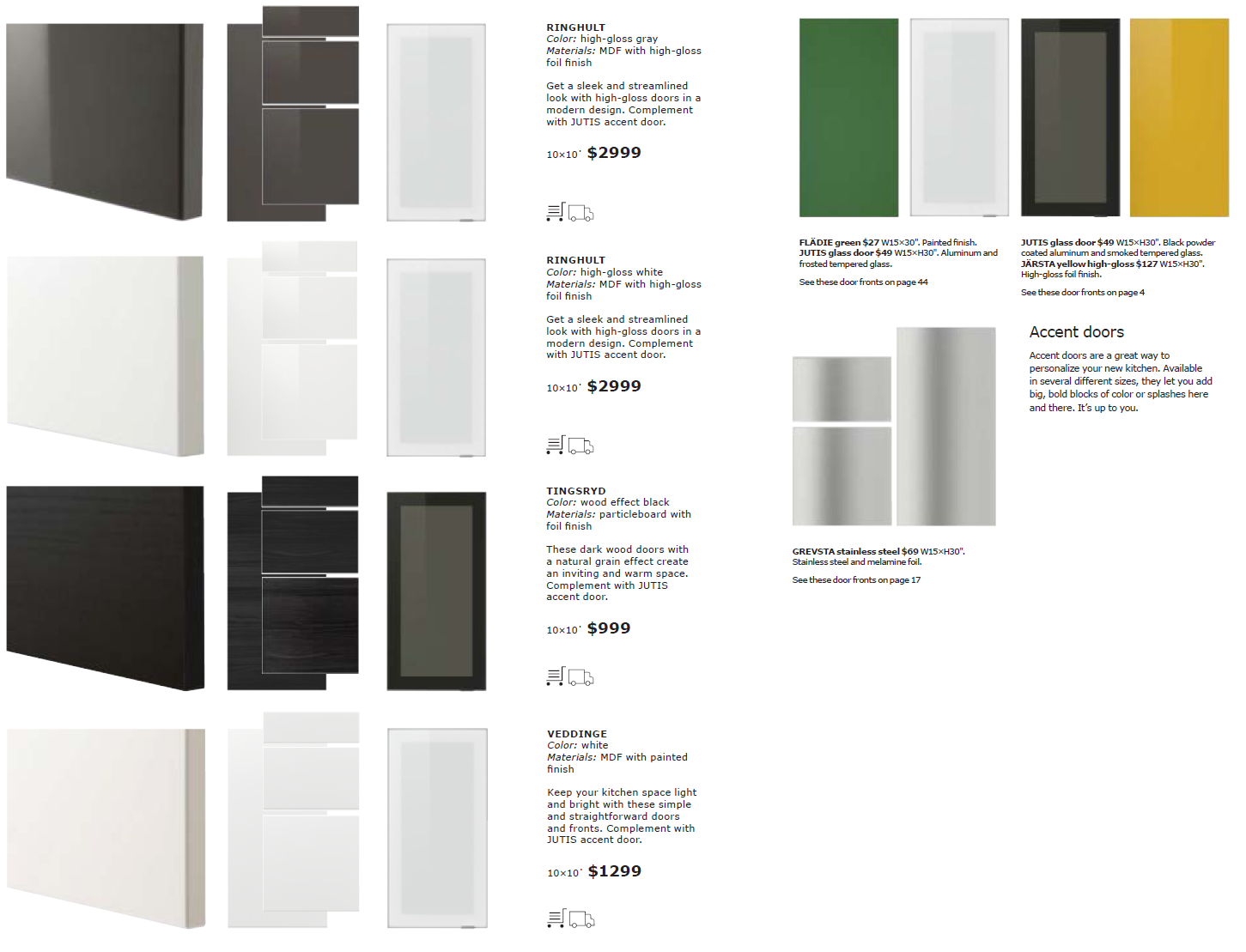 Before, we looked at the METOD line (SEKTION'S European twin) and saw that METOD's explosion of color would make your kitchen pop with vibrant life! And that's true, but North American kitchens will get its own unique pairing of color: an energetic yellow and a lush green. (not to mention the colorful TUTEMO cabinets we already saw for METOD!)
See how they look in the IKEA store?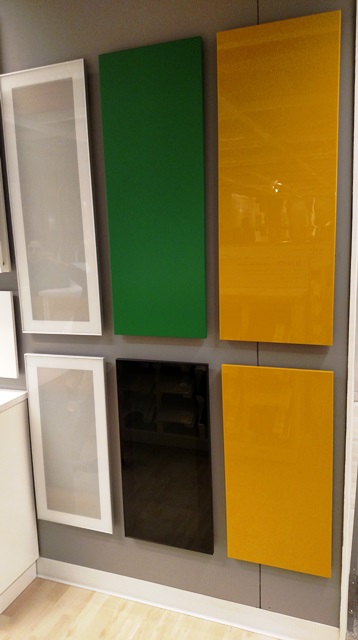 Check out these links to see more of what you can expect from SEKTION.
The SEKTION Bottom Line
Will SEKTION cost that much more than the old IKEA kitchen line? Don't worry. Most of the SEKTION line will cost the same as the AKURUM line it's replacing. Only four out of the sixteen SEKTION models are priced higher than their AKURUM counterparts. Your new IKEA kitchen design is completely within your reach.
Are You Ready to Get Started With Your IKEA Kitchen Design?
Don't wait! SEKTION will be in IKEA stores near you in just days.
Most importantly: SEKTION is not available for the IKEA Home Planner yet.
Purchase your design package from IKD today to get ready for  your brand new SEKTION kitchen. All you'll need to do is show up at your local IKEA store with our list and you'll be on your way.