Take a look at these IKEA breakfast tables for a transitional kitchen! They'll adapt to nearly any size or use and replace the need for expensive island cabinets. Getting a "dream kitchen" is not that hard when you use IKEA for a transitional style.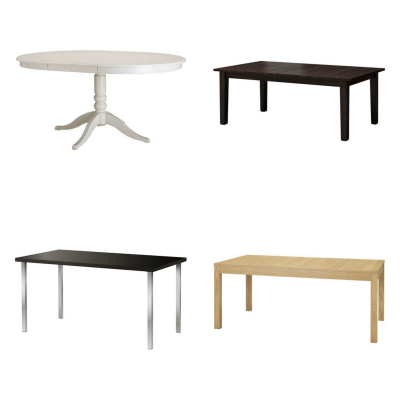 When designing or plannig, consider the activities that are done in your kitchen besides cooking. This helps you determine whether to use an island, a peninsula or an IKEA breakfast table. Do any of these activities take place in your kitchen?
– Children's homework
– Crafts, hobbies
– Researching, blogging or paying bills
– Entertaining guests
A table might do the work without changing the transitional look in your kitchen. Now, let's see a few of our favorites!
Consider these IKEA breakfast table selections for a transitional kitchen:
Home is where the heart is and it's also a place to share with the ones you love. Extend a STORNAS table for more seating space when the family comes over. This IKEA breakfast table, made of solid pine, looks great with light and neutral color transitional kitchens. ($ 449)
If white is your style, combine a LIATORP table to keep a neat look. Like most IKEA breakfast tables, this one also opens up to accommodate up to 6 places. Use RUBRIK turquoise or red doors to complete your transitional kitchen look. ($ 279)

Everybody loves a 'kitchen classic' such as white cabinets with wood tones or butcher block countertops. But yours is no ordinary kitchen! Your kitchen also needs some space for the little ones and this means using a table that's not too close or not too far away from the cabinets. Avoid any paint disasters, sticky glue on cabinet doors or crayon marks on your counter. Try a BJURSTA IKEA breakfast table to contain the children's messiness. ($ 229)

Get inspired with these simple ideas and start your transitional kitchen design today with Inspired Kitchen Design.