Ingvar Kamprad founded IKEA in Sweden back in 1943 at the tender age of 17. By the time he died in 2018, he had been listed by Forbes as one of the ten richest people in the world.
Not bad for a man whose company never strayed far from selling ready-to-assemble furniture, kitchen appliances and home accessories!
Continuous Development
There were many things that made Ingvar Kamprad (pictured above in his office) and IKEA great. The stand out for us at IKD is his continual focus on design and development.
Yes, it's not just the great IKEA kitchen designs that we love!
Kamprad's dedication to design and development inspires us every day. From product design to company structure to business development. The whole package.
Right from the get go.
Across the board.
If there's one thing that Ingvar Kamprad taught us here at IKD, it is how things can always be better whether that's in terms of function, scope or design implementation.
Retro IKEA kitchen Love in!
To mark the passing of Ingvar Kamprad, who has surely done more for the ready-to-assemble kitchen furniture crowd than any one else, we went flicking through some of those old IKEA catalogues to check out just how the company's commitment to design and development has impacted those stunning IKEA kitchen designs over the years.
1960s
The first IKEA decade that really stands out for us at Inspired Kitchen Design, is the 60s! We love IKEA's Nordic emphasis on minimalistic, stylish cabinetry in the era of the Free Love, The Stone, The Beatles and, hey, Sweden's very own Hep stars.
Still, all that 60's IKEA minimalism wouldn't really work today unless you were on a minimalist kick maybe coinciding with a clean eating fetish!
1966's IKEA catalogue shows hard, uncomfortable looking chairs! And very, very small tables. There's barely room for little more than some of that famous Swedish crisp bread.
1970s
By 1977, we're sure the IKEA gang must have been rocking that ABBA-vibe, possibly hot pants and all. But from the kitchen in the catalogue it looks like teeny-weenie chairs and kitchen tables are still á la mode.
The big change here is how Kamprad & Co let vibrant color do the talking. Who can miss a bright red cherry kitchen remodel, right ?
Your friends wouldn't fail to notice if you upgraded your kitchen design to such a far out color in 2018, would they? But as IKEA's current rage of cabinetry doesn't include anything as, er, exotic, you'd have to get some custom cabinets made.
As a point of interest – well, to us kitchen design geeks that is – note that the 70's IKEA kitchen shown puts the focus on storage options beneath the countertop.
Very useful, we're sure, for showcasing the Danish pottery you inherited from your ageing aunt! But not very good if you hadn't remodelled your kitchen by the time the 80s came around what with needing room for new appliances like microwaves and dishwashers.
1980s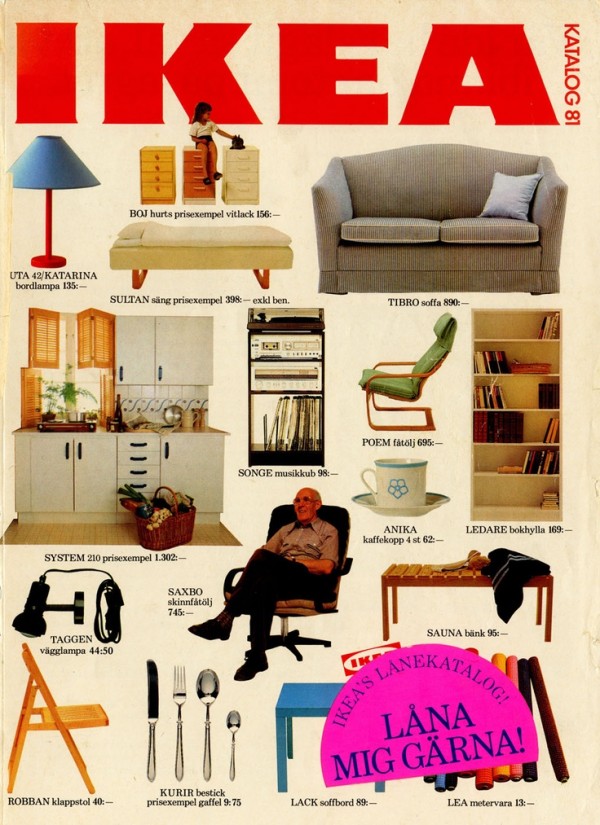 By 1981, the cover of the IKEA catalogue from that year really demonstrates just how far the company has come in its adherence to simple, stylish urban quality kitchen design.
The white kitchen cabinets look sleek and functional with plenty of storage space. No doubt this style went down well in kitchens around the world from Hägersten in Sweden to Houston, USA!
This was the first time in 18 years that IKEA put kitchen cabinets on the cover. So you can tell that they were proud of them.
Looking at the cabinet models with modern eyes, they look positively retro now; but back in the day this was functional storage space for those with a eye for Scandinavian kitchen design.
And they sold like hot cakes !
1990s
1997 saw the introduction of IKEA 365+ !
IKEA 365+ was a range of functional, attractive everyday products for preparing, cooking, serving and eating food. "The products were designed to make kitchen work easier and more enjoyable, at the same time bringing a little more beauty into everyday life with their form and colours", according to IKEA.
Just two years later IKEA launched VÄRDE kitchen, which was a new way of thinking about kitchens. Its unique modular design allowed customers to create an entire kitchen from scratch or simply add a piece here or there.
As the advertising execs put it: "The innovative design, functionality, ergonomics, ecological compatibility and durability" helped VÄRDE win the Red Dot Award for Highest Design Quality, organised by Design Zentrum Nordrhein Westfalen in Germany.
2000 and beyond!
The modern IKEA kitchen retains much of the same attention to design, form and function as IKEA kitchens from the previous decades, but the styles are different, reflecting modern trends. The consumer has changed too. Nowadays consumers aren't just settling for a big box, self-assemble IKEA kitchens. They want more!
A whole industry of kitchen designs and kitchen installers has evolved to help turn the Swedish furniture giant's products into the basis for truly stunning, custom designed kitchens.
Here at IKD we've seen more and more customers looking for ways to liven up the showroom kitchen with custom cabinet doors or quartz countertops.
We're also seeing more ambitious attempts to do something different with kitchen layout, as architecture changes. For example, more and more new build homes have increasing amounts of window space. There's an emphasis in welcoming natural light into the home. As kitchen designers, that means rising to the challenge of crafting the space to accommodate sufficient storage options. After all, natural light is great but you still need place for appliances and storage.
Tack så mycket, Ingvar!
It goes without saying that we're grateful to Ingvar Kamprad for starting and building such a great company! It's been exciting to see how the company and kitchen products have evolved over the years. He resigned from the Board of IKEA in June 2013 and those that have followed have continued to take the company forward to even more success.
Here at IKD, we're sure that no matter where Ingvar is today, whether it's the intergalactic kitchen showroom in the sky or behind the pearly gates, he'd be storing his pots and pans, ready to cook up some juicy Swedish meat balls in some swank, custom designed IKEA kitchen.
And if you're reading this Ingvar, just let us know! Your custom kitchen design is on the house !