Exposed brick. Metal. Concrete. Spot lights.
Not exactly what comes to mind when you think of Swedish kitchen design, right?
Believe it or not, IKEA is a natural choice for an industrial-style kitchen. It brings you back to the basics of raw materials and neutral colors.
You don't have to take my word for it. Take a look at our client's IKEA kitchen design: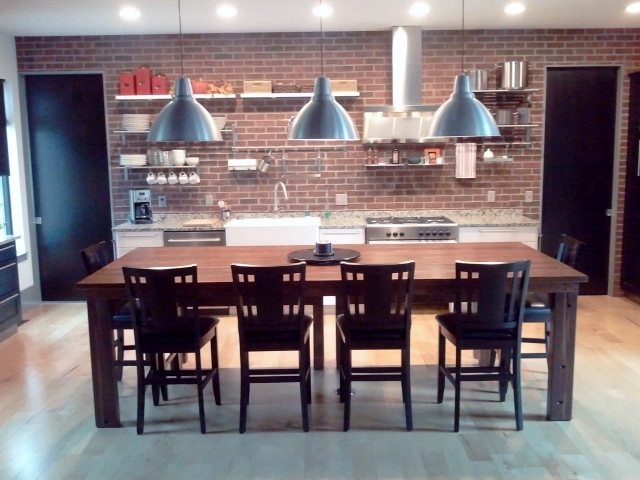 Yes, this is an IKEA kitchen! Here's how our client achieved the look.
Contrasts Make this IKEA Kitchen Industrial
Let's look at the different items in the kitchen that come from IKEA.
In the picture above, we see FOTO pendant lamps. The factory-style lighting provides direct light and has metal elements. These IKEA lamps use burnished aluminum which softens the look.
But as with any metal surface, beware sticky fingers. Fingerprints are inevitable. Luckily, a damp cloth could be all you need to keep the metal surfaces gleaming.
Behind that you can see the DOMSJÖ farmhouse sink.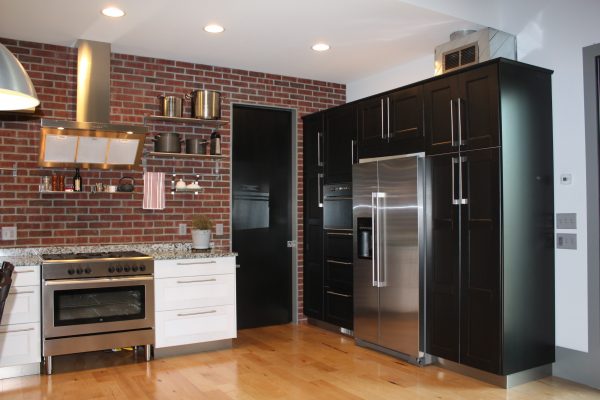 From left to right, we see:
KORTVARIG wall-mounted extractor hood
This particular IKEA oven has been discontinued, but the NUTID is similar
RAMSJÖ cabinet and drawer fronts, with VINNA handles
GRUNDTAL shelves, with IKEA 365+ and SKÄNKA pots
NUTID refrigerator
Notice how so many of the IKEA elements are metal? And yes, our fingerprint warning still applies. The toe-kicks are metal too, and while fingerprints don't apply, any kitchen spill can mar their surface.
What really brings this kitchen design together, however, is the contrasts. The RAMSJÖ door fronts are not really meant to look industrial. Rather, they're a modern take on the Shaker style.
This kitchen design achieves the industrial look by blending rustic bricks, metal shelves and hardware, black and white door fronts, and the warmth of the wood flooring.
Here's another view of the kitchen: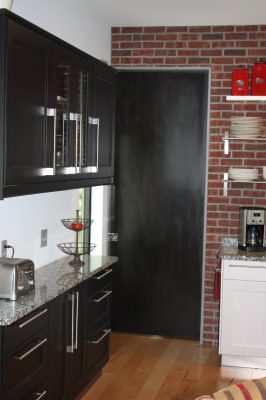 Is the Industrial Style Kitchen for You?
Before you say "ja" or "nej" in your best Stockholm Swedish, I encourage you to read this article, "So Your Style is: Industrial" on the houzz.com blog. If you answer nej, well, they have similar posts for all kinds of interior design styles.
If you say ja, get started with IKD today to create the Swedish/industrial kitchen design of your dreams. There's an IKEA sale that ends August 22, 2014. Who doesn't want to save up to 20% off their new kitchen?
Got an Awkward Kitchen? How IKD Made It Work in This IKEA Kitchen