Well here we are, almost two weeks into the new year. Did you put "get a new IKEA kitchen" on your list of new year's resolutions? If you want a kitchen that's both trendy-savvy and timeless, this is the post for you.
So what kitchen trends can we look forward to in 2018? Put away your tarot cards, tea leaves, and crystal ball, dear readers! I've got all the intel you need — plus a few of our IKEA kitchens that were ahead of the curve.
Kitchen Trend #1: Two-tone Cabinets
Two-tone cabinets are a great way to keep your kitchen from looking too "matchy-matchy." Never fear: you can still have your little white IKEA kitchen! In fact, we're quite fond of using white for upper cabinets, and another color for floor-level cabinets.
As you can see, Stacey chose gray to complement her white cabinets.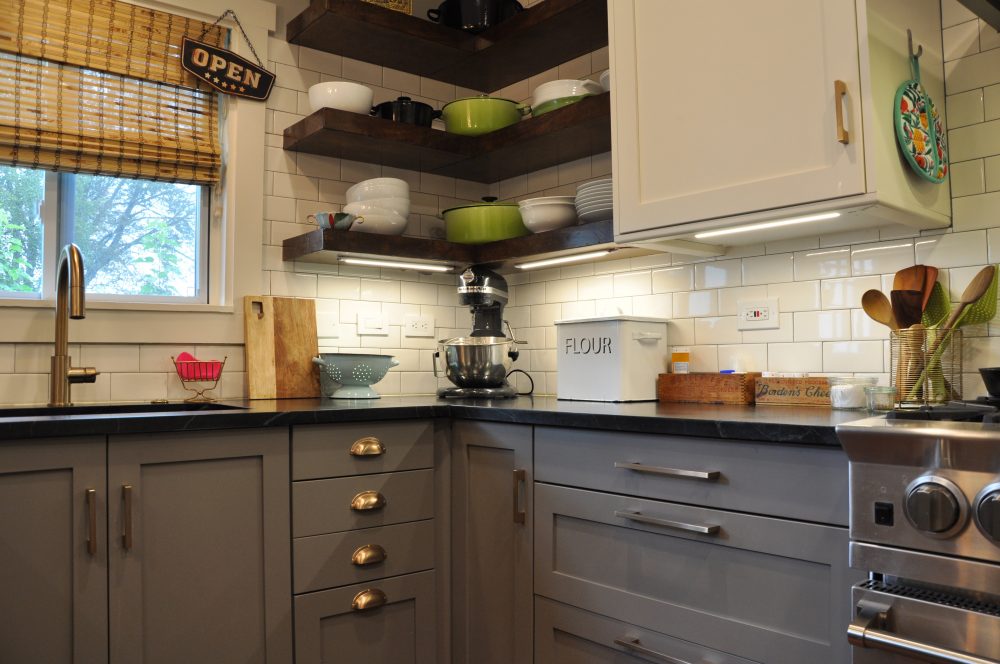 (Note: yes, those are real Shaker style doors! If you haven't seen this kitchen, go take a look. I'll wait. If that countertop doesn't dazzle you, you might want to check your pulse.)
Tina, on the other hand, mixed it up with walnut doors.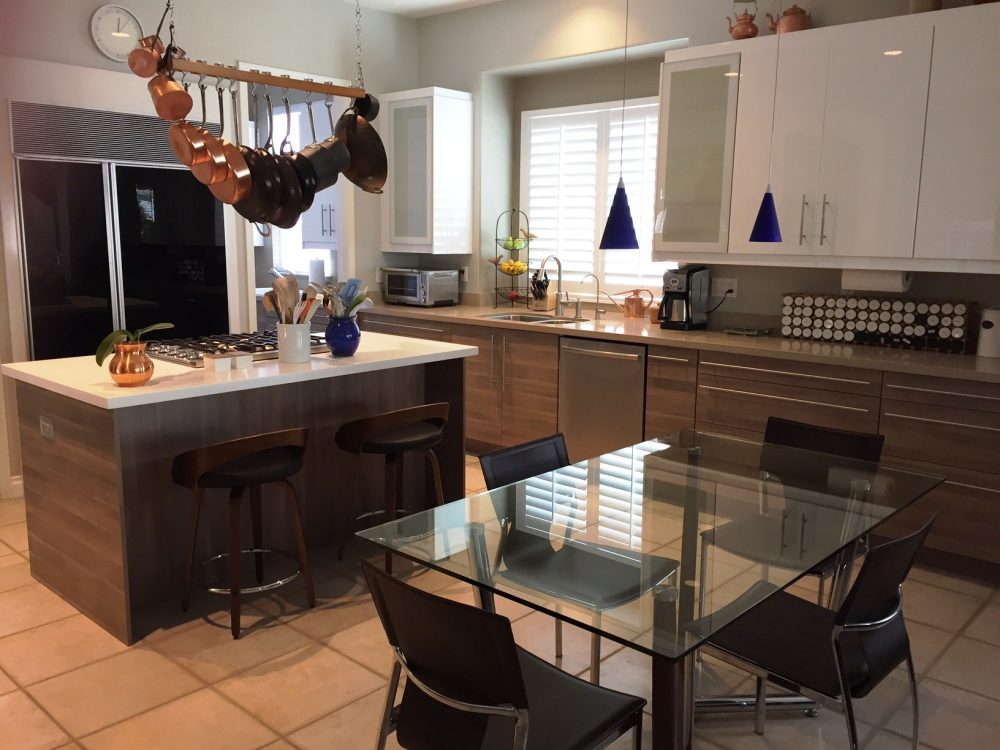 I also love the combination of high gloss doors up top, and a more subtle, matte finish down below. Which brings me to my next tip…
Kitchen Trend #2: Dramatic Contrast
Even if you're loyal to entirely one color for your cabinets, you can still live that contrast life. Just remember Star Wars: keep your light and dark in balance.
Take Jamie and Anthony, for example: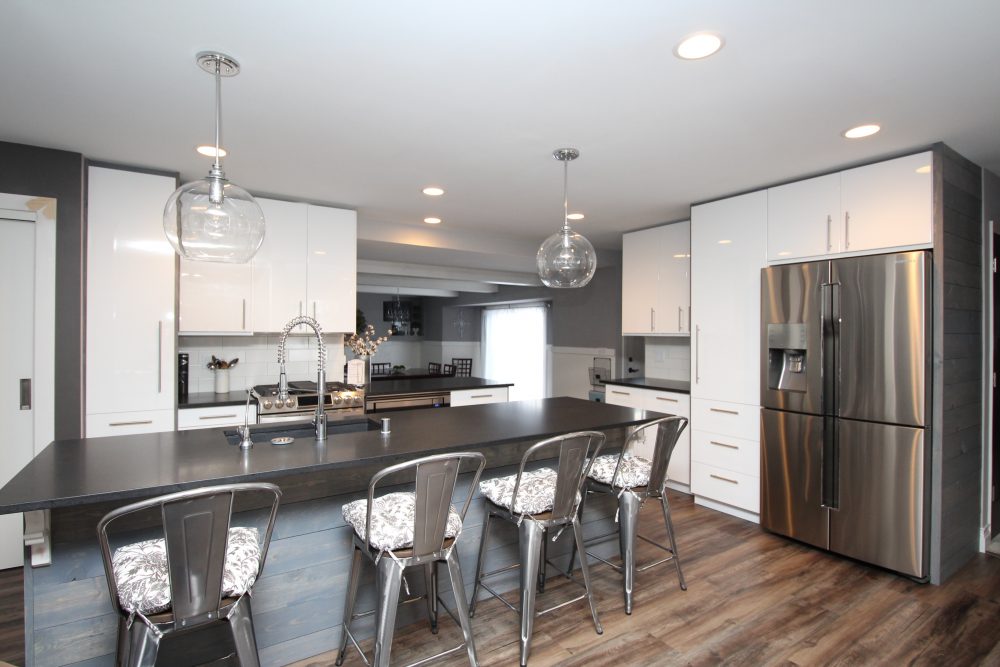 The "odd couple" offset the high-gloss white cabinets with dark countertops and a gorgeous wood floor.
Down in Bermuda, Catherine used the same technique to dramatic effect.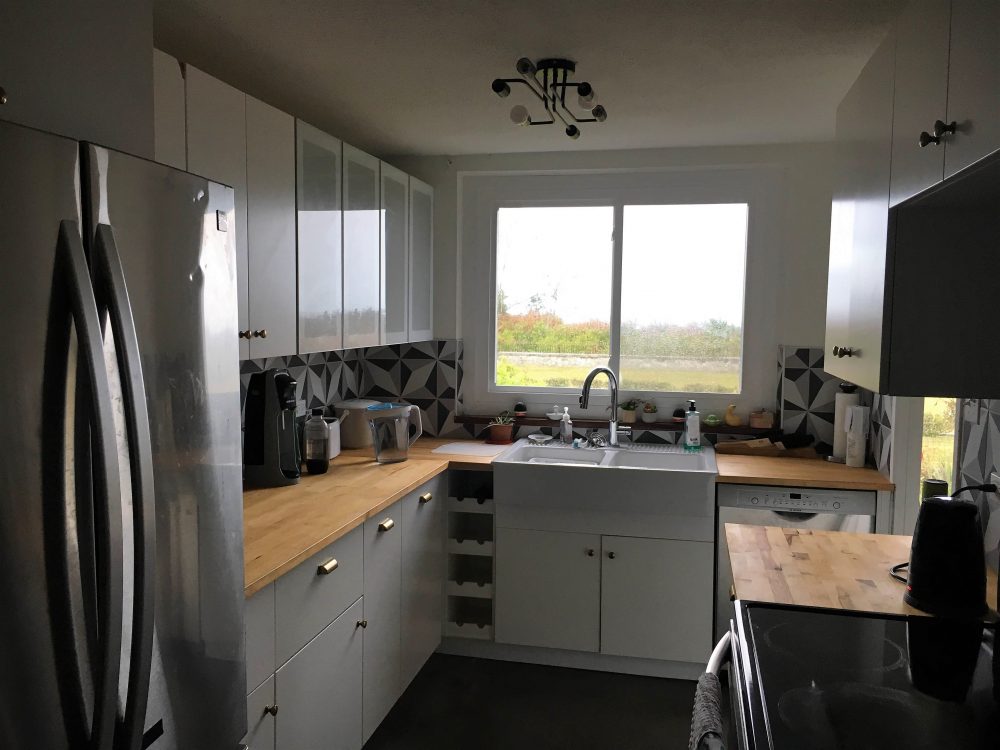 What else grabs your eye in Catherine's kitchen? For me, it's no contest: that stunning backsplash tile is a winner. Speaking of eye-catching tile…
Kitchen Trend #3: Personalized Touches
Unless you're designing a block of apartment buildings, you probably don't want a cookie-cutter kitchen. Little personalized touches are an excellent way to make your kitchen truly "yours." In 2018, those quirks are decidedly in.
From the waist up, Kevin and Ellie's kitchen might seem like a standard (albeit gorgeous) white kitchen. So what takes this kitchen from "gorgeous" to "breathtaking" (if I do say so myself)? The floor tile.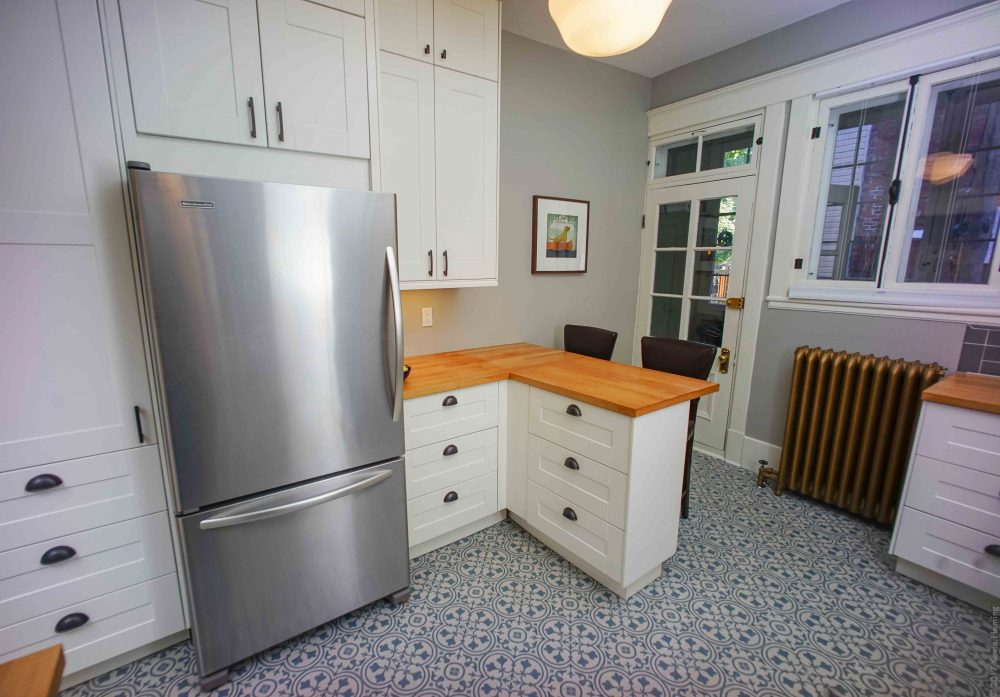 Fun fact: DIY champion Kevin also custom built the crown moulding.
During a 7-week Italy trip, Chris and Jennie fell in love with with a Sicilian kitchen. Specifically, the tile. After lots of hunting, they discovered Cement Tile Shop. Just take a look at the gorgeous, patchwork backsplash tile they used!
Your kitchen should reflect you, not just your Pinterest board. Where have you been, and what have you seen, that's inspired you? Find a way to work more of "you" into your design.
Kitchen Trend #4: Textural Variety
You hear about this a lot in fashion. If you're rocking a leather skirt, pair it with cashmere or cotton up top. Soften dark denim with a hint of lace. You get the idea.
But how does this translate to kitchens? Well, just take a look at Georgia and Nick's backsplash.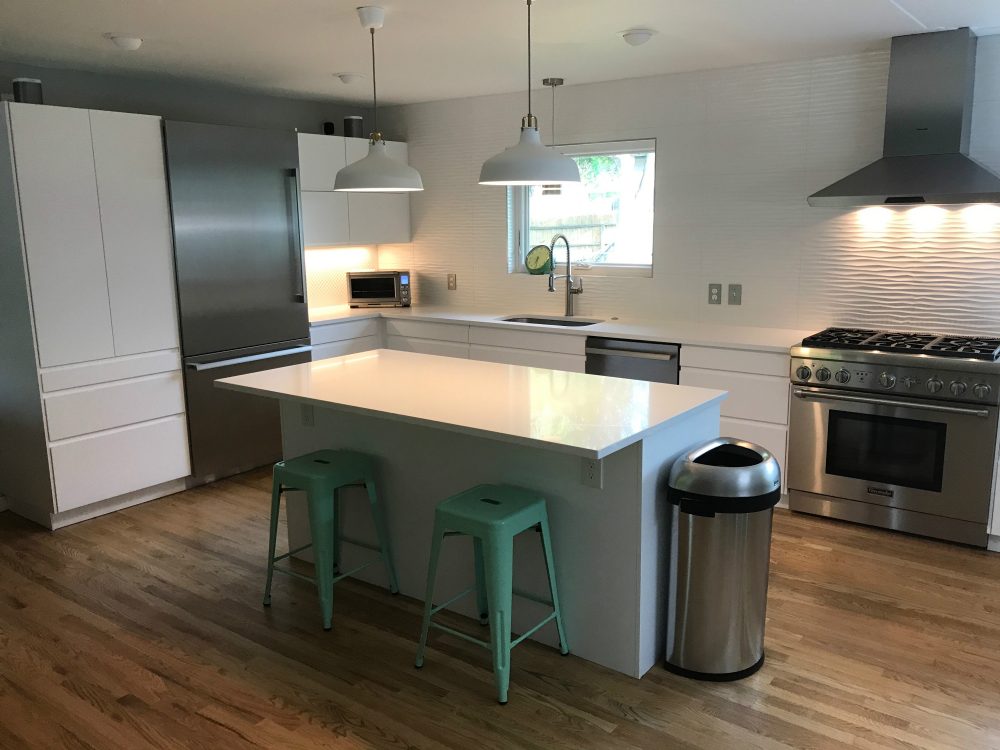 It's white, just like the cabinets, but it commands my attention. (The under cabinet and hood lighting help here, too) Texture is a great way to add some variety without using more than one color.
Speaking of color…
Kitchen Trend #5: Deep Colors
ICYMI: the Pantone color of 2018 is "Ultra Violet." Those of you who you share a purple obsession with Marie Schrader from Breaking Bad are in luck. For the rest of us, take heart: other deep colors, like blues and greens, stand to play a big role too.
One of my favorite examples from the past year? Beth's beautiful blue backsplash.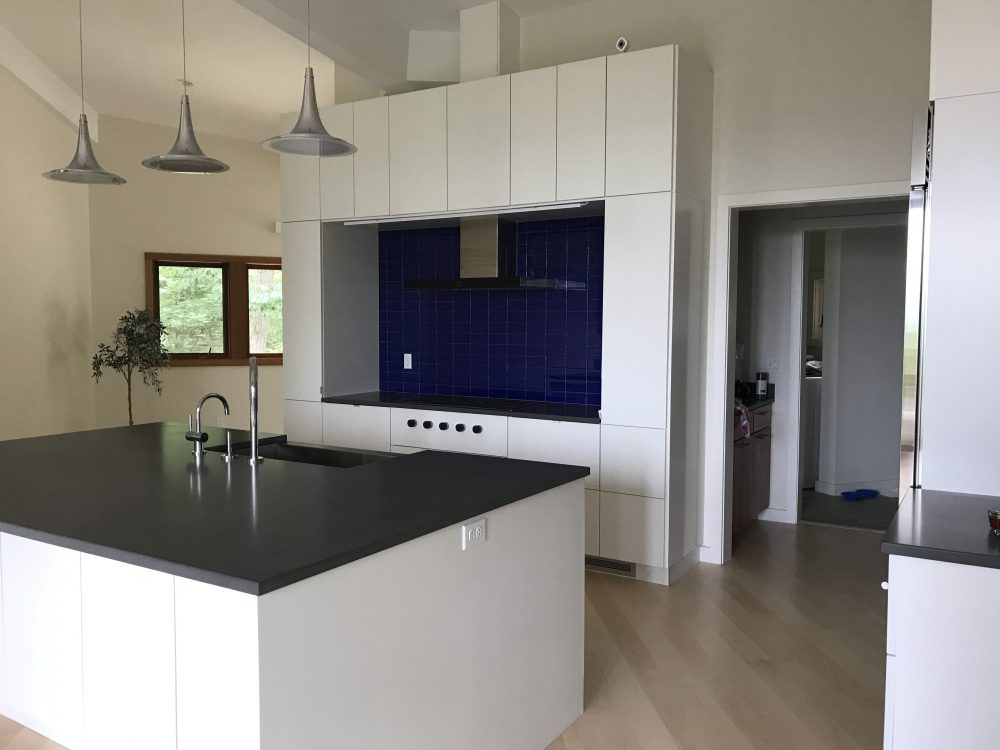 When I look at that, I just think "Ahhhhh." It's an oasis of rich blue in the midst of whites, grays, and other neutrals. Think about how to incorporate deep colors into your kitchen design!
Kitchen Trend #6: Storage Concerns
Fun fact: most new buildings under construction in America right now are storage units. (Okay, I don't know if that's actually a fact. But we do have more storage facilities than McDonald's restaurants!)
Maybe that's why so many IKD customers are searching for clever storage solutions. Small kitchen, big kitchen, oddly-shaped kitchen — we all need plenty of storage. And speaking of small kitchens: you can't beat Amy and Derek's kitchen in terms of unique storage.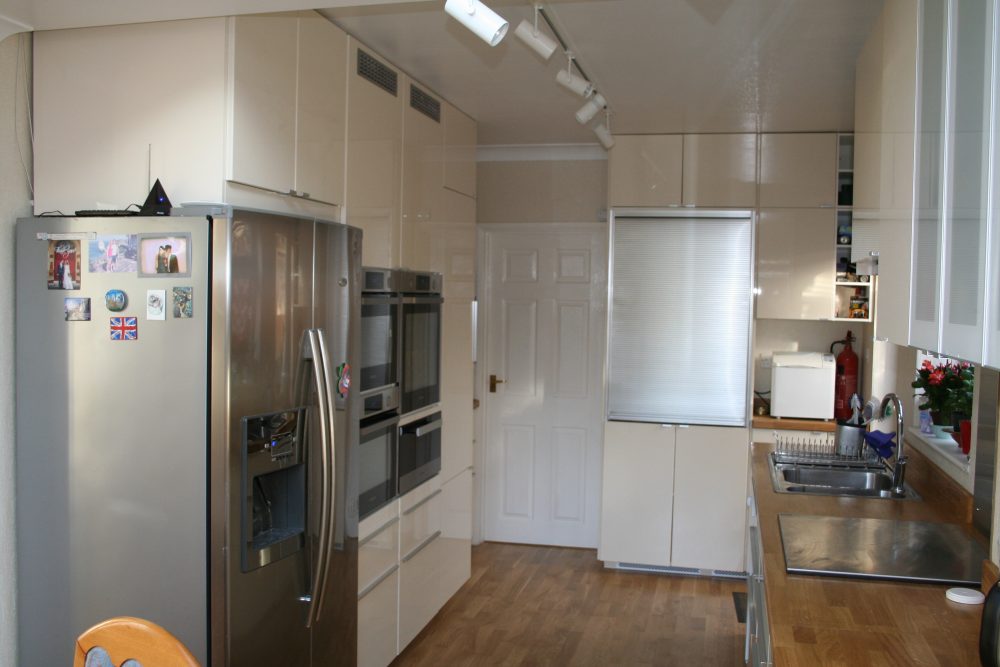 Can you spot the hidden storage secrets? Secret #1: an appliance garage hides behind a roll-top door.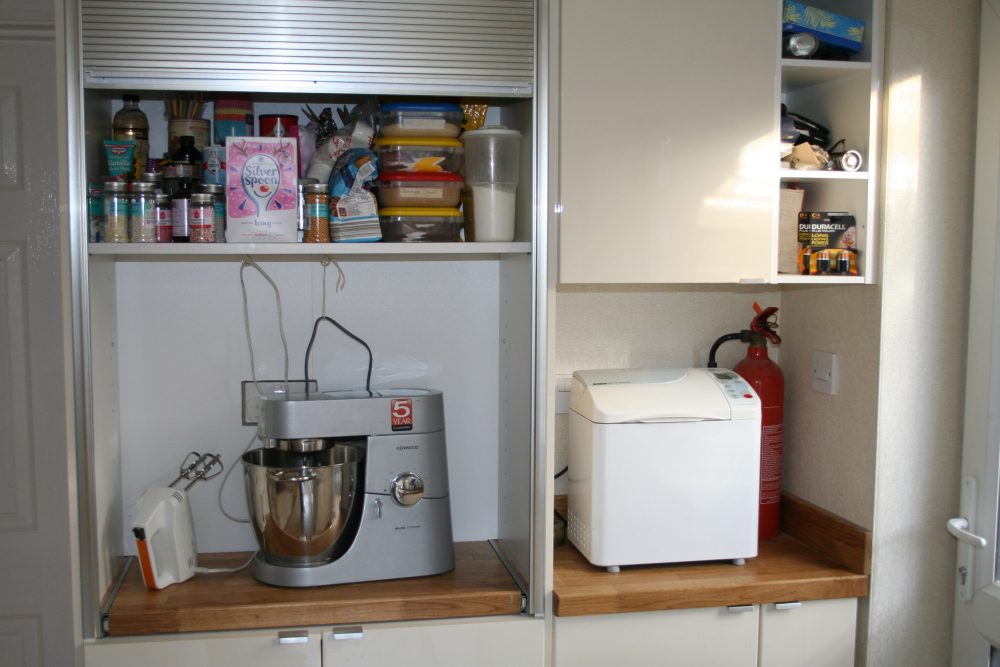 Secret #2: score some extra counter space by using a fold-down cover over the range top!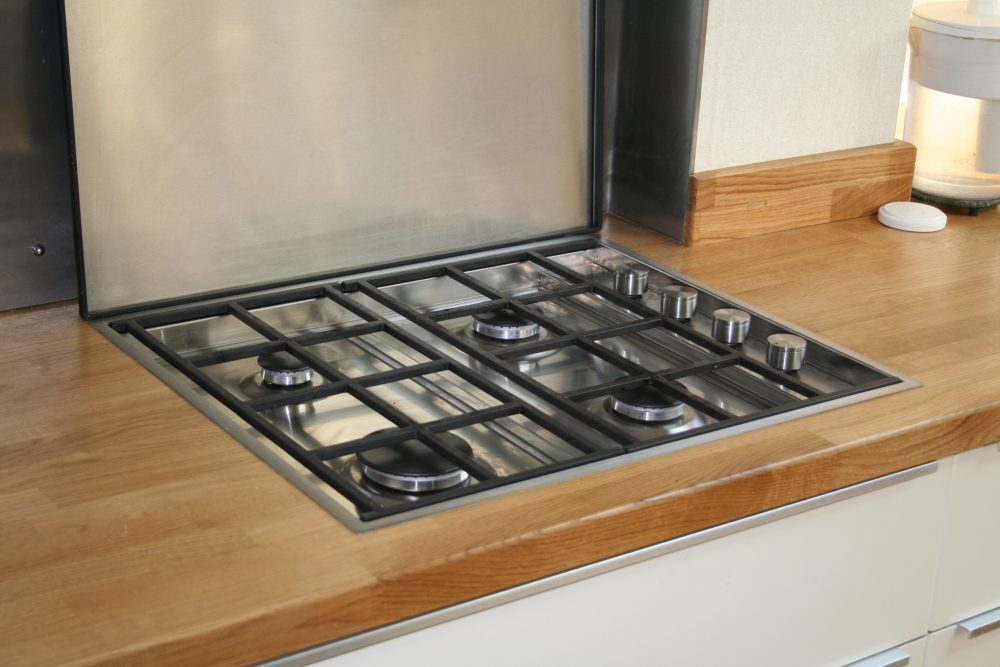 Hopefully, you can put off renting a storage unit for another year. You're welcome.
The Future is In Your Hands
Alas, my crystal ball has moved on. What do you think, readers? Will any of these trends make an appearance in your kitchen in 2018? Have you seen other trends you want to work into your kitchen design? Let me know in the comments!
Our designers are always happy to work with you to create the IKEA kitchen of your dreams. You can get started today! After all: spring cleaning is just around the corner, but there's not much to clean in a brand-new kitchen.