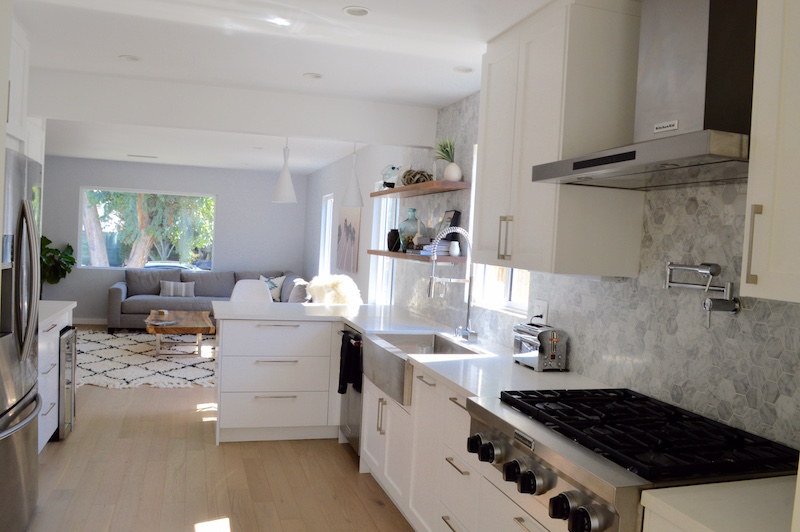 An LA couple embarks upon a real fixer-upper scenario including a major kitchen renovation
Todd and his wife had been married just about a year when they upgraded from condo living into a single family home. Though still newlyweds by most standards, they must've felt pretty good about their relationship, because they willingly embarked on what Todd described as a real "Fixer Upper" scenario. The renovations would include a total gut job of the home's kitchen.
"The entire house is right at 1,150 square feet, but it's about two miles from the beach in Los Angeles," Todd explained. And that's when we realized just why Todd and his wife welcomed total kitchen renovation was a welcomed project for him and his wife (they just didn't know yet the kitchen remodeling project would be an IKEA kitchen renovation.) They were ready for the chance to make a small house into a very cool, customized home. With such close proximity to the beach, they knew their place would become a hub of entertainment for friends and family—which is just what they always wanted.
Would these newlyweds be able to afford a new, modern and open kitchen in their fixer-upper?
The top priorities for Todd and his wife were the entertaining of guests and plenty of space for cooking. For this reason, the couple put lots of attention on the kitchen remodel. They really did their homework. At first, they looked at going the route of a full, custom renovation. They met with a designer and pored over all the details of just what they wanted.  Then they received major sticker shock when the professional revealed the total cost.
"It was way more than we budgeted for," Todd shared.
Here's a look at the old kitchen. It's quite the 1970s time capsule, complete with Harvest Gold appliances and matching sink!  And the cramped layout definitely did not lend itself to gourmet cooking and entertaining.
The IKD solution for an affordable new IKEA kitchen
Thankfully, Todd and his wife are friends with another couple that had also recently set out on a kitchen remodeling project. Instead of going with the exorbitant expense of a traditional, custom renovation, the friends had opted for an IKEA kitchen. They shared that an IKEA kitchen renovation would be much more affordable. And also that it's pretty simple to get the desired look and functionality —thanks to a handy, really affordable service they'd found online called "Inspired Kitchen Design" (for the record, that's US!). Upon the friends' recommendation, Todd immediately got in touch with us to begin the design of a new IKEA kitchen.
With all the advance effort and lessons learned in researching other options, Todd was well prepared once he made contact with IKD. "I really knew what we wanted in our new kitchen, so it was pretty straightforward," he explained. "So I was able to go with IKD's Express design package."  (And for those you not as confident or as sure of what you want in your kitchen remodeling project, take a look at IKD's Premium design package.)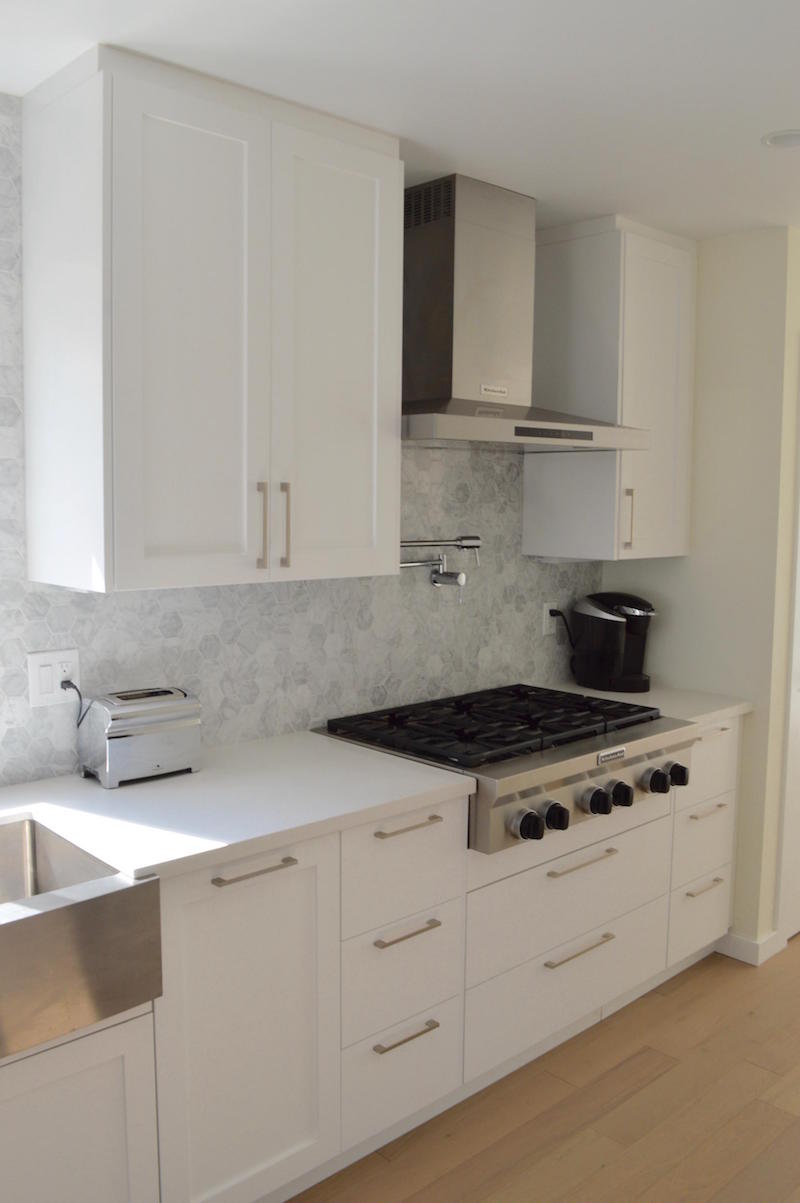 Project challenges during the IKEA kitchen renovation
Straightforward as the IKEA kitchen remodeling project was, there was a wide range of potentially challenging details. The original kitchen configuration offered very little of the style and functionality they desired. Todd and his wife wanted a very modern design for their new kitchen space with lots of openness. They also wanted the addition of a dining area. To achieve all this, they "blew out a wall" to open the kitchen to the living area. This opening made way for a peninsula. Also, they built onto the house in order to incorporate a dining area with kitchen. With all these sizable changes and moving parts, Todd did face one major hiccup that could've thrown a wrench in the project timeline and budget.
"We had a beam that had to go in which forced me to change the whole plan," he reported.
Thankfully, he was able to manage this significant alteration with the help of IKD.  Because Todd had IKD's Express package, he did pay for an extra revision, but we helped by speeding up the process as our own "special way" to help him with his deadline (unlike IKEA's standard service).
"I went back and forth with IKD. They were quick and super helpful in doing the extra revision to accommodate the beam. Thanks to IKD, we were able to keep everything on track."

Customization and Installation of the IKEA kitchen
IKD also customized their sink and cooktop cabinets.  The SEKTION cabinets that fit the DOMSJÖ  farmhouse sink can't accommodate non-IKEA apron sinks.  And IKEA offers neither a rangetop (front-controlled cooktop) nor the base cabinet to accommodate this kind of cooktop. Luckily, we designed a kitchen hack for IKEA cabinets that solves both of these problems. (Yes, it's a two-in-one IKEA kitchen hack that works for both appliances!)
For the kitchen installation, Todd lucked out by finding a company through the referral service Yelp. The installers a did a great job.
Todd and his wife did not use IKEA's doors on their base cabinets. They chose Shaker-like doors from Semihandmade for a more custom look.
Todd summarized working with IKD as "an awesome experience." He and his wife love their finished project. Now that they have completed their kitchen, the couple is right at home, cooking, hosting, and enjoying the results of their efforts.  Todd now has some great tips for others considering an IKEA kitchen renovation.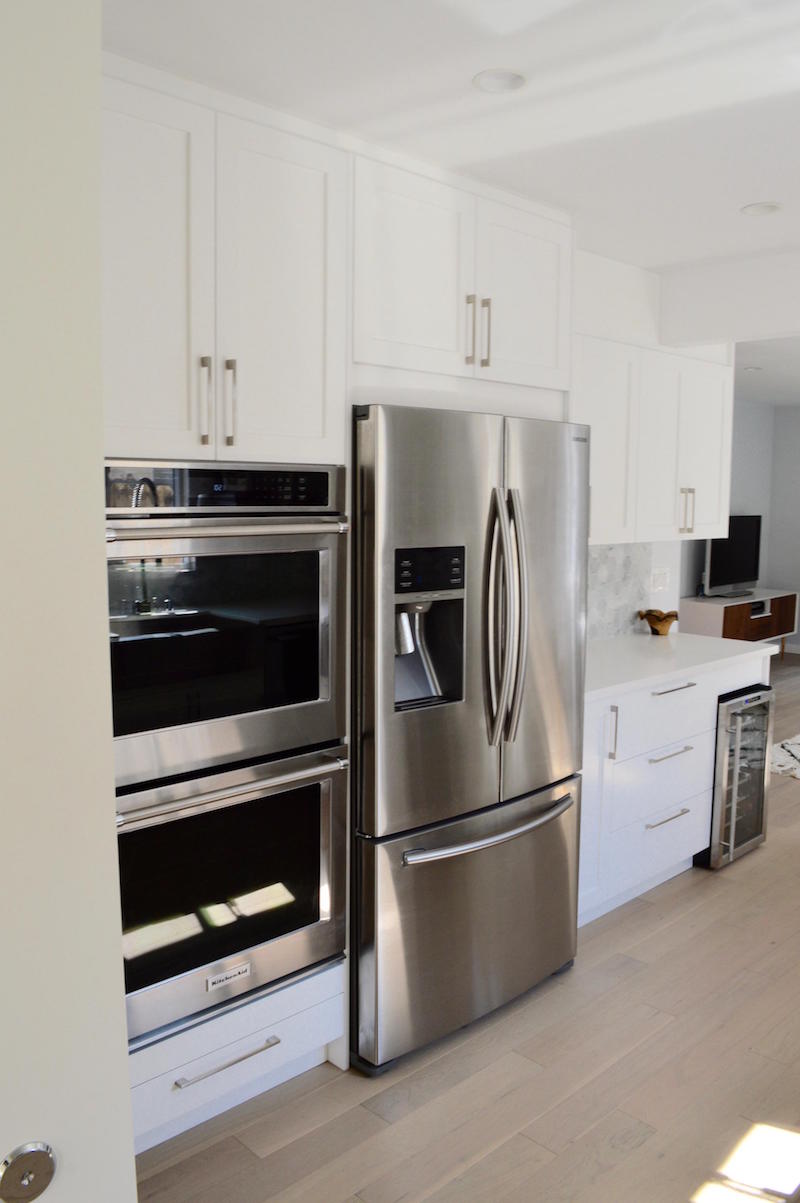 Todd's tips for your IKEA kitchen remodeling project:
—Assess your confidence level, and then tackle your IKEA kitchen remodeling project accordingly. If you're unsure about things, go ahead and get all the help you really need. There are too many variables to take on such an extensive project alone or with inadequate assistance.
—Get good measurements! And if you're not good at taking measurements, enlist help to get it done right. Bear in mind that measurements change significantly with or without drywall and with or without flooring.
—Know what you really want. IKD and other pros you hire to bring your IKEA kitchen to life can provide even better service when you are very clear about what configuration, functionality, and style you're going for.
If you know what you're looking for in an IKEA kitchen for your home—and you're sure your marriage will survive a renovation project!—contact us today get started. We'll help you through the process just as we did for Todd and his new bride!