Did you know IKD designs IKEA kitchens in Canada? This once-temporary dwelling in British Columbia began its transformation into a permanent home with a sleek, modern, and inviting IKEA kitchen designed by IKD. When Shawna and her husband bought a big property in Vancouver Island, British Columbia, they built a temporary shop to accommodate their large family of seven until they could start building their dream home elsewhere on the land.
After spending some time in their starter space, they decided they loved the location too much to build anywhere else. They were happy with their spot and wanted to plant some roots. And that's when the first challenge presented itself.
Once that decision was made, Shawna realized they needed to find a way to turn their temporary dwelling into a home.
One of the first things she knew they would need is a kitchen renovation.
Here's how their kitchen looked before they started looking into renovation options: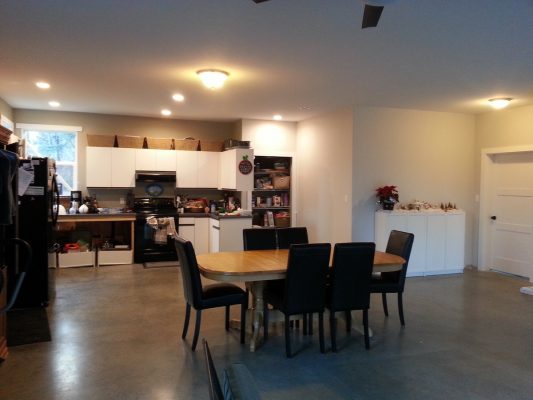 It got the job done, but the space definitely didn't feel like the heart of the home. And since that's where they spent a lot of time, it made sense to want to turn it into a place they could love for years to come. "We use our kitchen often, as we have five children," Shawna explained. "They are at the ages where they're beginning to help with food preparation, and they like to bake."
So they knew they wanted something different, but where would they begin?
Enter IKEA.
Unfortunately, Shawna tried to use the IKEA Home Planner on her own and quickly realized that wasn't the route she wanted to take. That's what led her to IKD. "I'm not a designer," she said, "And I understood I wouldn't be able to be creative in this process."
But she recognized that their space would require a hefty dose of creativity.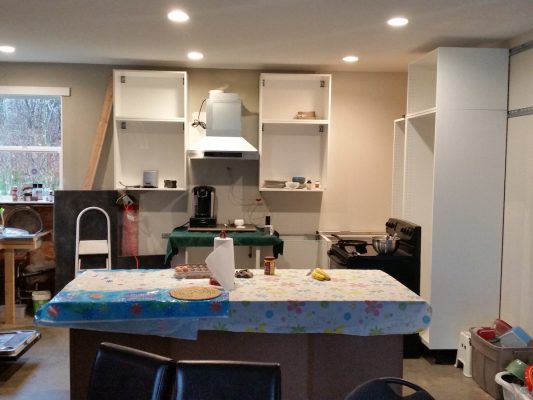 The original cabinetry was from the 1980s and purchased second-hand. After all, they had intended to use them as shop storage once they moved out into their permanent home. On top of that, they had a corner sink that they couldn't stand. It wasn't in a place that helped them make the best use of their space.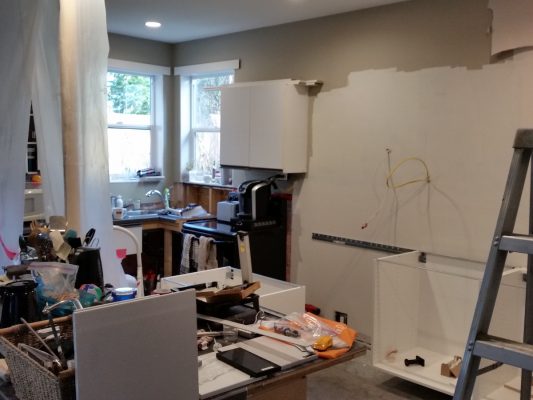 With all of this in mind, Shawna had three main goals for their big kitchen transformation.
Top #3 Goals of the Renovation
Modern Design: T

he 1980s cabinetry just wasn't going to cut it if they were going to make this house their home. Shawna and her family wanted a sleek, modern kitchen to fit their style and space.

Functional, open space: With five kids, functionality was crucial—and the key here was a lot of elbow room! A large island would be imperative for this kitchen to provide the functionality the family as looking for in their home.
Maintain plumbing: One of the big challenges came down to the pipes. The shop floor is heated concrete. Shawna knew they couldn't cut the concrete to move any plumbing without risking cutting through the water pipes that may have floated to the surface. They would have to tackle this renovation without altering the original pipeline landscape.
"We were renovating a kitchen that had basically been thrown in as a temporary solutions. There was zero focus on design," Shawna explained. It would be a challenge, but they knew IKD could help completely transform the kitchen into a space their family would love for years to come.
The Final Design
Shawna enjoyed working with the team at IKD. She and her husband opted for the premium design package so that they weren't limited with the number of revisions—and they have no regrets. "I knew that I needed the security of being able to go back and forth many times in the design process," she explained. That made the Premium package a perfect fit for her and her family! 
On top of it all, she said the shopping list provided by IKD was thorough and accurate. There isn't an IKEA conveniently close to their home, so they opted to have the materials shipped. "We built and installed the kitchen ourselves," she said.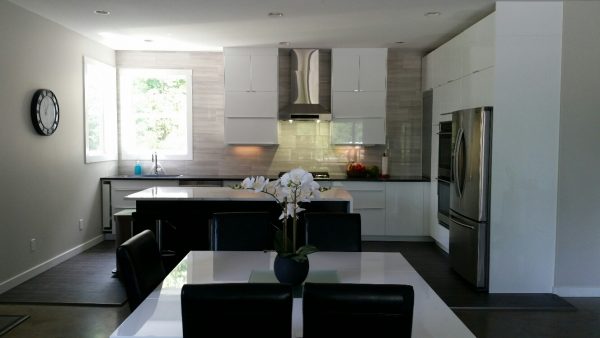 For their final design, they chose a number of IKEA products and had them shipped to their home. They decided to go with white, high-gloss RINGHULT  fronts for the kitchen walls.  Black wood effect TINGSRYD fronts on the island and granite countertops finish off the modern look.
Their fridge, stove, and oven all come from the NUTID collection. The French doors on the fridge complement the modern design, and the stainless steel double oven provides plenty of efficiency. Shawna opted for the NUTID 4 element glass ceramic cooktop in black to top off the modern design.
The end result is a beautiful, sleek, and inviting kitchen with plenty of space for the entire family to gather.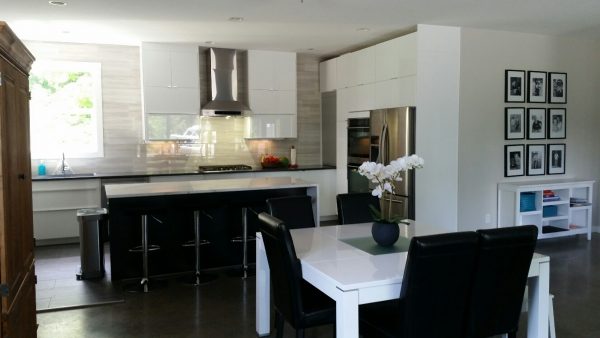 The Last Word
After quite some time researching their options, Shawna decided to hand over her design project to IKD. She was not only happy with her design, but with was also very pleased with her designer's efficient and quick communication, willingness to solve problems, and creativity with their unique space.
Want to see what IKD can do for you? Here's how you can get started today!