White kitchens continue to be on the radar for homeowners, contractors and real estate agents alike. This timeless, classic look for kitchens is appreciated not only because of its clean, elegant look. It makes a room feel larger and tidier.
See more examples of white kitchens we love after the jump: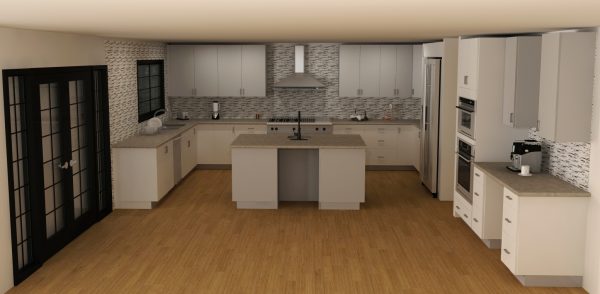 Get a fresh new look with these lovely white kitchen ideas:
1. The Bistro Kitchen: Ideal for socializing, cooking and it blends well with the living/dining area. The added coffee bar keeps this functional and cozy. Perfect for foodies.
Design highlights: over-sized island, neutral colors, coffee/desk area, lots of counter and storage. Approximate cost: $7,680. Door style: ABSTRAKT white and gray.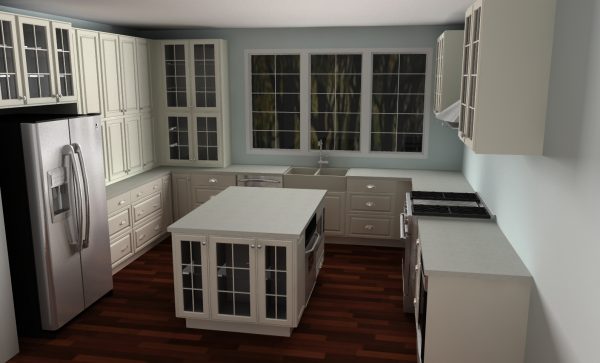 2. The Cottage kitchen
This was part of a project for customers in Australia. The hutch area and the eye-catching island blend well with the lifestyle of its owners: dedicated cooks and entertainers.
Design highlights: Stacked cabinets, glass doors, display and storage areas that keep a clean work triangle. Approximate cost: $7,550. Door style: LIDINGO white.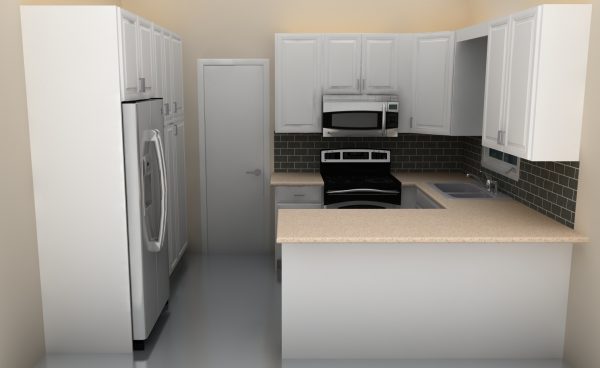 3. The practical family kitchen
Smaller homes need to use up to the last bit of storage space available. In this example, we see a peninsula as a working surface and a dedicated wall for useful pantries.
Design highlights: Uninterrupted counter at peninsula for a preparation area, three tall pantries. Approximate cost: $4,390. Door style: LIDINGO white.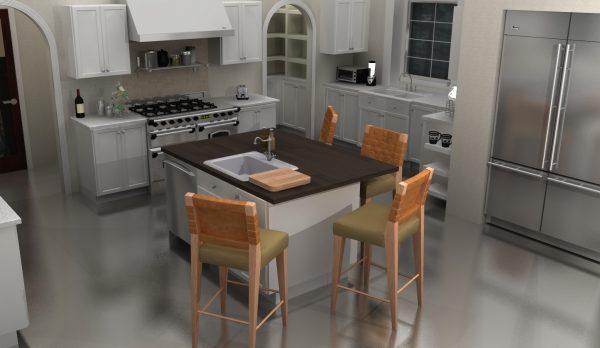 4. The suburban kitchen
A combination of materials, a walk-in pantry and separate work areas make this layout perfect for a family where all members are involved. We love the sober color palette.
Design highlights: Two sinks, open shelving over the range, separate work areas, family island. Approximate cost: $5,000. Door style: RAMSJO white.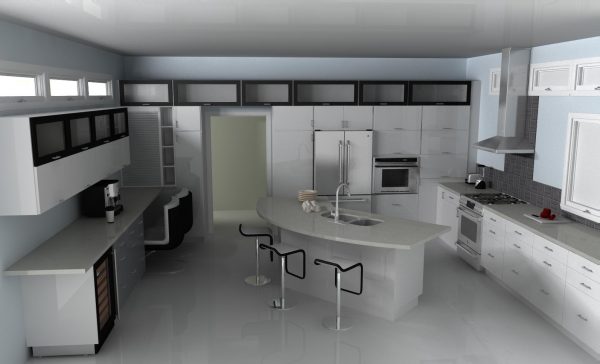 5. The Ultra-Modern kitchen
Full of custom touches, extended working surfaces and an uninterrupted work triangle. This kitchen is an all-in-one powerhouse. Works great for open-plan homes.
Design highlights: Curved island, dark horizontal glass cabinets, custom storage. Approximate cost: $7,890. Door style: RUBRIK w/smoked glass in black, ABSTRAKT white.
The ABSTRAKT doors from IKEA were discontinued by the manufacturer after the date this article was published.
For more IKEA white kitchen ideas, check out more of our blog entries: