Avery and Harper's kitchen was, as my dear old grandmother would have said, "nothing to write home about." Looking at it, you'd never know about the open concept revolution that's been sweeping the kitchen world. Small and closed-off, it got barely any of the home's abundant natural light. For a couple who liked to entertain, this kitchen simply would not do. Can you blame them?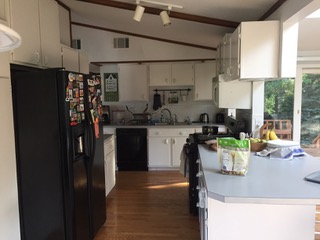 As we mentioned in last week's post, people love to congregate in the kitchen during parties. But even when they weren't hosting a gathering, Avery explained, "We didn't want the space to divide cooking from eating." That's why Avery and Harper knew they needed an open concept IKEA kitchen design.
When our customers tell us what they want, we do our best at IKD to make it happen. They wanted open concept, and that's exactly what they got. Behold!
I won't lie: I've been in "kitchen world" for a long time, but I gasped the first time I saw this photo. Let's take a look under the hood, shall we?
A Closer Look at This Open Concept IKEA Kitchen
Avery and Harper knew that they wanted an IKEA kitchen even before they spoke with IKD. As Avery said, "We liked the fact that IKEA is customizable. We could make things how we wanted them, and change things down the road if we needed to."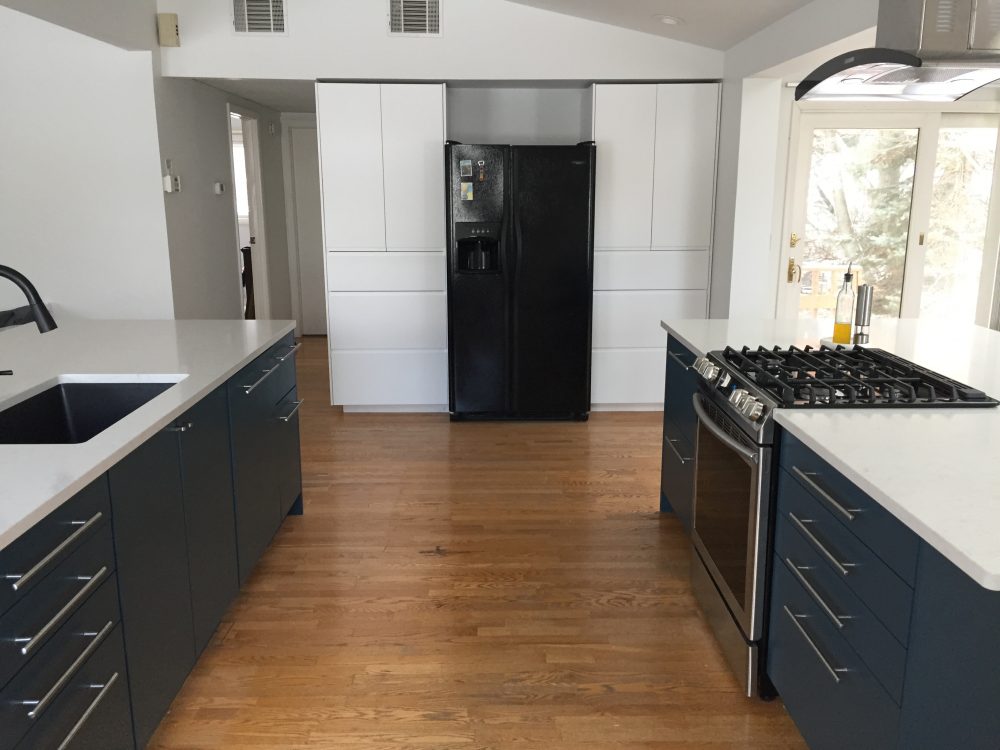 The couple kept their old refrigerator, but that's about it! Check out the gorgeous new Samsung oven (which just so happens to have a drawer-in-drawer in a cabinet to the left). To the right of the sink, a custom cabinet panel hides a Miele dishwasher. (American readers, remember: if you want to hide your appliances, you'll have to go custom, too)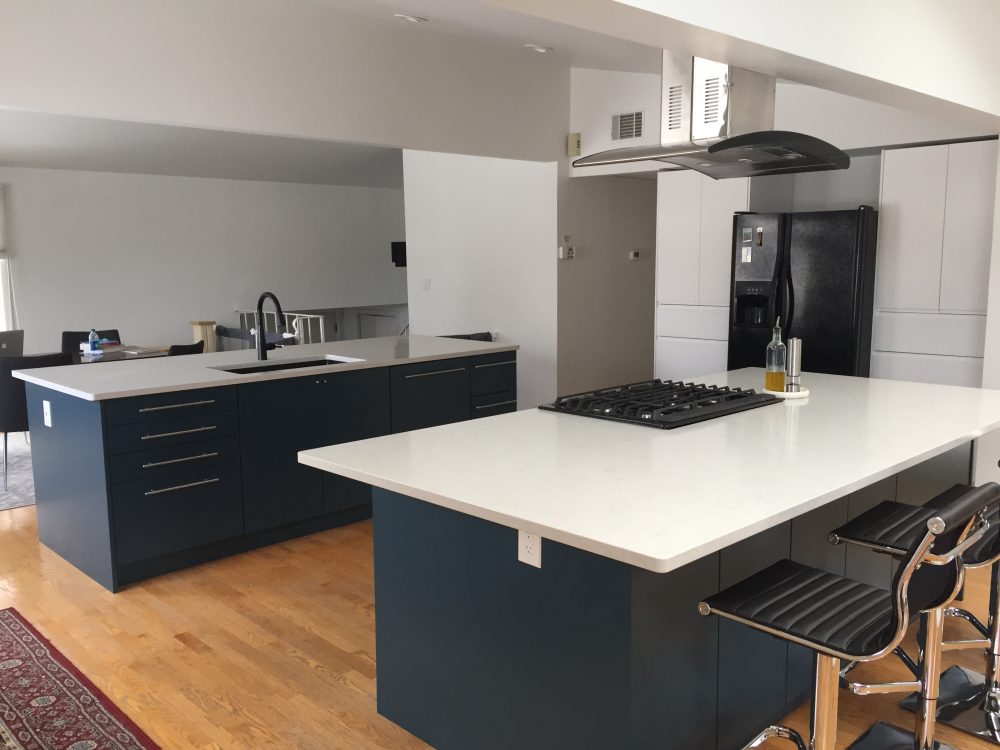 For this sleek look, they used LANSA handles and ORRNÄS knobs for the outer cabinet doors. The cabinet doors themselves are Semihandmade, but I'll get to those in more detail in a moment.
3 Challenges for This Open Concept IKEA Kitchen
When it came to design, Avery and Harper had a pretty good idea of what they wanted out of their kitchen, right down to the details. (Our designers at IKD love that!) Of course, that doesn't mean this project didn't have its share of challenges.
Structural overhaul. Transforming the small, closed off kitchen into an open concept vista took a lot of work. As Avery explained, "Our remodel was structural in nature, so it was quite involved. Between contractors and electricians, we learned a lot. Where the wires in your walls are, how they connect, the amount of time and labor that goes into a project like ours."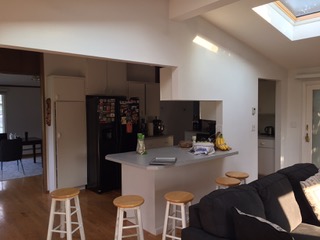 Those beautiful blue cabinets. Avery and Harper, like many IKD customers, chose to use Semihandmade cabinet doors. To get that gorgeous blue color, they selected blank doors which they then had custom painted by a local painter. "Getting the exact color we wanted was a bit tricky because of changes from brand to brand. Also, we had a tough time getting the doors and drawer fronts back to the house undamaged!"
A long, long haul. From demolition to countertop installation, Avery and Harper's kitchen renovation took a full five months. During that time, they faced the challenge of keeping two cats and a baby out of the dusty construction spaces! "Essentially, we had to live in the basement, and just cordon things off."
Looking at the end result, I'm pretty sure it was worth the wait.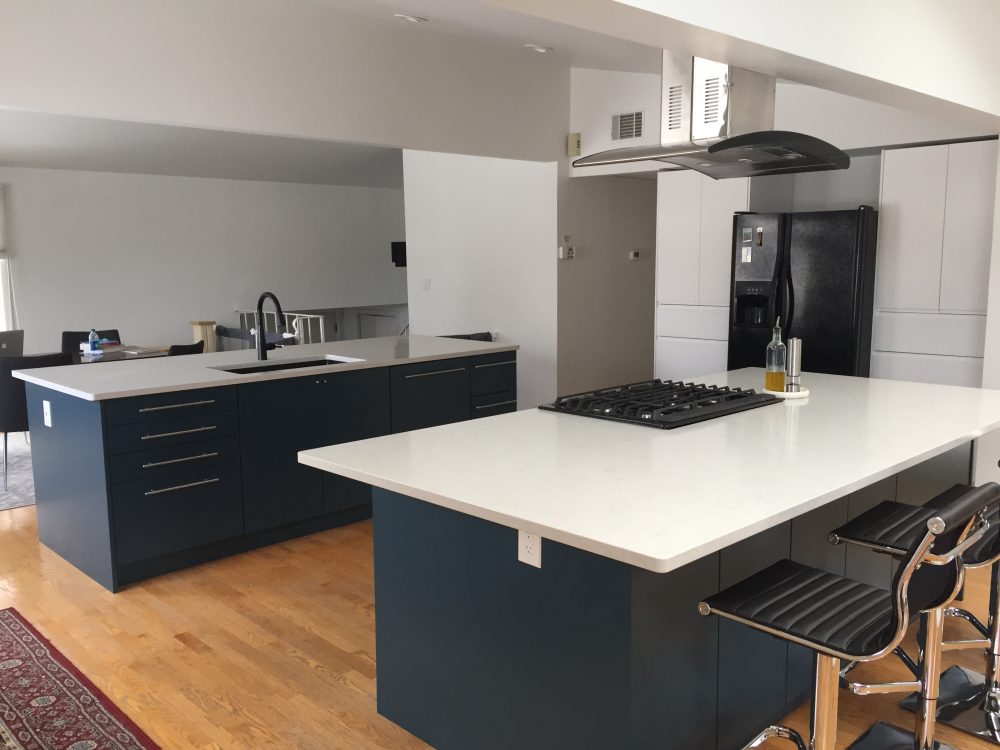 Final Thoughts From This IKD Customer
For those of you looking to begin your own kitchen renovation, Avery has one piece of advice. "Think about Instant Pot recipes! You might be without your cooking space for longer than you'd like."
Whether your new kitchen takes six weeks or six months, we always recommend having your design in hand when you go to IKEA. We make sure your list includes everything you need — and a whole bunch of small details that get left out of the Home Planner.
Avery's final verdict? "We like the fact that we have a lot of space to work with and work on. Plus, we can see each other no matter where we are."