Sometimes, you need to go with the flow.
Such was the case for IKD customer Paige from Richmond, CA, who along with her husband remodeled their previously outdated 1990s-styled kitchen into a stylish IKEA kitchen with ample storage. "We knew we wanted to convert our cramped U-shaped kitchen into an open concept with better flow," she says. "The original kitchen had zero flow. For example, if you were cooking and someone needed to get into the refrigerator, you had to move out of the way!" Specifically, they wanted a Mid Century-inspired design theme , featuring more work area with open spacing and better overall storage – all within a budget of $30,000.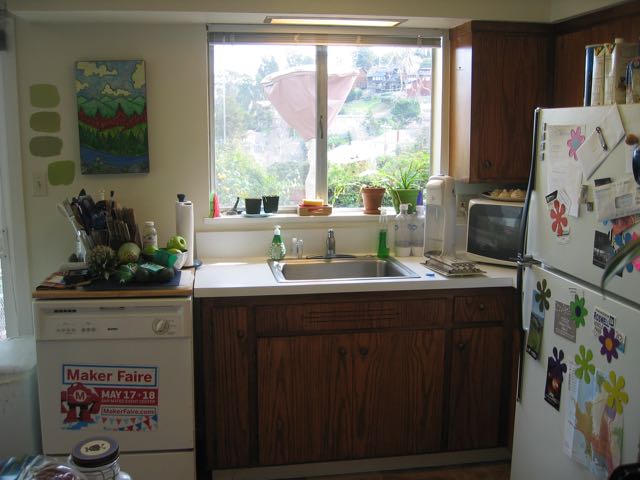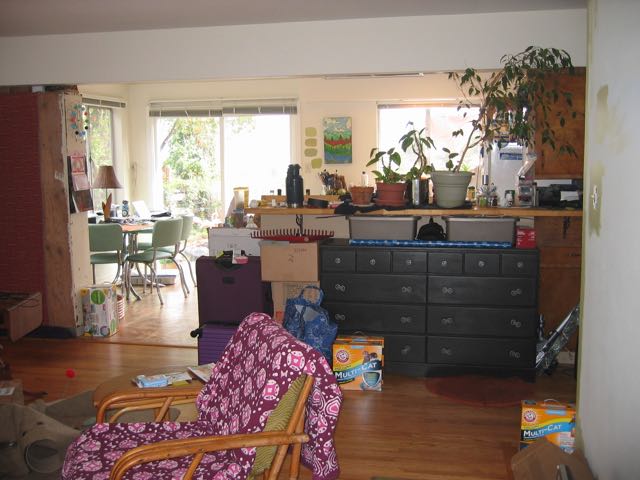 Opting to do the remodel themselves, the couple paired IKEA SEKTION cabinetry hardware with Mahogany Slab Cabinet Door/Drawer Fronts and Side Panels from Semihandmade and accented by IKEA BLANKETT aluminum handles. "The appeal for us with IKEA cabinetry was the modularity and cost. There's so many combination options and we could install them ourselves," she describes. They also chose IKEA's FÖRBÄTTRA (now IRSTA) and STRÖMLINJE cabinet lighting system to highlight the IKEA NUTID slide-in range with gas cooktop and custom laminate countertops from Wilsonart, which feature a unique green color called Sprout. "We also did a white ceramic teardrop tile backsplash with silver sparkle grout," she says.
Other appliances included are: A NUTID microwave (installed below the counter of the free-standing island); an IKEA RENLIG built-in dishwasher; an EVENTUELL built-in extractor hood; an IKEA LÅNGUDDEN sink and an IKEA ÄLMAREN kitchen faucet with pullout spout. These products were complemented by a stainless steel refrigerator from Fisher & Paykel as well. Rounding out the look are 50s reproduction ceiling lights from Lounge Lizard in Portland, OR, and an Astron 8" two-tone aluminum pendant over sink light from Rejuvenation. "We had never done a remodel ourselves. We wanted to do as much of the work ourselves to save money but were worried that any mistakes could end up costing us more in repairs." To cover their bases, the couple recruited IKD's design team to guide them through the process, especially for the complete parts listing so they wouldn't overlook any items.
Let's see how this kitchen came together!
A New Concept
Inspired by a kitchen style found on HOUZZ, Paige and her husband knew what they wanted for their new space."We weren't going to move any windows or doors so we needed to fit the design into our existing space," she says. However, the architecture of the 1957 ranch home created a unique design challenge, as there was a pony wall below a support beam that divided the kitchen from the living room. "To make things flow and fit better we needed to remove the pony wall and bring the kitchen out underneath the beam," Paige explains. "The challenge was how to make that happen and have the design still look good." She continues: "We also wanted more storage space and needed to remove the existing soffits so our new cabinets reached the ceiling. As with any older home, plum walls and level floors just didn't exist. So getting the cabinets level and snug to the walls was absolutely the most challenging part of the whole process!"
The couple relied on IKD to design a workable solution."I think what IKD came up with really worked out," she says. To achieve the more open feel with more storage, the couple relied on IKD again."We weren't 100% sure we wanted the refrigerator to stick out into the perceived living room area but it ended up really looking nice," she says.
"Semihandmade were incredible to work with as well and the mahogany wood we chose is gorgeous. Choosing the color of the cabinet fronts from Semihandmade took some time because we wanted the wood colors to compliment each other." The cabinetry look is rounded out by paint colors called Wheat Grass, featured on the shared wall from living room, as well as a color called Spinach White. "We also replaced our really awful linoleum floors with oak hardwood floors that matched the rest of the house," she says.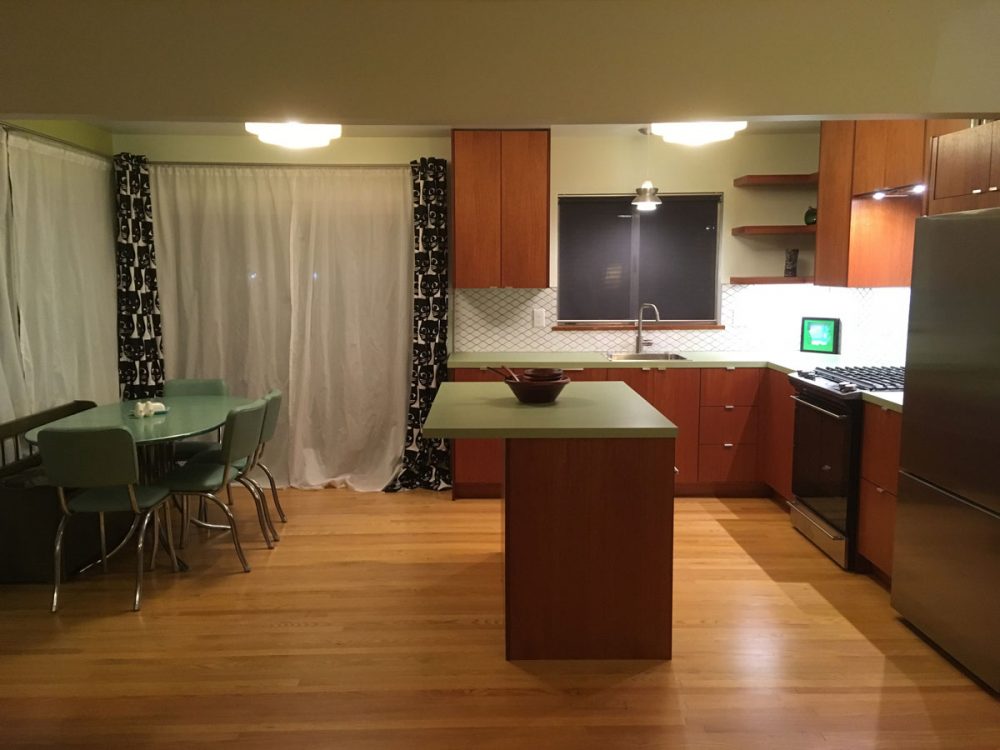 Working the Plan
Paige knew they needed professional guidance for their IKEA kitchen. "Since I'm not a designer and was afraid of making a mistake I reached out to IKD as soon as we decided to re-do the kitchen. During our remodeling research, IKD kept popping up. I really liked what IKD was offering, that it provided detailed information about the process and what to expect. And their portfolio really got me fired up! The fact that we would have a complete parts list created by IKD when we were ready to order our kitchen sealed the deal," she says. And while the entire project took her 20 months, Paige believes working with IKD saved her time – and stress. "My advice is if you can budget professional help for all or part of the project, do it. It can keep you sane and on schedule," she says. "We didn't hire a cabinet installer for our remodel, and in hindsight, maybe we should have. It was quite the challenge!"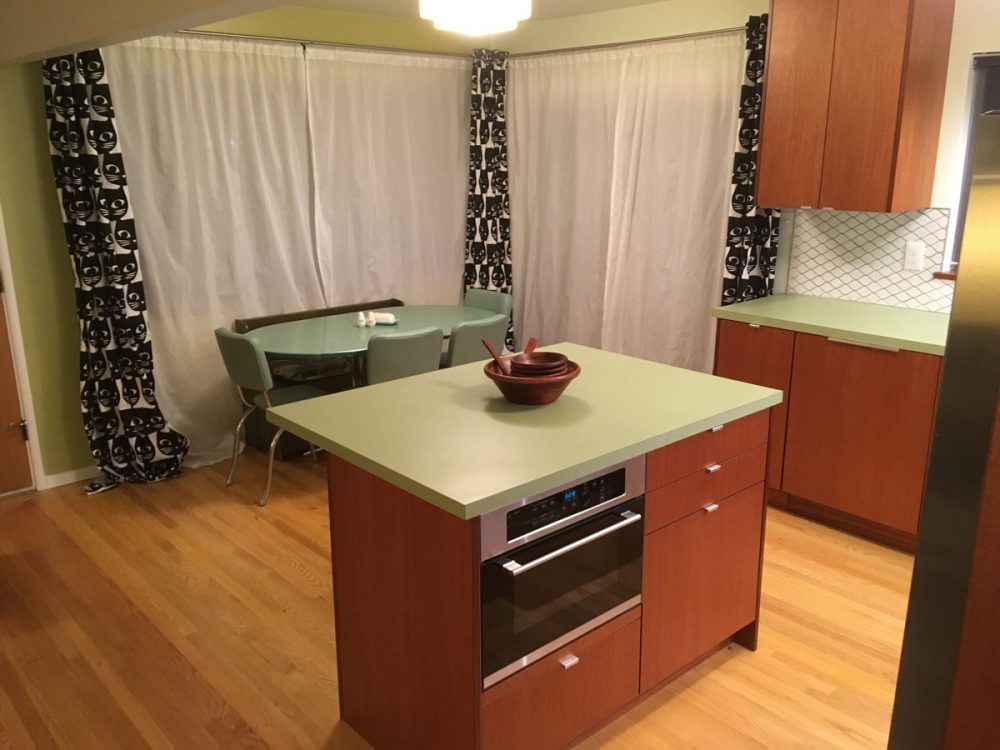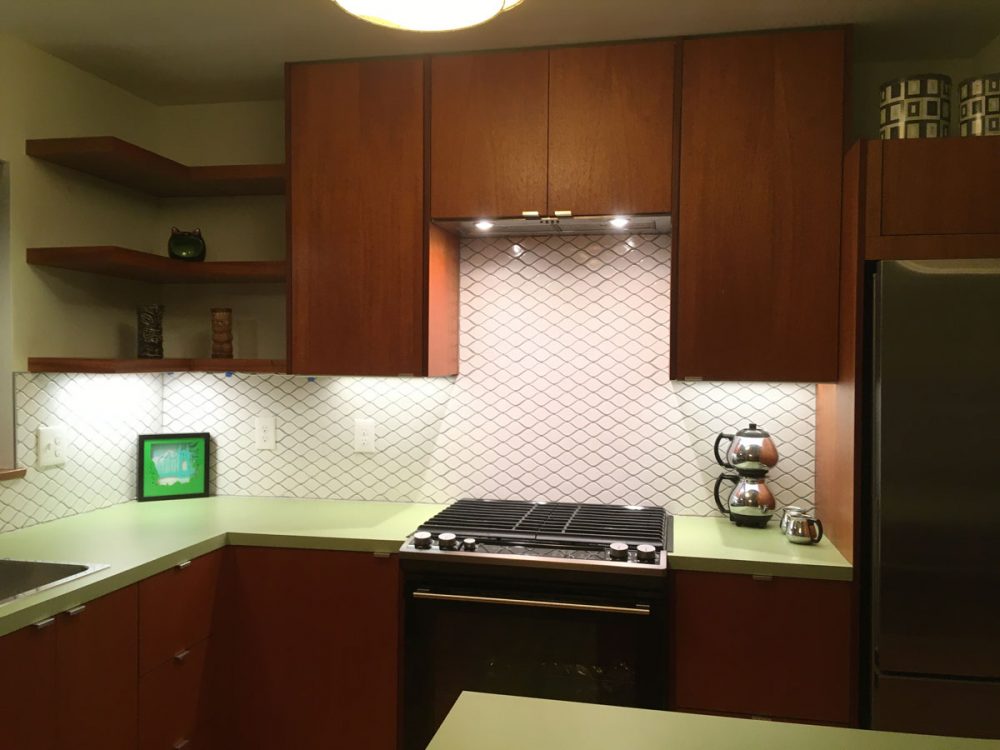 She concludes: "It's no fun to live in a construction zone, so make sure you have a good alternate kitchen set-up ready to go. I also recommend that DIYers measure everything multiple times before they make one cut. Then clear your schedule and get it done!"
Learn more about how we can design your IKEA kitchen, bath and closet at https://inspiredkitchendesign.com.