We love working on IKEA kitchen designs for customers from all around the world. This week we talked to Rocio from Lafayette, CA, who took time to share some of her experiences working with us on her kitchen remodel. Thanks Rocio! 
So why did you select IKEA's cabinets?
Modern look, low cost, great value.
Why did you select IKD's design service?
We did not trust our own skills with the Ikea design tool (also, it is a terribly clunky tool) and we did want the input from someone with experience in designing kitchens. The efficiency of the process and the very reasonable cost made IKD an easy decision to try.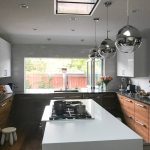 Did you hire a cabinet installer? If so, how was the experience?
No, we took great pride in being able to say that Rocío built 90% of the kitchen herself. Ernst did a little bit too. We enjoy putting together Ikea furniture and felt a great sense of accomplishment and ownership from doing this ourselves and get our organic wood look IKEA kitchen.
What were the obstacles to designing and installing your kitchen?
Because we were doing a large remodel that included moving walls, we had a lot of flexibility in the design up to the very end. This actually made things more difficult as we worked with the dimensions as they would probably be… needing to leave enough flexibility in the plans to accommodate for inevitable mismatches of an inch here or there. Also, we worked with Semihandmade's Classic Flatsawn Walnut for the fronts, and so every change in our plans had to be worked through the IKD design, the Ikea shopping list, and the Semihandmade order. But: it all worked remarkably well.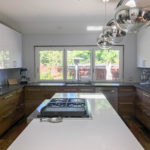 What were your principal concerns about your kitchen and its design?
That things would not end up fitting the right way at the end.
Were you influenced by HOUZZ or any design websites?
I used ideas from Houzz, kitchens that I saw in magazines or from friends' houses.
What were your top 3 design wishes?
I wanted to have a very organic wood look IKEA kitchen combined with a very modern white cabinet style to give the effect that was looking for of a young urban style.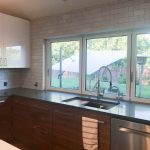 What was your budget for your kitchen project?
We're tallying it up as we speak!
What countertop material did you use? Where did you buy it?
Ceasarstone (quartz w/ polymer), bought through IKEA. In addition, there was some drama there because of miscommunication with the countertop installers and a batch of bad material, but IKEA helped us and advocated for us throughout the process.
Any words of advice to future IKEA kitchen remodelers?
First, buy a couple of extra handles, because they do rotate them out of the collection. Second, make sure you heed the standard spacings as much as possible to cut down on custom work. We customized a space above the ovens, and also had to cut a few handles down to size to allow drawers to open in corners, etc. We made it work, but they were a headache, finally we´re able to get our organic wood look IKEA kitchen.
Thank you again Rocio & Ernst for sharing this great experience!
Remember…
If you're looking for a custom IKEA kitchen design, talk to us.