What have your kitchen cabinets and drawers done for you lately?
Sure, they're storing things, but if you've ever suspected they could do more – you're correct.
IKEA has many accessories that make drawers & cabinets better, but here are five of our favorites. And most of them are pretty inexpensive.
IKEA Cabinet Improvement #1: Get Your Spice Jars in a Row
The RATIONELL line has great inserts for your cabinets to stay organized. For example, the RATIONELL wall corner cabinet carousel keeps items, like spice jars, neat and accessible.
But if you've chosen drawers, the carousel isn't really a great solution!
That's where VARIERA comes in. We like the insert for spice jars. It's inexpensive and attractive, and when it's time to clean, you just pull it out and wipe it down.
Also, you can see all of your spices at once rather than having to hunt and peck for the one you need. This is what the VARIERA spice rack looks like in action: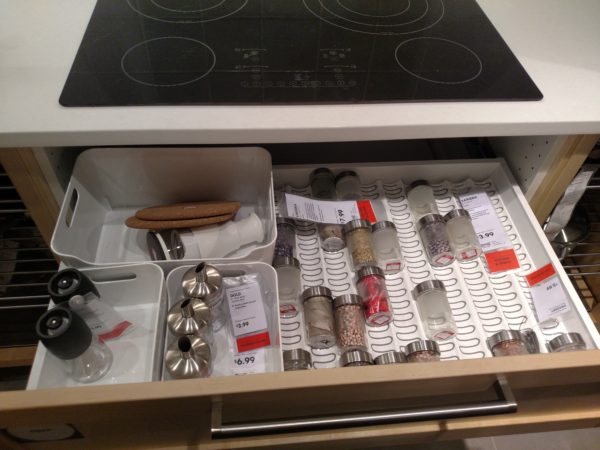 IKEA Cabinet Improvement #2: Cabinets that Open Easily
The IKEA UTRUSTA line makes it easier to get in and out of your cabinets. If you're one of our serious chefs, door handles can seriously hamper you.
Minimally, UTRUSTA push openers allow you to do just that, open doors by pushing on them. Handles require hands, but with push openers, you can use your foot, arm, shoulder, or even your head to get a cabinet open. Never ruin one of your t-shirts again.
A more expensive option is the electrical UTRUSTA push opener. IKEA suggests using it for your waste sorting cabinet, but you could use it for any cabinet you want to open and close silently and effortlessly (as it says on the IKEA website). Please note: these can't be combined with door or drawer dampers.
IKEA Cabinet Improvement #3: Add More Storage
This is another item from the VARIERA line. Yes, you really can get more storage out of an existing cabinet. The VARIERA hanging storage is something you install on the inside of the cabinet door.
You can adjust the height of the shelves to work with your particular cabinet configuration. Three different-sized containers allow for storage. The best part may be the part at the bottom, where you can insert one kitchen roll holder. That's if you don't feel like using idea #4 from this post about kitchen organization.
IKEA Cabinet Improvement #4: Separate the Cookie Sheets and Pizza Stones
In our five free IKEA kitchen hacks blog post, we shared a fancy way to store cookie sheets and pizza stones. But this solution is one you can put into a drawer or cabinet without having to break out a saw.
The RATIONELL traydivider is inexpensive and relatively easy to install. Add them to an existing drawer or cabinet and you'll be able to see what you need, and grab it, much more easily.
IKEA Cabinet Improvement #5: Make Under-the-Sink Easy
Every kitchen plumbing installation is different, so we don't design for the under-the-sink area when we create our IKEA kitchen designs.
But we have kitchens ourselves and know how quickly that area can get messy!
Enter the VARIERA pull out container. I think the photo says it all. Keep sponges, scrubbers, gloves, Swiffer cloths, in the container and just pull it out when you need it. Better than digging around under the sink to find them, and even better than leaving those items on the side of the sink.
IKEA Cabinet Improvement #6: Hide Those Little Drill Holes
Open shelves and glass-door cabinets can look so attractive, but the little holes for mounting the shelves do not look so attractive.
Just push the VARIERA cover plates into those holes and make your kitchen look a little more finished. And at $0.99 for a hundred of them, how can you go wrong?
Which IKEA Cabinet Accessories Do You Like?
Which little IKEA accessories could you just not live without?
"Dex on top of the cabinets" by Chris Kelly is licensed under CC 2.0.
IKD designers know how to get the most out of every inch of kitchen space. Get started!