I often hear the IKD IKEA kitchen designers referred to as magicians, and for good reason. Take IKD customer Robin's tiny kitchen in Miami as an example of small IKEA kitchen magic. This 1970s kitchen was in need of a facelift, new appliances, and better functionality.
You might think it would take a whole lot of smoke and mirrors to make this small kitchen look more modern and less cramped. This shot pretty much shows you the whole kitchen right here.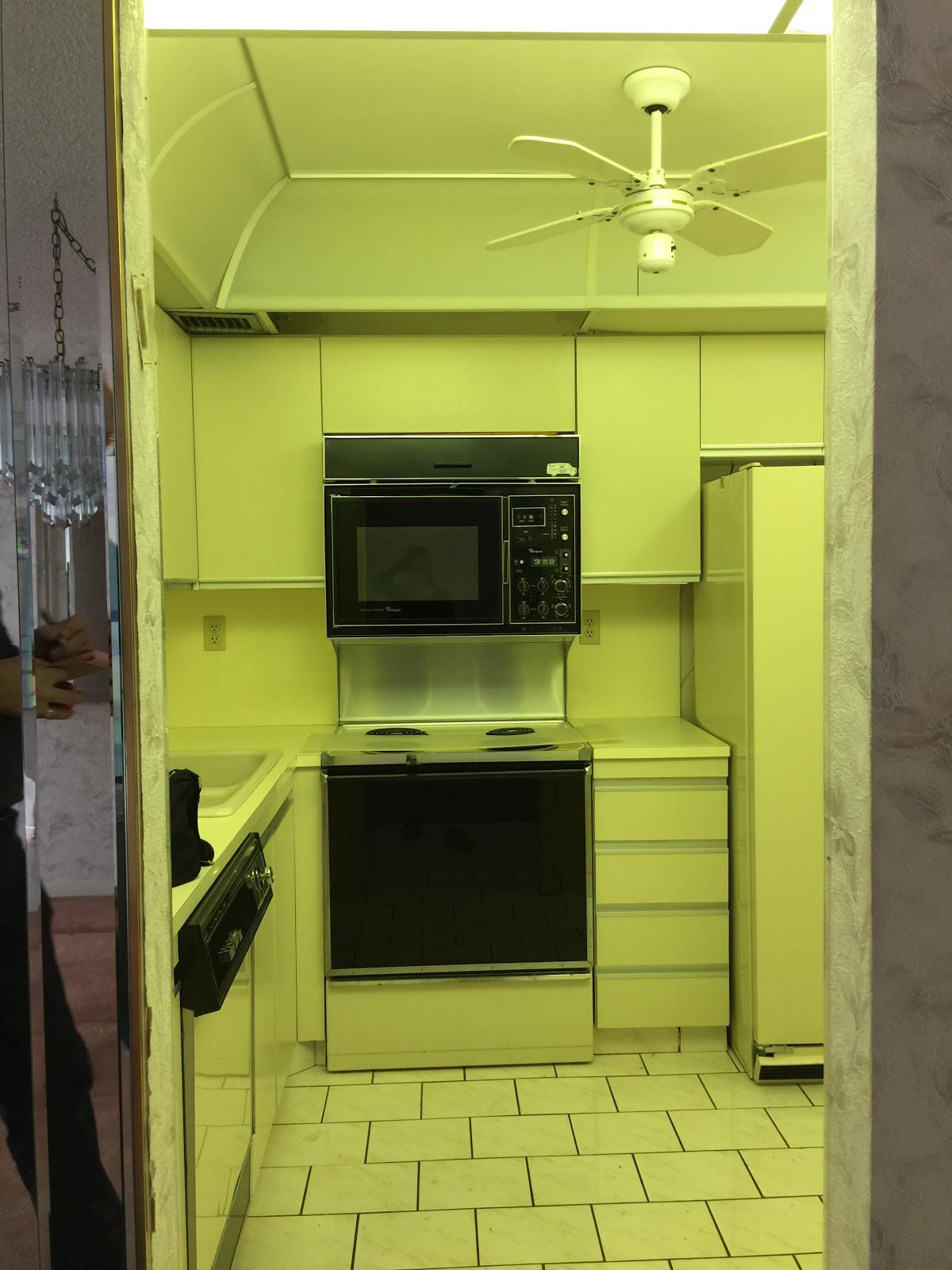 We can't resist showing you a close-up of the old kitchen appliances.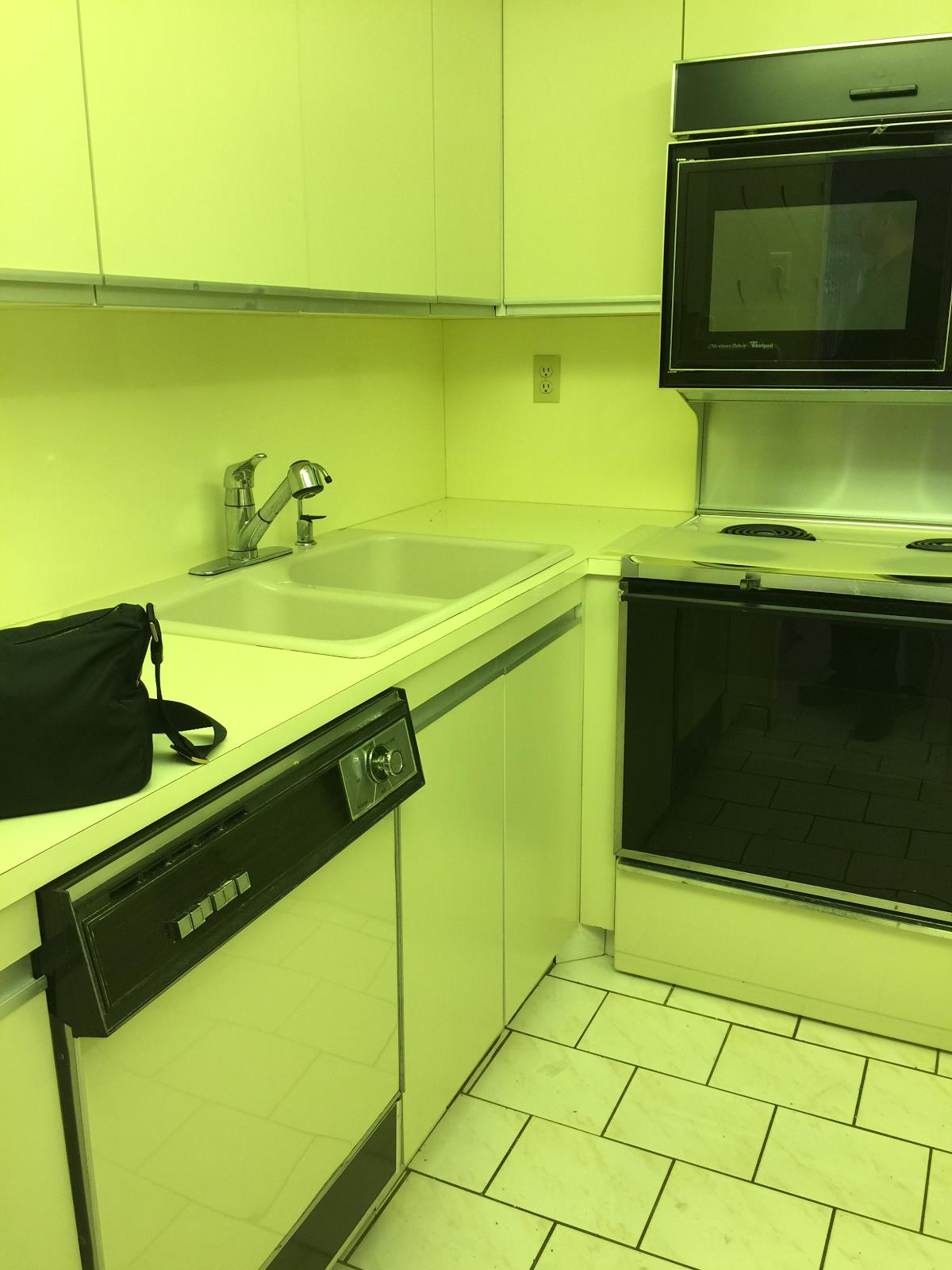 Nor can we resist showing you the old wallpaper! Looking at this kitchen reminds me why my memories of the 1970s are all in a sallow yellow tinted light.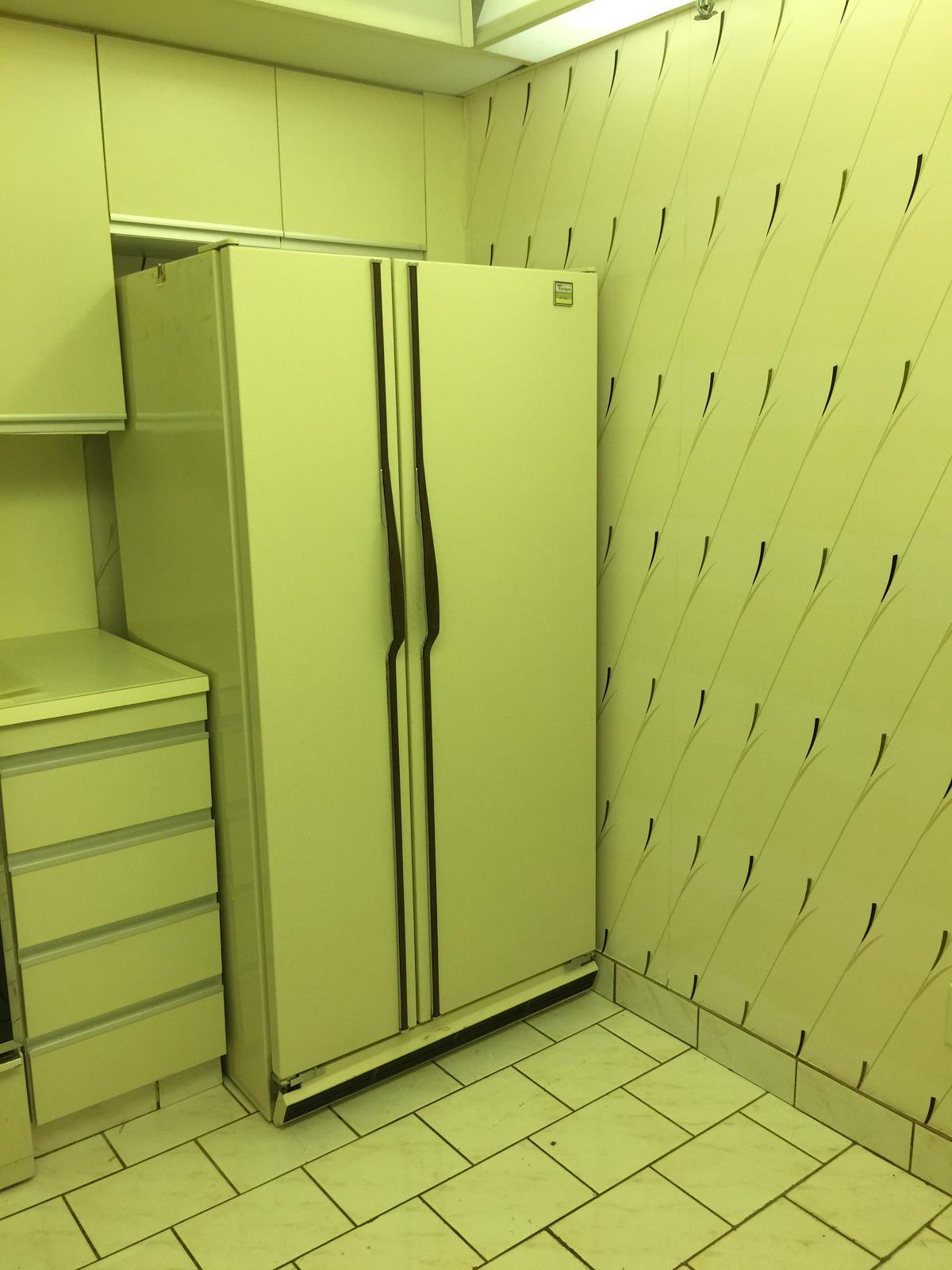 Modernizing this small kitchen did require mirrors (but no smoke) and IKEA kitchen cabinets with high-gloss white RINGHULT doors.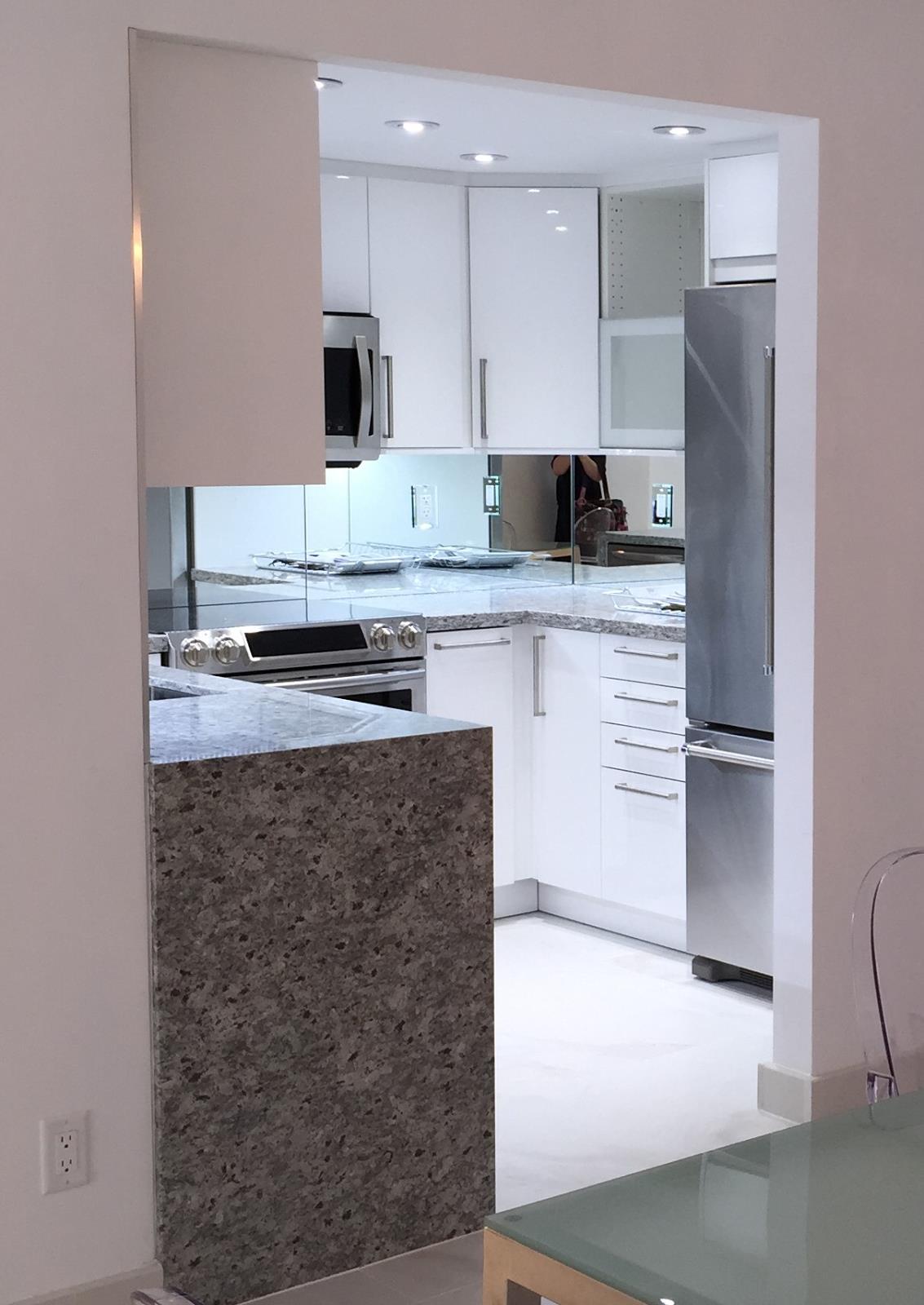 So where did the IKD small IKEA kitchen magic come in? Let's hear what Robin had to say about her new kitchen.
3 reasons why IKEA is a great choice for small kitchens
This kitchen renovation was Robin's fourth, but her first IKEA kitchen renovation. Previously she had used a custom cabinet maker or a big box retailer for the kitchen cabinets. This time she chose IKEA for 3 great reasons we think you can learn a lot from.
IKEA's warranty means more because they have an abundance of materials – even from their old kitchen line. Whereas when custom kitchen cabinet makers go out of business "or get blown away by a Miami hurricane!", you're left high and dry if something breaks.
IKEA's endless cabinet options and hack-ability means you can get really creative with your kitchen design. The kitchen cabinet lines you find at a big box retailer don't offer the flexibility that IKEA does.
When you want to be creative but you're not sure how, you can hire IKD to help you for a reasonable fee. If you want style and flair in your design, you just won't find it with other cabinet manufacturers (like in #1) or retailers (as in example #2) unless you pay big bucks to hire an outside designer.
Robin walked into her IKEA kitchen renovation with her eyes wide open, however. She knew from previous renovations that she could end up wasting a lot of time if she tried to figure out the technical aspects of placing fillers and support panels in the right places.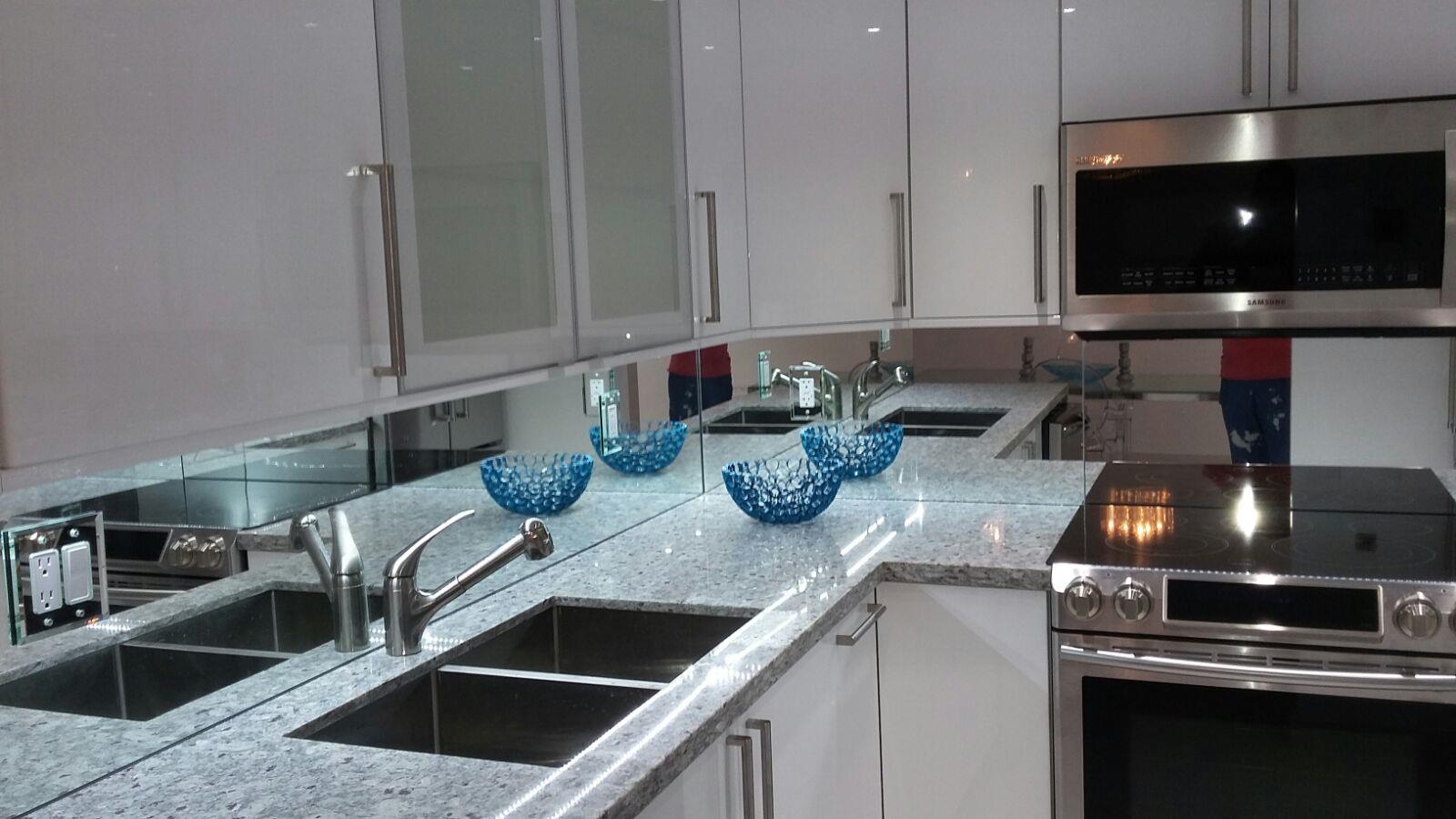 Instead, she hired the IKEA kitchen designers AKA magicians to make the most out of the space.
"It's easy to design in a large space, but the constraints of a small space are a real challenge for the lay person. As experienced as I am at this, and as much as I enjoy doing it, I still wanted help from a professional who would know how to lay out and plan a small space. You don't want to miss the nuance of a door opening into a dishwasher because you didn't think you would need to plan the extra 1.5" because 'it's not a big deal.' It is a big deal! Every inch counts in a small kitchen."
This small IKEA kitchen balances lots of storage with clean lines
Some of these pictures were taken mid- and post-construction. While you can't see the whole kitchen in this shot, you can see the final look and feel.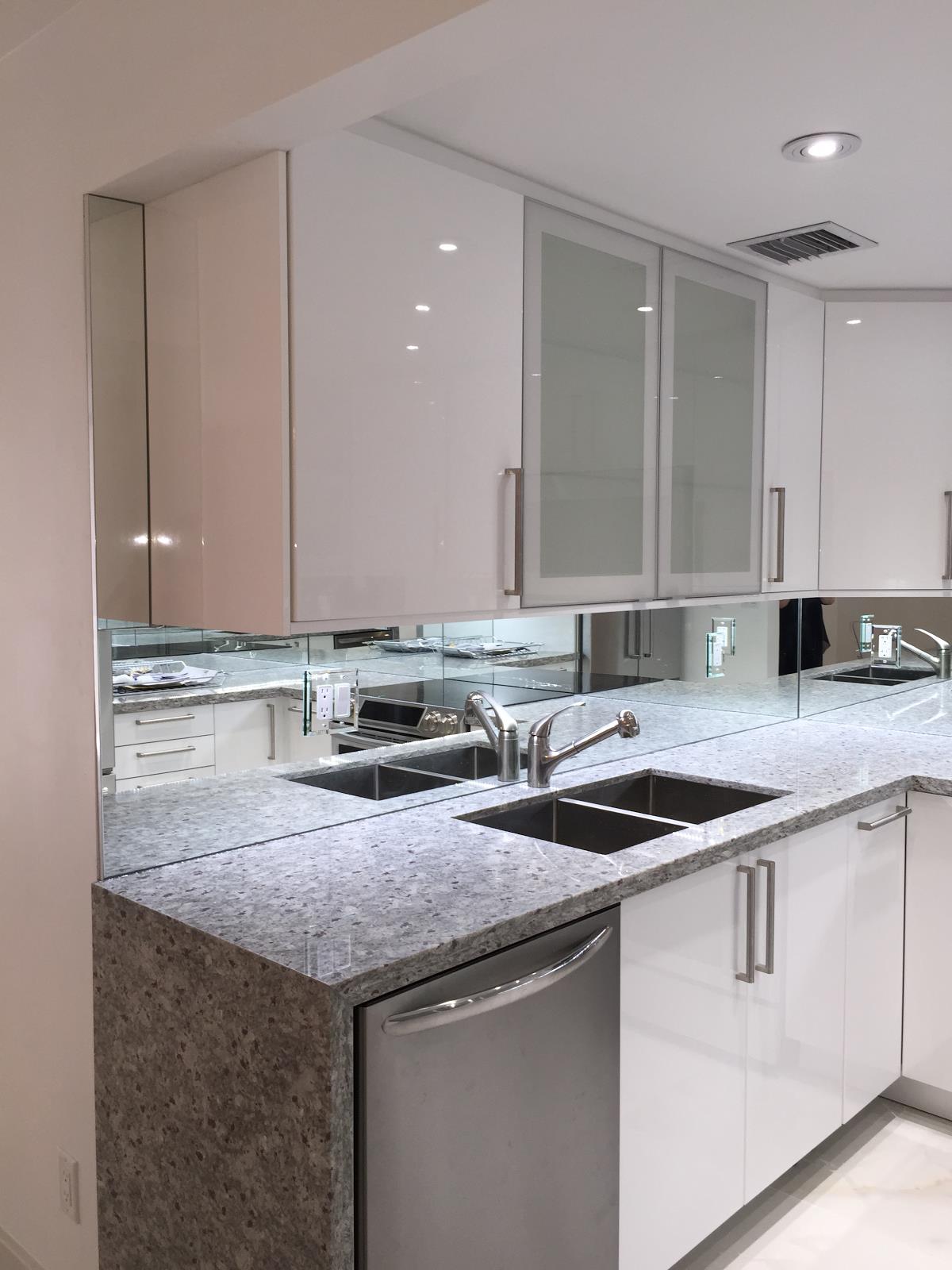 The high-gloss white of the RINGHULT doors reflect the light while the mirrored backsplash doubles the sense of space. Robin's IKD Designer suggested the frosted JUTIS doors above the sink to break up the monotony of the all-white door fronts. If you want the same look be sure to add ORRNÄS handles to your shopping list.
You can also see how Robin made the architectural decision to drop the ceiling in and add recessed lighting. The granite countertop was sourced locally and includes a waterfall edge to enclose the kitchen.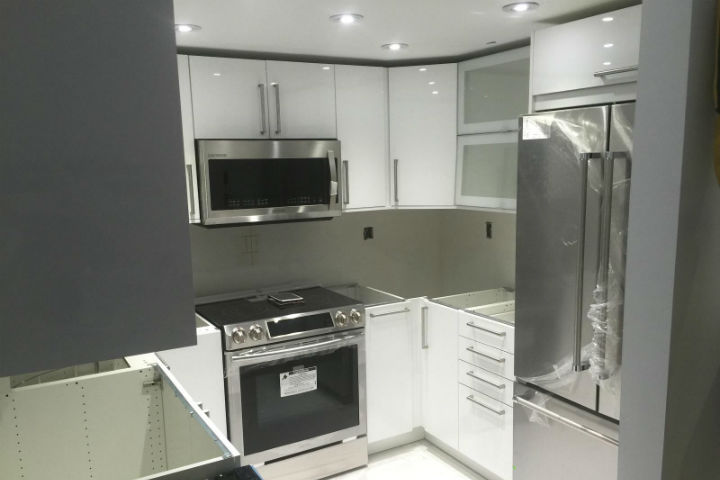 Here's a nice shot of the whole (incomplete) kitchen. The sink, stove top, and refrigerator all form a perfect work triangle to make it easy for the cook to work in the kitchen.
You can see one of Robin's favorite features here, too: the horizontal cabinets with JUTIS frosted glass doors. One of the perils of small kitchens is how doors can end up slamming into each other. These doors lift up, however, so she gets all of the storage with none of the slamming.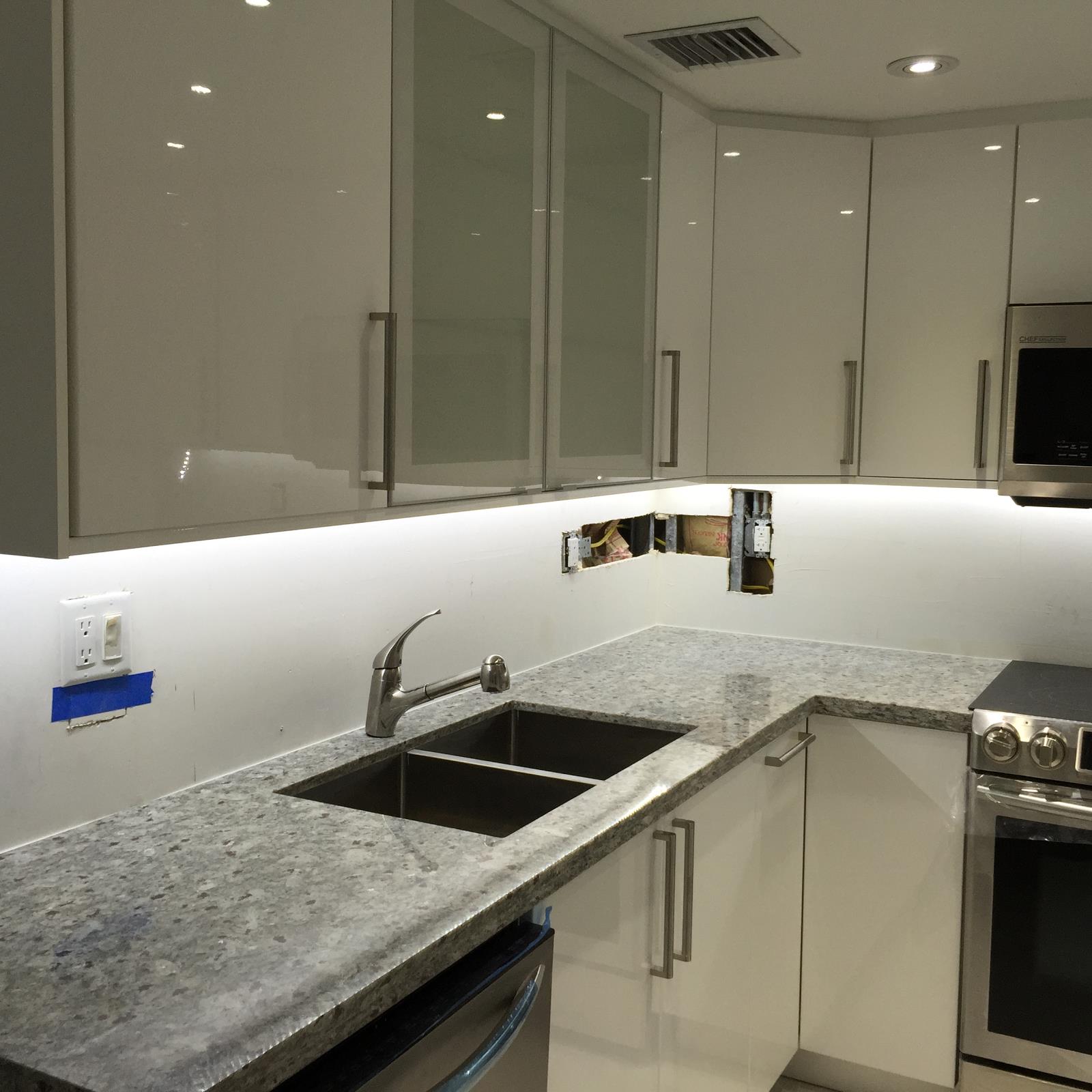 IKD was also able to figure out how to include a UTRUSTA corner carousel inside the base corner cabinet, and Robin really likes that too. When she had tried to use the IKEA Home Planner she hadn't been able to fit it in. IKD magic!
The base cabinet to the right of the oven has pull out shelves. In fact, every cabinet cabinet has shelves and/or drawers inside so the cook can store all of his utensils and spices.
The IKEA Kitchen Sale Ends November 20, 2016
Robin, thanks for sharing your beautiful kitchen renovation with us. You have one very lucky renter on your hands!
The IKEA kitchen sale is happening now! And it ends Sunday, November 20th. If you want to get 15% back on your kitchen purchase, you'll need to start designing your kitchen with IKD immediately. Even the most efficient kitchen design takes 3 weeks. Purchase our premium design package today.