Ann and Derek bought their house 20 years ago when it was "a real wreck." They vowed to work on one room per year, but knew when they redid their kitchen, they wanted it to be perfect. Enter IKEA's METOD kitchen line (IKEA Europe's SEKTION counterpart) and IKD.
When you understand the many obstacles to perfection, it makes sense that the renovation was such a long time coming.
Like many older homes, the original kitchen had been combined with an extension to make a larger room.
This led to a long, narrow kitchen made even more awkward by the 3 different doorways into the room.
There was also a boiler, a standard feature of most European kitchens that can be tricky to work around.
Ann and Derek fully gutted their kitchen and gave IKD near-full creative rein to figure out this challenging small kitchen space.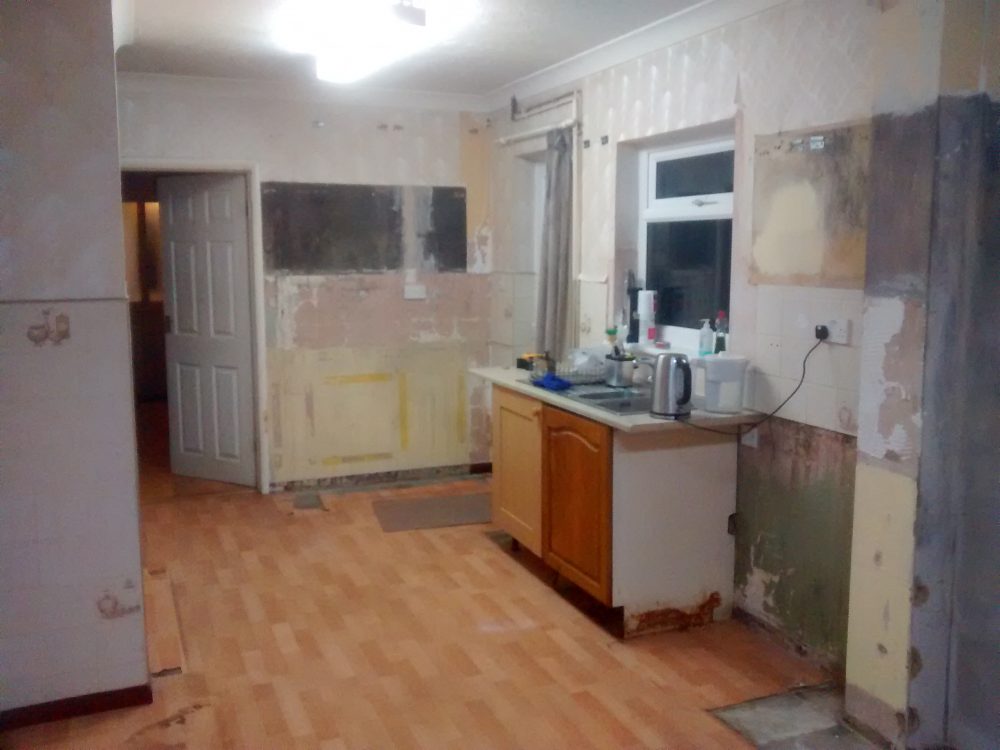 One full kitchen demolition and small METOD kitchen renovation later, from almost the very same angle as the demo shot: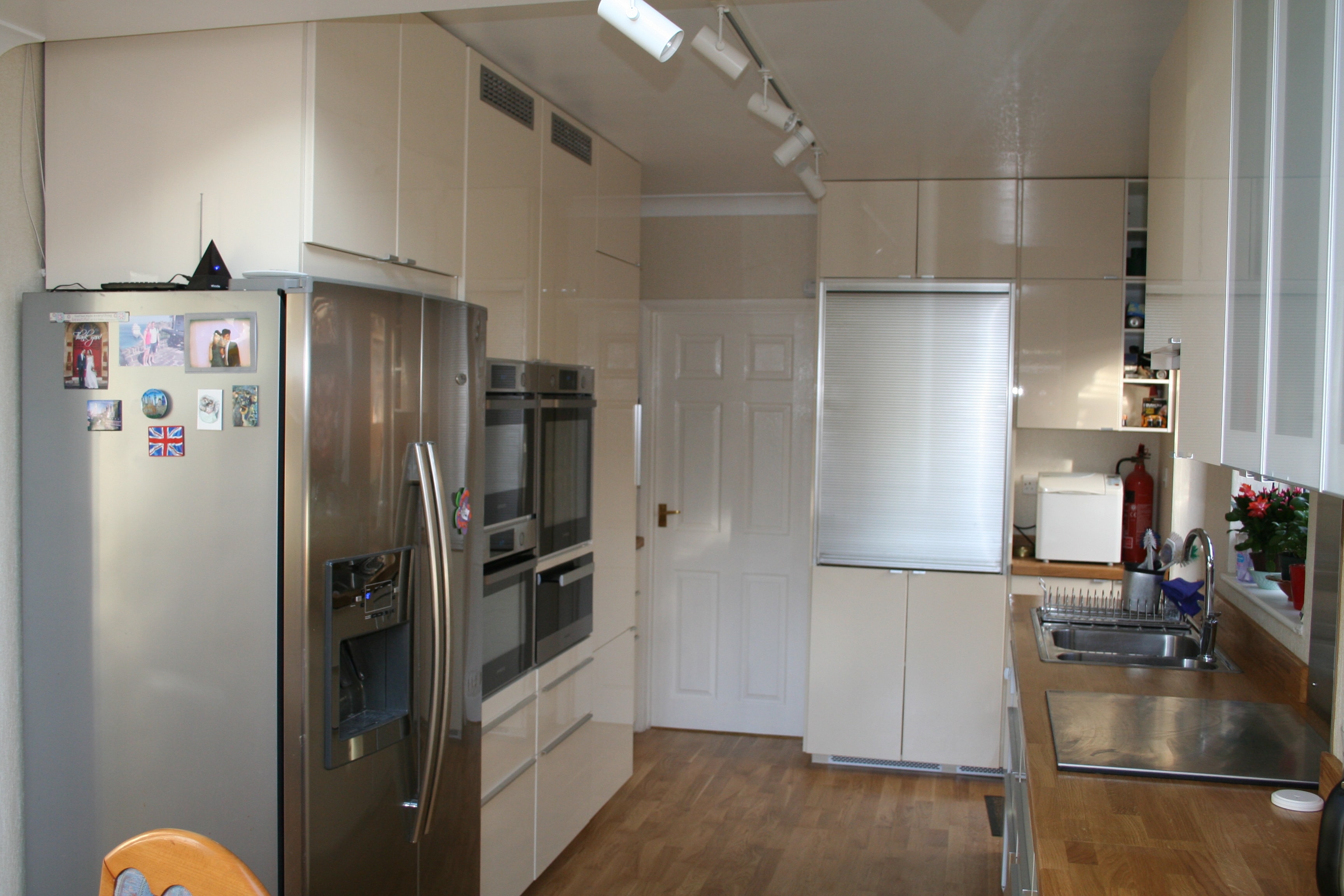 From the opposite angle you can see the view and the new skylight they cut in for the renovation. The skylight really did brighten up the room, although it's hard to tell because of the backlighting in this photo.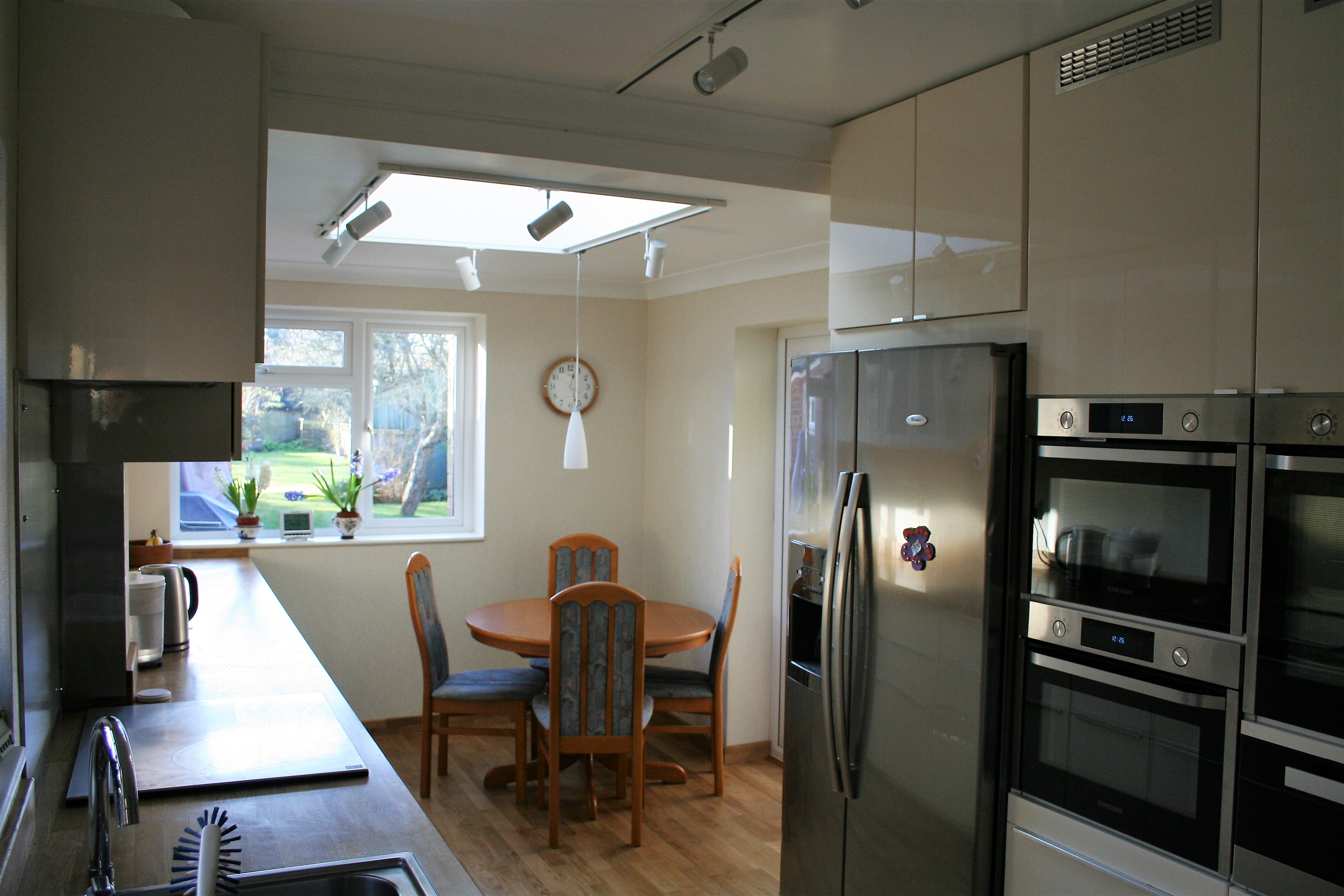 Are there really 4 ovens in this small METOD kitchen?
Close. There is one regular oven that can be divided in two, with a warming drawer underneath, and a combination microwave with a regular microwave underneath.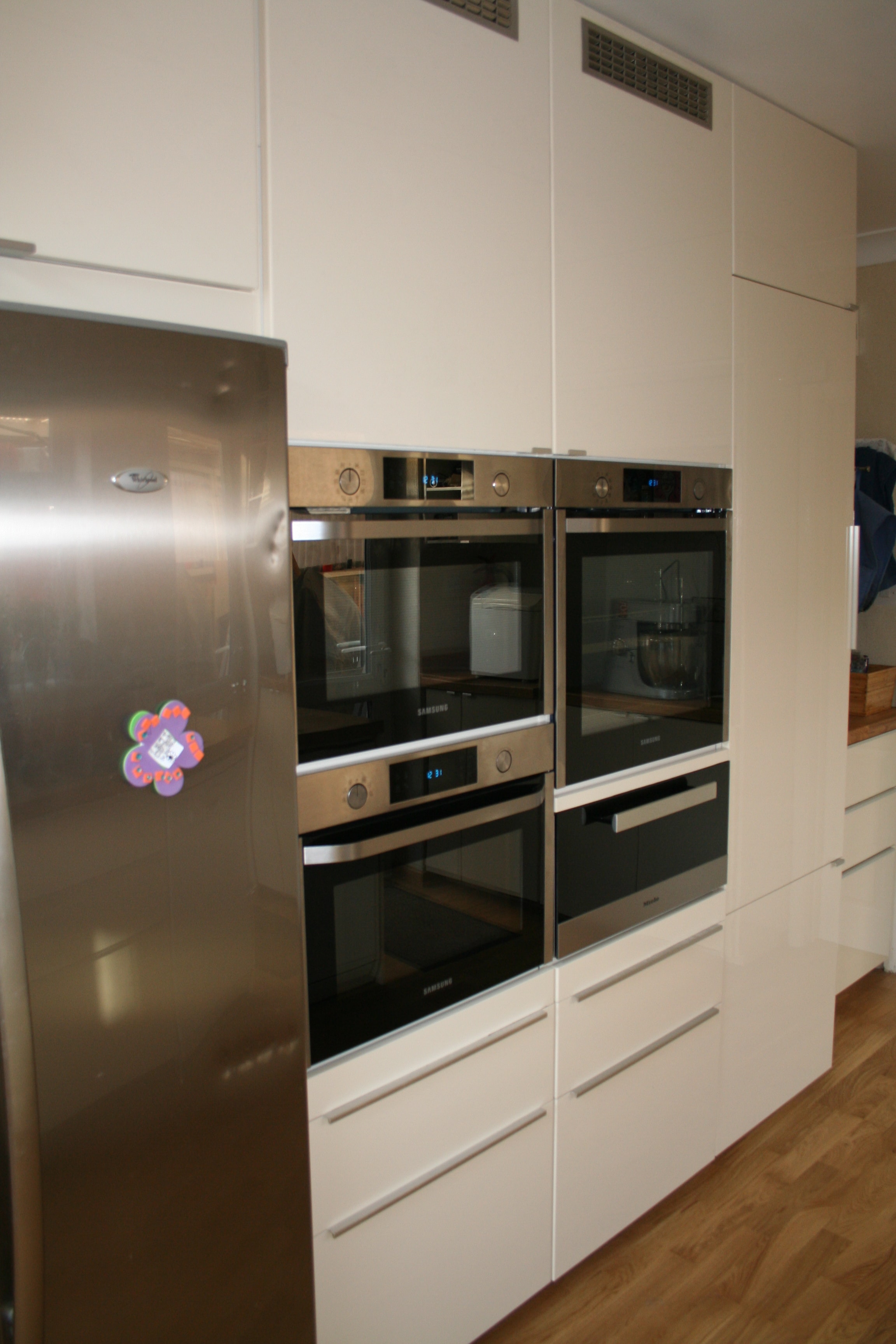 We did check and no, Ann and Derek are not secretly Keebler elves…but Ann does love to bake. Good thing, because they eat gluten-free and it's much easier to do so when you make things from scratch.
Close. There is one regular oven that can be divided in two, with a warming drawer underneath, and a combination microwave with a regular microwave underneath.
They chose the RINGHULT doors in cream, a color that wasn't available in North America, right before IKEA discontinued the color. (METOD has so many door options it's just not fair. Don't look at this link if you don't want to get jealous.)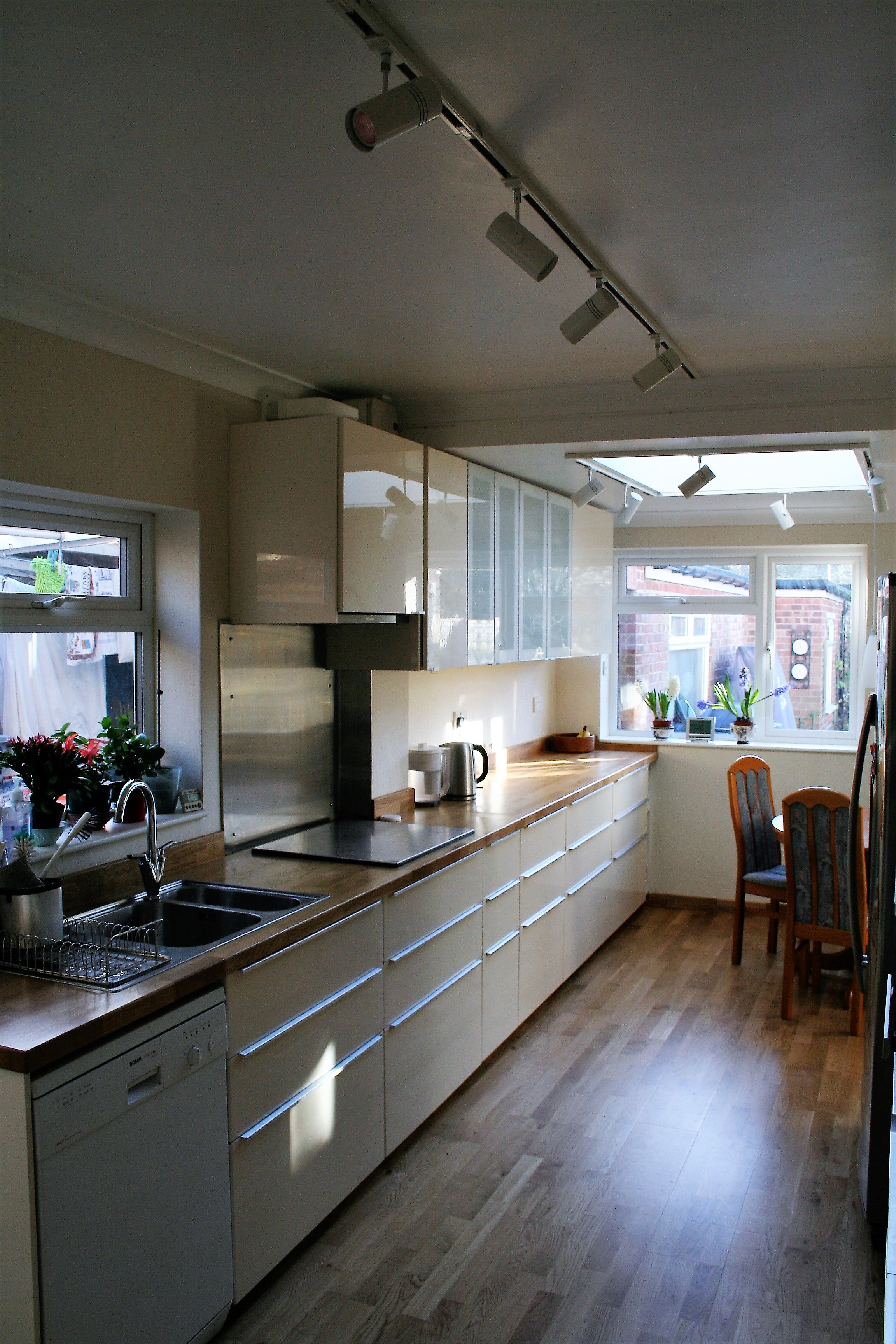 There are other neat features but first let's look at why IKEA itself was the perfect for this small METOD kitchen transformation.
METOD, the IKEA kitchen line made perfect sense for this home
After being "fairly horrified" by the offerings at local showrooms, Derek and Ann gladly chose IKEA for their kitchen.

Truthfully, we were excited to work with Derek and Ann on their IKEA kitchen redesign in Great Britain. IKEA's kitchen line is much more extensive in Europe than in North America so whenever we get to design a small METOD kitchen it's a real treat.

–Ana, IKD IKEA Kitchen Designer
What sold them on IKEA? The depth of the drawers. The local showroom drawers were very shallow to accommodate plumbing and electrical coming out of the wall. IKEA's drawers are full sized however because they expect plumbing and electrical to come out of the floor.
When you're a serious baker in a small METOD kitchen, you can't waste any space for services that don't exist.
Special features in this small METOD kitchen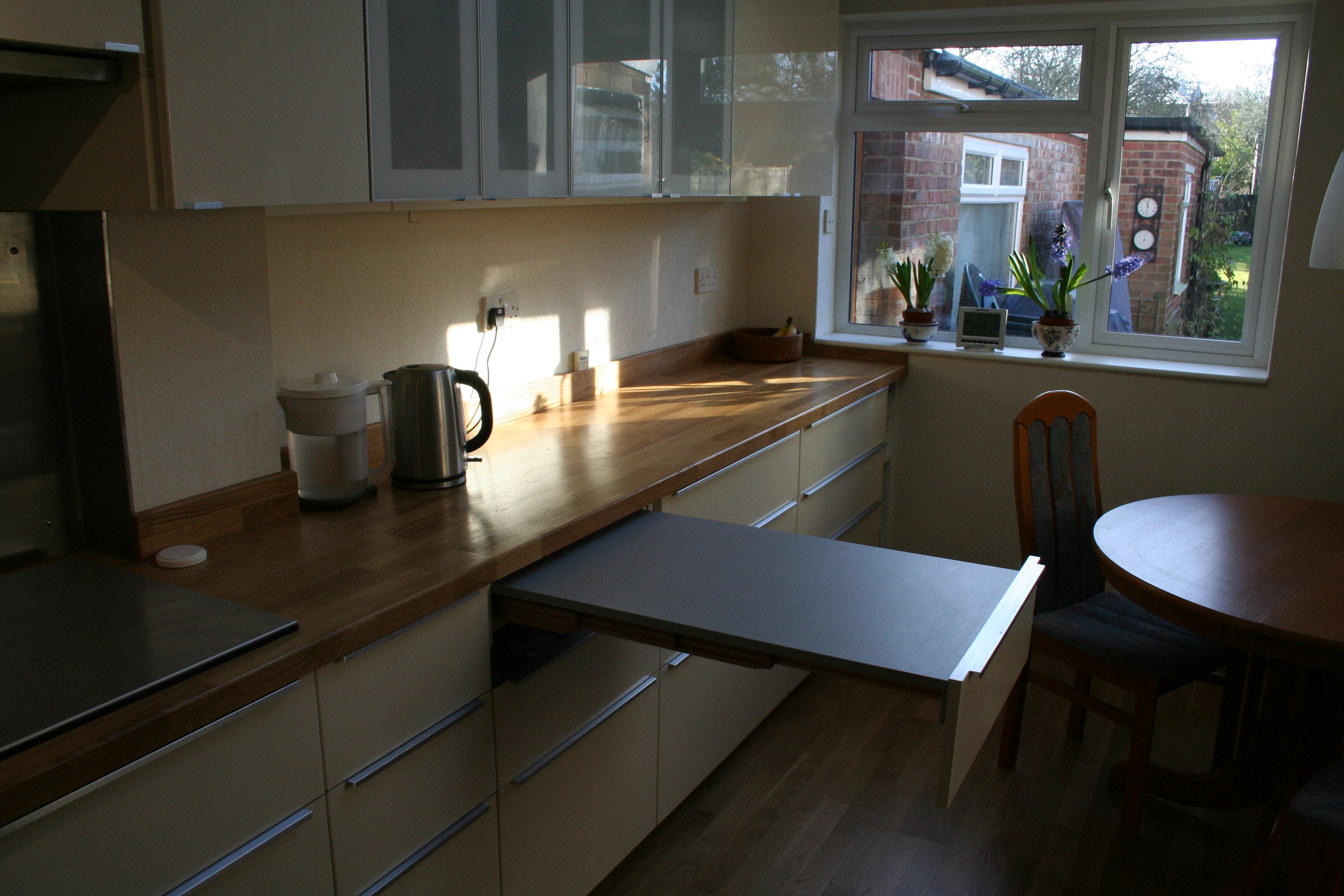 This is a pull-out table from Häfele UK a kitchen accessory manufacturer in Germany. Derek's parents' kitchen had this feature and it's where the grandchildrenwould have their breakfast when visiting.
You may remember this image making the Pinterest rounds a few years ago: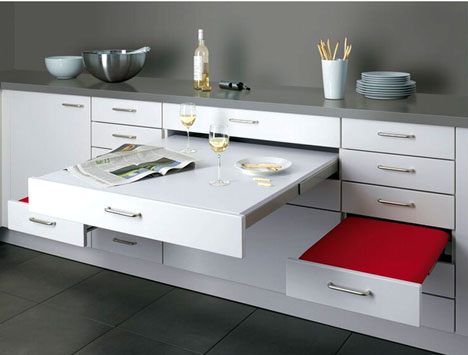 Even though IKEA has deeper drawers, they're still not as deep as the pull-out table. So how did they fit in this special (non-IKEA) feature?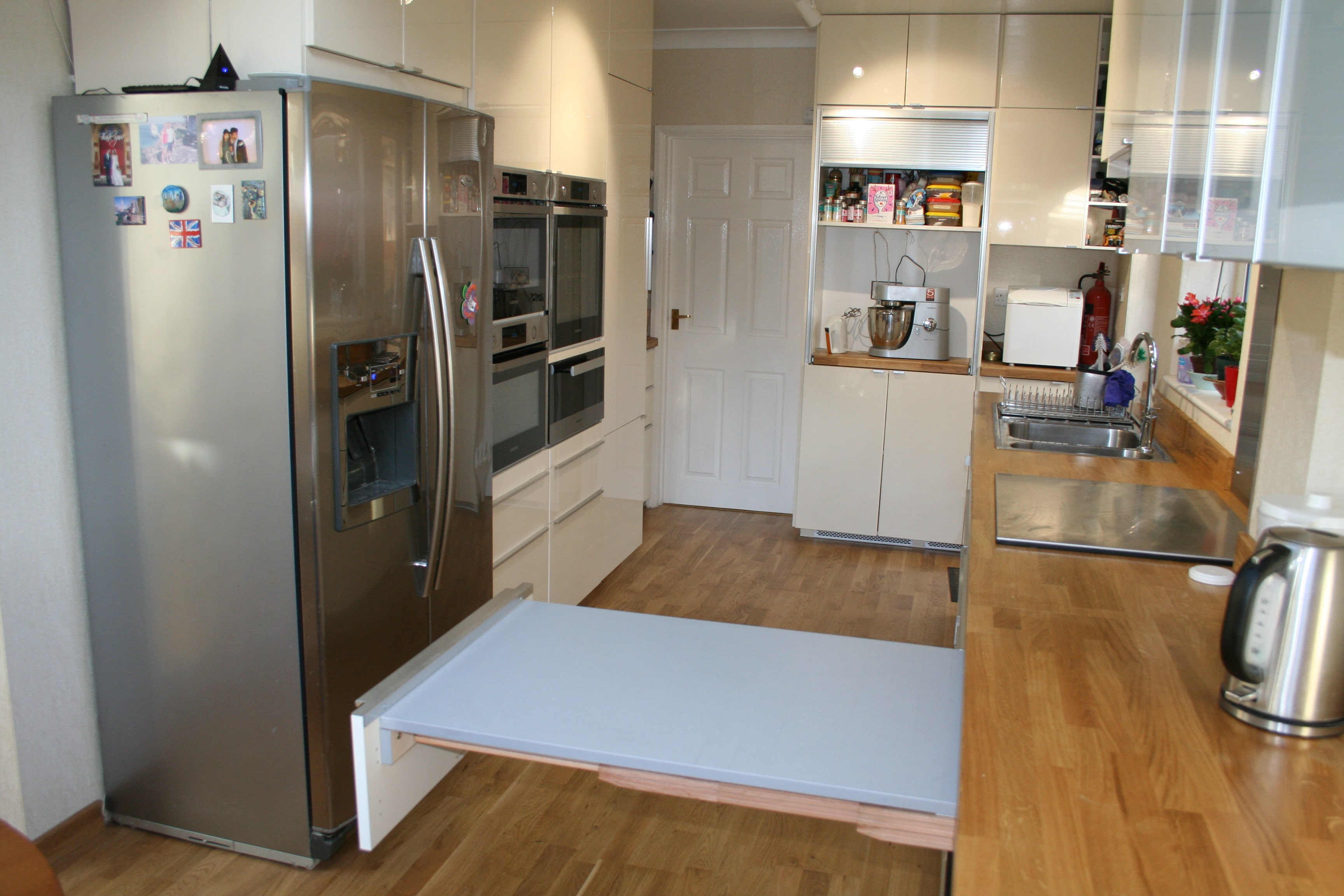 You can see a little better in this photo how the wall cabinets can accommodate a deeper pull-out thanks to a tambour. The pull-out has a special hinge and is in several pieces so it can fold in on itself. If you're interested in seeing the hardware that could make this possible, check out this blog post we found.
Another special feature in this METOD kitchen is the roll-top cabinet with the stand mixer.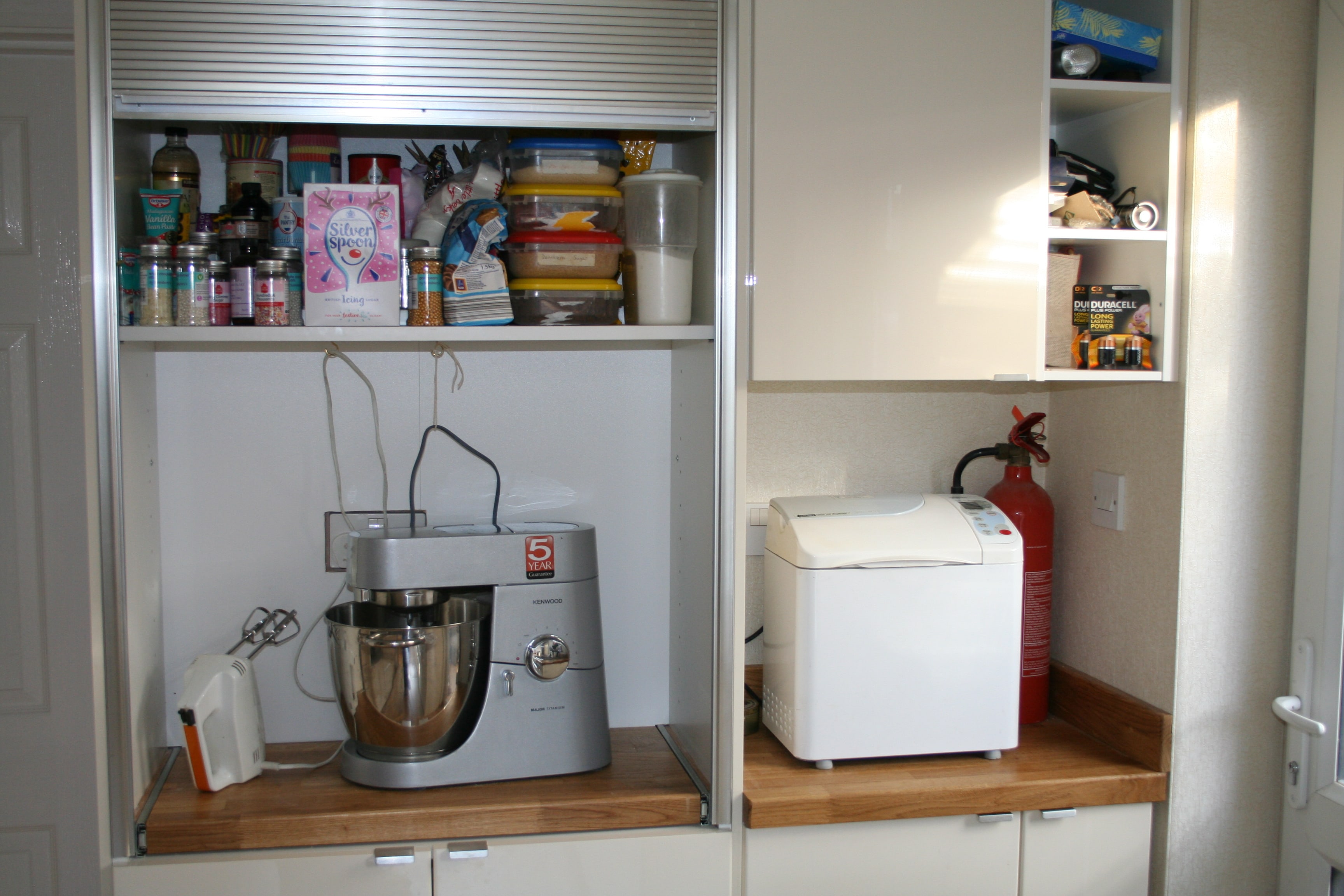 Two weeks before beginning their project with IKD, Ann and Derek found our IKEA kitchen hack for an appliance garage and wanted that in their kitchen. Derek outfitted it with a rolltop door (purchased from East Coast Kitchens in the United Kingdom) and he custom-built a pull-out shelf for when Ann wants to use the mixer.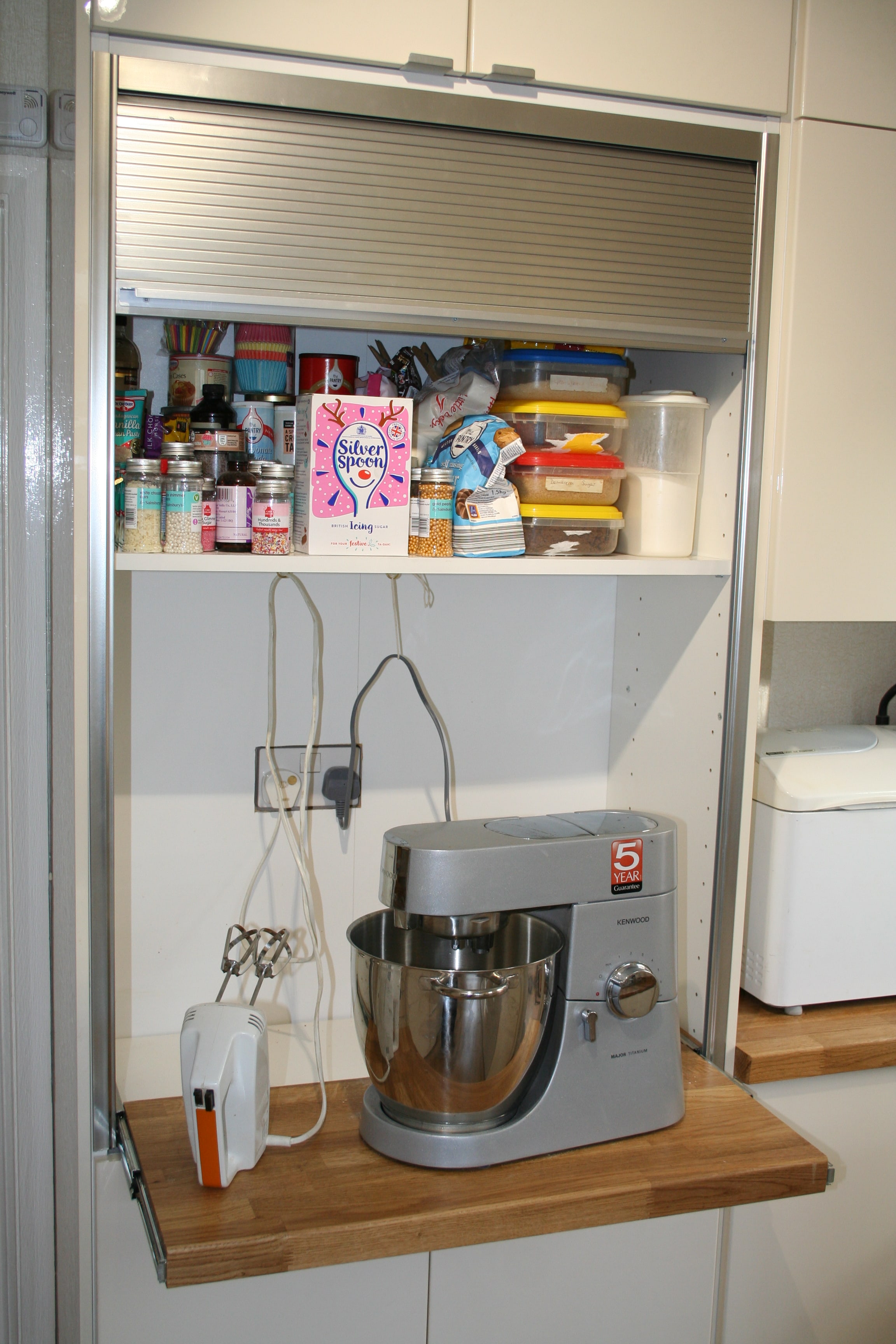 When it's not in use, all of it can be hidden away the way European kitchens like to do.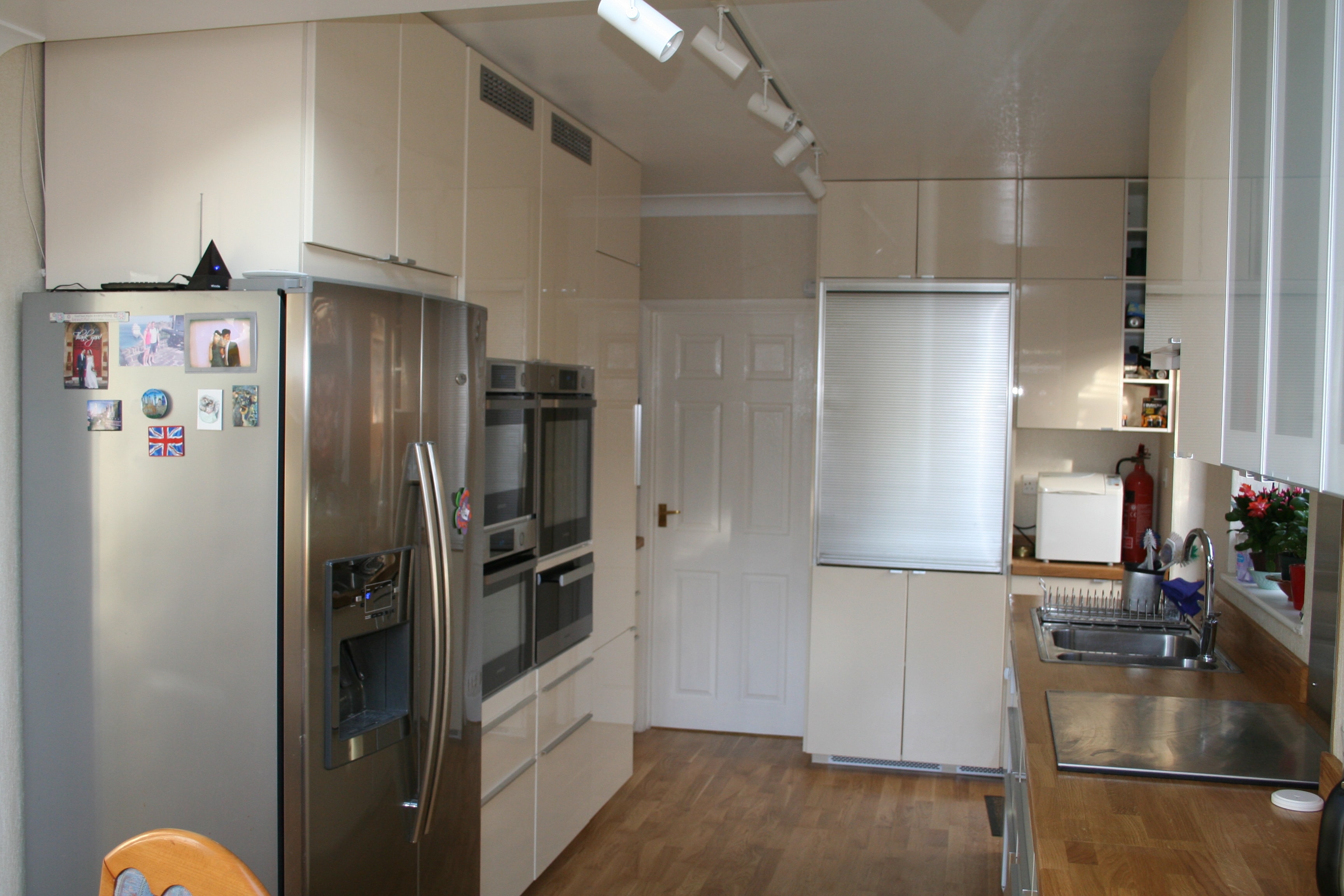 The range top (by Barazza) has a fold-down cover for when it's not in use.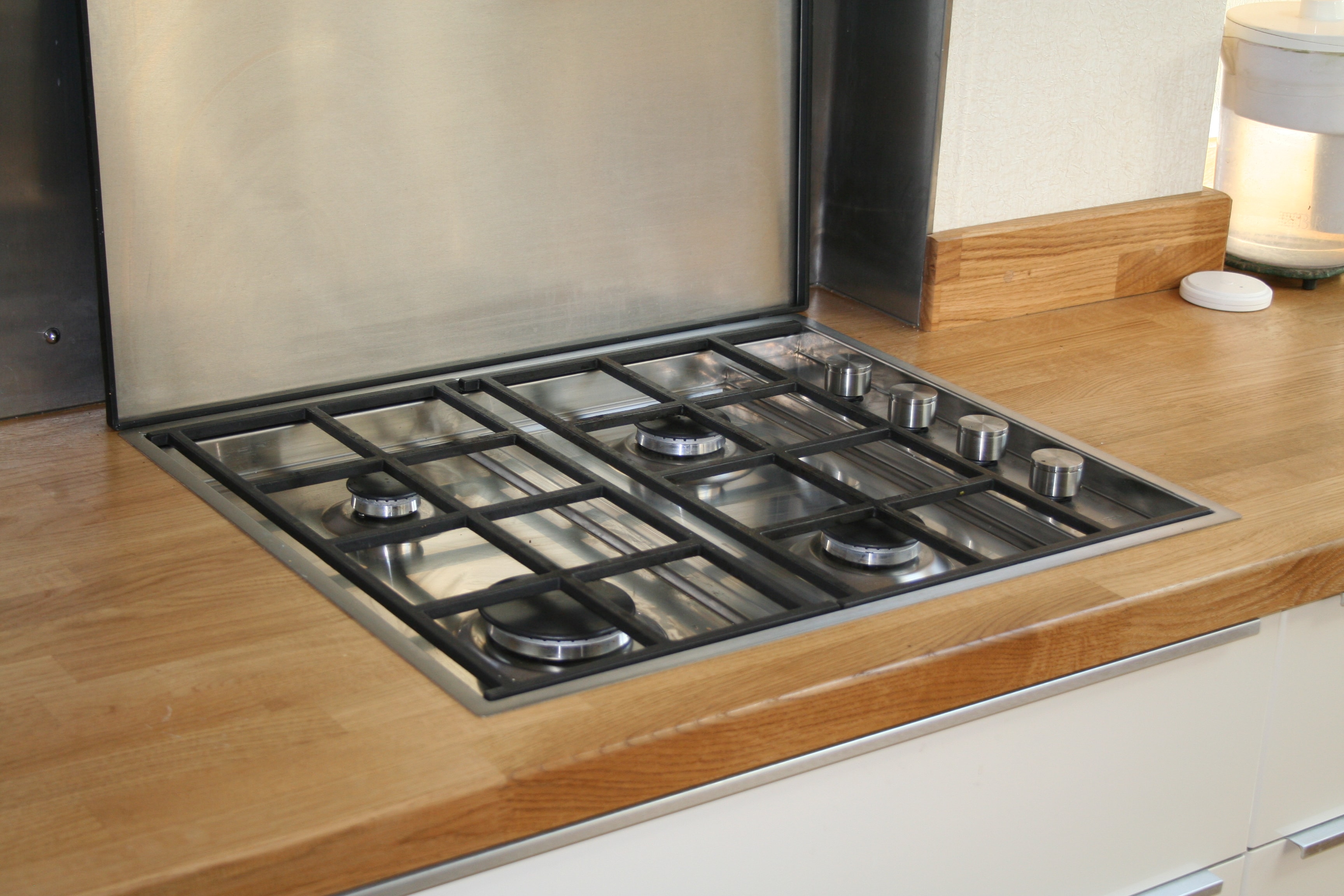 This small METOD kitchen also uses the electric UTRUSTA push opener for the under-sink bin arrangement. Derek had thought it was gimmicky but now he finds it very useful to be able to open the door with a tap of his foot when both hands are full.
Lastly, they chose to use the OMLOPP integrated worktop lighting. Derek was skeptical about this too – mainly because figuring out the electrical and making it compliant with Part P is headache-inducing. However, Derek says, "I'm entirely won over by it. It's a wonderful warm light which is very gentle on the eyes when you come down first thing in the morning. Fills in the shadowy bits from the skylight."
IKD really knows how to do small IKEA kitchens
Ten years before they chose IKEA for their kitchen, they got a quote from another kitchen company they liked but the fee was "eye-poppingly large." They also weren't entirely convinced by the other company's kitchen design. They were looking for a designer who could get creative with the limitations of their kitchen.
IKD was the perfect fit for them.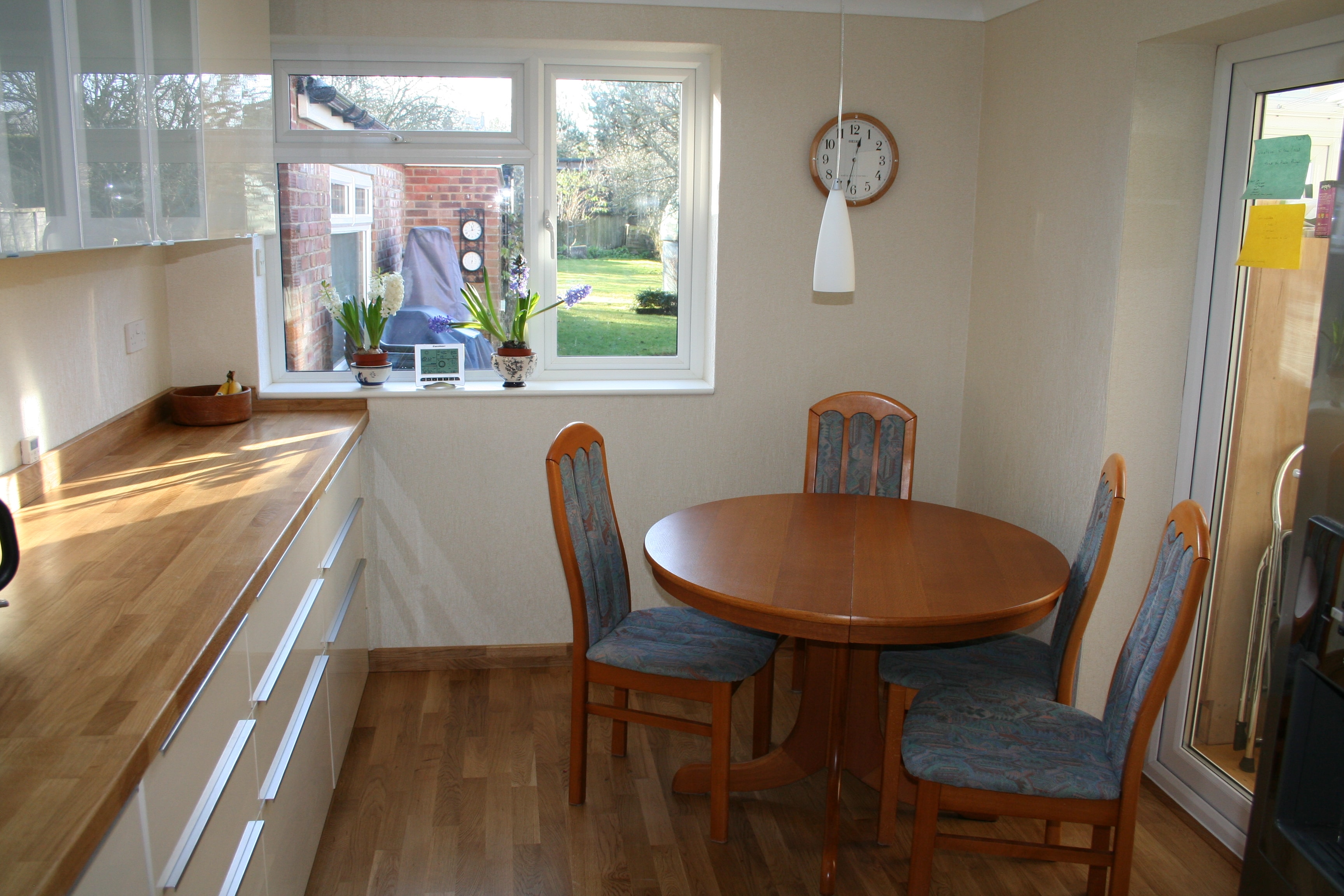 We liked IKEA but they don't do much in the store to help you other than order what you've designed yourself. Then we found IKD. Here you have professional people who have done lots of IKEA kitchens and you can see on the website they have great ideas for fun things you can do with different spaces.

I intentionally didn't give our designer Ana too much of a brief of what had been in the kitchen previously. It was more like 'Here are the doors we want, do your worst.'

We're very pleased with how IKD designed our kitchen. Some people might be put off by working remotely, but it wasn't a problem at all, even with the time difference of 6 hours. I'm quite used to working with people in the States so I'm used to it.

If anything I was concerned we might get locked into one particular design but that didn't happen at all. We bought IKD Premium so we could get as many revisions as we needed and we used several before coming to this. We wanted to try out all kinds of possibilities.

–Derek
This small METOD kitchen has lots of storage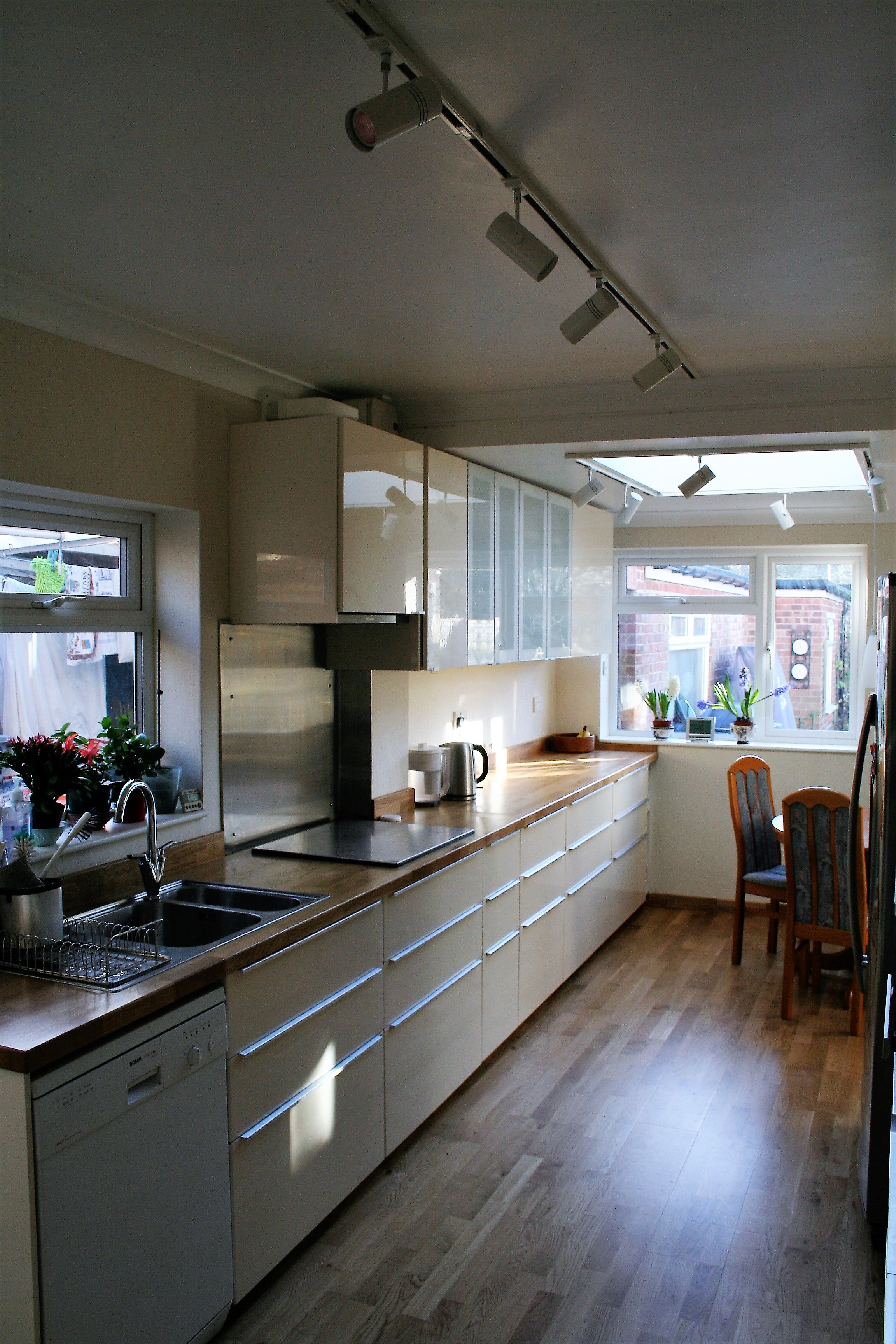 This row of cabinets is impressive but don't forget the other side of the kitchen. Plenty of room for all of the cookie sheets, mixing bowls, crockery, and utensils every baker needs: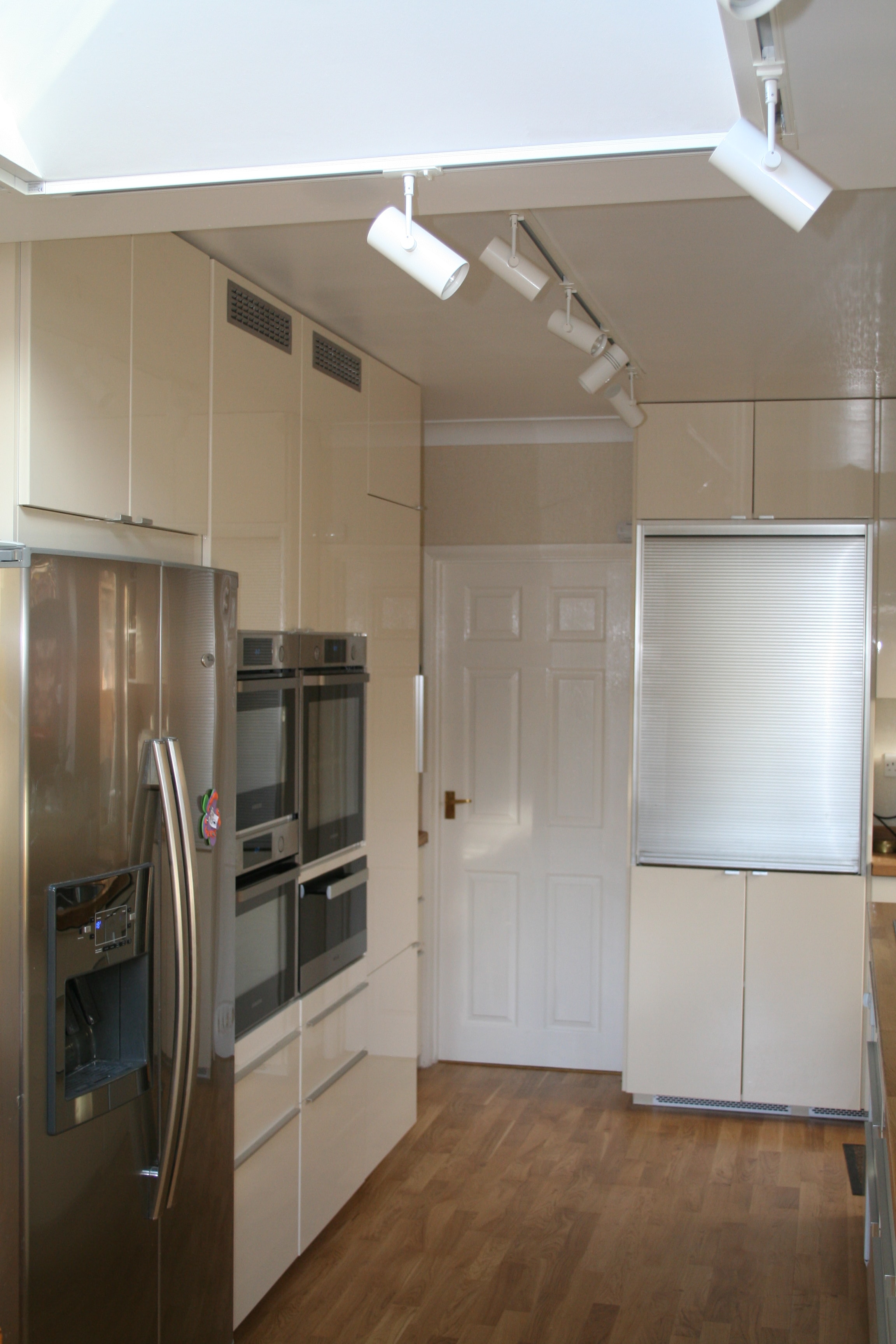 We even managed to squeeze in a storage cabinet just for cleaning supplies.
How does our serious baker Ann like the new kitchen?
I'm just delighted. I feel very spoiled. I'd have been happy just with an oven that didn't burn things but I ended up with so much more.

–Ann
Thanks for sharing your finished kitchen with us, Ann and Derek. We wish you many happy hours of baking together!