An organized pantry is the secret to an efficient kitchen. The best solution for frequently-used items is to keep them close in an open cabinet. If your pantry is just that deep abyss in the kitchen where everything piles up — It's time for a custom IKEA pantry!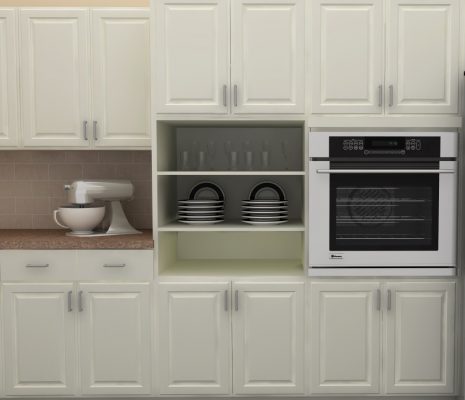 For this open IKEA pantry, we used the following:
 1 Tall cabinet for a single oven (4 doors) in LIDINGO white – $419
2 PERFEKT cover panel, 3'x8′, (for the open shelves at the middle), LIDINGO white
 1 PERFEKT cover panel for tall cabinets, white
1 package of AKURUM cabinet legs (includes 4)
1 PERFEKT plinth, 88″x4″, LIDINGO White (for the cabinet's toekick)
TOTAL PRICE: $641
Use these dimensions as a reference for your pantry: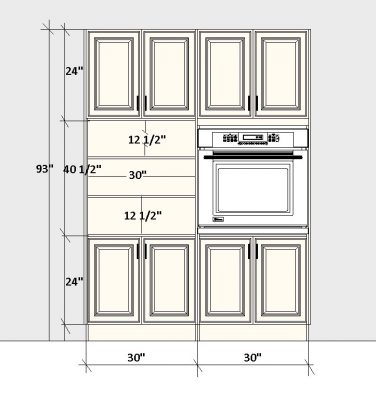 Installation and design tips for your IKEA pantry:
Leave some shelf pre-dilled holes untouched in case you'd like to adjust the shelves to accommodate bigger items later. If you're set on them, cover the rest of the unused holes. (A caulk gun is your friend in these cases!)

Using a single oven tall cabinet will keep the bottom doors aligned with the rest of the doors of your base cabinets. This keeps your kitchen streamlined and symmetrical.
Why did we cut pieces from a 3'x8′ panel for the shelves? This is IKEA's thickest panel, sturdy enough to store whatever you want.
To keep things uncluttered, display and store items that have similar colors, shapes or that are made from similar materials.
Leave your shelves at least 12″ away from each other so you can store large stuff such as cookbooks.
As you can see, IKEA kitchen cabinets from the AKURUM line are extremely versatile and you can do almost anything with them!