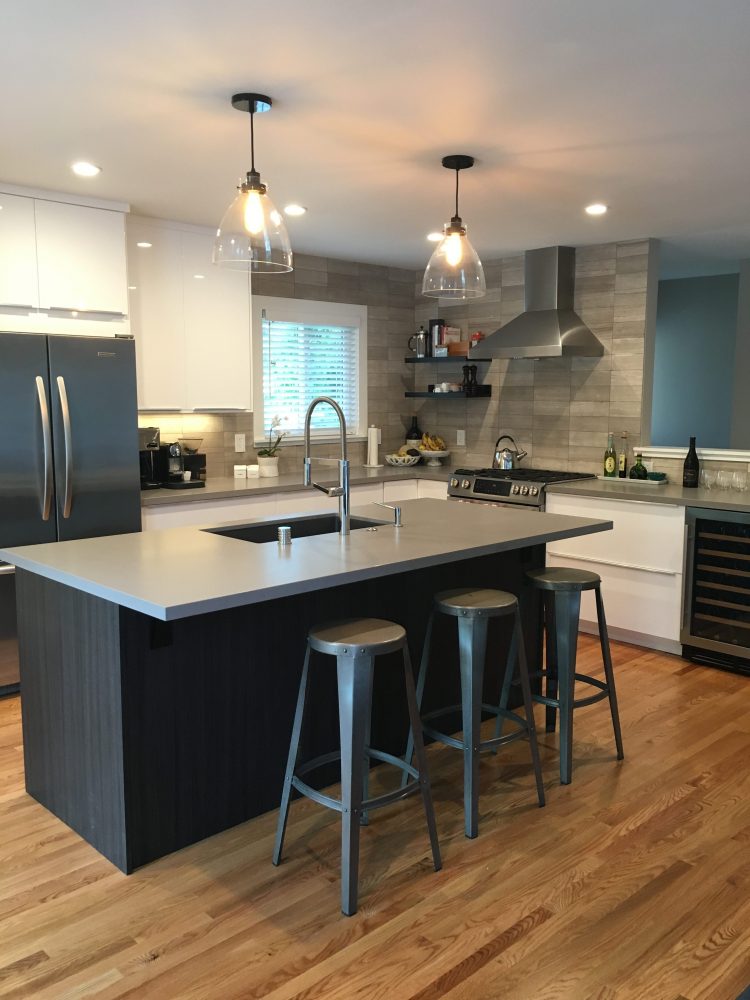 Say hello to Brad's gorgeous new IKEA kitchen design courtesy of IKD!
Brad and his wife described their home decor style as being a blend of Scandinavian and mid-century modern (MCM) influences. They also included images of kitchens they liked, and even cited our Italian-Style IKEA Kitchen for a Hostess with the Most-est as inspiration.
So the old kitchen in their new home really didn't suit them. The kitchen awkwardly spilled out into a dining area…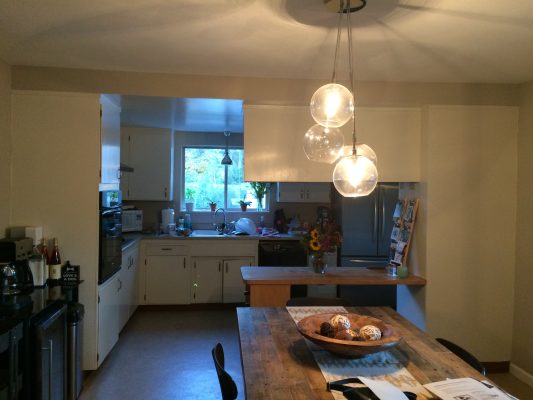 But was also hidden away behind that peninsula you saw.
Brad and his wife settled on IKEA when they discovered the local shops wouldn't even give them a kitchen design quote unless they gave a deposit! IKEA was a very transparent and easy process comparatively.
How IKD helped design a family-friendly yet elegant IKEA kitchen
Brad and his wife had a straightforward list of requests for their IKEA kitchen design:
Maximize counter space without encroaching on the living room: The total square footage of their home is 1200 square feet. They wanted to get the most out of their kitchen without having to slam the sofa up against the kitchen island.
Make good sense of the space and the layout: Brad and his wife are serious chefs who wanted their kitchen to be seriously functional with a work triangle built into the design.
Balance beauty with durability: With a cat and a dog, and a new baby on the way, Brad and his wife wanted a kitchen that could resist dirt, scratches, and greasy little finger (and paw) prints.
Removing the wall with the peninsula created enough room for this IKEA kitchen to live up to its full potential.
A closer look at the kitchen cabinets and island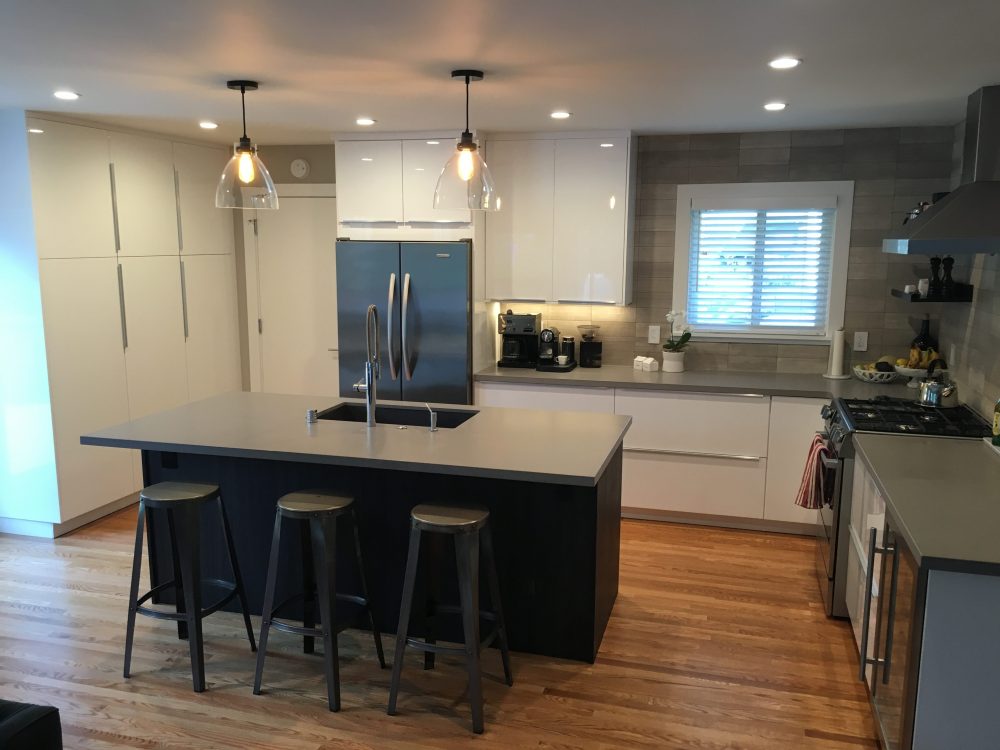 See the door next to the refrigerator? It's the same door that was next to the refrigerator in the old kitchen. The refrigerator switched sides and in its place are 3 identical high pantry cabinets with RINGHULT high-gloss white doors and BLANKETT handles. All of the cabinets are outfitted with pull-out drawers and interior organizers to store pantry items, small appliances including the microwave, and cleaning supplies.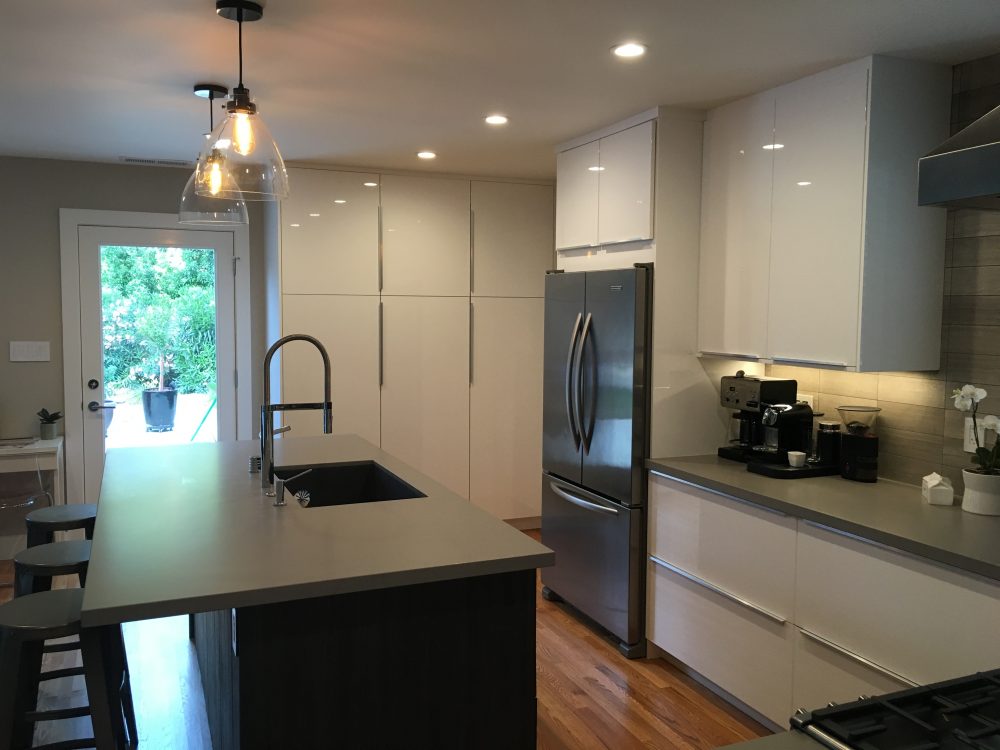 The window that used to be above the sink (in the old kitchen) is now a glass door that opens onto a patio. The extra light from that, the pendant lights from West Elm, and under-cabinet lighting brighten up what used to be a very dark room. The other kitchen cabinets have the RINGHULT doors and BLANKETT handles, too. The countertop is Caesarstone that the couple did not purchase through IKEA.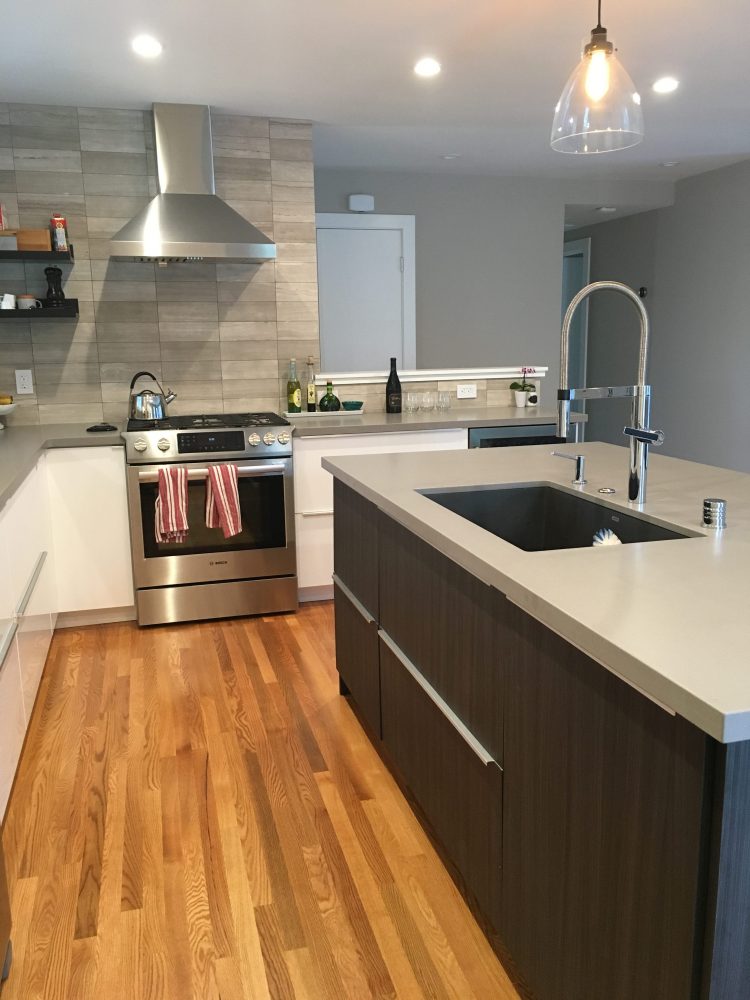 The kitchen island is the exception to the white cabinets. It features IMPRESSION drawer fronts and panels from Semihandmade (in midnight). The cabinet on the far right is an integrated dishwasher which, like all of the appliances, is not from IKEA.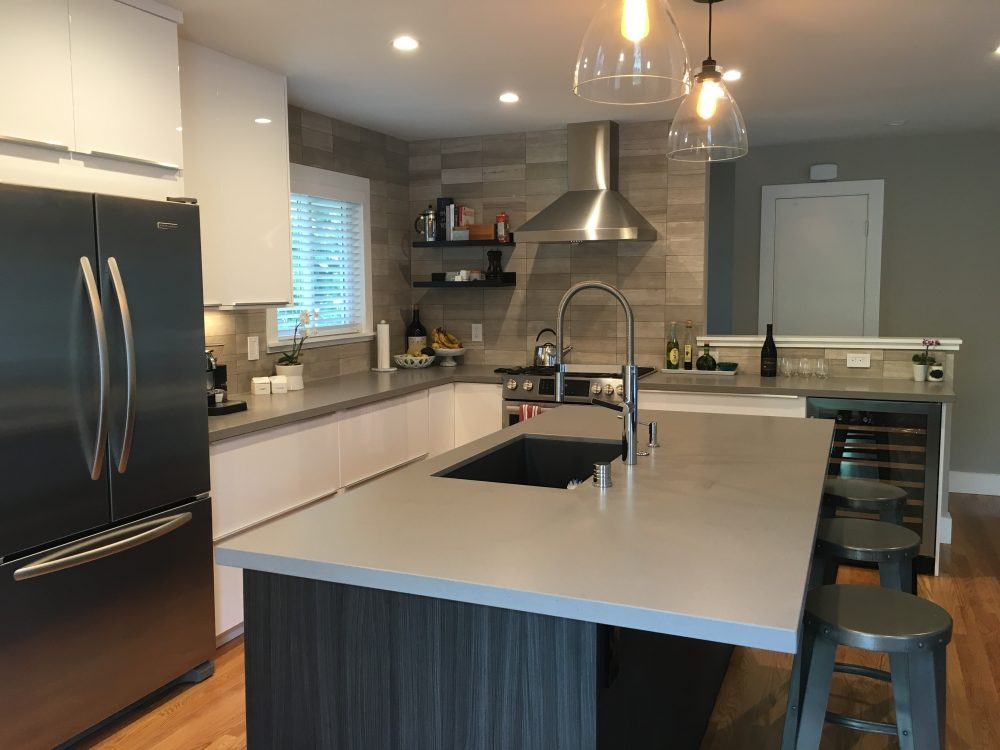 The location of the sink and dishwasher make it possible to include a wine refrigerator in the main cabinet run.
IKEA kitchen advice from our customers
Brad and his wife purchased our Premium Package because they wanted to try different ideas and layouts.
"Because we looked at multiple layouts from our designer, we had confidence when we made our final design selection. We'd already given the other options a test drive so we knew we were getting exactly what we wanted.
"We tried to do this ourselves using the IKEA Home Planner and those were a horrible ten minutes of our time. There was no easy way to change the layout around and we were happy to have IKD do it instead."
We love your beautiful modern kitchen, Brad! Thanks for sharing with us.