Ask IKD customers Maggie and Greg from Rockville, MD and they'll tell you their IKEA kitchen is twice as nice. After all, this is the second kitchen the couple has done, with Maggie – an experienced home renovator – installing the cabinetry and acting as general contractor. "In this project we were removing a wall, installing a new window, interlacing new hardwood with existing, moving every major appliance and adding a dishwasher. It was a blank slate, which was both exciting and daunting," Maggie explains. With that in mind, the couple had three specific design wishes for the 125- square-foot kitchen: To open the kitchen to the living and dining areas, to maximize storage, and to build a modern space that didn't look out of place in a mid-century home. All within a $25,000 budget. Therefore, IKEA VEDDINGE upper cabinetry was used with IKEA SEKTION framework. The IKEA VEDDINGE was paired with Eco Teak cabinetry from Semihandmade, to create a sense of warmth. Maggie and Greg also selected a Bosch 800 Series Dishwasher with a custom panel made by Semihandmade; a Zephyr Layers Hood; a GE Profile Range with induction cooktop; a Kraus sink with dish drainer (60/40 split), and a Hansgrohe faucet. The countertops are acrylic from LG Hi-Macs, called Kamet, and were installed by Topline Countertops in Frederick, MD. "We came in just over $31,000. We splurged on the Quad Sliding window and our appliances," she says. Despite being an experienced DIYer, Maggie notes that she wouldn't have been able to get the finishing touches done without working with IKD's design team. "Working with IKD made choosing finishes much easier because I had the design on paper to help me visualize," she concludes.
Modern Family
Maggie knew instantly how she wanted her IKEA kitchen to look."I wanted people to walk into our kitchen and think 'modern' not 'IKEA' " she says. "We used IKEA's VEDDINGE doors for our upper cabinets and complemented them with an open cabinet, made by SemiHandmade, under the bulkhead. I took a VEDDINGE door to Benjamin Moore and they matched the color so that I could paint out the cabinet to match."An example of balancing form and function was her choice not to put stools at the island. "The full 24" depth for storage space was more valuable to us," she says. "We also love the extras like the lights in the drawers, and the drawers-within-drawers which make organizing so much easier," she adds. "Just be sure to plan ahead with your electrician so that you can have outlets placed behind your cabinets for the plugs." Maggie offers another piece of advice, pointing out that the legs of IKEA cabinets are adjustable."We were able to raise the countertops on the outside walls by 1.5", which has made washing dishes much more comfortable!"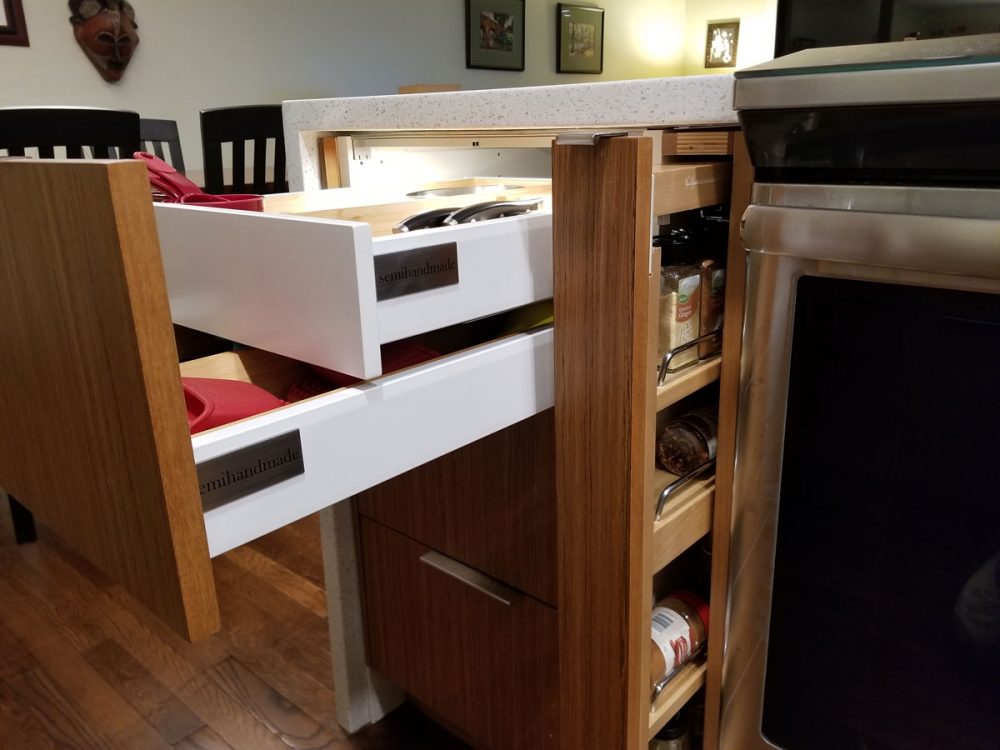 Team Effort
Maggie decided to work with IKD for multiple reasons."IKEA's home planner online tool, while helpful, is so buggy that it makes it difficult to be exact," she says. "Once I had the basic design, I used IKD's service to double-check my work; have professional drawings to turn in for permits; and have a professionally produced shopping list. The shopping list alone is worth IKD's very reasonable rates!" She adds that seeing the initial IKD design allowed her to think about the ergonomics of the space, such as storage considerations, where appliances would be placed; and general functionality and flow.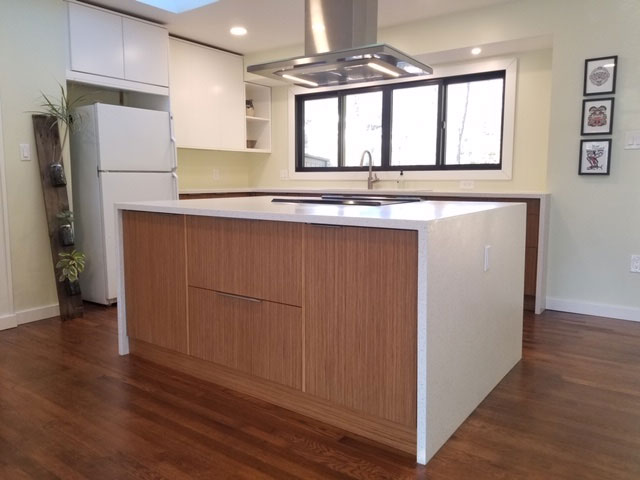 Window Treatment
Natural light was an important component to the kitchen. She explains: "Natural light is the reason we chose to have the upper cabinets be white. Our ceilings are only 8' and adding skylights and using white uppers really helps them to feel much higher." The couple contracted window installation to American Windows and Siding of VA, who did the kitchen window as part of a whole-home window replacement project. "We love our Kolbe Quad sliding window. Eventually, we'd like to put a bar on the deck out back so that we can pass food and drinks from inside to out," she says. However, the window treatment did cause an unexpected challenge during installation."I realized that the HVAC venting for the toe kick vent was going to be behind the dishwasher. I'd neglected to give the vent placement information to IKD designer, Chuck. But, this was another way the IKD plans came in handy. I knew I could change the order of the cabinets on the window run and still have everything work out. Ultimately, we put the trash bin to the right of the sink and moved the dishwasher to the left," she says.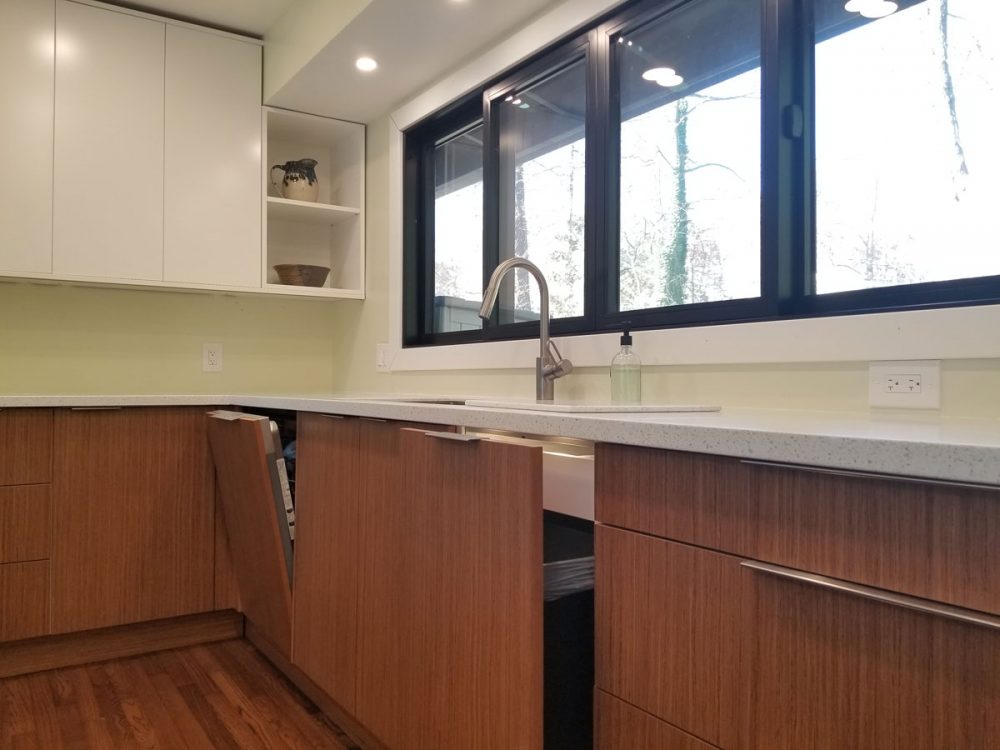 Job Well Done
The entire experience required patience, Maggie says. Specifically, timing with subcontractors was a challenge as the windows had to be installed before the electrical and plumbing that needed to run through the new wall beneath them; the floor and walls couldn't be closed-in until after the inspection with the county; and lastly, everything needed to be in place before the custom countertops could be measured. However, undaunted, Maggie shares advice for others looking to act as their own contractor."I used YouTube for everything. I learned how to hang the IKEA cabinets on the rail and many other things. I love learning and I love the feeling of accomplishment when I get it done and step back to appreciate my work," she says. She concludes: "This kitchen is an amalgamation of months of research and it's the first time I've been able to truly set an end goal that was not a compromise. I got exactly what I set out to do."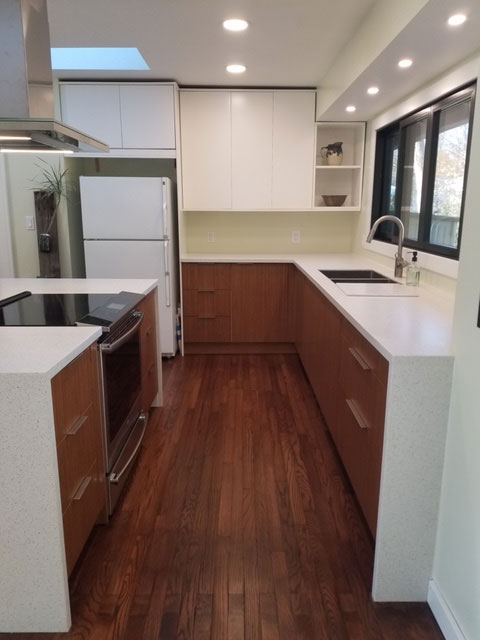 Learn more about how we can design your IKEA kitchen, bath and closet at https://inspiredkitchendesign.com.